| | |
| --- | --- |
| | JENNSWIMS's Recent Blog Entries |



Saturday, June 18, 2011
I weigh 285.2 pounds today.

I am 38 years old.

I wore shorts to the gym today.

I wore a sleeveless exercise shirt.

I shaved my legs every day for the last month.

I did a 60 minute aerobics class that included step aerobics, planks, kickboxing and a core workout.

I followed that with a 60 minute yoga class.

Last week I wore a bathing suit in public repeatedly.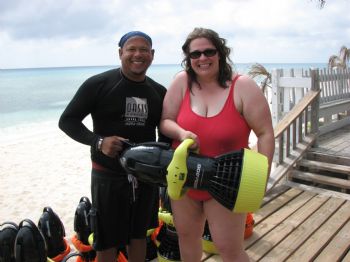 I went to a beach in a bathing suit.

Yesterday, I swam half a mile without stopping.

I had my picture taken in a bathing suit, and I smiled, and I meant it.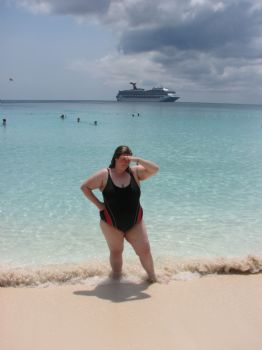 About 9 weeks ago, I weighed 311 pounds. I was afraid of having my photo taken. I didn't wear a swimsuit in public. I wouldn't have been caught dead on a beach. I wouldn't have worn shorts or a sleeveless shirt on a bet. I looked like a total frump. I rarely went to the gym and when I did I walked on the treadmill where no one would notice me.

I've said no to my fear of what other people think of my fat.
I've said no to my fear of everything sleeveless.
I've said no to my fear of going in public in a swimsuit.
I've said hell no to my fear of successfully losing weight and having people notice me.
I've said no to being afraid of new types of exercise.
I've said no to my fear of having my photo taken.
I've said no to looking like a frump.
I've said yes to taking better care of myself.

I'm done being afraid of living my life to the fullest. DONE.















Friday, June 17, 2011
I like my little tracker, the background I picked makes it look like a swimmer. It looks like a little swimmer and my name is JennSwims. I'm so clever.



Here's the problem: my tracker is broken. It only goes in one direction. It never, EVER, goes in an upward fashion. If I weigh myself and there is a new number in front of the decimel point, I WOOT WOOT (silently, but loudly in my brain, unless I'm home alone), and I change my tracker. The same thing does not happen when Captain Poopy Pants

says I have gained.

This week, my tracker does not show a gain of over ten pounds, which some of you reminded me may be due, in a large part, to my admitted overindulgence in sodium on my vacation. I strongly feel that the vast majority of this is due to a) sodium b) a legitimate 2-3 pound gain that I earned and enjoyed c) girly stuff and d) flying. I also know for a fact that I did not consume over 35,000 excess calories last week. Also known as a) justification b) excuse c) more justification and d) pathetic attempt at logically defending the gain.

However, my broken tracker will not be reflecting my bounce up to 290. Nope, it will stay squarely at 279, and that is why I am a big fat liar. I can justify this in dozens of ways, such as my personal favorite "my smaller sizes still fit as good as they did at 279."

It's OK to have a gain! Really campers, it's ok. Not all the time, not routinely, but once in a while, sure. Just make sure it comes back off. I'm not encouraging you to shovel Oreos and Haagen Dazs into your gullett as though we are entering some modern version of Soylent Green, I'm just saying it might behoove some of us to chill ever so slightly on the pound game once in a great while.

I'm in this dealio for the long haul. The long haul will last a lifetime, a lifetime during which I will probably not forget the tonguegasm I experienced from the Grand Marnier souffle I had, nor will I forget my time at the martini bar sampling a flight of 8 martinis, laughing and having a blast with my fam. (A chipotle martini is awesome, who would have thunk it?)

Food rocks, and I'm married to a chef for god's sake. There will be days, or even weeks (I heart vacation) where I allow myself some serious latitude. Special occasions. Birthdays don't count, since there is practically one a day if you have enough coworkers, friends and relatives. My first vacation since 2008 counts, getting into grad school counts for one evening, and my sister's wedding (cake nommy nom nom) counts. "It's June" does not, nor does "I have PMS."

Where you draw the line between special occasion and not a chance in hell is really up to you. My planned departures have been a sibling's wedding and vacation, the rest of the time I eat one of the strictest plans of anyone I know, and I like it. It suits me.

Digressing as usual, sorry.

The tracker is my way of getting back at the scale, which sucks big donkey, uh, fur. I can't control the scale, but I totally control that tracker. I am the evil mastermind and the tracker is my witless pawn. It is helpless against my efforts to make it say 135.

So my tracker is "broken", but by not changing it, by not being honest with my peeps, I may be missing out on some good advice and top notch support.

If you have a gain, you admit it and ask for help around here, people will happily go over your food log for the last month and tell you what they think you need to do differently. They will do the same for your exercise. But the trick is this: you have to be honest when you log your food, honest when you log your weight and honest when you log your exercise.

Oh damn, now I need to change my stupid tracker. I really hate it when I'm right.








Wednesday, June 15, 2011
I wanted to go to kickboxing last night, but my schedule wasn't really willing to work around that class. I got on the treadmill.

I wasn't feeling it.

I didn't want to be on the treadmill (I wish there was a whine font). My shins hurt. My left achilles tendon was resisting my efforts to loosen it up, even 15 minutes in. I felt like I was moving at turtle pace. My gym shirt was on inside out (DOH!), I was having trouble getting my heart rate up. There was a less than interesting movie on in the cardio theater room. The sky was blue. It was Wednesday. My new shoe has a grass stain on it. The person on the treadmill next to me had the amazing gall to make running look easy. Someone breathed in my general direction. My thighs were rubbing together.

Whatever the reason, I wasn't feeling it. I was there out of obligation, not desire.

News Flash! This just in! It doesn't matter. It doesn't freaking matter if you want to exercise, if you are happy to exercise, if you are pissed off that you need to exercise, if you are doing it begrudgingly (that would be me), or if hearts and flowers flow freely out of your hiney with each step you take while you bask in the glory of sweat and calories burning.

My body doesn't care if I'm in touch with my self-exploring-deep-inner-feeling-ness and getting introspective on "feeling it".

The treadmill really doesn't care if I'm happy to be on it or if I'm hating life.

My cardiovascular system is getting stronger, even when I am pissy about working out and my internal monologue sounds suspiciously like a spoiled 15 year old girl not getting her way at the Coach store.

The fat is still burning, even when I would rather be eating bonbons and watching Castle while my fat ass resides squarely on my couch.

It doesn't matter if I'm happy, thrilled, irritated or ambivalent about my workout. I still burned nearly 600 calories, and that is the whole point.

Move. Period. Remind self to move more and think about moving less.









Tuesday, June 14, 2011
I knew that people here, at home and at work would ask, "how was the cruise?" I thought about it a lot. What would I say? How would I describe my week away? Would I try to make them jealous and talk about the cerulean and turquoise waters and nearly white beaches? Would I try to make them laugh with stories about faceplanting during my first yoga class, which took place on a beach? Would I admit experiencing some of the less desirable happenings?

The more I thought about it, the more I realized that how I described the vacation, and how I experienced it, was truly up to me. It was up to my attitude, and my perspective. I could make it sound awful, or I could make it sound blissful and I didn't have to lie to do it.

I love the towel animals! I couldn't help but pose with them: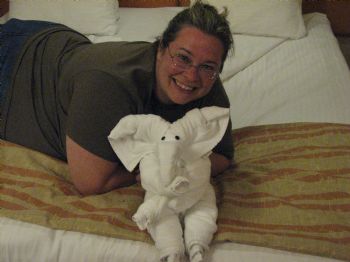 **I did great eating on the cruise, I kept my portion size under control and managed to enjoy myself without being totally nuts about it.

**I was woefully off plan and ate some total crap on the cruise. I ate souffles and chocolate and red meat and I'm a failure at my plan.

**I love my family. Who would have thought that I could be in fairly confined quarters with my mom, siblings and their spouses for a week and enjoy every minute of it?

Why yes, I am wearing a bathrobe in the piano bar... long story!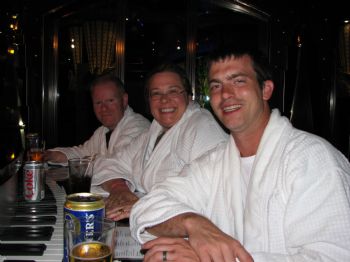 **My aunt humiliated and embarrassed us all by getting wasted every night. At one point she got so drunk that she couldn't walk, security was called, she was carried to her room and her alcohol buying rights taken away. We took turns making sure she didn't quit breathing while blacked out. Then she called us liars and was rotten the last 2 days of the trip after we told her what she did.

**I sucked at exercise on the trip. I did one yoga class and did 65 minutes on the treadmill. That was it.

**It's amazing how much exercise you can get in if you count non-formal exercise. Sightseeing means miles walked, frolicking in the surf burns some serious calories, and snorkeling is like exercise with a better view.

**Serious GI distress. Always knowing where the closest bathroom is type of GI distress.

**I was so naughty with the sodium that I had to take a diuretic because my fingers were so swollen I could barely bend them.

**I did great with my water intake.

**One of the islands was so amazing, I'm trying to figure out how to sell all of my worldly goods so I can move there.

**One of the islands made me feel guilty to be on vacation while the inhabitants were so poor.

So which version of the cruise was the truth and which was fiction?

Well, it was kind of like looking in the mirror at the gym last night. I saw myself and thought, Oh my god, I am so seriously hugenormous, my shirt pulls up and shows my white fat belly when I raise my arms, I'm horrific.

Then I thought, screw that, look how much SMALLER I am. Look at how much more toned my arms look... look at how my pants are too damn big! I gave myself a silent, internal woot woot!

The fact is, I am still fat. I am still very large, but I am smaller too. Just like all that stuff about the cruise. It is all true, every word, but I choose to focus on the good! I enjoyed "off plan" food, came home and got right on plan! I missed my plan, which is an amazing victory in and of itself. I had a blast with my family.

My attitude is one of amazement and thanks, to paraphrase Susan Powter, I'm just a fat girl who finally figured it out. My perspective is one of someone who can see where I am headed AND where I have been without punishing myself. I loved the cruise. I can look in a mirror without flinching. I'm back on plan.

What is your attitude? What is your perspective?









Monday, June 13, 2011
I just accidentally deleted about 30 minutes of writing about vacation and some deep thinking crap. Doh. So I'm sticking with what I didn't accidentally delete. The good news is that you don't have to read about me having such bad gas that it woke my husband from a full on snoring sleep. The bad news is that the interesting stuff is gone for good! Boo!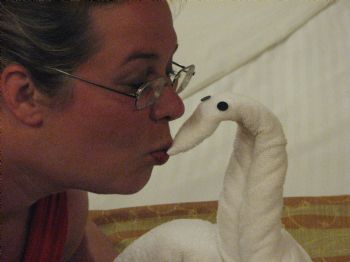 I got back on the fat reducing wagon, food wise and exercise wise (I don't think those are words) today. I was honestly looking forward to it. I missed my oscar-the-grouch-green smoothies (Is someone slipping me LSD?) I missed my no meat no dairy no processed foods plan! I missed my gym classes! I missed sweating until it drips off my nose.

Back to low fat vegan and strength training today, and tomorrow I will be back to counting every morsel and kickboxing. After a week of naughty, a two day easing back into it kind of thing seems reasonable.

I've never done this before, by "this" I mean successfully take off some tonnage. It was always all or nothing before. I was perfect and losing, or I "screwed up" and quit. Perfect never lasted very long, shocking, I know. Expecting perfection is just a good way to have more food guilt and self loathing, IMNSHO.

This time, I live a little on vacation (margaritas, chocolate and souffles, Oh My!), then I get right back to losing fat. I've never successfully lost this much weight before. I've never had this kind of resolve, either.

I've said before "it is enough to know that it is different this time" and I believe that. There is nothing like having a feel-it-in-your-gut, bedrock, foundational belief that this time is different. It just is different this time. I have some serious weight to lose, and nothing, not even vacation, is going to stop me. Besides, there are only 116 days until the class reunion!

Some vacation photos I didn't accidentally delete:

The view from my yoga class, for really reals: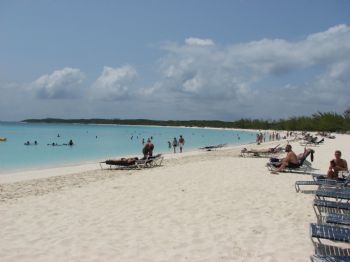 I'm no longer afraid to have my photo taken, because I know this is a "before" photo:



Why is this the best margarita on the planet?



Because this is the view where I was drinking it--Turks and Caicos: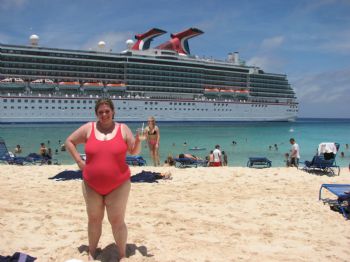 Being silly with my sister, who lost 40 pounds in the last year: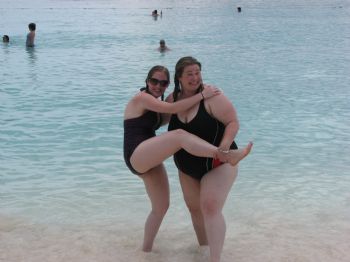 Cheffrey, being a good sport and amusing me: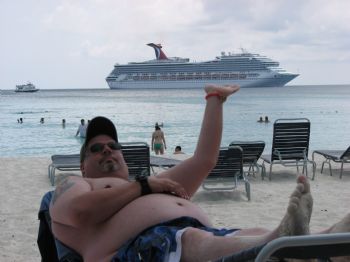 Unflattering pose hall of fame entry: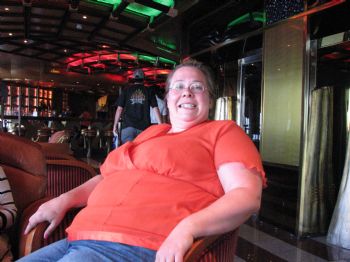 Learning the dance moves to Michael Jackson's Beat It video: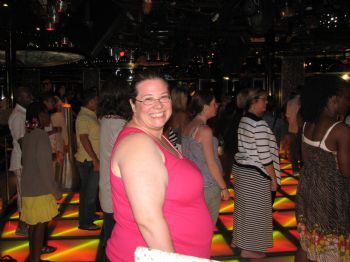 Goofing around at the Ritz Carlton St. Thomas:



Another before photo, soaking wet from rain storms --Puerto Rico: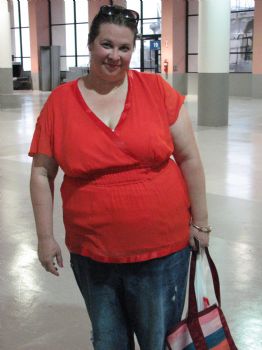 The souffle, which deserves a blog of its very own:




First Page
1
2
3
4
5
6
7
8
9
10
11
12
13 14 15 16 17 18 19 20 21 22 23 24 25 Last Page

Get An Email Alert Each Time JENNSWIMS Posts