| | |
| --- | --- |
| | JENNSWIMS's Recent Blog Entries |



Saturday, June 04, 2011
So did anyone see the Spark Daily Blog thingie today? It was all about how Indygirl (who is awesome) did an officially unofficial overnight meetup for Sparkies in Cincy with hotel rooms and such. She is also planning another one in Ft. Wayne, Indiana. Spark Guy even donated some signed books.

Which leads me to say this: we need to do this cruise thing. For really reals. Cincinnati and Fort Wayne are lovely cities, but I think we could select some place equally lovely, say, Grand Cayman or Cozumel.

What shall we call our Not-quite-Official-Spark-Cruise? This is very important. I'm not sure why, but it just is. Names are important, remember he-who-must-not-be-named? Errr, bad example.

Discuss amongst yourselves, since I will be AFK, out of the country, "doing cruise research", or whatever you want to call it (I call it happy happy joy joy). I'm partial to made up words, but that's just me, besides, I'm an overgrown child and should be treated accordingly.

What kind of things should be part of the adventure? Should exercise classes be part of the package? Do you expect a t-shirt? Do you want it to be a normal cruise, you just happen to be doing it with Sparkelinas? Do you even care as long as you get to go on a cruise, drink pina coladas and get caught in the rain?

IMHO, we should at least have shirts, (I won't even do a 5k if there is no tshirt, you should hear me bitch and moan about 5ks with the audacity to not provide me with the free tshirt I paid for) and maybe silly decorations on our doors that indicate that we are, in fact, filled with Sparkliciousness.

What do you think? What would make the cruise extra Sparky for you? Do you want a cruise that is with Sparkies, or do you want a "Spark Cruise"?

My Spark withdrawal will begin in about 16 hours when I board the Carnival Valor, until then I can check in, obsessively, between flights and all that fun stuff. Have a wonderful week! :)







Friday, June 03, 2011
I went shopping for vacation clothes. You know how important it is to look good for 5,000 strangers, so clearly the acquisition of new clothes was a need and not a want. *eye roll*

Let's get a little background here. I am the girl:

1) Who was asked by her husband, "Jenn, please let me buy you some new clothes, you really need them." Folks, this is an extraordinarily bad sign. Really bad. I mean, my husband is, you know, male, so this is not good at all.

2) Who has twice a year shopping trips. One in the spring for the light weight cardigan sets and once in the fall for the winter weight sweater sets. Jenn, the library association called, the 80 year old librarians want their sweaters back right away.

3) Who coined the term "frumptacular."

4) Who would rather have teeth pulled followed by a trip to the OB GYN for a yearly exam than go shopping.

Needless to say, I don't like shopping for things that aren't meant to be on my feet. Not a fan. I feel Benadryl level itchy when I have to go shopping. Kind of hate it. I get really grumpy and short-tempered too. I do love me some socks. I have 25 pairs of Dr. Seuss socks. Really. I have some very well decorated feetuses. How many 38 year olds do you know with an assortment of Sesame Street socks?

Shopping hate be gone! Wonder Twin powers activate, shape of a power shopper!

First, I went to get the important (and my favorite) cute clothes for the cruise. I found 3 pairs of running shorts, 2 wicking shirts, some legging tight things to wear under my shorts cuz I'm still plenty fat enough to have MegaChafe, and two workout tank tops. I have to look good while I sweat on board! WOOT WOOT! I also got ten pairs of uber squishy socks. I heart squish.

My workout clothes are too big, which is really awesome, but also means I have a lot of expensive and really nice workout wear that I need to give away because it's no longer getting the job done. We should create a clothes swapping Spark Team. By "we" I mean someone else, because I don't know how and I am extraordinarily lazy.

Back to shopping. I acquired the best athletic apparel in the history of athletic apparel (pink shorts and green shorts and orange, oh my!), then I conquered the other stuff with my newly found clothing nerve. I bought a skirt. Honest. A real live skirt. Again, I feel the need to explain what a big deal this is.

Cheffrey and I got married 7.5 years after we first met (in 2006). My wedding was the second time he had ever seen me in a dress. My sister's wedding (the pink nightmare) was the 3rd. My other sister's wedding (the makeover of two weeks ago) was the fourth. He's never seen me in a skirt as far as I can remember.

I bought shirts. I bought tanks. I bought 2 shirts that are a little shiny and do not scream, "ignore me, pretend I don't exist." I bought non-frumpy shoes that were designed for women and match the shirts that are not frumpy. I bought shorts. I snuck some candles in there, cuz TJ Maxx will suck your money away like that, then bought another shirt.

Houston, I think we have a shopping problem: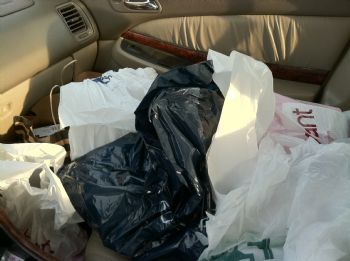 It was fun! Yes, it is true, shopping for clothing not intended for my feet was fun. The aliens have not replaced my brain, I really mean it. I had a good time!

I hit a milestone:

I had to try everything on because what I thought I knew about my sizes clearly no longer applies.

Then I hit another milestone:

I purchased XL clothing. I haven't worn an XL anything in a decade. I also bought a couple of XXL, but I don't feel bad about it because many other XXLs were made for me to do laps in.

WOOT WOOT!

I'm still a little unsure about fit. After decades of frump and baggy, when things fit properly I always think I'm being turned into a human Snausage, so I take pics of things and send them to my arbiter of fashion (aka Mom) and make her tell me if I look like I'm a contender for best dressed hot dog, or actually look nice.

Of course, the photos that result from this exercise in de-frumpertization should be burned, but I will share one with you, and only you, because I know no one else reads this blog other than you and me.




I send pics of shoes too.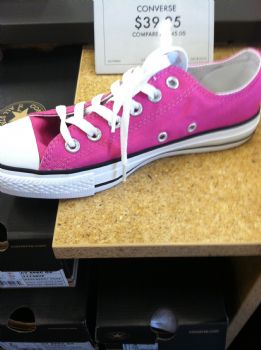 I also shopped by proxy for Cheffrey. I took photos, he approved via text. That was fun.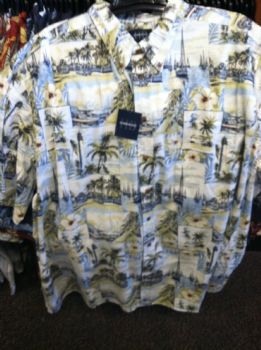 Thursday, June 02, 2011
I weigh 279 pounds.
I am morbidly obese.
I haven't run a full out, knees up and arms pumping real run in well over a decade.

Yesterday was National Running Day.

I ran 5.7mph @1% for a minute. Then I did it again after I caught my breath. Then for 30 seconds, until I couldn't run another step.

If I can do this, you can do this. Get moving! You can do it. YOU CAN DO IT!








As a side note, if you really want to go faster on the treadmill, do what I do:
1) Select a treadmill
2) Start walking
3) Start walking really fast when a fast song comes on
4)Get all excited about your speed, and go a little faster
5)Discover that this treadmill was available because the "slow down" button does not work.
6)Try to slow treadmill down.
7) Nearly fall off treadmill while hitting the "slow down" button repeatedly.
8) When no longer able to go this fast, hit emergency shut down button.
9) Realize at end of workout that you have a new PR!






Tuesday, May 31, 2011
June is tomorrow.

While I am thrilled that I am one day closer to vacation and showing an entire cruise ship my albinoesque skin, I also need to come up with new goals, which is always a challenge. I hate it when I have to think.

But I do love to laugh, and I have the mentality of a 10 year old most days, so the blog Goloptious wrote today made me literally LOL. I think this is the link, but I'm not entirely sure. www.sparkpeople.com/mypage_public_jo
urnal.asp?id=GOLOPTIOUS The blog entry is called "This Little Fat Girl Went to the Gym."

Hrmmmm. Crap. Avoidant behavior only got me out of doing goals for a paragraph. Crap.

1. Do 20% more exercise minutes in June than in May. That is also known as 1,514.4 minutes of exercise. AKA heap big pile of exercise that will be a serious time commitment. Yup, I can do it.
2. Eat my prescribed one cup of Lay-gooms per day.
3. Eat my prescribed tbsp of flax seed per day (this is easy now that I'm doing green smoothies).
4. Take the children for walks instead of just playing fetch and running in the bark park aka back yard.
5. Lose ten pounds. Lose ten pounds and lose inches and go faster... also known as "make progress of some variety."
6. Join swim team AND regularly swim workouts with them. Just joining does not work, kind of like joining the gym and never actually going in the place.
7. No less than 60 minutes of real exercise every day on vacation except Sunday, when we disembark at 8am and travel all day to get home.
8. Come home weighing less than when I left on vacation.
9. Give away more clothes that are too big. Do crazy happy dance with the surround sound set for "stun" playing Born This Way by Lady Gaga.
10. Jog at 5.2 at least once every time I get on the treadmill. Work toward mega goal of 4 mph for an entire hour.
11. More classes. More kickboxing, more weight training, more cardio classes instead of the human hamster wheel.
12. Get bike tuned up. Ride bike. Ride bike without hitting things, including the pavement. Ride bike without sustaining traumatic brain injury.
13. Hike more, treadmill less. Notice big yellow thing in sky, attempt to see it more frequently.
14. Try to find some open water to swim in that is not disgusting.
15. Spread the spark.
16. Spread the spark outside of this website.
17. Identify the hormone surge, and work in a positive way to counteract the surge of negativity that comes with it.
18. Talk to myself like I would a SparkPeep, not the way I would a mass murderer.
19. Non-spark related... get my school stuff done so I can start classes in June and the fall. GAG.
20. Start taking regular photos of myself in the dress that shall forever be referred to as Pink Nightmare. I prefer the name fuschia nightmare, but I refuse to look up how to spell the word fuscia every time I want to talk about it, so Pink it is.

May 15, 2010, the dress that started it all--known as Pink Nightmare: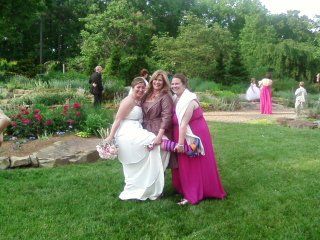 Things I learned in May:
1. Hormones are not to be trifled with, they will jack you up in a way you won't see coming.
2. Take better care of yourself and you will feel better about yourself.
3. It is often easier to make huge, sweeping changes than to try to make the little changes that diet guides often suggest.
4. I hate "try". If you say try to me it better be in the context of "I'm going to try a new food I've never had before," because "Oh, I will try to exercise this week" sounds whiney and has the lovely stench of defeat and annoys me.
5. You can never have too many friends, here on Spark or elsewhere.
6. If you are only sharing and spreading the spark on Spark, you are missing out. Like life-changing, missing out.

Brace yourself Effie, Jenn is getting preachy for a moment.

I realized, as I sat in the same room with my husband on Saturday, typing away on Spark, saying wonderful, encouraging things to all of you, that sometimes I am more supportive of all of you than I am of Cheffrey. The man sleeps in the same bed as me, he deserves some extras that all of you don't, namely, face to face support and encouragement. (You thought I was going to say S-E-X didn't you? Naughty!)

I forgot that he needs positive reinforcement and reassurance on a frequent basis, too. So Sunday, while he was sweating his boys off helping me plant the garden, I said to him, "You are the awesome cherry on my awesome sundae".

Now this is an entirely redonkulous statement on many levels, considering I mostly eat vegan, and, well, let's face it, it was just a plain old ridiculous thing to say, period. But it seemed better than, "honey, I appreciate you sweating like a monkey being strapped into a NASA rocket."

His face lit up, he gave me a huge smile and said, "I love you, too!" Today he was "the soy sauce on my pizza", which yet again sounds weird, but in my world, this is a high compliment. His response? "I love you, too."

His version of the ridiculous compliment? "You are like the Erma Bombeck of weight loss now." Which I thought was one of the best compliments in the history of compliments, especially since I've only allowed him to hear two of my blogs, and only if I read them aloud so he couldn't see anything else. Maybe the ridiculous compliment is sweeter for being totally redonkulous, I know I approved.

As usual, I digress, and my goal of a short and sweet entry is not coming to fruition for the 63rd time. Spark Streak!

The moral of the story: If you are sending out compliments and likes and high fives and goodies and shooting sunshine, hearts and flowers out your bum here on Spark, but you aren't saying these things to the people you love, the people you appreciate and the people you see most days, it really should be on your June list of goals. Trust me. Just like the spark here, you get back double or triple what you put out there into the world.

Anywho, you've read my goals, now fess up, what are yours? Also, will someone PLEASE tell me they have an equally nightmarish outfit that they are willing to cart to 5ks, weigh ins, and wherever else it would be funny to have their photo taken in a horrendous, hideous and wonderfully awful outfit?








Monday, May 30, 2011
Captain Poopy Pants is going into the closet for a few weeks. I finally saw a loss today, which means I can put him away on an up note.

Naming him something absurd really did help take a little of the sting out of his bite, but I need to take a few weeks away from examining the number of pounds I weigh and start to really look at the other things that are showing improvement, such as mileage, how my clothing fits, etc.

I'm going to work on my new June goals tomorrow.

May 2011 Goals--Let's see!

*Eat in restaurants no more than twice a week (major issue for me).

FAIL, but I have found places that I can enjoy without going off my Eat to Live plan. This means I have a restraining order against the Amish place with the buffet, keeping me a safe distance from the mashies, gravy, pot roast, green beans with bacon, gravy, stuffing, gravy, and of course, broasted chicken (and gravy).

*Lose a total of 40 pounds by the cruise (June 5th. Aim high I say, aim high).

I'm at 28.8 and I leave Sunday, so I will be closer than I was May 1, but no cigar on this one.

*No processed foods whenever humanly possible. That means you, devil bread and satan tortillas.

Satanic tortilla chips are still a problem, but I can only remember having bread twice all month. I've pretty much eliminated processed foods, unless you consider tofu processed.

*No more than one food with a label each day.

Score! My label foods are typically tofu, tempeh or beans from a can. While I prefer my naughty foods to come in a crinkly bag with a label, I'm sticking with the good foods that happen to have a label.


*Eat the one cup of beans per day that my plan prescribes.

50%. I'm not sure why I struggle with this one as much as I do. It isn't fear of farting, or the word "legume" even though I think it is a weird word. Must work harder on consuming beans, especially edamame, which is also a weird word, but quite tasty.

*At least ten different fruits and vegetables in my daily diet. Eating across the rainbow and all that happy crap.

WOOT, I'm on this one. I have consumed a veritable Crayola 64 of freggies, and we all know how cool the 64 box is, because it comes with a SHARPENER!

*Continue to support the newbies on the site by saying supportive things to first time bloggers. Aim for 10 per day, more when bored at the workplace.

I'm probably about 20-30% on this one, I've been working at being more supportive to my Peeps than brand new people.

*Exercise no less than 300 minutes per week.

1,227 fitness minutes this month, I think that is a helllls yes. Woot woot hells yes, WOOT WOOT helllllllllls yes.

*Pool no less than twice per week.

Well, the ear infections kind of screwed this one up, but I am up to a mile when I swim, which I am pleased with. 84 lengths. I don't even care that people see me in my suit anymore, I just get the ipod cranking and get to work.

*Quit being a sissy and go to at least one swim team practice as a trial run by the end of May.

Fail, but I'm planning to join in June, which is when they switch to the outdoor pool that is right around the corner from my house. WOOT WOOT. Sunshine and a workout!

*The barely zipped jeans will be loose.

They are baggy and they are bordering on looking silly, but I am not willing to buy new ones yet. I'm waiting for the day when I'm bringing groceries into the house and I have my arms full and my pants fall down around my ankles and I have to hop inside. That will be an embarrassing, but awesome, day. I hope I'm wearing clean and unbelievably cute undies when it happens.

*My largest pants will be too large to wear and will have to be given away. Even the four new pairs, including the spiffy navy pinstriped ones.

The navy pinstriped pants are gone, along with the black and the charcoal. I'll probably get rid of the fourth pair in the next week or so. My friend is going to be looking good, I will be down to a pair of khakis and a pair of navy pants which will rotate ad nauseum until they no longer fit and I'm forced to buy a size 20. WOOT WOOT.

*Work on my Paul McKenna steps as follows:

YES! SCORE! 1. When you are hungry, eat.

Pretty much!! Wootalicious! 2. Eat what you want (not what you think you "should".)

I could do better, but I am improving. Must stop eating my snack on my lap (see photo evidence) 3. Eat consciously and enjoy every mouthful.

Totally doing great with this!! 4. When you are full stop.
I haven't been listening to the hypnosis-esque CD thing. Just don't feel the need.

*no freaking excuses. Shut up and do it.

I've had a miserable few days, but I did what I needed to do. Aside from a planned off plan weekend, I've kept within my calorie range every day. I've gone to the gym even when I wanted to flop on the couch and hire people to wave palm fronds in my general direction and eat nothing but no bake cookies and peanut butter cups all day, every day.

All in all, not bad, but I think I can do better in June and come up with some great new goals.

Snack time yesterday: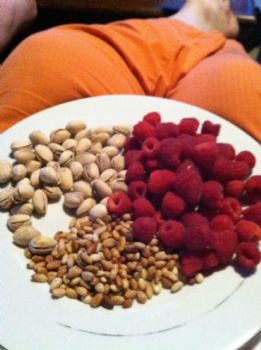 Today at lunch wearing my Peep shirt: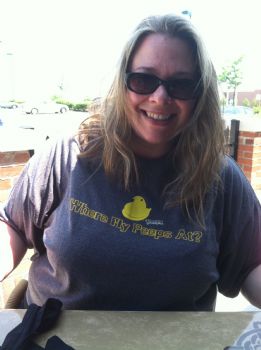 First Page
1
2
3
4
5
6
7
8
9
10
11
12
13
14 15 16 17 18 19 20 21 22 23 24 25 Last Page

Get An Email Alert Each Time JENNSWIMS Posts