| | |
| --- | --- |
| | JENNSWIMS's Recent Blog Entries |



Sunday, May 29, 2011
Somehow that Gone With The Wind quote seemed appropriate.

I had a bad day yesterday, if you consider crying for hours on end, feeling miserable, being hatefully angry at everyone, verbally abusing one's self and thinking you are a total failure qualifies as "bad". I'm better today, but I would not say that I am good, give it a day and we can reevaluate.

It was the crying that, after 3 hours, led me to believe the majority of my feelings were hormone-driven, which was confirmed by my husband last night. ***TMI --Girl Functions Alert*** "Jenn, don't you remember how last month when you were getting ready to ovulate you gained 7 pounds in one day, and you said it was like a sick joke that you hated everyone and wanted to sit in a corner and cry and not want to be touched or consoled when you are most likely to be fertile?" Ahhh yes, how could I forget those two lovely days?

My husband is NOT a dumb man, he slept in the guest room last night. He was probably afraid of what I would do to him if he snored, or rolled over, or breathed in my general direction.

Cheffrey was good for my soul last night. He was also good for my giant butt, because he came home with 2 cups of my beloved pine nuts, saying "I assumed you were joking about me bringing home half a gallon of hollandaise".

My thoughts on yesterday:

I believe that if you are as overweight as I am, there are emotional issues tied up in your eating that you must examine, confront, examine again, own and understand if you want to get well. There is always an exception to every rule, so I won't say "everyone" because as soon as I do there will be someone out there who was kidnapped by aliens and force-fed nutrition while being probed in captivity on the mother ship to whom this does not pertain.

In my case, hormones (and fertility meds) can play a big role in how I cope and my view of myself, which I need to understand better so I can cope better. So, when I am ready to go off the rails, it may be beneficial to look at a FREAKING CALENDAR before I totally lose my marbles.

When the voices get evil, get out and away and moving or anything but sit and listen. After I posted a friend called and said let's go to the spa. I went. I didn't need to, it has only been a week since The Great Jenn Redo, but I went. Facial, mani, pedi. It was a salon school, so it was cheap. I'd give it a 5 on a scale of 10.

--I went to lunch, ordered something on plan, sat in the sunlight on the patio and soaked up some sun. This was good. Sunlight feels like magic medicine to me sometimes. 7/10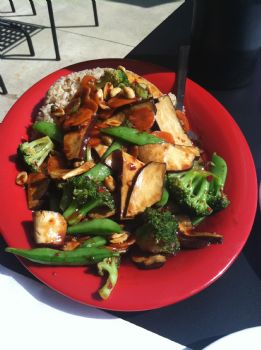 --I read my blog entry 176 reasons to lose 176 pounds, and oddly enough, I found myself pretty motivating. 8/10

--I tried on capris that have been in my closet for four years, too small, with the tags still on. I had to dust them off. I wore them to the spa. I didn't have the capacity to do the "My butt is smaller happy dance" but I will in the next day or so. 8/10

--While at the spa, I realized I could take the little butt capris off without unbuttoning them. 9/10

BAAAAAAD--The foolish thing I did was to come home, sit on the couch and cry, cry some more, cry until I was too dehydrated to cry, drink two bottles of water, and cry again. 1/10 I should have gone to a movie, picked up trash along the freeway, poop scooped the yard... anything would have been better than sitting and wallowing.

--I did come up with ways to measure my progress that did not include the scale (which will be going in the closet for a month):

**I tried on clothes that were supposed to fit--I'm now minus 3 pairs of pants that look silly, so I gave them to a friend. 7/10

**I looked at the "photo that started it all" and damn, even I can see the improvement. I've got to get a copy so I can show the world that horrific piece of fuschia fluff bridesmaid one shouldered greek tragedy. I just realized that I need to save that monstrosity of a dress for future photos. 4/10

**I'm seriously considering purchasing pants that do not fit, for the sole purpose of using them to monitor my progress in a non-scale way.

I've also come up with some challenges for myself, which I welcome you to try if you like.

1) Pics of me in my underwear. This will be painful for me, and extremely unattractive, but I have a bedrock, unshakeable, foundational belief that I WILL CONTINUE TO IMPROVE.
2)When I don't have a bedrock, unshakeable, foundational belief that I will continue to improve, I will behave like someone who DOES.
3) I will come up with a list of positive things about me that I can read, over and over if necessary, when the voices get ugly.
4) I have forgotten how much it helps me to help others, so I will increase the amount of time I spend encouraging first time bloggers on this site and my SparkPeeps.
5) I just realized I should take serial pics of myself in the Fuschia Pink Wedding Nightmare, won't that be a hoot? After a 5k, at different weigh ins like 40 lbs, 50 lbs, etc etc.

Thank you all for being my SparkPeeps. It is true that you can never have too many friends in this world. You inspire me every day and make me feel lucky to know you.
















Saturday, May 28, 2011
I went to the gym yesterday, but only because I bought new workout shoes and I told myself they were going back to the store if I didn't use them that very night, because if I didn't, then I didn't deserve them.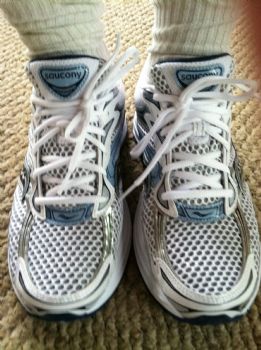 I took a picture of my new workout shoes to show all of you, but all I could think was "way to go retard, now everyone will know that you are too stupid to do laundry correctly because your socks look yellow". (Please bear in mind that I don't usually use words like "retard" but it seemed fair game in my time of self-loathing, as always, I am far crueler to myself than I would ever be to others)

I feel myself on the slippery slope of self-hate. The voice of cruel truth getting louder and louder, the slope getting more slippery and harder to climb. Good luck finding gym shorts, lardass, they don't make them in your size because no one in their right mind would want to see you in them. How on earth did you let yourself get to the highest levels of revolting? The worst one seems the loudest, echoing in my brain--Jeff must be some kind of desperate moron to have married you, you are an embarrassment, you are disgusting and he deserves someone who isn't gross.

The treadmill felt like torture, the entire time I was on it I thought about what a colossal failure I am at weight loss, and how I'm going to be wearing a size 22 to my class reunion in 132 days, give or take a few hours. I started thinking, maybe I could go on the Biggest Loser, then I could lose some serious weight (even though I'm not a fan of the show and not totally sold on the idea of losing that quickly).

I'm pretty sure the other treadmiller in the theater room thought I was nuts when I took this: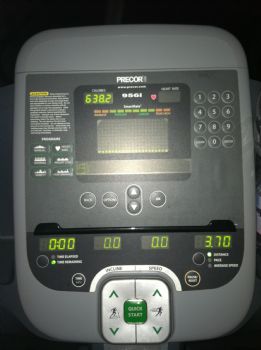 I set a new PR on the treadmill last night, but I didn't enjoy it because I was too angry at myself, too busy making myself feel worse. It is times like these when it is dangerous to be a wordsmith. I can filet myself emotionally with words in my head that slice like a rapier, I don't need the fencing lessons for that.

I discovered that I can push the mph up to about 5.2 mph with a 1 percent incline for a few minutes at a time, but because I'm so ginormous, I have to do this weird walky-run thing. You know what I'm talking about, it's what you see fit 75 year olds doing, it's like a low impact jog. I looked redonkulous. I had such loathing and hate for myself, that I didn't even appreciate the accomplishment. All I could feel is the overwhelming weight of failure on my shoulders. I know I looked the way I felt, slumped, defeated and fat.

I've eaten very well since I got back from the wedding, and since getting home (I actually didn't gain any weight from the wedding cake breakfast weekend, mostly because while I ate food that was horrible in quality, I didn't go bonkers on the quantity) I've gained four pounds and that was post poo. (Are you honestly going to try to tell me that I am the only one who weighs post pee and poo?) That is despite staying in my calorie range, doing some mega cardio and doing all the right things.

I look to the scale to affirm what I am doing, you know, Oh Looky, my kickboxing classes and eating right paid off, I have lost a pound.... or conversely, let's evaluate the damage done by the vegan pizza I had this weekend.

I'm frustrated and angry and all I want to do is hide.

Today I am putting my faith in physics, which tells the smallest most logical part of my brain that if you get 287 pounds moving for an hour every day, and you eat a proper amount of calories, the weight therefore must come off. Physics tells me that an hour of kickboxing, walking/elderly jogging, weight training, swimming, etc has to work.

So until the scale starts moving, and even if it doesn't, I'm going to keep moving. I'd rather be 287 pounds doing some geriatric jog than 287 pounds sitting on the couch.

I may be a total failure, but I'm a total failure that is going to the gym today. I'm going to do at least an hour on the treadmill and maybe I'll do a mile in the pool as punishment for being pathetic and whiney. Can't hurt, right? I will just turn up the tunes to drown out the sound of my own negative and brutal voice.







Friday, May 27, 2011
I leave on my cruise a week from Sunday, and I'm already stressed about not being able to get my spark on. Yes, I know, I worry too much, but I'm an addict. Hello, my name is Jennifer, and I have a Spark Addiction. It is nice to have a good addiction for a lovely change of pace!

I could potentially go into such severe cruise-induced withdrawal from Spark that I will have a seizure and someone will be forced to give me a Valium suppository. No one should have to endure that, least of all me. I could take my laptop, but that would defeat the purpose of leaving the country so that work cannot call me or email me. (Seriously, we picked this vacation so work could not call Cheffrey or me.)

So, I think next year there should be a Spark cruise, so I can go on a cruise, and get mega Sparked. Can you imagine, your reward for kicking butt every day, getting healthy, and eating right is to go chill in the Caribbean for a few days with like-minded health junkies?

Seriously people, if Rosie O'Donnell can have her own cruise, we can too.

In my cruise fantasy, Spark management doesn't want to bother with a cruise, so we call it something wacky like Sparkalicious Spark-O-Rama or when I'm feeling particularly odd, The Jenn-Made-Me-Do-It Cruise hahahaha. All of the margaritas will be skinny, there will be kickboxing and yoga and pilates and massages on deck and walk/run relays around the ship.

We will have our photos taken pretending to be Leonardo doing the King of the World thing.

The midnight chocolate buffet will be calorie free--hey, it's a fantasy cruise--and the excursions will be guaranteed to burn no less than 1,000 calories. You will eat well, play hard, and leave weighing less than when you arrived.

For those of you with kids, the fantasy cruise offers child-free options as well as healthy child aerobic activities. The same goes for spouses, they can be banned altogether, or entertained by cruise staff, after all, it is your fantasy cruise too.

They claim there are millions on this site... how about 500 to 5,000 or so of us go hang out in the sunshine and bask in motivating company who won't let us flop on a deck chair and skip abdominal hell class. Can you imagine a ship filled with Sparkers? It would be the best week of insanity EVER. Or it could be four days of fitness insanity, whatev.

What do you think? Does the Sparkalicious Spark-O-Rama Fantasy Cruise sound awesome or what? Wanna go?



First green smoothie ever...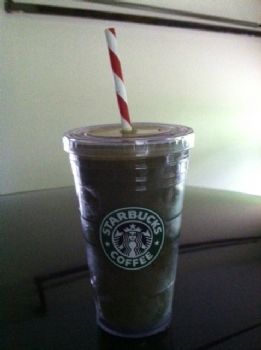 2 oz romaine
2 ounces blueberries
8 ounces super ripe mango
splash of lemon juice
Water (enough to make the blender work)
Ice (I may never be able to eat one of these room temp, unless I won a car on Survivor or something)

Not bad! Super low in calories, I only drank half.

EDIT: Research (googling "group cruise") shows that as few as 8 cabins qualifies as a "group" and would mean discounts. I think this is actually possible, except the cruise being free, because this would be a REAL cruise. :)









Thursday, May 26, 2011
I keep shocking and amazing myself, mostly in a good way. I'm rediscovering old Jenn and I'm carving out a brand new one, too. It's kind of exciting, if you don't mind feeling like Sybil on uppers.

The best part is that I get to pick and choose. I get to take the best of all the Jenns and compile a Frankenstein Jenn. I don't get to take other people's parts. You know, Madonna's arms, Angelina's lips, Giselle's legs, Paulina Porizkova's face, but I do get to be inspired by others.

I choose the Jenn who earned 8 varsity letters (2 JV letters too!), the wisdom of the current Jenn, the obnoxious and sarcastic Jenn that has always been around much to the dismay of everyone who is subjected to me, and the ambitious Jenn who takes no prisoners and works until she gets what she wants.

I CHOOSE the Jenn who doesn't eat processed foods, sugar, meat, eggs, caffeine and dairy 98% of the time. I choose the Jenn who makes health a priority and drinks enough water to make elephants pee like racehorses. I like the Jenn that I'm turning into.

I dumped hag Jenn like Yersinia Pestis. Size 26 Jenn can piss off. Haribo (the only brand of gummy) snarfing, doughnut housing, too big for one size fits all, winded on a flight of stairs, cigarette smoking, caffeine abusing and ranch dressing pouring Jenn can go blow.

New Jenn: I went to Pei Wei and ordered vegan Kung Pao tofu and vegetables made without oil. NOT because it was "on plan", but because it sounded sooooo good. It wasn't just good, it was awesome.

1991 Jenn: I was in kickboxing class tonight, (second time this week, check it!!!) and I realized that I was kicking higher than some of the women's heads. I remembered something I had totally forgotten, when I took a 12 week karate class the 3rd degree black belt teaching the class said I was a "natural kicker". Still am. WOOOOOOT! Clearly, I missed my calling as a Rockette.

1987-1991 Jenn: I got a stitch in my side that made me want to drop to my knees during class. Instantly transported back to the days of being on the track team, and wanting to drop to my knees. I will run again. It may take a while, but I will do it.

New Jenn: It turns out I have the cardiovascular strength to jump, it's the fact that my boobs feel like they are going to rip free of my body and launch themselves across the room that is a problem. I could do jumping jacks as long as I used one arm to keep the baby whales from breaking my nose. Double bagging the girls doesn't work, I think weight loss is the only thing that will solve this one.

Current, worried Jenn: Off topic, sorry, but I've been worried all day, but I didn't self medicate with food. My Mom flew to Joplin two days ago, to help deal with some of the aftermath of the Tornados. I'm worrying myself sick. Please keep her, and the people affected by the tornados, in your most positive thoughts.

New Jenn: I need to find some recipes for "green smoothies" that include no disgusting and revolting ingredients like bananas or mushrooms. (I didn't even know there was such a thing as a green smoothie 3 months ago).

New Jenn: I packed organic strawberries for the road trip to Chattanooga. Contrast this with Old Jenn: I will hit the road and time it perfectly so that it is lunch time when I see the first sign for Chick Fil A and I will eat their chicken sandwich (AND chicken nuggets AND waffle fries) that I'm pretty sure are laced with crack or some other instantly addictive substance.

New Jenn: I bought a Groupon today for fencing lessons. I bought one for Cheffrey (DH) too. Then I harassed my Facebook friends to buy one, and 2 people at work and texted some people too. This exercise-oriented version of me is taking my normal level of annoying to a whole new level.

So, what OLD did you kick to the curb and what NEW are you embracing? What needs to stay, and what needs to take a big fat hike?









Wednesday, May 25, 2011
You are worthy because you are born --Oprah Winfrey today, on her last show

I'm sitting here, basking in DONE girlness, feeling thankful and decidedly NOT worthy. Seriously campers? I'm a motivator? Do you have right Jenn? There are tons of Jenns floating around. The DONE girl of the day? Popular blogs? Really? I don't deserve this. You guys make me cry happy tears. I think you have lost your freakin' minds, but that's ok!

You have no idea, SparkPeeps, how much I need you! You are my rockstars!

I wonder when the day will arrive that you guys realize that I'm a total fraud, that I don't have it figured out, I just found a really good waxer, stumbled onto a cute dress at Lane Bryant, did a successful cleanse and trudge along despite not believing I am capable of changing myself. I wonder when you will figure out what I already know, that the likelihood of me ever losing another pound is slim or none. When will you guys see what I see, that this exercise will never pay off and I will never get smaller than a 22.

I lie to myself every day and say that I believe that my hard work, micro-managing of calories and fake-it-until-you-make-it no excuses philosophy can actually pay off.

This time is different. Deep down, I know it IS enough just to know that this time is different. This time is different. Here is a the truth: the only thing that is different is you, not me.

I am the recipient of the best peer pressure to be found anywhere. People would pay big bucks for what you give me for free. You guys work way cheap! I approve!

This weekend, I received comments and emails saying that I was missed. I missed a day of blogging and I was missed!! (I feel a Sally Field "you like me, you really like me" moment coming on.)

How could I not come back, even after the bacon sandwich and wedding cake breakfast? It was easy, I just admitted that I had decided to take a weekend away from my no sugar, processed foods, meat, dairy, eggs and oil regime, and got back to the business of losing weight. I didn't feel judged, in fact, I think some of you could appreciate the bizarre collection of foods I ate on my pre-planned off-plan weekend. I just felt the gentle pressure to get my s#@t straight again ASAP.

I found out yesterday that you can subscribe to a person's blog, so you are notified when they post, and that some of you actually "follow" my blogs. (Stalkers! :) I follow some of yours, too. Yet another reason to keep moving. Another reason to get on the treadmill. Another reason to crunch alongside The Supermodel tonight.

There are people here who lead by such a great example, I can't flop on the couch in a Jabba-esque fashion when you guys are busy ruining my lazy day by running 1oKs, jogging, spinning (freaks!) and going to the gym even though you still have pain from last year's broken leg.

You all make me want to be better, SparkPeeps.

You don't even know it, but when I am slacking, I pick it back up again because I hate the idea of having to write a blog titled "Confession" where I admit that my weight loss has stopped because I'm eating like a pig at an Oinkfest and eating wedding cake and bacon sandwiches for breakfast, lunch and dinner. The thought of having to confess that I'm back in size 26 pants makes me feel nauseated. I honestly think the reality of being a size 26 again is less painful than having to tell all of you about it.

You have faith in me when I have no faith in myself.

You encourage me to be better.

You inspire me to take better care of myself.

You harass the living *@ out of me until I really work to change the ugly voice in my head.

I get on the treadmill because I know if I mention it here, you will tell me how I did good.

I try to jog because I see your photos, I read your blogs, and I see your tickers moving. So even when mine isn't moving, I know it will, because it did for you when you kept working at it.

I get on the treadmill because you remind me I can do it and one day I will be able to run a 5k if I just keep going.

I take some horrendous photos because you lie and tell me how much I will appreciate having these crimes against cameras when I get thin.

Thank you all. Thank you for the Peep Pressure, the comments, the emails, the constant encouragement, the smiles, the cyber gifts. Thank you for sharing yourselves so openly and honestly. Thank you for sharing your experience, your advice, your time and your energy.

I plan to feel worthy as soon as I possibly can.







First Page
1
2
3
4
5
6
7
8
9
10
11
12
13
14
15 16 17 18 19 20 21 22 23 24 25 Last Page

Get An Email Alert Each Time JENNSWIMS Posts