| | |
| --- | --- |
| | JENNSWIMS's Recent Blog Entries |


Wednesday, May 01, 2013
Thank you, Spark, for providing me with a place where I can spend lots of time not doing my homework and still convince myself that I'm doing something "good" for myself :)

I have a paper due on Monday at midnight-- a paper that is a giant waste of my time that I would rather gnaw my own arm off than work on right now--so of course I am here, blogging.

Things are going well. My body is starting to shed some pounds, I'm starting to feel the difference in a few pieces of clothing and I've been very good about watching what I eat and how much I eat. There are so many times when I wish for ignorance is bliss mode. For example, I would be a far happier person today if I didn't know that my favorite Starbucks beverage (Venti No Foam Soy Earl Grey/Awake tea latte depending on whether I need to be caffeinated or not) is 235 stinking calories.

I still have them, but the whole cost/benefit analysis usually has me ordering a calorie-free iced tea instead most of the time. It's just not worth it.

That seems to be the theme of my dietary life lately. It's just not worth it.
That yummy morsel just isn't worth dying young. That tasty tidbit is not worth the size 24 pants it costs. That nommy nom nom nugget of goodness isn't worth the heart disease it will promote. That festival of deep fried goodness isn't worth the way I feel when I look in the mirror. That mood soothing binge on sweet/salty/fatty food isn't worth the havoc it wreaks on my self esteem.

I did some rough calculations and toyed around with some of the tools here on AvoidYourPaper.com and I realize that I could be at a respectable weight in May of 2014 if I apply myself. Why May 2014? Because that is when I will be done with grad school and start a career as a nurse practitioner. Scary isn't it, the idea of me writing prescriptions? Run for your lives sick people of the world, you could be my patient. But I digress...

I don't want to be that person who says, "do as the fat person says, not as the fat person does." How on earth can I tell people to exercise more, eat less crap and maybe they won't need so many diabetes/cholesterol/high blood pressure meds when my overly generous backside won't fit on a roller coaster?

I mean, let's be serious here. You put me on a spinning bike and my ass is so big that it looks like there is no seat at all. My butt swallows the thing whole. Yes, I always sit in the back row so no one notices the seat swallowing butt of doom, and that's ok and all, but really, I'm in no position to tell others how to improve or maintain health right now. I have the knowledge, sure, but I don't have credibility. My health credibility is like -2 right now. No street cred here, yo. I know my butt will get smaller in the coming months, and that's wonderful, but it needs to shrink a lot before Jenn, NP will be the physical embodiment of health promotion. Over a year before I will look the part, if you will.

So there is a bigger purpose at work here. There is an enormous fat-filled difference between "do as I say, not as I do" and "I did it, you can too, trust me on this." Assuming I eventually do the giant time sucking paper, that is.


In other news, I just figured out that a local restaurant that makes the BEST baba ganoush has their nutrition info online and I can have 15 freaking ounces of wonderful eggplant goodness for something crazy like 160 calories. I may be turning purple in the next few days as I have been eating baba like it is going out of style.

You're turning violet, Violet! Yup, too much more eggplant and you can call me Violet Beauregarde, and if you know who that is and why the reference is appropriate, you get the AvoidantBehavior.com gold star award of the day.

Simple pleasures, like finding out one of my favorite foods is super duper diet food, make this journey a lot more fun. I have to focus on the eggplant win and try to forget about the Starbucks *sniff* calories of doom.















Saturday, April 27, 2013
I think it is a fair assessment that in many ways things got pretty crappy for me in 2012, both in terms of weight loss (gain!!!) and the rest of my life.

Things are so much better today, better in so many ways, except for the stinkin' meanie-head scale and my size "fat" pants. I lost a lot of ground there, but in other ways I am so much better than I was 6-8 months ago. I have my head on straight FINALLY, I even left a job that was killing me, a job that had become such a part of my life that it didn't even seem weird to never have a whole weekend off.

NEWS FLASH: You know changing jobs is the right move when you don't even care that you took an enormous pay cut. That you care more that you are happy and therefore become willing to take a pay cut and in exchange for having work-life balance. At first I didn't believe it could possibly be true, but I, L'Occitane tramp extraordinaire, will happily sacrifice the random trips to L'Occitane for overpriced but absolutely fantabulous body products if it means I have a life outside of working like a rabid dog. What? I get to work 3 12 hour shifts instead of 24 hour plus shifts at the drop of a hat? OK, sign me up!

Emotionally, I'm in a better place than I was this time last year, or even when I was actively dropping weight like a professional boxer wearing one of those shiny silver sweatsuits. I'm happy, I love walking in the door when I get home, I love my life. I have these frequent moments where I find myself thinking "I didn't know I could be this happy." So much good in my life that I am thankful for every single day.

Sometimes I look out my dirty windows at my backyard and wonder if I'm on candid camera and my life is so good because it's really a gameshow and everyone is watching and wondering when I will figure it out.

It's easy to think that I'm back at square one, having returned to my ginormous starting weight of 2011. I'm not. My body remembers.
NEWS FLASH 2: My body is much more willing to get with the program when my brain is in fulminant cheerleader life-loving mode.

I did my first spinning class in a year last week and I didn't feel like I was going to fall off, go into respiratory or cardiac arrest and wake to some stranger threatening to perform mouth to mouth with breath that reeks of gatorade and protein powder. There may have been some moments where I had some choice words floating in my brain about the evil instructor and her "turn the knob to the right again" ways, but I did just fine on the teeny tiny painfully hard spin bike seat.

I'm rock climbing at my heaviest weight EVER, previous to this I hadn't rock climbed since the glory days of the 150s when I was in my teens. I even have my own climbing harness. Yes, friends, they make them in plus size (I'm currently a size 24), and there is no reason not to give it a whirl if your city offers indoor rock climbing.

Last time I wasn't spinning at this weight, I was forty pounds lighter than I am today before I even dared do such a thing. I wasn't kayaking at this weight, I had never even been in a kayak before July of last year when I was pretty, uh, portly to say the least.

I'm swimming half a mile at a time these days. I know I can make it back to the mile and half workouts I was doing in fairly short order, maybe a month or two. Do I still have moments where I dread being seen in a Speedo, of course, even though I'm surrounded by strangers who probably don't give two rats asses about what I look like, Speedo or otherwise.

So what I'm saying is that I'm not starting over. My body remembers. I'm still bendy when I go to yoga, and while my newly enlarged gut gets in the way sometimes, I'm way better than the last time when I hadn't even tried yoga.

My butt seems inordinately large to me right now, but I'm not focused on hating each dimply pucker and wiggly chunk of cellulite these days like I have been in years past. It will get smaller. How can it not?

My body remembers the good stuff. The spinning, the swimming, the yoga... my body remembers it all and it totally digs getting back to it. My achey joints and aching lumbar spine have given way to feeling pretty bouncy again. I'm not going to be running any day soon, and I won't be leading kickboxing class, but I'm feeling rather energetic, methinks.

My brain is in the game. The same brain that thinks eating like a starving rhino to self-medicate for stress is shockingly ok with making the transition to counting each calorie and step with a lot less struggle than the first time. The ugly voices that I silenced the first time around are still quiet, that lesson stuck quite well. Instead of the horrible words about how ugly and worthless I am, I hear a quiet voice of great comfort saying, "you've been down this path before, you know the way without a map, it will be easier this time."

It will be easier this time. It won't be easy, but my brain and my body have already done a lot of the heavy lifting, and now it is a matter of tracking every morsel and gram of everything I taste and moving as much as my crazy schedule will allow. Which, not surprisingly, isn't nearly as hard when you don't work 60 and 70 hour weeks.

This, I believe, is what people refer to as "progress".





Friday, April 26, 2013
Yup. I said it, my butt hurts. A lot. Ouchy. I'm not overly pleased with my butt right now. Spin to yoga sounded like a lovely idea. I get cardio for half an hour with some serious biking and sweating, then I get my reward--some stretching, some relaxing, some more sweating and some lying on the floor trying to clear my mind.

The clearing my mind part never works. I usually end up thinking about how my car needs to be attacked by a rabid vacuum or wondering if others can hear my stomach growling, or something else of dire importance like how irritating my soon-to-be-ex can be. Not what the yogini at the front of the room had in mind, I assure you.

Anywho, the first five or so times at spinning after a long hiatus always makes my butt bones feel bruised. So, genius that I am, I thought I should spin then do a workout that requires me to exercise on those same bones. Ooops. My butt protested during class by letting out an audible fart. That's never happened to me before. Other people, yes, but not me. Apparently my butt was ticked at me. Not sure how many people heard it, but I was so glad the instructor didn't say "bless you" as has happened in other classes.

So day two post spin to yoga and I'm still placing myself gingerly on a chair, almost ladylike in my delicate way of perching, a stark contrast to my usual flop.

I loved the workout. I did. I'm going back. I love workouts that leave me drenched in sweat--you know the kind, the ones where you put on pitstick twice before you go, just to decrease the chances of being the stenchy one in the room. When I was going to kickboxing I got a weird sort of glee from throwing a punch and seeing drops of sweat go flying.

So I am back at Spark. I realize now that it is the only thing that works for me. Spark has the elements that I need to be successful.
1) A way to track every morsel of food that passes my lips.
2) Accountability. You jerkfaces notice everything and help me hold myself accountable. I like this about all of you very much. :)
3) A place to track my weight.
4) A way to track my exercise.
5) A way to tie my emotions to what I'm eating and doing regularly by blogging.
Plus, I love the encouragement and feeling of community here.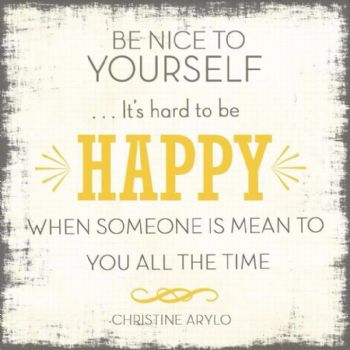 I don't want to go to meetings. I don't want to drink shakes. I don't want to eat gross frozen food. I don't want to take classes that I could teach about nutrition and lifestyle. My problem has never been a lack of knowledge, it's a problem about doing whatever I want even when I know the consequences.

My weight is up. Lots of up. Up up up. It's also starting to come down, but I managed to undo all of the hard work I did in 2011. The good news is that I know I am 100% capable of taking it off because I've done it before. It's just hard to admit to know that had I kept going the way I was I would probably be at my goal or very near. I just have to let go of that, and the fact that I'd be shopping in clothing stores of all types and maybe wearing some really cute and a little bit tight athletic gear.

I go to work in an ICU and I realize that 80% of my patients wouldn't be there if they had made the decision to eat properly and exercise, to be smoke-free and work to maintain a healthy weight. I don't want to be them. I want to be the 80 year old that is taking yoga classes and being a pain in the ass know it all and driving a convertible that young people think is wasted on an old fart like me. I want to be healthy, long term, and be hiking and biking and doing fun things for many years to come.

I tell people who are trying to lose weight that it isn't about being perfect, it's about starting over and over and over again if you need to. It's not about not eating french fries, it's about eating them once and the next meal, the next day, the next week being back on track. Real life includes birthday cake and special meals.

I'm also learning how to make exercise fun and not always a feel like work. I joined a new gym where I can go, work out, then lounge in the steam room for a bit. Going to the gym now feels like a lifestyle choice, rather than a hurry up and squeeze it in kind of thing.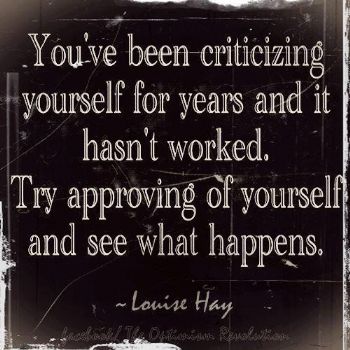 I've already been in my kayak

four times in the last 2 weeks, I've even done some baby (Class II) whitewater. It doesn't feel like work, it doesn't particularly feel like exercise (it totally is), it feels like fun. I've also been doing indoor rock climbing, which I'm not very good at due to my current weight, but I sweat and I feel strong when I do it. I look forward to the day when I can do the walls that are completely vertical, but for now, I'm happy with the walls with a bit of a slant to help me. I'm looking at buying a bike, so I can ride with the wind in my hair.

At one point in 2011 I was able to run for 8 minutes. 8 freaking minutes. That was like my Mt. Everest there... so it's time to get there again. I could also do an hour on the treadmill averaging 4 miles per hour. I miss that me. I miss that smaller belly that didn't get in the way during yoga. So here I am, following my own advice, and getting back at it.

I know what worked and this lovely place (along with a lot of hard work) was it. So here I am, all 302 pounds of me. That's 9 pounds down from a few weeks ago. I managed to put a stop to the madness at exactly my starting weight of 311 several years ago, and I am thankful that it didn't get any worse than that.

I'm back, finally admitting to myself that I will probably have to track my food for the rest of my life, and I'm better than OK with that.









Monday, July 30, 2012
So I haven't blogged for oh, about 6 months. This is not a good thing. Why? I'm now carrying more adipose tissue than I was in January. Poop. I weighed myself today and I honestly think Captain Meaniehead is lying to me, or at least I'm experiencing a temporary whale-like bloating that will resolve as the evil mother nature takes a flying leap.

So where have I been, what have I been up to, other than consuming more calories than I have burned off? Well, to summarize, grad school, job #1, job #2, divorce, eating my feelings, a new love and far less cleaning up after a grown man.

I'm also in therapy, and I've learned some amazing things about myself that, uh, I shouldn't have had to be told. Amazing things as in "if this were any more obvious it would have hit you over the head and cracked your skull" kind of you're a moron stuff. I can address that another day, it is worth sharing, even if it is Captain Obvious stuff.

Anywhoodle, I have also discovered kayaking. Now what you need to know about kayaking, first and foremost, is that if someone says to you, "this awesome kayak is a bargain for $400" you should laugh and say (with a wildly intelligent look in your eye), "what about the $140 paddle, the rack for the top of my car, the life jacket, the helmet, and the polarized sunglasses entirely for the purposes of making me look awesome while enhancing my vision?"

Ok, maybe what you should know first and foremost is not the obscene amount of money that will be siphoned from your wallet artfully by the little boat, but how much freaking fun it is and how buff your arms could potentially become. You may also develop a truly bizarre tan, with freakishly pukey white legs and brown arms, but that's for another day.

I have become addicted to this little town in Pennsylvania called Ohiopyle, the center of a statepark by the same name and home to some of the best whitewater around. I'll tell you the name of the river, but I spell it wrong. It's something like Youghiogheny and pronounced Yock-uh-gay-knee. Most everyone calls it "The Yough" (yock).

In other words, this town offers ample opportunity for hitting rocks, turning over your kayak and dragging your soggy butt to the side of the river where you can get your butt back in your teeny little boat before doing it all over again. There are also multiple ways you can get in a raft and try not to poo your pants from the sheer terror of navigating a mile of Class V rapids. The class scale goes something like this:

Class I: Jenn can drink tea from a china cup, in the boat, with her pinky out. Jenn looks accomplished, stylish and entirely in charge of her kayak and remains dry. There are more waves in a bathtub.
Class II: Jenn looks and feels confident and dry. Why are all the 6 year olds looking so bored?
Class III: Jenn starts flipping over frequently and occasionally (uh, lots) of inappropriate words are being used in public. Luckily, no one can hear these words over the sound of the water and the sound of Jenn sputtering. Jenn looks like a wet dog without a groomer.
Class IV: Jenn better be in a raft with a guide because this is some serious uh, stuff and could lead to pooping in one's pants. Who cares how I look, I'm going to die.
Class V: OMFGHolyCrapolatacular, this is insane, Jenn is insane to be here, why can't I stop this ride, I'm going to die, did I really fall out of the raft at the top of a 9 foot waterfall? I need a helicopter, please get me out of here. Why is it already over and when can I go again? Where did I lose my sunglasses and why do I look like a Troll doll?


So I'm back. I've missed you all very much.









Friday, January 13, 2012
Triathlon.

Now that's a big scary kind of thing, isn't it? Brings to mind charley horses and barfing and the footage of those freakazoid (read: awesome) Ironman people wetting themselves and crawling across the finish line before collapsing into the arms of their loved ones (who are decidedly too calm as they catch their loved one IMHO).

Well, not so much. I mean, it isn't easy, and I couldn't have done it this time last year, but I didn't puke. I didn't even ponder puking. In fact, until I sat down to write this blog entry I hadn't even thought the word puke all day long. It was a puke-free beginning to the holiday weekend.

I'm not ready for a traditional olympic distance, but I'm certainly ready and willing to do this again and to try to get a whole lot faster. Quite frankly, I enjoyed the sprint triathlon experience, even if it was in a gym while watching the snow fall outside.

As much as I hate admitting it, dang it, Cannie50 was right... I really dig this. A lot. A lot lot. Like maybe I should save up for one of those obscenely expensive road bikes and reread Slow Fat Triathlete and seriously ponder being last in a real honest to god organized triathlon this summer.

I prepared last night by going through an extensive preparation ritual that included all of the following: eating some rice.

Clockwise from top:
Avocado, tempeh, long grain and wild rice, raspberries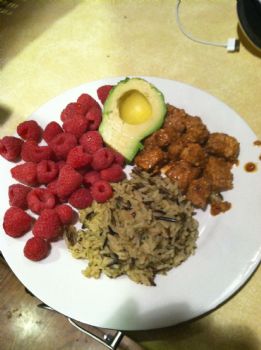 I forgot to eat breakfast. Seriously. I'm not sure how I managed that, but the first thing I learned today was EAT. Had I remembered, I would have had some almonds or raspberries or blackberries. The local store has blackberries for 50 cents per pint and raspberries 4 pints for $5, so my fridge looks like a fruit hoarder has moved in.




Maybe this is a sign of progress? I've always envied those people who say things like "oh, I forgot to eat today, no wonder I'm starving" and when they say it they don't even look like they are lying through their teeth.

Here are more things I learned today:

*I'm slow, but I don't quit.
I believe this is the trait that my husband probably secretly refers to as "pain in the a$$" when I'm not around. Also known as stubborn.

*I may be the only person on earth whose least favorite leg is the bike.
Maybe it was because I was on a recumbent cycle, but it was entirely lacking in fun and I couldn't seem to adjust it in a way that made my hips quit hurting. I'd rather ride on a spinning cycle with the Lance seat trying to give me what feels like a banana enema.

*There is lots of room for improvement.
Starting with the run. Largely because I ran for a total of two minutes and walked the rest. Actually running during the run will dramatically improve the run portion. Shocking, I know. I wonder if that is why it is called the running portion, because people run? Hmmm. Something to ponder there.

*If you want to take a really challenging yoga class, take one 45 minutes after you finish your first sprint tri.
It was pure force of will that prevented me from spending the entire class hiding in the corner from the big mean (tiny, petite, sweet, blonde) ogre of a yoga instructor.

*The transition from bike to run (ahem, walk) is sucktaculacious.
It's like trying to run (walk) on spaghetti. Overcooked, icky, healthy whole wheat spaghetti. This will take some practice. Maybe I will start doing some time on the treadmill post spinning class for the sole intent and purpose of practicing transitioning.

*Having the tummy growls while running (ahem, walking) is distracting.

*Watching Will & Grace on the fancy treadmill while doing the... run makes it go faster.
It will be interesting to do the same outdoors without tv. I wonder if it will mean a faster time or a slower one to have to set my own pace and have trees for entertainment.

*The fear of the tri is worse than the tri itself.
Seriously, if you can do all of the components separately, the conglomeration of the three isn't totally horrific. Now if you can't swim, then it might be pretty horrible to contemplate 750 meters, but in general, your body naturally slows down to accomodate the additional exercise.

*Peer pressure is a good thing if you aren't 14.
Peer pressure is a commonly underestimated tool. Well, if she can do it, I can do it should be running through your head right now because I'm not in very good shape.

*Not peeing before the next leg because you have a delusion that people don't do that during real triathlons means that you will be in danger of having your bladder rupture as you waddle to the potty when you are done.

*Yes, you deserve a nap after a triathlon, even a shorty like a sprint.
However, you will be too hopped up to do so. Even if you lay there for an hour trying.

So, how slow was I? Well, I have to guess about how long I was on the treadmill because I was so eager to snap my proof photo and get off the thing that I took one that showed I finished but managed to not get my overall time. Doh.

My Times:
Bike: 54:40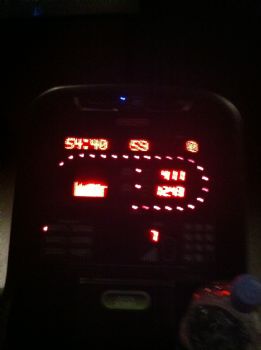 Walk: 49 (estimate, probably within 30-60 seconds)


Swim 20:01

So, no Wonderwoman or even a Wonder Twin by any stretch, but I know I can do better next time and this is a great benchmark.


If I can do it, you can do it. Here's why:

I'm probably heavier than you, my last weigh in was over 280 pounds.
I'm probably slower than you on at least one of the legs and probably slower on all 3.
I haven't been an athlete in 20 years.
I'm not fast, I'm just stubborn.
I can't run for more than a minute. Two tops.

I plan to make this a monthly thing.

Like spinning class, the fear of the tri was worse than the tri itself. Honest. I'm totally telling the truth. Scout's honor. (Humor me and pretend I was a Boy Scout, will ya?)

I know DogLady13 --happy birthday!--and my cohort in crime SOUTHPONDCAMP both did the entire thing, so they get a much deserved WOOT WOOT!

I can't wait to hear how everyone else does on their own leg(s) this weekend. Yippee!



1 2 3 4 5 6 7 8 9 10 11 12 13 14 15 16 17 18 19 20 21 22 23 24 25 Last Page

Get An Email Alert Each Time JENNSWIMS Posts