| | |
| --- | --- |
| | JENNKFIT's Recent Blog Entries |


Tuesday, December 02, 2014
Okay, I'll admit it. This time of year is hard when you've been single for a long time. While people turn toward spouses and children this season single people turn to an empty apartment and stay positive. Don't get me wrong, my life is pretty okay right now, but it does get lonely on these cold, short days. At my age, all of my friends have families by now, it would be easier if I was 24 and just starting out. This is the land of 2nd babies and photos of all the entertaining people are doing.

I will stay positive this Winter, even though it's not Winter yet and I'm already fading. I made a big decision a few weeks ago and will slowly start to see the results as I get out from under my work. I quit the grad school program I was in and don't think I mentioned it in my blog. I did it the night I posted that last blog about my sneakers. I dropped the program that evening and went home early. It really just isn't the right time for something like that and I'm not interested enough in a career change to bother with it right now. What I'd rather spend the money on is the new car I'm actually going to need next year as mine slowly dies mile by expensive mile. I'm not putting another $1000 into that old car, that's money for a new one right there so I'm babying this car and working hard to save for the next one. I already picked out what I'm getting, a Subaru Forester 2.5i Premium with all weather package. I will go on camping and hiking road trips and be happy.

I share more here than with my real life friends sometimes. I'm not afraid to be honest in front of my Spark friends. I know I finally have the tools to get through a Winter successfully this time. One day I'm just not going to live in NY anymore during the Winter and move somewhere that will be healthy for me. It's not fair to spend so many months feeling like this. To be honest, when I retire I won't have to worry about this feeling getting in the way of anything. Yeah, retirement is too far away to think about now.

Anyway, I have to figure out how to reset and stay well this month and just make it to the 23rd successfully, starting tomorrow. This is a bump in the road and a warning to me to take the necessary steps I need to stay healthy. Don't ever give up no matter what happens to your motivation, keep the pilot light burning somewhere deep inside to keep you going.











Monday, November 10, 2014
Finally bought some and I'm keeping track of the mileage this time. My friend gets a new pair around 500 miles depending on how they feel so I'll keep that in mind with these.
Asics Gel-Excite 2 with a sku: 036458671 and here's a photo of them. They were on sale at Sports Authority for $59.99 right now. Most of their sneakers are on sale right now.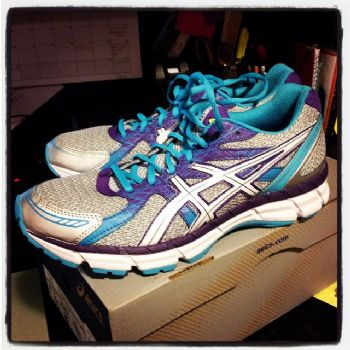 Put just over 3 miles on them today and they're pretty comfortable right out of the box. This style has a rounder toe style than their other running shoes. With feet as big as mine, 11, I like a rounder look. Pointy make my feet look so long and Asics tend to be pointy. Since these are winter miles, I wanted a sturdier shoe that goes from the treadmill to the weight room and not a 'barefoot' feel of a super expensive running shoe. Right now I couldn't see spending over $100 on a shoe. I bought the $99 Asics before and right now I don't notice too much of a difference on a trail walk. We'll see how the $60 model performs on a treadmill. I'll keep the difference in price and buy a new shirt or pants instead.

I also bought a $10 fleece headband to cover my ears, half the price of the North Face one and toasty warm, and I bought a $15 long neck gaiter that I already love. Just those 2 items made me toasty warm. I know I'll need better gloves, I have the cheesy one size fits all and your fingertips freeze type. I need real gloves for winter outdoor walks. I need the sunshine so I'll need to walk outdoors whenever I can and it doesn't take much to be comfortable in the cold. I'll need a base layer under my pants for colder walks, my thighs get chilly. I'll be wearing wool socks and hiking boots for winter walking to keep my toes toasty warm. I'm not going to destroy these beautiful sneakers outside in the winter, they'll be treadmill spoiled all season long.

I wish I wasn't drowning in work right now, but I am and I have to keep figuring out a way to deal with it. The break really is a long way away, weeks, and I can lose over 10 pounds before Christmas if I work really hard again. I have to make sure I manage my time and work out anyway as much as I can. I have to stay healthy now.












Sunday, November 02, 2014
With the Holiday Season staring me right in the face I decided to reset my weight goal to focus on the next chunk of weight I need to lose to reach my goal. I am around 162 now and want to hit 150 still. This is a bit different than when I was up at 185 so I decided to start a new segment today. It's another year of #fit2feast, I'm glad Spark is doing it this year too. I want to burn 10,000 calories this month and work off my Thanksgiving dinner twice. It doesn't matter if all I do is hit the gym and run on the treadmill I need to get out there this month and burn some calories and get on my way to 150 finally. I can do it by Christmas break, that would be a dream come true. Weather is always going to be an easy excuse now so I'm not allowed to use it. Put on a rain coat and drive to the gym if I have to. It's usually an 11 minute walk. It's worth driving and some money in a meter to keep your gym bag from being soaked and having another excuse not to exercise. So I have a piggy bank loaded with change so I know I'm saving up meter time. My city is obsessed with paid parking to generate revenue. Well it's worth it, to check off the most basic excuses we make to stay home. Winter is coming, of course the weather is going to be bad. I'm not waiting until Spring and I'm not gaining 30 pounds by March this time.

We can do this together, examine your goals, see where you are and where you need to go to get where you want to be! I am positive about my chances this time. Home cooked clean meals, workouts, yoga, and time to relax in the sauna is just the right combination to get me through until Spring. I'm ready this year.














Tuesday, October 14, 2014
Okay here we go. I'm still feeling miserable for being turned down (so much unwanted attention and the one I want hates me so I'm feeling extra spurned still, pathetic I know, hoping it goes away soon), I've been sick all weekend and my friend went apple picking without me and it's been grey and gloomy. This is right around that time where I start feeling sad and lonely and sorry for myself. Backpedal a few years and here I am being called depressed or bipolar and given Xanax, and Prozac. Fast forward to now and I'm here sick with a nasty cold, reminding myself it's just a bad few days probably PMS and to suck it up and put on my big girl pants and stop being such a whiny snit. It's a big harsh, but we really have some serious first world whine here in the good old USA. I mean really, what am I complaining about? Let's go over a few things that I have to end this silly pity party. Besides the list of what's wrong with him is too long to still be this mad. It's not the person I'm mad about, I'm mad about not having something right now. It's been well over 4 years and I'll admit, I'll like to have a boyfriend again.

Okay so what is good. Let's ignore the fact that I have a cold and feeling like this is a mood killer. I am overall healthy. Could I be healthier? Of course, but that's not what I'm focusing on right now, right now I know I'm really healthy inside and out, everything is working quite well. I live pretty comfortably, a bit above my means but I'm doing okay. My bills are always paid on time and I always have a full pantry. I have a good job and my car runs well. My family is nearby and healthy too and they love me. I have great friends who understand if I'm getting weirder as I get older. I'm safe and live in a nice area.

See, you don't empty your heart by thinking of what you think you don't have. You fill up your heart and soul by always thinking of what you do have and the beauty that surrounds you. It's so easy to empty things, just knock it over and it all comes out. It takes energy to fill things up and when you're sick and feeling like garbage it's a lot easier to knock something over. Sometimes I feel like giving up already and moving home, but I plan to not do that anymore. I know I wasn't going to this year at all, but now I have even more reason. It's just not right anymore, I have this place and it's okay to love it. It's mine, all mine for better or worse I can't sell right now and where would I go? I have great stuff here all around me and it's a wonderful place even when I'm tired of it. So why spend time hurting and thinking about what I could have or want or imagine? Why not find some happiness in what is right now?

It's all about the theme I talked about for New Year's #peaceful. With only 2.5 months left in the year (wow) I don't know what I'll choose for 2015. I feel like I'm still so far from my goals, but I know I've come a long way on my journey. I want it to continue. Somehow Wednesday yoga class needs to be a rule at 7:30pm from now on. Make it happen.







Sunday, October 12, 2014
So this morning I'm feeling pretty hungry and I decide to wander down to Dunkin Donuts for a sausage, egg and cheese on a croissant. As I was headed down the hill I noticed how gorgeous the day is and how it would be the perfect Sunday to get back on track with a daily Autumn walk. I'm thinking it's pretty chilly and I'm going over in my head what to wear on a brisk, Greenway walk. Suddenly it hits me. Why on Earth am I planning to walk 3 miles today when I'm on my way to Dunkin Donuts? I decided to turn around and go home and fight the craving I was having and the pull I was feeling.

I emptied a cup of Chobani plain yogurt into a bowl and drizzled some local organic honey over it then sprinkled a quarter cup of Kashi cereal on top and grabbed a Dole pineapple cup for breakfast.



1 2 3 4 5 6 7 8 9 10 11 12 13 14 15 16 17 18 19 20 21 22 23 24 25 26 27 28 29 30 31 32 33 34 35 36 37 38 39 40 41 42 43 44 45 46 47 48 49 50 51 52 53 54 55 56 57 58 59 60 61 62 63 64 65 66 67 68 69 70 71 72 73 74 75 76 77 78 79 80 81 82 83 84 Last Page

Get An Email Alert Each Time JENNKFIT Posts