| | |
| --- | --- |
| | JENNI329's Recent Blog Entries |


Tuesday, June 05, 2012
www.youtube.com/watch?v=QcqrbqPxOc4&
feature=youtu.be

She's still as crazy awesome as ever. I remember seeing her years ago when she lost all the weight & thought "that lady is insane!" Insane or not, she's got chutzpah and tells it like she sees it.




Wednesday, February 23, 2011
Let's see, where to start? I haven't been tracking my food very consistently. I know, I know. Not the way to get the weight & inches rolling off but I can guesstimate pretty well and there's probably only a day or 2 I went over my range. Saturday being one of those days as we had a kid free weekend and ate out for every meal on Saturday. Ugh, I was certainly feeling it by Saturday night.

I got quite a bit of exercise over the past week though, including almost 3 hours of dancing at House of Blues in Boston last Friday where we saw George Clinton & Parliment/Funakdelic. Even though Mr. Clinton's voice is pretty much shot, the show was incredible. His bands are funkalicious & his female singers, wowzah! Those girls can SING. I did a 52 minute FIRM Bootcamp DVD on Sunday to erase some of my transgressions from Saturday. I've still been doing my Jillian 6 week 6 pack DVD every few days and it's getting easier, hooray! Maybe next week I'll jump up to level 2.

Measurements:
Start week (SW) Current Week (CW)
Waist: 31 31
High hip (at hipbone): 39.25 39.25
Bust: 34 34
bicep (L): 12.5 12.5
bicep (R): 12.25 12.5 (+.25)
thigh (L): 25.75 25.5 (-.25)
thigh (R): 25.5 25 (-.5)
Waist @ bellybutton: 37 36.75 (-.25)
Hips @ widest part of body: 41.25 41 (-.25)

So, if I add that all up, it's a total of 1 inch lost from all over my body within a week's time. I'm pretty damn happy with that all things considered.

Here's to an even better week 2!






Tuesday, February 15, 2011
Today I've been discussing weight loss with some ladies on Facebook and Twitter. I realized that there's WAY too much emphasis on the scale, blast that damn thing to hell! Or do this!

While the scale is a useful tool for weight loss, it is not the only tool we all should have in our arsenal. Two of my other favorite tools are how my clothing fits and my measurements. Another useful tool, that I'm honestly not 100% comfortable with, is pictures. It's been said that a picture tells a thousand words and I've found that to ring exceptionally true about weight loss & healthy living.

So I challenge those of you who are up for it: go for 6 weeks without weighing yourselves. Eat right, exercise, and every week take a few pictures and your measurements. I'm going to push myself out of my comfort zone & post my progression pictures at the end of March. I'm nervous, excited & curious to see exactly WHAT I can accomplish in those 6 weeks.

Tomorrow I will weigh myself for the last time until at the end of March. I'll have Adamm9 snap a few pics & help me with measurements every week. Who knows, maybe I'll re-sculpt my body yet again & get some super toned arms, legs or a less flabby midsection! Now THAT would be one hell of a birthday present.






Wednesday, August 25, 2010
This is going to be rambling, so bear with me as there's lots of words floating around in my head that are screaming to get out.



It often strikes me that people, in general, are not educated enough on daily nutrition and how important it is to weight loss, maintenance & overall well-being. I try to limit the amount of processed food that comes into our house. Some weeks I do really great, others, not so much. I'm fortunate enough to be a stay at home mom and have the luxury of meal prep/cooking throughout the day, so most of our meals are completely from scratch. I try not to buy too many canned goods as they're FULL of sodium and other preservatives that our bodies simply don't need. It's just as easy for me to quick soak dried beans & set them on the stove top to cook for a few hours during the day while we're home. And you can freeze cooked beans, so its even easier to avoid canned.

There's been times where I've focused WAY too much on the quantity of food, ie: staying within calorie ranges & eating junk, rather than on the QUALITY of my food choices. I find when I eat more fresh vegetables & foods in as close to their natural state as possible, I'm more satisfied AND manage to stay within my ranges easier.

When I've reached a holding pattern (Thanks MissAnthropy15 for that!) or plateau, I've found that going back to basics for a few days, logging EVERY bite and being brutally honest with myself about what I'm shoveling in my mouth, really helps me to see where I can shake things up a bit as far as my eating is concerned. I 've also found that shaking my workouts up helps bust through the plateau much faster. Adding extra cardio & cutting back on a strength session or 2, seems to be the best way for ME to shake it up. TaeBo is my favorite cardio workout to get things moving again. Your body gets used to the same activities after 3 weeks. So if you've been running 3x wk & doing ST 2x wk for a while, you're probably not challenging your body enough to drop weight.

What works for ME doesn't always work for others and vice versa. However, this doesn't mean I won't listen to others advice, thoughts &ask for help when I need it. Even if I don't like what someone may have to say, it's still important to listen, especially if I've asked for help and not blow them off like they're an idiot. People are MORE than happy to share their successes/failures of weight loss, just like I am. I am much less inclined to give you my full attention/respect though if all you do is focus on the negative. If you're trying with everything you've got & are being honest with your food/exercise, then you have NO reason to be Debby Downer.

The scale is NOT the tell all be all of weight loss. Some days, I want to throw ours out the window, like this morning. Then I remember that I'm making better food choices, exercising regularly and my clothes still fit just fine. Why should I let .6lb distract me from my succeses? I'm currently in the best shape of my life, stronger than ever & love my body for what it can do now as well as for how it looks. I finally have a booty!



I give myself a cheat meal or two most weeks. Maybe even a cheat day but never more than that if I'm trying to stay focused & on track. If I give myself the whole weekend off from eating well & exercising, it only sabotages my efforts, so why would I want to do that? Weekends cannot be an excuse to not exercise & eat healthily. Even if we're eating out, I'm pretty good with food choices and often end up eating only half my meal & get the rest to go as restaurant portions are WAY too big for any one person most of the time.

This is NOT a diet. Let me repeat, this is NOT a diet. This is a lifestyle change. For the rest of my life. I can't go back to my old ways of over eating & being a couch potato. I love being fit, being able to keep up with my kids (for now!) and go into pretty much any store to grab clothes off the rack, knowing they will most likely fit. Sure, I can relax a bit now that I've maintained with my personal 5lb range for almost 18mo now, but I'm a work in progress, never completed and always looking for ways to make me better.









Thursday, April 15, 2010
And not just one but BOTH pairs of my skinny jeans fit?!?! And without my having to squeeze myself into them. One pair being my Old Navy sz6 and the other my Victoria's Secret sz 10. Gotta love discrepancies in different companies sizing! NOT.



Last July I wrote about these damn VS jeans: www.sparkpeople.com/mypage_public_jo
urnal_individual.asp?blog_id=2216043 I was SO bummed when I tried them on last summer & they barely fit. yesterday, on a whim, I decided to pull them out of my drawer and see how I was progressing towards being able to wear them comfortably. Well imagine my shock & complete giddiness when I could do them up AND sit comfortably for longer than 20mins! Don't laugh, y'all know what I'm talking about here.

I swear jeans & bathing suits are my two worst nemeses, as I imagine they are for a lot of women in general.

I'm going to be brave & post some pics as it's a HUGE success in my book as these jeans *barely* even closed last July. I need to cut about 4" off the bottom & re-hem them as apparently every woman who can wear VS clothing is a 5'10" or taller goddess.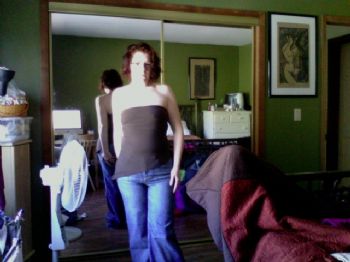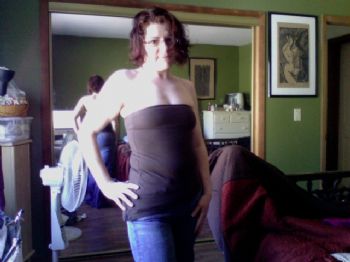 And just because, pics of my Old Navy jeans too.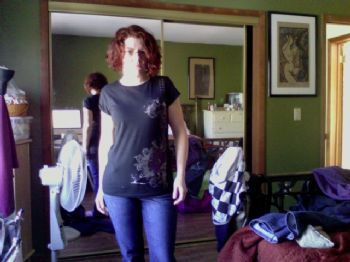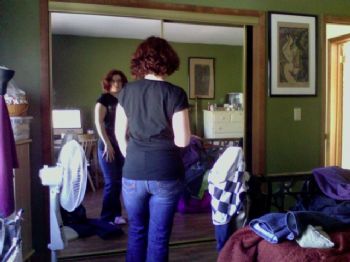 1 2 3 4 Last Page

Get An Email Alert Each Time JENNI329 Posts