Monday, August 23, 2010
Or, "Running My First 5K 'Backwards'"

I don't know if I mentioned that the 5K I ran on Saturday was not only my first 5K, it was the inaugural year for that particular 5K. Let's just say there are some details they need to iron out before next year! There were evidently some big issues with the course markings, but I would have to say the biggest problem I ran into was self-inflicted. My niece and I somehow managed to miss the start of the 5K. We got there almost two hours prior to the race, got our timing chips, and walked around a bit. Then stretched. Then, as 1 mile runners and first finishers of the 10k came in, we stood by the finish line and cheered them on. The finish line for all races was about 100 yards from the start and that's where we were standing 10 minutes before the 5K started. Not only did we not see 181 people lining up for the 5K start, we evidently missed a starter pistol. Heard it for the start of the 10K, missed it for the 5K. The first indication we had that we had missed the start was when the guy organizing it said, "The first finishers for the 5K should be arriving any minute, make sure you cheer them in!" Wait... WHAT?!

So, my niece and I asked him if it had already started. Yep, at 9:00 AM, 15 minutes earlier. Can we still run it? Yes, do you know the course? No! Well, we'll just look for signs, ask directions and wing it. So we took off. The first time we took a wrong turn, we asked a police officer directing traffic which way we were supposed to go. He had no idea. We ended up running down a hill toward the finish line. Oops! Back up the hill we go! At the top of the hill, another police officer and a volunteer couldn't tell us which way to get to that first turn. "Should we just skip it, try to get a refund and register for another 5K in the future?" I asked my niece. She said "Whatever you want to do." Typical 13 year old response. I had turned on my Nike+ at the start of the race, so I decided we'd try to follow the course as best we could and use the Nike+ to figure out our distance. If nothing else, we'd have a good run and a lesson learned.

About that time, we passed a woman who gave us a quizzical look. We explained what had happened and she suggested we run the course "backward" because we'd be able to see the path the other runners were taking in the opposite direction. It was such a good idea and kind of a relief when she told us that other people had also gotten lost. We got some funny looks from the other runners, because we were running in the exact opposite direction they were. But telling people "You're running in the right direction. We started late and are running backward!" made it kind of a light-hearted thing. My niece was particularly amused. At one point, we found some course marking arrows, so we started going in the right direction. That was probably a good idea for not getting lost, but a bad idea for giving us the correct distance. At that point, we asked a volunteer what mile or km he was at. He didn't know because they told him where to be at the last minute, but he thought he was a little over halfway through the course. The Nike+ said we were at 2.76K, so that seemed about right and we followed the course from that point.

My plans for sticking to my 2:1 intervals became a shambles during the race, by the way, because I loaded my running interval track onto my old iPod shuffle and gave it to my niece, but we started them 15 seconds apart in all the missed-start hubbub. Plus, we had to keep stopping to ask directions. Our pace was all over the place! Toward the end of the run, we passed a woman who was alternating walking with running and obviously struggling. I wanted so badly to declare the race a wash and stay with her to the finish line, but I didn't want to hold my niece back, so we left her behind. I feel bad, because I think we ended up with all the cheerleaders at the finish line.

When we approached the hill we'd run down the first time we got turned around, I realized that we were going to be significantly short of 5K. I was incredibly disappointed because after all the weirdness of our run, it wouldn't even be 5K. In my mind, I have not run a 5K race. I've been in a race. I've run over 5K. I have not run a 5K race. I told my niece that unlike everyone else in the race, we ran up and down the final hill and that should count for something, but I didn't and don't believe it's good enough. As we ran down the hill, I heard the guy with the megaphone say something like "(My Name), please check in." It turns out, he was telling the crowd that me and my niece had missed the start, began 15 minutes after everyone else, and ran anyway, so please cheer us on! After entering the park, I told my niece that I wanted to take a short walk break to get my wind back so I could finish running.

And then our cheerleader appeared. This man I had never seen before, obviously an experienced runner, told us we were doing great, poured a little cold water on our backs and informed me he was going to run the last of the race with us. I tried to get him to run fast with my niece, but he said she needed him less. We then encouraged her to run as fast as she could to the finish line. This is my amazing niece, literally flying through the finish. (My stride doesn't allow me to get airborne like that!)


I was tired, but I wanted to finish strong, so I put every bit of energy into my final few hundred meters. My Nike+ says my pace at that point was 8:18 min/mile. My sister's partner didn't realize I was passing her, so my finish line picture is, appropriately enough, from the back.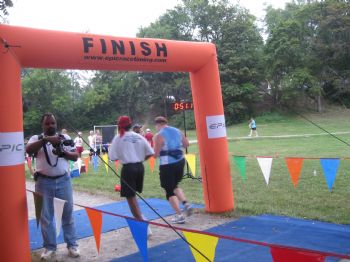 I got distracted by talking to my family, grabbing water and turning in my chip, so I didn't warm down properly. And looking back, I'm kind of appalled at my lack of etiquette in standing around in the finish line area. Sure there were only two people behind us, but that's just Not Done. But this is how I felt when I got there.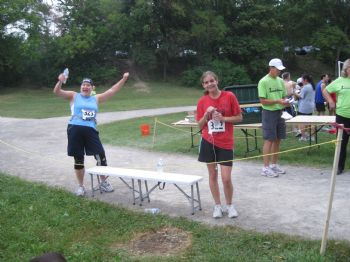 Anyway, our cheerleader informed my niece that he's a cross-country coach and he believes she's got a great stride and should join the cross-country team at her school this year. He also told me he thinks I'm selling myself short and that I'm capable of greater distances than I've done. He really wants me to run the Bobby Crim race up in Flint this coming weekend. I'm thinking about the 8K because I'm scheduled to run 4.5 miles this weekend and there's not much difference between 4.5 miles and 4.9whatever miles. However, I could really use a weekend without substantial plans and think I'd rather have a free 4.5 mile run than a $27 5 mile run this weekend!

My next scheduled shorter run is the weekend of Sept. 11, and lo and behold, there's a 5K run/walk for cancer at a hospital about 10 miles from my house. It's the fourth year that one's been run, so they should have all the kinks ironed out. I'll be calling that one my "first and a half" 5K race.