| | |
| --- | --- |
| | JCORYCMA's Recent Blog Entries |


Thursday, February 25, 2010
"What do mean how long until the next rest stop? You just went twenty miles ago!"
I apologized to my husband -- blaming it on the coffee I had brought along in the car, but I was secretly thinking that he wouldn't possibly get it. The man is a virtual camel when it comes to holding his urine!

Every kids little league game we went to, the first thing I did was scout out the Ky-bos -- you know those AWEFUL "portable pottys" that so many recreational parks have. I loathed using them fearing the terrible smell, the germs, the disgusting sight in the unflushable stool. Worst of all was the fear of accidently getting locked in one. I saw it happen to a poor woman at a park once.
One time I sat in the broiling 100 degree sun at a tournament game in a small town, not drinking anything for fear my urinary urgency would kick in and I'd have to use the Ky-bo again. The one that I saw housed a large, hairy, jumpy looking spider the first time I used it!
Little did I know at the time, that the more concentrated your urine is, the more irritating it is to the lining of the bladder and therefore the more urgency you get to use the bathroom.

I was overweight and knew that I needed to exercise, but went to an adult ed evening fitness class once and had to leave early because after one jumping jack I had -- horror of horrors:

WET MY PANTS!

At first I thought the dampness of my undies at the end of the day was an accumulation of "fat girl sweat". I was almost in denial until I eventually found myself throwing a box of "mini pads" in the grocery every week along with "fresh wipes" to keep the chronic faint ammonia odor in check.

I finally got up the courage to speak to one of the physicians I work with. After all, I had been a nurse in the women's health field long enough to know the signs and symptoms of urinary incontinence. He sent me to a urologist who diagnosed me with a cysto-urethrocele, uterine prolapse, and rectocele -- all $50 words for my organs had gone South - and not just for the winter! My bladder, uterus, bladder neck, and rectum had all prolapsed. Simply put - female hernias. We tend to think of hernias as only a bulge in a man's groin, but not true. Many women after childbearing and especially as we age and pack on the pounds, develop these hernias.

In my particular case, I had an extensive abdominal surgery to repair all of these defects. The recovery was difficult and involved leaving the hospital with a large catheter in for two weeks and an additional two weeks of self catherizing until I was able to go on my own. This was the mid-ninties and treatment options were limited. Although I had seen a urologist prior to surgery who performed some simple testing on me to determine bladder capacity and visualize my leaking, it was a gynecologist who performed the actual surgery as is customary.

In 1995 a new physician joined our practice right out of residency. Because I had been there so long, I was the nurse who was assigned to all the new physicians who came in so I could "teach them the ropes". This doctor was very interested in female incontinence issues and brought what is known as urodynamic testing into our office. He purchased the equipment and announced that WE would be performing these tests that were once farmed out to urologists -- right there in our office. My first thought was "What do mean WE Kimosabe?" I quickly learned that it was sink or swim. I would learn how to assist with what we called a CMG (cystometrogram) or float on...
At the time I thought that the testing was a pain in the neck. It took significant time to set up the testing equipment and as the doctor performed the test, I had to schedule an hour time slot out of his schedule -- a practically impossible task and women often waited weeks to get in for the test. Then another month to schedule surgery.
In addition to the testing, he brought the latest in innovative surgical repair procedures. Many procedures were now being done vaginally, and with minimal post operative complications. Some were even being done outpatient with the patient being consciously sedated as opposed to general anesthesia -- being "knocked out". My interest was piqued when I saw that the complications that I had experienced were becoming a rarity with the pre-operative testing, selection of the proper treatment options, as well as the newer surgical procedures.
I worked with this particular physician for 13 years as his nurse / sidekick. By this time, most of the physicians in our ever expanding group were on board with doing female incontinence work-ups. I was discovering that with the newly developed medications for urinary urgency, AND with the new trend to advertise prescription medications on television, many women were "coming out of the closet" and talking to their doctors as the commercials advised. Lots of people criticize the drug companies for spending the money on such aggressive marketing tactics, saying it drives up the costs of prescriptions, which ultimately may be true. However, I credit the "gotta go, gotta" commercials for reassuring women that incontinence is a common, valid problem that they don't have to live with because it's a part of being female.
The problem with the use of medications, however, is that many primary care physicians -- the good ol' family doctor -- are prescribing it willy nilly as a first line of therapy, without properly working up the issue. Granted, it is less invasive and if it works, well great. Trouble is the dry mouth and constipating side-effects of the medication aren't worth it if it doesn't solve the problem. Urgency isn't the most common form of incontinence.
While we continued to add new physicians to our group, I asked not be assigned to the new docs. I was finding that I really enjoyed working with the large population of incontinent patients that the physician I had been working with saw. Things began to "click" with just how everything tied together as far as symptoms, diagnosis, and treatment.
About 5 years ago, when I first started losing weight, we bought some new sophisticated equipment for testing and working up female incontinence. Everything was now computerized and we added components to diagnose voiding dysfunctions -- abnormal peeing as well. The testing takes an hour and the other doctors nurses didn't appreciate scheduling or assisting with the process any more than I did at first. I looked like the supreme "suck up" because I was so enthusiastic about the subject and now looked forward to setting up and assisting with the testing.
One day I had a patient who had drove 75 miles into our office for the testing and I was mortified to receive a call from the doctor saying that he was about to get into some emergency surgery and I would need to reschedule his afternoon's worth of patients. I told him that this woman had driven 75 miles and I really didn't feel like I could easily reschedule her. What could I do? Could he come when he was done with surgery and I'd stay late? He thought a moment and said why didn't I just do the test? After all I had seen him perform it hundreds of times.
ME? ME? NO NO -- YOU KIMOSABE -- NOT ME! ME TONTO!
Yes I could put a catheter in a woman in a coal mine at midnight wearing sunglasses, but there was so much more to the testing. My head was spinning, but for the sake of the patient I agreed to try. I was shaking so badly that first time and it was a crude report to say the least, but it essentially gave the dr. the information he needed to select the best treatment option for the patient. He began suggesting that I test other patients on a regular basis.
The idea of me performing the urodynamic testing caught on quickly and all the other physicians, anxious to free up their own schedules, began asking me to test their patients too. While I was adequate, I never like doing anything half-way. Especially when it comes to the quality of care that a patient deserves. So I formally requested to be sent to training not only in the technical aspects of the testing, but the interpretation of the testing as well. In turn I proposed that a new nurse be hired to work with the doc that spurred my interest in what is known as "urogynecology", and I would perform urodynamics for all the drs. in our group.
They readily agreed and I now perform the testing and generate reports for approximately 300 patients a year. I also work with patients on pelvic floor rehabilitation -- kegel exercises and behavior modification techniques to correct voiding dysfunction. I am hoping to expand into biofeedback as an addition to my pelvic floor therapy. I fit pessaries - a rubber donut shaped device that fits in the vagina to alieviate symptomatic prolapses in woman who are poor surgical candidates. AND I teach self catherization to the occasional patient who warrants it. Rarely post operative patients these days. It's mostly women with neurological disorders like multiple sclerosis, myasthenia gravis, or even common diabetic neuropathy.

I am a member of the Society of Urological Nurses and Associates - SUNA - and fairly well versed in female urinary incontinence if I do say so myself. I am in the process of studying to pass their national certification exam to obtain "official" certification. This is quite an undertaking as it encompasses not only female incontinence and voiding dysfunctions, but males with benign prostate hypertrophy - enlarged prostate issues, sexual dysfunctions, as well as pediatric incontinence issues like bedwetting.

Well dear Spark friends, I've glazed your eyes over enough with my enthusiasm for my profession -- which I fondly refer to as my "Passion for Pee"!

I am going to blog next about the more specifics of different reasons for why people lose urine or feel the urge to urinate constantly. I promise I will use the same "patient friendly" lingo that I use with my patients to put it into terms that are readily understood. I'll cover causes, symptoms, testing, and treatments available.

SOOO -- if the whole subject of wetting your pants or running to the bathroom 24/7 isn't your interest, feel free to skip it.

BUT if you are one of those "closet leakers" - and we aren't talking household pipes -- or you "know somebody" who may have this issue -- you know, a "friend of a friend"....

If you are afraid to exercise. Laugh. Sneeze. Drink the 64 ounces of daily recommended water...

If you feel like your husband or significant other is a camel compared to your number of trips to the bathroom....

Then STAY TUNED...






Thursday, February 04, 2010
Yes. It's true, Spark friends. I had an affair.

Let me start at the beginning...

I met him at the gym soon after I joined. I was attracted to him immediately. He was friendly and... Inviting. He beckoned me. He was smooth and suave and encouraged me to be comfortable with my body. I had nothing to be ashamed of. Next thing I knew I was standing before him wearing nothing but the tiny threadbear towel that the Y provides. I was so nervous the first time. I don't know why. I felt like a loser but he made me feel like a winner.
I was orgasmic!

I quickly became obsessed. I wanted to see him every day. And everyday after my workout, I'd use the bathroom, shower off my sweat with a scented shower gel and slip up on him wearing nothing but that tiny towel...

He knew what I was thinking. I didn't even have to speak. Did I feel down?, he murmured. Why? Because, I answered, I did everything right. I watched what I ate. I exercised. I wanted to be thin for him. I thought about him all the time...

But after a while, I started slipping. I was afraid to face him. I got dressed right after my shower and didn't visit him.

He accused me of ignoring him. I DIDN'T ignore him. I ate a tenderloin with onions last night. I didn't want to offend him. He cooed -- cajoled -- tempted me. Truth or Dare. Until I agreed once again to strip and ...
I climbed on him and locked eyes. Gently holding my breath as I caressed his arm. Slowly sliding it across. Gasp! I opened my eyes and he was smiling. I was still that loser that felt like a winner. He helped me dodge a bullet.
Confident that I was THE ONE, the special one, I watched as another woman flirted with him. She tried to get that smile from him but ultimately turned away spurned and looked forlorn.
"Down?", I asked "No", she sighed. "I don't even know why I bother"! With a smirk I thought to myself I didn't know why she bothered either...

All was fine for awhile. I quietly repeated my ritual with him everyday. Ecstatic after seeing him. Riding home from the gym on a high.
But ---
It didn't last. He eventually became more and more demanding. Jealous. Possessive. He accused me of spending more time on the treadmill. Forgetting about him. I tried to reassure him that with my workout taking a little longer, I just had to hustle to get home. I didn't want my husband to get worried and suspicious. I promised that I would try and spend time with him -- at least once a week if not more.

He pouted. When I did see him he wouldn't let me lose like he always had. He groaned when I tried to take his arm and I kept having to move it further away. I felt guilty at first. I had cheated on him with some french fries after all and not even the extra time spent with treadmill compensated. I vowed to not look lustfully after ANYTHING else - ever again.
He forgave and for awhile things stayed the same.

Until....

I caught him with that other woman. She had JUST came away from him and SHE was smirking! I held my head high as I marched past her and came up to him clutching the towel that barely covered my nakedness. I had nothing to be ashamed of. Didn't he always tell me that? It was true this time. I had been perfect. Thought of him and only him. I got on with confidence. Slowly I moved his arm to my usual favorite spot. He didn't respond. I nudged it a little further. Nothing. Panic started to set in. Confusion. You don't understand ---
I WAS PERFECT!!! How could he treat me this way? I was tempted to drop my tiny towel and humiliate myself right there in the women's locker room at the Y. Falling into my old pattern I started frantically searching my mind for what I could have done wrong. Why, I asked him, Why? What did I do to deserve this?
I must have looked dejected because smirking woman looked at me and said, "Plateau?"

Huh? I was in a daze. I looked at her and she went on, "I think he gets tired of seeing less and less of us", she chuckled at her own joke.

"It's OK", I said with false bravado, "Muscle weighs more than fat".

She burst out laughing. "How can that be? A pound is a pound is a pound..."
Only it didn't sound like mirthful laughter but more like mocking cruelty. I thought about it as I slowly dressed and she departed with a cheery wave. She was right! Weight is weight. No matter what HE says. One pound weighs one pound.

I turned and looked at him and I SWEAR he was smirking...

How could I be so stupid? I asked myself as I jerked open my car door. I felt guilty. Not for cheating on HIM. For cheating on myself. For not recognizing the signs. I was obsessed. I was self-centered and as addicted as any addict.
I didn't just not recognize the signs. I ignored them. What signs? The signs I was making progress despite "his help" ---

My clothes :

My arms and legs:



Instead of

on the treadmill, I was



I was eating


and

good!

I didn't need HIM to make me feel

about myself!

I got home and confessed the whole saga to my husband. My obsession. My highs. My lows. The woman reminding me that a pound weighs a pound. He stopped me right there. He dug in the closet and came out with a small compact sphere of metal. He handed it to me and it was slightly heavy. It's a one pound weight he told me -- from one of his teaching science kits. He put it on the counter and got out the two BIG 8 oz. bags of marshmallows from the pantry and laid them beside the weight. They took up a goodly portion of the counter. A pound weighs a pound he said, but look at how condensed one is compared to the other. See? Muscle can weigh the same but take up a heck of a lot less room!

So even though HE said I wasn't a loser anymore, I was still a winner because I WAS thinner!

That did it. The next day after my workout I marched past him to the shower and when he called out asking if I was going to stop and see him I gave him an icy stare and said, Not today. Not tomorrow. Maybe NEVER!

Ultimately, Spark friends. I gave in and assigned visitation rights on Monday -- at work -- fully clothed -- on his compadre Mr. Digital. He doesn't coo and cajole. He spits up a number and I loosely pay attention to it to insure that I'm not way off base. Otherwise, I watch my tracker to see if I'm staying in my calorie range. I notice the thighs of my favorite jeans -- still loose and comfy? Could I climb those stairs with the basket of laundry and not give it a second thought?

AND I made myself a pact to never stray again.

Yep. The Love Affair with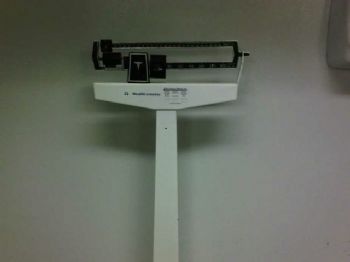 Is OVER!






Tuesday, January 12, 2010
I've had lot's of downtime lately with being sick, and being eager along with the rest of the Spark community to get into Chris Downie's new phenomenal book, The Spark, I opened my copy and thought I'd breeze through it in a few days. After reading Chris' personal story, I thought, what more could I learn that I haven't already uncovered on the website?
Well let me tell you, friends. I am STILL reading the book. I read and I reread. I'm taking notes like it is a textbook! To say that it's motivating and inspiring is simply inadequate and after all, motivation and inspiration abounds on these very pages of the Spark community. Rather he sets up the formula for life transforming success based on sound mind-body principals.
Even though I have already achieved a modicum of success in taking off my weight, I have discovered that I always thought that once my weight came off and I was at goal, my life would be perfect. I was so focused for a solid year on everything that went into my mouth, it's like I had NO other goals or aspirations. All I could "see" is the number on a scale.
The trouble is once I got there, I found that I was asking myself "Now what"? Well for starters keeping the weight off, which as I've blogged about before isn't simply a matter of "I've adopted a new lifestyle now this is a piece of cake". My husband said "Yeah but don't you feel so much better now physically and feel so much better about your appearance that you'll never go back"? How could I explain to this man who has NEVER had a weight issue in his entire life, that it doesn't work that way? I didn't "see" myself as a thin person. I will forever take my shoes off, if not more, before I step on a scale. I will always look in a dressing room mirror and ask myself "Does this make me look fat- er"?
It isn't really even a self-esteem issue. I've always felt like I'm a worthy individual regardless of my weight. My sister put it so succinctly when she said, "Fat isn't a personality disorder"!
So it was, when I started reading The Spark, that it began to dawn on me that I don't truly "see" myself as a thin person. I always kind of feel like an imposter. A fat person hiding in a thin person's body. Like a costume that can be yanked off and returned to the theatrical rental store when the party is over.
I've always been a firm believer in the mind-body connection. As a nurse, I've seen many instances where people who give up, lose their will to live, and surrender to their disease often have a much poorer outcome than those who fight back. It goes back to the power of positive thinking. Negative thinking can end up becoming a self-fulfilling prophesy.
BUT, how many of us, myself included, just give lip-service to positive thinking without REALLY believing?
Every time I look in that dressing room mirror and "see" a fat woman, I'm leaving room for negotiation with my fat cells. After reading Chris (don't you just kind of feel like you are on a first name basis with "The Spark Guy"?), I feel for perhaps the first time ever that there will be NO negotiations because I'm beginning to BELIEVE that I'm a thin, healthy, person. Period. End of story. Right?
Wait a minute!! Like all things - whether it's a new found religious conversion or a new found belief in yourself, it often begins with a precise moment of revelation that starts gung-ho only to eventually dilute until your belief is drowning under old self-talk.
Thus enters THE VISION COLLAGE!
Just what is a vision collage and what does it mean to us? The book covers visualizing your goals in chapter 1. Chapter 6 goes a little more in depth as to the power of imagery in shaping our beliefs. I thought of all the many religious symbols and icons that reaffirm people's faith and I felt motivated to permanently change the stuck record that had been playing in my head for years.
Maybe even more so last week when I was so sick and weak feeling. My mind started to expand the possibilities. I don't just want to be at a healthy weight. I want to be healthy.
When you have a chronic disease like asthma, especially as an adult, despair is sneaky. There are proactive measures you can do to help control the symptoms, but you realize that a cure is probably not forthcoming. My attacks generally strike in earnest about 4 times a year, resulting in pneumonia and a hospital stay several times in the last three years. Luckily, I seem to have no difficulty with exercise induced asthma like some people do. My physicians encouraged me to stay as fit as possible and thought there would be no problems with running.
There was a problem with running though -- I didn't "see" myself as a runner. I asked the Ironman dr. at work when can you call yourself "a runner". He laughed and said "When you step outside your door and start to run"! But I still get that old imposter feeling.
So with all these thoughts in mind I got out magazines, scissors, glue, and a sheet of heavy bond paper I happened to have lying around being saved for the great someday. For a brief moment I felt a little like a middle schooler about to embark on an art class project! But I also felt a passion for wanting to effect positive change in my life --
I wanted it to reflect my desire for positive health, goal weight, physical fitness, strength, self love, as well as a difficult goal of mine -- more sleep.
I brewed a steaming hot cup of green tea, put in the Yanni Tribute CD and set out to make a vision collage!
I found a picture of me when I first hit goal weight and joined my daughter in Grand Rapids, MI to participate in a 5K. It was the first one she ran. I walked. We wore team shirts in a tribute to her husband's uncle who was struck down at an early age from an aneurysm, leaving a wife and young children behind. That race was a very positive moment in my life. The race atmosphere was thrilling and the seeds of desire to run a 5k were planted that day. I felt truly healthy and happy!
The picture was a must on the page. Next I googled a picture of a healthy respiratory system. Simple not graphic. That picture was next. A little article on the benefits of yoga in lessening the symptoms of asthma to help see myself doing yoga. A sleeping woman. Affirmations of love as well as a promise to me. The words jumped out of the magazine pages as the energy flowed that afternoon. Cutting, placing, gluing, BELIEVING.

The result actually brought tears to my eyes. I must have stared at it for an hour.

The words & phrases - all positive affirmation for me and my life:

The Promise . . . . . . . Success story . . . . . . . . . . Feel the Love
Slim is Simple . . . . . Oh, Yes I can! . . . . . . . . . . Make this your fitness year!
Fitness . . . . . . . . . . . Instant Energy Surge . . . . Feel good firming
Get Strong . . . . . . . . Be Confident . . . . . . . . . . Nutrition
Get good health . . . Yoga's surefire benefits . Stay healthy for the next 25 years
Self-healing . . . . . . . Picture of health . . . . . . . Sleep! It's non-negotiable
Fix your health . . . . Calm . . . . . . . . . . . . . . . . Sleep Better
In the center of the page it says: YOU...Can do anything -- this is YOUR page!

Oh yeah -- one more for me AND the mister -- Great Sex :)

I would encourage everyone to take a little time and make YOUR page!

For more information go to: http://www.sparkpeople.com/resource/vision
_collage.asp

Mine hangs on my bathroom mirror. A picture of it is on my Spark page as well as a backdrop on my blackberry.

--- Because SEEING IS BELIEVING!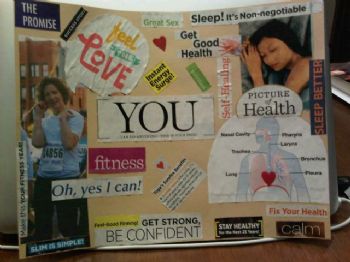 Friday, January 08, 2010
You know sometimes you just have to acknowledge divine intervention.
Five and a half months ago, frustrated that I had gained 15 pounds of my hard earned weight loss back, I googled "Nutrition Tracker" thinking maybe if I started keeping track of my daily food intake, I'd discover where I was failing. Ever fearful that I'd slip back into old habits that I thought I'd abandoned for good, I wanted to halt any of those habits from creeping back into my life. I even prayed about it. Yes, God can work through Google. He keeps up with the times...

First thing that popped up on Google: SparkPeople.com

What the heck? What is SparkPeople?

The question really should have been - Who are SparkPeople? Because that's exactly what this website is all about. THE PEOPLE. The many motivating, inspirational friends that root for each other, send encouragements, offer advice as to what works for them, shares recipes, shares laughs. A lifeline out of that River of Denial that I was treading water in.

A gift from God.

Oh, and the nutrition tracker IS awesome...

I've had a terrible time with my asthma this week. One little cold can throw me into wheezing AND panic. What should have been rest and fluids for a few days has turned into steroids, nebulizer treatments, antibiotics, and almost daily contact with my dear family doctors.

That being said, here are a few random thoughts I'll ask you to take to heart:

1. It's true that we take for granted the things we CAN do until we CAN'T do them:
I'd give anything to be on a treadmill right now breathing with ease running two
miles...

2. While I was in the waiting room at the urgent care struggling to take a breath,
this thought popped into my mind: Why did I EVER think that passing up the
doughnut in the breakroom at work was SUCH a big challenge?

3. True friends love you not "because of" -- but "In spite of". I've made many
TRUE friends here on SparkPeople --

Yep -- you are a gift from God!

---Joanne












Monday, January 04, 2010
It started last Thursday evening. The sore throat. Slight fever. Stuffy nose. By Friday morning I thought "Great, here comes a cold to start the new years off with"!
But this didn't seem like an ordinary cold. My throat really hurt and I had the "I think I've been run over by a Mac truck" feeling.
By Saturday I would have welcomed the Mac truck to put me out of my misery. Certainly it couldn't be the flu - H1N1 - or otherwise. As a nurse, I've been vaccinated against the whole trifecta - seasonal, H1N1, and pneumonia.
I asked my husband if he would look in my throat with a flashlight. Sure he said.
I sat down and dutifully opened wide.
Ahhh....
He peered in with the shining flashlight and looked for what seemed like an eternity.
Hmm... Oh... He murmured.
"Ott"? I questioned as I could feel the saliva running down my throat.
"What am I looking for"? he queried.
Snatching the flashlight out of his hands, I closed my mouth in resignation, sighed, and went back to bed.
To his credit, other than not knowing a red throat from a hole in the wall, he is wonderful when I'm sick. He came home from the store armed with cough drops, mentholated rub (ever hopeful, I did have to tell him no thanks to his offer to rub my chest and, lest you all condemn me, gave him a raincheck!), AND he made chicken soup.
As a reward for all his efforts, I got laryngitis and lost my voice...

Funny thing about people in the medical profession. We all love to self diagnose. I have asthma even and should know better, but I had stubbornly refused to join the masses of people I see daily who run to the doctor wanting antibiotics for a sniffle. Rest, fluids, more rest, more fluids. Good advice, if I hadn't been using my rescue inhaler 3 times a day so I could take a deep breath.
So this morning I called in to work and when the boss had to ask who I was, thought maybe I should actually go and see my family doctor. I'm so used to hitting up one of the docs I work for in the hallway for a "drive-by" consult on minor stuff, I had to dig up the family drs. phone number.
Anyhow, final verdict: Strep pharyngitis, bronchitis, sinusitis.
I did get to weigh in on a Monday -- a la my goal. The post holiday number wasn't so pretty but was consistent with my estimate of needing to lose 7 lbs.

Speaking of goals, I really appreciate the comments and feed back on my goal list. Oddly enough many people worried about the exercise agenda. I already have the steady habit of working out 6 days a week so really assigning cardio vs. strength training is more of a formality.
The sleep and more water and less diet soda and coffee will be a greater challenge.
While I've been bedridden, I've been reading through "The Spark". It's a great book and I've been learning so much. I realize now that although it's good to have lots of goals, including long range goals, to succeed you need to focus on accomplishing some smaller goals to build up to the bigger ones. So with that in mind and the input from many of the Spark community, I have decided I'd rather start small and create habits that last and build rather than tackle so many that I end up doing "mostly". Which was how I made it to my present weight, but probably why I still struggle to stay there.
So my focus is on the sleep and the water, and the food tracking.

Before I sign off -- Thank you to all my fabulous friends who "hit my page" with a toast to me being fabulous as well. Sorry I had to break the chain by being too sick to participate. You really are all fabulous!
Funny, but the punishment for not forwarding the message on was to be ugly for a while. I looked at myself in the mirror this morning before going to the dr. and there I was hair frizzed everywhere, pale unmade up face, shadows under the eyes, a nose that rivaled Rudolph and I scared myself! My first thought -- OMG it's true!

Not to worry, though, I'll be back and sparking fabulous in no time --

I clean up real good !




First Page
1
2
3
4
5
6
7 8 9 10 11 12 Last Page

Get An Email Alert Each Time JCORYCMA Posts