| | |
| --- | --- |
| | JAYBIRDNFLIGHT's Recent Blog Entries |


Sunday, September 08, 2013
the title of this blog is nothing groundbreaking or innovative. i think everyone is aware that in order to achieve success in ANYTHING, you have to have a plan.

i was reintroduced to this idea last week.

i started a new job last Tuesday. i'm in training for 8 weeks, so i must report to another facility for the training along with all of the other new hires. we will then report, after successful completion of the training, to our regular district offices.

i didn't bring any lunch with me. i figured there would be places around to grab something. i also wasn't sure if there would be lunch rooms with refrigerators to store our food. well, they have two lunch rooms with several refrigerators, vending machines, a little snack room to buy snacks and water, and microwaves. i was very happy to see that. the first day i walked with a classmate to subway, which was only a block away. however, it was SOOOOOOOOOOOOOOO hot and humid. by the time i got to subway, i was dripping with sweat. it doesn't take much for me sweat, but when i'm not working out and have some anxiety, it worsens. so i just went with it and let my body do what it needed to do to cool itself down. i grabbed some napkins and wiped my face while in line. i ordered a footlong and some water and we walked back. it was so hard to eat even after sitting in the air-conditioned lunch room. i was still sweating.

now let me say that i received my badge with my photo on it i had taken weeks before on this day. that was my FIRST wake-up call. i couldn't believe how full my face looked, and i just knew i was looking hot. the 230 pounds has really shown up on my face. the second was not being able to eat without having to wipe sweat from my face and feeling sticky and feeling sweat drip from my back and down into every roll and crevice of my body. the extra weight causes my body, cells, and heart to work harder. i'm so glad i stopped smoking over a year ago. the extra weight is unhealthy enough.

earlier that morning, i sat a table during my first break with another young woman. we struck up a conversation and she begins to tell me about her weight-release journey. she had lost 10 pounds already. she's doing some sort of bootcamp along with some eating plan. so i told her about my challenges and the many "plans" i've done in the PAST. so she asked me, "so what is your plan now?" that question rendered me mute. it dawned on me that I didn't really have a plan. i just wing it. i read different things, i try different things, i love juicing and drinking smoothes, but i don't have a plan for releasing this fat from my body. i had to get honest with her and myself in that moment.

I NEED TO MAKE A PLAN.

so i told her that we could encourage each other for the next 8 weeks and check up on each other when we bump into each other. we are both confident that with our PLANS, we can see results by the end of 8 weeks. i began to get excited.

so that night, i prepared my juice, made some sandwiches, and kept that up all week. although i did not exercise, it was crucial for me for get into the habit of preparing my meals. since it was so hot and money is tight (at the moment), walking to get lunch was NOT an option for me. so i needed to make sure i had meals to cover break times, lunch, and the long ride home. by the time i would get home, i would have some water and be done. thankfully, it was enough. friday evening and saturday, i wasn't as intense so i have decided to officially make sunday my "cheat day." I will plan what I will cheat with the closer the day gets.

so today, i have spent some time creating a weekly meal plan and exercise plan. my daily caloric intake is around 1390-1400 calories. I will watch dipping below 1200 calories however. i also plan to eat 4-6 small meals a day, using my break and lunch times at work to achieve this. the weekends may be three meals with snacks, but still within the same calorie range. i may increase the calories as the weeks go on and when i get paid. right now, i have to use what i have. :)

I will be alternating between HIIT and low-intensity workouts. my low-intensity workouts will be with weights. i have created a four-month workout plan using Insanity and another DVD that incorporates weights. I will alternate daily. the goal is to keep my curves, strength, tone, and achieve POWER. i have one day of rest on sunday, which is also my "cheat day." it is possible to "cheat" healthily. I also plan to drink no LESS than 8 cups of water a day. if more is required, then of course i will drink.

four months represents a quarter of a year. so from september through december, I should see some wonderful results. I've tried Insanity before. I had 14 glorious days. i didn't see any weight drop (my eating wasn't the best), but my body was getting stronger. i also plan to increase my weight poundage by 5 pounds every month (depending on my strength level) to put more stress on my body to change. i do want to ultimately be lifting heavy weights next year. but first, we release the weight, tone and strengthen to avoid loose, sagging skin. it is possible and i will master this. i have seen then done on people who had more weight than i want to release and they did it without surgery.

so this is my plan for success! mid-way will be the 8-week mark when i graduate from training for my job. however, the end of december plus two and a half weeks in January, I will have completed 60 days of the insanity (alternating days) and be ready to either do a second round or change up my routine altogether.

my ultimate goals:
1. feel confident naked!
2. wear super-low jeans/pants (which means my abs will be HOT AS HECK!)
3. purchase a very expensive bikini to show off my hot bod at the beach or pool somewhere.
4. wear my high heels again with comfort and ease
5. train for and run a half marathon
6. train for and run a full marathon in honor of my father
7. CROSSFIT, BABY!
8. achieve flexibility - i.e., bendy yoga - i want to do hand- and forearm stands and splits against the wall.
9. pole dancing
10. have a personal photoshoot, including wardrobe changes, hair, and makeup!

i'm so smiling right now.

my 8-week milestone rewards:
1. purchase a digital scale - one that calculates EVERYTHING! :)
2. a spa day

my 4.5-month milestone rewards:
TBA




Sunday, August 18, 2013
i see my last post was back in December. that's a long time. i used to blog every day. but i can't go back there and i can't get stuck there. i must move forward.

i weighed myself today. i'm at my all-time high: 233. i'm not shocked. i've been hovering around 230 for a few weeks now. this is the biggest i've ever been. i thought 219 was bad. 219 is looking like 150 right about now. LOL

at least i can laugh about it. having a sense of humor has gotten me through some dark moments surrounding my weight. and when i really think about it, it's not the end of the world.

i saw this on Facebook and it changed my perspective as soon as i saw it: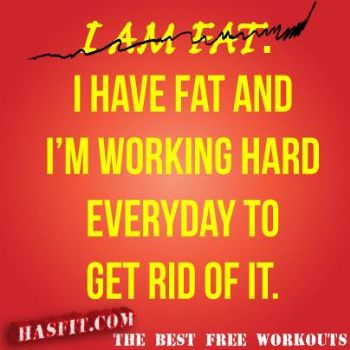 i HAVE fat. i AM NOT fat.

a simple shift in my thinking changes my whole outlook. i don't have to torture myself, especially when it comes to food. i HAVE fat on my body. saying "i AM fat," is something deeper. it implies that being FAT is a state of being - MY state of being. i have internalized this ever since the first time someone called me that in grade school. i've been running away from it ever since. now i see why it has been so difficult to do that. if being fat is who i AM, then how can i run away from who i AM? no wonder fat always found its way back to me...i internalized FAT as my state of being. this is how i defined myself; so it was so easy for others to hurt me with this word. i'm not a proud "BBW." i'm beautiful and a woman. i just happen to be big because of lifestyle choices and bad habits. i used and abused food and developed a weird relationships with it.

seeing FAT as this "thing" I HAVE rather than what i AM gives me freedom. it will still be work, but i can focus on who i AM rather than what i HAVE with respect my fat on my body. i can take responsibility for it with ease. sure there were events that caused me to go to food for comfort, which caused fat on my body. it is not, however, my permanent state of being. i don't have to fear gaining it in the future provided i make a decision on what i want to BE.

i want to BE a healthy person at a healthy weight. i want to BE confident. i want to BE a risk taker. i want to BE fearless. i want to BE a successful, wealthy business owner. i want to BE an inspiration to every person i meet. i want to BE light. i want to BE happy.

and those are just the highlights.

so let me start changing some words....i AM a healthy person at a healthy weight. i AM confident. i AM a risk taker. i AM fearless. i AM a successful, wealthy business owner. i AM an inspiration to every person i meet. i AM light. i AM happy.

things are starting to percolate. i'm grinning. i'm not thinking about food in this moment. the comfort must be in knowing who i AM. i don't have to be afraid of food or being anything less than what i DECLARE myself to be.

i'm so happy i stumbled upon that Facebook post. i HAVE fat and if i want to get rid of it, there are things i can do to achieve that. but fat is not who i AM!

i'm smiling now.





Thursday, December 13, 2012
it's amazing how a raw diet can change your whole attitude. i still have my meltdowns, but they're not as intense. i'm able to be more aware of what's happening and recover from it. i'm able to talk to myself (the little girl in me) about what is going on and asking her questions like "what are you feeling?" "why do you hurt?" "why are you anxious?" and then tell her it's okay to have these feelings and validate them. then process alternative ways to respond or react. it's a continuation of my "growing up" challenge. i'm not in a good space with my mother right now, but i'm appreciating her more now. i just need my distance from her to see it more clearly. we're too close and i haven't had the space to process, accept, and heal from what i think she failed to give to me or give me what i needed rather than what i wanted. i know she did the best she could. i can intellectualize that. it's the hurt and the anger that gets in my way and causes me to be stubborn. i hurt a lot. i know she feels helpless. i'm being a brat. but i don't know how to come to her. it's just easier to be mad at her.

this is why people 35 and over should NOT be living with their parents. unless you have one of those unique relationships with them where you can talk about ANYTHING and EVERYTHING, it's a breeding ground for resentment. i'm experiencing my second phase of adolescence: hormones are raging and changing, my body is going through changes, i'm trying to position myself in this world not fully knowing where i fit, trying on different identities, finding the right "crew" to fit in with, experimenting and entertaining different schools of thought all a the same time, etc. i'm so aware of what is happening. my mother went through this stage with a husband and four kids. i mentioned to her before how i felt about this stage in my life and how i disappointed myself and i'm so confused a lot of times. she couldn't really offer me anything. i don't know what that's all about. maybe she thinks i'll blow up at her. maybe that's true because just like a teenager, i probably would say, "no, mom!!! geez! you just don't understand!!!"

i feel for my mother right now...lol she had one overly sensitive, food-addicted daughter who had NO self-esteem. i can't go back and change things, but i can't help but wonder how different my life would have been had she known what to do and how to instill confidence in me. i'm mad because i have to do it myself. it's hard when you're up against 40 years of self-loathing and low self-confidence. you get bullied a lot when you don't have high self-esteem and self-confidence. that has stayed with me and i feel i get bullied. so i get real defensive on even the smallest things, planting my feet on the ground ready to fight. so i have to teach myself balance and analyze situations.

so i'm back on a raw diet for weight loss, clarity, a cleanse, and to transform my life. i've had two full days of raw and i'm so proud of myself. i've been holding the hand of my inner child so tightly. we've also been exercising twice a day for the past three days. i keep telling myself, "i will not give up on you." it's so important that i keep telling myself that. i can't let myself down. i have to build myself up. i can't go through life blaming my mother. i can be upset and reflect, but i can't keep carrying this. it's showing up on my hips, thighs, arms, gut, chin, back, butt, etc. it's easier said than done when i live with her. going raw is detox. i can't have this conversation with her and i'd rather not have it while i live in this same house with her.

so i'm making the moves to move out next year. so i have to start taking care of myself TODAY. my mind and body must be in synch. i will create an environment of growth for myself to take with me. i will need that for adaptability. so the past two days of completely raw has calmed me. i'm taking more time out to prepare interesting meals so i won't get bored with just salads. there are so many great raw recipes on the internet. i bought a personal single-serve blender for sauces and a coffee grinder to grind up fresh herbs and spices. i'm getting serious! i already have a food processor.

i'm happy to be doing this now before the holidays. i need a good two weeks to get into this habit before all of the madness (food, company, noise, etc.). i've been practicing yoga for three days in the morning to start my day off in a calm state. i've been looking forward to it and i'm working on flexibility and strength. the evenings are cardio. i will add some weight training later. but for now, these will have to be. i also started sleeping in my own bed and not camped on the couch (and since my mom had it cleaned, i just don't feel right sleeping on it lol). it also helps stave off those late-night kitchen runs. if i feel hungry late at night, it's because i need sleep, not food. so even though it still feels a little weird, it's been the best thing for me. i also have been practicing eating at the kitchen table for most of my meals. i must reserve a "dining area" for myself. it can get tricky since my mother sometimes stays camped out there. she uses the kitchen table to eat as well as do other things. what i'm working towards is designating places for certain functions and activities. it's also been helping me. this is what i want to carry with me to my own digs. each section of my place will have a function and a purpose. that way each area i can be present in it and fully aware of what i'm doing. if i'm watching tv and eating, i'm not really aware of either. if i'm listening to a dog bark while i'm trying to study, i'm not concentrating. so i have to carve out areas for myself, including designating times for things. i'll be working soon and running a business of my own. so this will be crucial to my success.

all in all, i made it through two days when it's been a struggle over the past few months. i gained the 14 pounds i lost earlier this year. i was also raw at that time. i weighed myself and it read 222.8. my highest is 223.4. so i'm basically at square one but with more awareness.

this is my story. i must be proud of myself for sharing it. it takes courage. the little girl feels more safe now. she's still scared, shy, unsure, insecure about a lot of things, but i notice she's willing to come out more and just be.

in this moment, i feel content. and that is a good thing.





Tuesday, December 11, 2012
this is my last week of school in this semester. i want A's in both classes. i will get A's provided I can have some QUIET and SPACE. right now, there is no quiet. so i'm on the computer.

so i decided to blog about some things so i can move on with my day.

it's so hard living with my mother, this same house i grew up in, the reminders of my stunted growth, the powerless i feel, the control i feel i DON'T have over my own life, the authority i don't have.... until i position myself to move, i have to be quiet, can't say much, can't demand much, just QUIET. my mom likes to sweep things under the rug. and that mess chokes me.

i've been trying to see ME ever since junior high school. I knew this world I created was just a shield from hurt and disappointment. The fat was just insulation from all of that pain. People hurt me, abandoned me, didn't stick up for me when i needed them, who took from me and didn't give anything back, etc. i'm tired of living on this same block, this same neighborhood, seeing the same faces - all getting older, which reminds me i'm getting older. i don't wanna see that when i feel i haven't lived yet - lived beyond these gates my parents built around me. i just kept them polished.

so i SCREAM every day inside. so the fact that my GPA is still as high as it is with all of these internal madness going on is just a testament to the fight i have. but i don't want to die from buildup.

i have to see the world out from underneath my parents' shadows. i'm so pissed at them right now for hiding me from the world i can't think straight at times.

so what i decided to do was FIGHT FOR MYSELF. i decided NOT TO GIVE UP ON MYSELF. i decided to help this little girl inside grow up into a healthy, savvy, financially sound, independent, well-adjusted, emotionally stable, witty, outgoing, CONFIDENT, and COURAGEOUS woman. it all starts with me.

so tired of being so insecure. i've gained almost all of the 14 pounds i lost earlier this year. i must put a stop to it. i have the power to do so. the little girl wants to be heard, she wants comfort, she's screaming for someone to rescue her from all of the hurt and pain she's endured. she just wants to be accepted. i will show her how to accept and love herself so it won't matter who will or who won't.

these are the things i needed from my mother. for whatever reason, i didn't get them from her. my father tried his best, but it wasn't enough. i needed a woman to tell me how to be confident in my own skin and own my own domain, not based on some man's approval or the WORLD's approval. my mother hid behind my father on a lot of things when it came to me. and now that's he's gone, she's so clueless and i'm so angry at her. you don't know how to related to your OWN DAUGHTER?

pffttt...

so i have to do it. i have to go back and LOVE the daughter she had. i will now have to adopt her youngest daughter, which is me.





Thursday, November 29, 2012
welp! i made it through another holiday and without incident! lol it was cool. i actually enjoyed the time alone. i didn't study or do anything else productive. i did cook a nice caribbean meal for myself (spicy black beans, plantains, a few slices of bake yam, a big salad, and forbidden rice). i had two helpings. considering i measured out portions before cooking, it really wasn't that bad. i love fried plantains. however, i failed to look at the calories in one plantain. the carb level is off the chain as well. next time i'll know. it's hard not to eat one whole one. measuring out all of that sweet, sticky goodness seems so hard to do. i only buy a couple at a time just for that reason. it's supposed to be a treat a few times a month since they take forever to get really ripe. i haven't experimented with green plantains. i like them when the skin turns black.

in any event, i was doing pretty well until my mom and daughter came home. they brought home some dressing and other items. i only had a little and my stomach just swelled up like a balloon. too many carbs at one time: mashed potatoes, cornbread dressing, croissants - just too much. and no one made a salad i think. i usually make one. no meal is quite complete without a salad. so that was their loss since i wasn't formally invited. actually, i wasn't invited at all! grrr..

the next day, i ate meat for the first time in three months. i don't feel bad about it. i'm happy about my streak. it lets me know that i can give it up and can find other options. however, i wanted that church's chicken my daughter went out to compliment the thanksgiving leftovers. she doesn't like cornish game hen. the next day, i ordered some wings from pizza hut, and last night, i bought some frozen fully cooked chicken strips, and some fresh fish. i have to get it out of my system. so i bought the fish to offset the chicken, and save some calories. i decided to incorporate fish into my diet for the protein and so i can measure out meals for the week. a woman who lost a lot of weight posted a picture of her weekly meals. she cooks ahead of time, then measures out proportions into tupperware containers. all she has to do is either heat and eat or pour some oil and lemon juice over it. what a great idea. so in order for me to eat more frequently, i'll have to do that. so i can take some time alternating between vegan/vegetarian meals and ust put them into jars. since i share the fridge with my mom, stacking tupperware won't give neither one of us any room. so i'll use the "salad-in-a-jar" technique and put rice, fish, and beans in containers and measure/add to the on-the-go jars. i'll test this out for the rest of this week and this weekend. pre-planning meals is key to my success. i actually get excited about my meals knowing they're already prepared. then i don't have to "forage" in the midst of extreme hunger.

so things are settling down and falling into place in some other areas of my life. itÕs been a very turbulent year, wrapping up four years of just sheer resistance Š from outside forces and even from myself. now i can scratch some things off my list. i just want and need clarity. i can't keep smothering myself. and that goes for other things that aren't pulling in what's important to me right now.

one of the things that i eat over is not feeling in control of my own life. i had a minor disagreement with a friend yesterday. it could have been avoided had he asked for clarity instead of offering his opinion and shoving it down my throat. he also stated, "well, it's my opinion and i'm going to give it." i had to tell him that i'm not accepting it. i have a right not to accept or respect your opinion. you can't bully me into accepting an unsolicited opinion. i didn't ask for it. that is an attempt to have power over me, render me feel defenseless, like i'm stupid or don't know what i'm doing. and it's a prevailing feeling i have around most dominating people in my life and in situations where i feel intimidated and unsure of myself. my voice gets lost in their bulldozing. it was in that moment where i realized that i really hate that. i can accept constructive criticism. i welcome it. i also will solicit advice and know how to humble myself. but to arbitrarily bumrush me with your opinions of what you would do if you were me will turn me off and i will turn on you. it was in that moment i realized why i have meltdowns. people are used to my just taking it. it's not that i'm taking it, my heart is screaming "noooooooooooo," but my head is telling me i'm unsure of myself so it either comes out with my arguing with a person or i just shut down. iÕve been bullied most of my early childhood and into my young adulthood. so this passive-aggressiveness has come from a place. my mother, at times, bullies me and has bullied. it was under the Ņdo as i say, not as i doÓ regime. my parents were loving, but they were also of the Ņold school.Ó now i see a change in attitudes that really piss me off, because i live with the feelings of insecurity behind that authoritarian parenting style. i got what i wanted, we never wanted for anything, but there was that underlying unwritten expectation of making them proud. there wasnÕt a lot of talk about do what makes you happy. so to see my mom tell other people, Ņyou can do whatever it is you want to doÓ really makes me angry. i didnÕt get that memo from her. i got it from my dad. but even there were stipulations. i must represent the family and represent it well and with that came conformity, which i hate. so instead of embracing my individuality, they wanted me to assimilate. i see it in my brother and my sisters and i reject it. itÕs only when i have private convos with each of them that i realize that they feel the same way, they either have a better way of dealing with it, push it down, or they really just accept it and go through life feeling a bit unsure of themselves.

that is why i need to move away from them. iÕve been at home too long and been on public display far too long in this family. what goes on in my life canÕt be 100% private living in this house. whatever arguments i get into with my mother or daughter, someone knows about it. someone has access to the other person involved. and it usually ainÕt me. so judgments are formed because it appears iÕm the troublemaker. i canÕt stand it.

all of that came up in that little exchange yesterday. iÕm happy that i can identify it. now itÕs time to do something about it so i can move on and truly be independent and be happy within my own skin. i refuse to no longer let anyone stand in my way of progress and success. when people sense you're moving and progressing, for some reason - even the most well-intentioned Š they will say or do things to throw you off center. so i'm going to have to go rogue on some of my plans and missions, only telling one or two trusted people in my inner, inner circle. that way, i'm in control of my own information about myself. so that little exchange yesterday was another confirmation that i need to reserve bits of information about myself. i won't trust myself if i keep running to other people sharing things with them. i will have to learn to sit and think things through. because some people will have you doubt yourself. instead of being positive, they come at you with "warnings" about what you may want to get into, offering what they would do and they haven't done anything like it before. so i'll have to keep that in mind if i'm tempted to ask people. i must reserve my questions to those who have knowledge and experience in that area.

i have the right to reserve information about myself. i have the right to reject or accept opinions formed about me and/or my choices.


1 2 3 4 5 6 7 8 9 10 11 12 13 14 15 16 Last Page

Get An Email Alert Each Time JAYBIRDNFLIGHT Posts