| | |
| --- | --- |
| | JANJAN45's Recent Blog Entries |


Saturday, May 02, 2009
I am using a few sites that I have been involved with over the past few years, Sparkpeople being the one I have used the longest. I am experimenting right now to see if my blogspot posts will interface with Sparkpeople, because the content of the blogspot is the same content I would like to post about here. If it doesn't work, then I will figure out another way to incorporate both, because I enjoy all of it!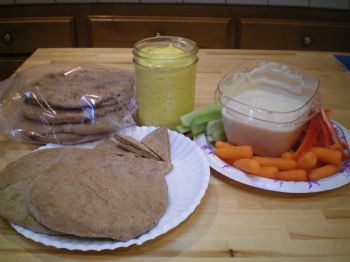 www.janjan45.blogspot.com
In this picture is whole wheat pita bread, flaxseed oil mayonnaise and kidney bean humus: all homemade, all good for you and all delicious!




Thursday, December 18, 2008
My daughter Kate and I have been watching the TV show "Biggest Loser" this past several months. We were rooting for one particular person for most of the season, and as it turned out, she won the finale...$250,000!! And the best part, she looked absolutely amazing on her last and final weigh-in. We were so inspired by her diligence, and not just her, but so many who had lost so much weight. Kate is starting her break at the end of this week, and we decided that we would have our own biggest loser contest. Her break will last 5 weeks, so our goal is to get the gym 6 out of 7 days a week for the 5 weeks. We will eat according to Dr. Joel Fuhrman's recommendation in his book "Eat to Live". I have actually lost 30+ lbs already, but I would like to tone my muscles and firm up some loose skin.....is that possible? Many of the women who had lost 80 to100 lbs looked really good. I didnt see too much skin sagging from their arms. If anyone knows how to keep that from happening, please let me know. In the meantime, we will begin our biggest loser extravaganza, and let you know how it's going week by week!






Thursday, December 11, 2008
This is a very yummy healthy low calorie dessert that I came up with one evening when I wanted something sweet. Everyone loved it..I think you will too



Fruit Burrito Roll-up
1 apple, 1 Asian pear, 1/4 fresh pineapple, 1 cup red grapes, 1 banana....all chopped uniformly in small pieces. Mix together in a bowl and add cinnamon and splenda to taste, with 1 tsp vanilla.
1 extra large whole wheat four tortilla. Heat on grill with a little pam spray, till good and hot on both sides. Lay on flat surface and fill generously with fruit mixture. Sprinkle with dried cranberries and toasted almonds. Roll up tight, folding in both ends as you roll. Cut in half. You can wrap these individually in plastic wrap and store in fridge for a few days. Great for an on-the-go meal! If you want to make several at one time, just increase fruit amounts. Enjoy!






Tuesday, December 09, 2008
Start with the basic ingredients of baby spinach, purple onion and cilantro. Pile this high in a single serving bowl. Uniformly chop: one apple, one pear, 1/4 pineapple, 1/2 cantaloupe, and 1 persimmon. Mix together in a bowl and add 1 1/2 cups to salad greens, along with 3 T. pomegranate kernels, 3 T. toasted slivered almonds and 2 T. toasted unsweetened coconut. Toss with 2 T. Paul Newman's sesame-ginger light dressing. A delicious meal, all by itself! janjanschocolate.com






Saturday, November 22, 2008
I have two favorite salads that I want to share.

Mexican Toss: serves one
1. Mix together baby spinach leaves, chopped cilantro and purple onion. Add 1/2 avocado, 1/2 tomato, 3/4 cup canned spicy pinto beans and 1/4 cup canned corn. Add salsa of choice and enjoy!

Salmon Supreme: serves two
1. Salmon fillet, pan broiled for 2 minutes on each side.
2. One mango, peeled and chopped into bite size pieces.
3. Salad base of baby spinach leaves, cilantro, and purple onion, chopped.
Mix together and add Paul Newmans light ginger sesame dressing

I eat salad everyday, and enjoy it so much. It is one of the fastest and tastiest meals to prepare, and the most healthy to boot.


1 2 Last Page

Get An Email Alert Each Time JANJAN45 Posts