| | |
| --- | --- |
| | IVORY1825's Recent Blog Entries |


Wednesday, January 20, 2010
So, this is the 2/3 mark of my Meltdown with Dax Moy of www.londonpersonaltrainingstudios.co
m .

I am feeling pretty much great. I sailed through the last two low carb days, no problem. Well, this evening I started getting dizzy again, so I had some grapes and an orange, but it was a high-calorie burn day for me since I was up doing experiments for quite a while more than usual.

My workouts are fabulous, though tomorrow is going to be tough because we're playing D&D in the evening so I will have to do all four workouts before dinner, and two at work instead of one. I have an idea of how to manage that, although I might look pretty silly since I think I'll do the Power Circuit outside on campus.

Tonight I made a white chili, which was yummy, although pretty spicy. I really threw in the peppers, two jalapenos and a serrano, along with green chilis of sorts and black-eyed peas and corn. I had my new favorite homemade guacamole on the side.

This morning I also hit the 11lbs lost since I came back from Christmas vacation mark! My high weight for last year was 168.4 on 12/29 and this morning I was 167.4, 23 days later. I know a chunk of that was water weight, but it still feels good. My spark ticker is also accurate again.

Okay, well, everything is done for today and I'm going to go be a geek and write Supernatural fanfiction as a reward. Hope everyone out there is working hard!!

Onward and upward.




Tuesday, January 19, 2010
Before I get into dinner, a few notes on my first fast in a long time yesterday:

I did better than I expected with the fasting, just two minor issues. 1) at about 23hrs I started getting dizzy when I stood up, so I took that as a sign my blood sugar was too low and broke the fast early and had a few grapes and some peanut butter. I've had this happen when fasting before, so I think I may need to break my fast a bit early with a high protein snack ahead of that time (at like 22 hours) to be safe.

2) I couldn't take my drug that regulates blood sugar in the morning (it makes me hypoglycemic when I exercise if I don't eat), and so after dinner I had serious munchies problems (common for me when the sugars/insulin aren't regulated). Now that I'm aware of that though, I should be able to adjust better next time, smaller snack bits more often after dinner until bed.

The other thing was that I didn't experience any mental clarity, and actually was really tired and ended up lying on the couch for an hour in the afternoon. I'm a bit behind on sleep (not by choice, by stupid arms falling asleep and waking me), so I'm not sure if that worked against me. However, I was not really hungry at all, so that's good. I did take down herbal tea like a maniac, but I do that on a normal winter day too!

Now, back to eating. I made vegan pesto! It was a combination of olive oil, almond milk, garlic, fresh basil, almond slivers, and nutritional yeast. It was good. I served it over chicken and spaghetti squash with broccoli and cauliflower. It's a low carb day, but I allow myself things such as squash because if I drop carbs too low the meds screw me up, however the pesto would be just as delicious just over veggies and meat. I did add parmesan cheese to my hubby's meal and gave him rice spaghetti, but no complaints, yay!

I also finished my pyramid tonight! I hadn't actually come all the way back down in 20 minutes before, and I finished the whole thing with a minute to spare. It was awesome.

Oh, I also have post-fast updated weights and measures and pictures! Everything is Jan 1st. followed by Jan 19th

Weight-163.4--157.9-- down 5.5lbs

thigh (4in above knee) 17--16.25-- (-0.75)
thigh (8in above knee) 19.5--18-- (-1.5)
hips 40--38.75-- (-1.25)
waist 32--31-- (-1.0)
chest 42--40.75--(-1.25)
arm 11.5--11-- (-0.5)

Total inches lost: 6.25

Pictures!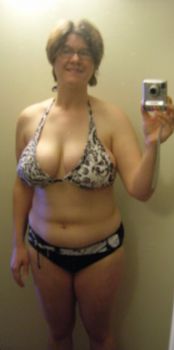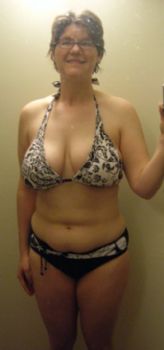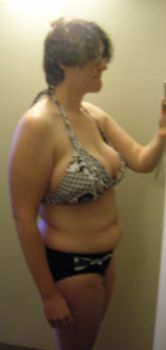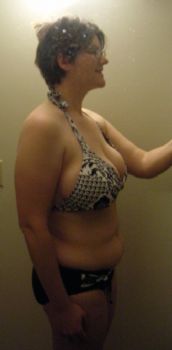 You know what? Those pictures call for a

!!

Onward and upward!





Monday, January 18, 2010
Yes, I am currently in the middle of an intermittent fast. Technically, I am nearing the end of it as it started just after dinner last night and will end close to 7pm (it's 2:25pm now).

Starting off was really easy, I just didn't have an evening snack after exercising, I had a cup of raspberry tea instead. I went to sleep just fine. I woke up later since I didn't have to make myself breakfast or lunch. I did make hubby breakfast, and that didn't bother me.

I have also done 3 of the 4 workouts during this fast, one last night, one this morning, and one about 2 hours ago. They all went fine, no hypoglycemia, but I didn't take the metformin this morning since I was planning to workout without eating.

I have not experienced the supposed mental clarity and focus that others have talked about while fasting. I am just as out of it as usual, and getting just as much done.

Actually, right now, I'm tired and trying to stave off a headache from aches in my back and shoulders. I'm counting down the hours until I am meant to eat again. i kind of want to go home and sleep through the next three hours of fasting. Speaking of sleep, last night, no problems. However, I don't feel fully caught up from the previous two nights and I think that's part of what's hurting this fast.

All I have to say about this right now is that the scale better show me some love tomorrow morning! I have been downing herbal tea like a madwoman. I realize that's no different from my normal life in the winter, but it helps, somewhat.

Okay, this was meant to be a distraction. It only sort of helped. I should try and get some work done now.

Onward and Upward!





Sunday, January 17, 2010
Tonight I made gluten-free gnocchi with mashed red potatoes and brown rice flour. This is the second time I've tried gnocchi, and I'm starting to get the hang of it. I made them too big this time, so smaller next time. I topped the gnocchi with a sauce made from ground turkey, yellow squash, zucchini, red onion, banana peppers, and roma tomatoes. Delicious! Hopefully, all that lovely potato and rice starch will supply me energy for the next 24 hours because it is time to start my first fast! I've done some fasting in the past so I know what to expect and how to handle it, but I haven't done it almost two years. I think the hardest part will be working out, but I know my body and it's been handling the workouts without immediate crashes anyway, so I think I'll be fine.

In other news, since tomorrow is Martin Luther King Jr. Day, my church was full of spirituals and hymns about freedom, which was awesome. I love spirituals. We also sang Lift Every Voice which is one of my favorites.

Continuing the other news, I've been in a crummy mood for the last few days and I need to figure out why and find a way to crush it. Singing seems to help at least, so I'll just keep doing that for now. I think my sleep is a problem, because I keep waking up early in the morning with my arms asleep, not cool. Mom has the same problem ... and her sleep is awful. I don't want to get that bad. Onward to problem solving!

Okay, other than the above, the scale is being a brat to me and I'm pretty sure a 24 hour fast will help kick it into gear, so that should get better. I feel generally awesome and stronger by the day. Say goodbye, gut, I'm working you away!

Onward and upward!





Saturday, January 16, 2010
Today was a good Saturday, even though I kept craving various sugar filled things, I didn't touch any of them. I had one extra snack today, and it was celery and chopped liver (yum!). I did have quite a few nuts. I like nuts.

I added a level to my pyramid today! I can now go up to 5 and then back down to 2! I'll be making it all the way through in 20 minutes soon. Woohoo!

I'm a little nervous about the upcoming dietary change, which is intermittent fasting. Since I'm insulin resistant and on metformin, I need to be careful about how I accomplish this fasting. It is a 24hr fast from dinner to dinner, and I eat both dinners. Therefore, I won't have my evening snack the night before, which should be okay, and then won't eat the next day until dinner, meaning that I won't take my met that day. I know my body pretty well, so I give myself permission to drink 100% fruit juice if I get actually hypoglycemic. I will test this out on Monday, and if it causes me trouble, then I will use an old method I've used for fasting, which is drinking only fruit juice all day slowly while on the met, that still decreases calories, but keeps my blood sugar even.

Anyway, I am still on track, still pushing ahead, and generally feeling great. I intend to keep this up! Day 16 streak.

Onward and upward.



First Page
1
2
3
4
5
6
7
8
9
10
11
12
13
14
15
16
17
18
19
20
21
22
23
24
25
26
27
28
29
30
31
32
33
34
35
36
37
38
39
40
41
42
43
44
45
46
47
48
49
50
51
52
53
54
55
56
57
58
59
60 61 62 63 64 65 66 67 68 69 70 71 72 73 74 75 76 77 78 79 80 81 82 83 84 85 86 87 88 89 90 91 92 93 94 95 96 97 98 99 100 Last Page

Get An Email Alert Each Time IVORY1825 Posts