| | |
| --- | --- |
| | IVORY1825's Recent Blog Entries |




Friday, May 22, 2009
I'm back!

I had a great time on my trip. I connected with people, saw some great Philly landmarks like the Liberty Bell, the Franklin Institute, and the Mutter Museum, and ate some good food.

On that last note. I may not have stuck as well to my plan as I wanted to. Here are the trip pros/cons.

I'll start with the bad: ate too much overall, grabbed chocolated from vendors without thinking, drank too much at dinner (every night), indulged in a few wheat containing items and high fat items, had ice cream three times
The good stuff: walked everywhere (at least 0.7 miles between hotel and conference center), worked out every morning plus Turbulence Training two afternoons, plus intervals one afternoon, many of my snacks were things I brought and the food was kept to meals, never stuffed myself, left food on my plate at dinner/lunch 3-4 times. Those last two are important for me. I tend to chow down on my whole plate until I feel stuffed, and completely miss the "just full" point. This time, I looked at the plates, determined there was too much, and left it. That is new, and I will take it as a major improvement!

As of this morning, the scale said I had gained 7 lbs to 159.8, I suspect that will drop dramatically between this morning and tomorrow. Especially since for most of today I ate vegetables with some protein bits thrown in, and I intend to continue that trend through Sunday. Low-carb plus tough workouts should bring me back to normal quickly.

However, we are leaving Thursday morning to drive 8 hours to PA for my reunion/seeing Bill's family. This trip won't have as many food-related events though. In Philly I had to eat chopped liver and a cheesesteak (in a bowl, but still whiz with!) and go to Morimoto's restaurant (which was AWESOME!). For the reunion, I just have to sing and have heart with Bill's family. I can have heart and a salad no problem I think. Not eating wheat should also keep me in the clear since I will be drastically limited at the reunion meals. Workouts might be tougher on this trip, but I'll just have to make a plan, and stick with it!

Ok, I am off to clip some coupons and get some sleep.




Saturday, May 16, 2009
Sat = weigh-in day!

Weight: 159.6 -- 153.2
No change from last week, but it happens.

smallest part of my waist just above belly button: 33.5 -- 32.0 - woohoo! Lost another inch!
hips at hip bone bump: 36.5 -- 36.5
widest part of my belly: 38 -- 37.5
bra strap location: 33 -- 32
widest part of my bust in a loose bra: 41.5 -- 40.5
center of bicep with arm outstretched: 12 -- 11
thigh, one span higher than my kneecap: 21.5 -- 20.5
neck just above collar bones: 13.5 -- 13.25

Body fat online 29.2% -- 27.6% --> totally realized I had been using the wrong inches for my hieght, whoops! Fixed both numbers


Okay, here we go, April 26th on the left, May 16th on the right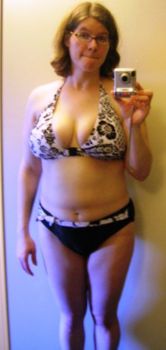 Hey, I'm starting to look good! From the front anyway, I should take a side picture next week.

Ok, gotta pack for the convention. Gonna be crazy busy with packing and prepping and stuff. Watch the twitter for updates, much more likely than blog entries this week.





Thursday, May 14, 2009
I am a miracle worker -- tonight I had Green Bean Casserole -- gluten-free!!

Here's how:

step 1: make the crispy onions

Slice onions into thin strips (it mostly comes apart this way)
Batter with egg yolk and cornstarch (I used 1 egg yolk and 2 tbsp cornstarch for about 1/2 medium onion)
Bake at 450, moving often (I charred a few, watch carefully!)

step 2: make the "cream of something" soup

I went for onion/celery - processed them into tiny pieces, classic would call for mushrooms, but my husband hates mushrooms and I only slightly tolerate them
melt 2 tbsp butter/margarine/buttery spread, and add 2 tbsp flour (I used millet) to make a roux (thick paste)
add 1/3cup nonfat dry milk and 1 cup chicken/veggie stock (preferably homemade!) and processed veggies of choice
heat over medium until thickened, season (I use sea salt and Mrs. Dash)

Now: mix everything together, the soup, the crispy onions, and 2 cups of green beans (this recipe is for 2 people, double it for a family) and bake at 350 for about 15-20min.
It was perfect! I served it with mashed red potatoes and parmesan chicken (chicken baked with parmesan cheese, oregano, garlic salt on it)

Tonight it is raining, so we won't be walking outside, so I will do a Leslie video instead, perhaps Walk and Jog or Walk and Kick, I have some energy to burn off! today for some reason!

Keep following me on twitter for a minute by minute account of my fat loss journey! @Ivory1825

I can't believe it is onlyThursday, this week has been going so slowly. I think it is because I am excited to go to Philly on Sunday! I have a whole list of snacks I need to bring with me to survive without eating junk (or wheat!): Greek yogurt, cereal, low-carb shakes, peanut butter, fruit, cheese, hard-boiled eggs, nuts, soyjoys. I think i'll make it!

Ok, off to exercise and burn more fat ... yay!


First Page
1
2
3
4
5
6
7
8
9
10
11
12
13
14
15
16
17
18
19
20
21
22
23
24
25
26
27
28
29
30
31
32
33
34
35
36
37
38
39
40
41
42
43
44
45
46
47
48
49
50
51
52
53
54
55
56
57
58
59
60
61
62
63
64
65
66
67
68
69
70 71 72 73 74 75 76 77 78 79 80 81 82 83 84 85 86 87 88 89 90 91 92 93 94 95 96 97 98 99 100 Last Page

Get An Email Alert Each Time IVORY1825 Posts