| | |
| --- | --- |
| | IVORY1825's Recent Blog Entries |




Sunday, May 10, 2009
Happy Mother's Day!

Yesterday was my second cheat day on Cheat Your Way Thin. I enjoyed myself plenty, I had buckwheat pancakes for breakfast with fruit syrupy topping. I had Reese's peanut butter cups, cheese doodles, ice cream, gluten-free cookies, lots of yummy stuff. Today, my weight gain from that was only 2.6lbs, which isn't half bad since I should be carrying about 1-2lbs of water weight from the carb influx. I may like this diet. I do however, need to be careful on my cheat day not to overdo things, because I will keep eating right past the satisfied and full signals all the way to the wow-my-stomach-is-stuffed signal, and then I'm not sure I have any clue what moderately hungry feels like, just I-could-eat, and I'm-starving. I think, I just need to give myself certain limits on cheat days, eat a specified amount (i.e., 4 cookies, 1 bag of chips, and some candy) and then wait a specified amount of time to eat again (2 hours), and work on trying to recognize "moderately full" and "moderately hungry" as talked about in the diet plan. I think practicing those concepts on a weekly basis will be better than only practicing them every three weeks or so when we throw a party or go out somewhere, because I'm clearly out of practice.

Anyway, yesterday was Saturday, so it is time for a weekly check in. For all cases, the first number is from 4/27 and the second is from yesterday.

Weight: 159.6 -- 153.2

smallest part of my waist just above belly button: 33.5 -- 32.5
hips at hip bone bump: 36.5 -- 36.5
widest part of my belly: 38 -- 37.5
bra strap location: 33 -- 33
widest part of my bust in a loose bra: 41.5 -- 40.5
center of bicep with arm outstretched: 12 -- 11
thigh, one span higher than my kneecap: 21.5 -- 21.5
neck just above collar bones: 13.5 -- 13.25

Body fat online 36.1%-- 35.1%
Body fat by single caliper (new measurement) -- ~26.8%

And here is the initial picture from 4/26 on the left and 5/9 on the right. Nothing drastic yet, but it's only been a couple of weeks!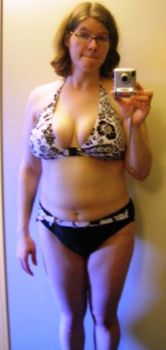 In terms of other things, we went to see Star Trek on Friday (hence the lack of posting). It was a fun movie, and most of the cast was great, but the storyline had serious issues and it destroyed the universe of my childhood. Check out my husband's full review: catharticgrumblings.blogspot.com , we agreed on pretty mcuh all points.

In terms of food, I took my strawberry-banana jam stuff and made some pretty darn good bars out of it with a cakey bottom, then the jam, and a wheat-free granola topping. Although, I thought they were perfect, someone at church said they tasted "healthy", which is funny because on my diet, they are definitely a high-carb treat, and I thought they were plenty sweet, but I've apparently changed my tastes so much that what is dessert to me is healthy to people on a typical Western diet. What does that say about today's lifestyle? I'm working on putting the recipe together for my book, if you want it, let me know.

Workouts: I did my turbulence training yesterday and not on Friday, lots of hard work! Today is meant to be a walking day (or maybe a jogging day, it's nice enough). Then tomorrow, back to Turbulence Training Fusion Fat Loss for another week. I'll have to switch to bodyweight only when I go to Philly.

Whew, that's enough for now. Time to see how much weight I can get off after my cheat day, time to watch the numbers drop!





Thursday, May 07, 2009
Today was a fabulous day of fruit. I had grapefruit with breakfast, blackberries for snack, apples after lunch, and a strawberry smoothie after walking. Yummy smoothie, made with strawberries, Greek yogurt, ice, and protein powder. I also took 2 cups of my strawberries, a banana, and two mini boxes of raisins, processed them into a sauce, and then cooked it with a heaping tablespoon of cornstarch to make a jam-like substance that will go in some strawberry-banana granola bars for Sunday, recipe to come.

We went walking tonight, that's all I'm doing for evening exercise. I'm trying to back off and not over-do since I have 12 weeks of transforming to go. It is day 4.

Nothing else happening, nothing ever is. Tomorrow is Friday, yay!





Wednesday, May 06, 2009
Today is Day 3 of the transformatio contest.

I think I'm going to like this new diet, because it changes so often. I am just finishing up 2 days of low carbing, but it's cool, because tomorrow I get to eat my fruit all day again! Then, after two days of eating fruit but otherwise my normal diet, I get to have a cheat day. Then I pop back to low carb for two days. I can do two days. 3 or 4 kills me, but 2 is manageable. I'm not even hungry! Dinner ran a little late tonight and I got a bit hungry, but still made it with only a couple of frozen grapes as a tide over (I do have to make sure I don't crash).

I ate just like yesterday other than dinner which was a loaded buffalo chicken salad. Bill fusses about salads, but this salad had 4 different protein sources, 3 of which were also fat sources! It had chicken, bacon, feta, and hard-boiled eggs. It also had chickpeas, so that is even more protein ... and fiber! I am totally satisfied by these salads. Bill just has issues with the concept of "salad" as dinner, he also doesn't like "soup" as dinner ... even if it contains all the same foods that would have been on the plate! It's all psychological, really.

Tonight is Turbulence Training workout night, always exciting!

In terms of life, I've been pretty busy at work. I have to get some work done on the car this weekend so it will be in shape for summer driving to NJ, Erie, and New Hampshire. In less than two weeks I will be in Philly for ASM! Anyone in the area ... let me know, we can hang! I work, I cook, I exercise. This is why I don't write about my life.

I am mostly off to work out, hooray!

However, I am going to take just a moment here to fuss about Susan Boyle ... if you are totally inspired by her, more power to you, stop reading NOW!

For the rest:

1) She stole my song. I've been singing I Dreamed a Dream since I was a kid, I always played Fauntine when we acted out Les Miserables, I have even done that song for karaoke in the past.

2) The song is actually negative!! She's dreaming about the life she thought she had before she became a WHORE to support herself and her father-less child living at an inn! Context, people. (Reminds me of the Born in the USA problem ... another rant, another time).

3) I can sing too. However, I can't be a singer, I don't have the range, I don't have a look, and I don't fit most parts in musicals. I know this. I still love to sing. It's called Rock Band and Karaoke and the car. That's what you do when you can't make it as a singer for other reasons. On the other hand, my best friend deserves to be in a show, she sings better than Susan Boyle, looks gorgeous, and can act. She's a waitress. This is not fair.


First Page
1
2
3
4
5
6
7
8
9
10
11
12
13
14
15
16
17
18
19
20
21
22
23
24
25
26
27
28
29
30
31
32
33
34
35
36
37
38
39
40
41
42
43
44
45
46
47
48
49
50
51
52
53
54
55
56
57
58
59
60
61
62
63
64
65
66
67
68
69
70
71 72 73 74 75 76 77 78 79 80 81 82 83 84 85 86 87 88 89 90 91 92 93 94 95 96 97 98 99 100 Last Page

Get An Email Alert Each Time IVORY1825 Posts