| | |
| --- | --- |
| | IVORY1825's Recent Blog Entries |




Sunday, May 03, 2009
This is my official goal-setting post. Three goals each for various time periods, and I'm going for one diet/exercise goal, one personal goal, and one work goal. I like to remember sometimes that I have a life that isn't completely about diet and exercise (even though cooking and working out are major hobbies).

In the next 7 days
1. Track my food in the Cheat Your Way Thin journal
2. Complete my sudoku book
3. Read 3 articles

In the next 4 weeks
1. Consistently blog and picture my progress
2. Learn the song "Black Velvet"
3. Complete all analyses for current projects

In the next 3 months
1. Lose (about) 20 pounds and be able to wear a bikini
2. Complete a musical choral composition
3. Submit two manuscripts

In the next year
1. Maintain my weight within 5lbs of goal
2. Stop procrastinating
3. Get a job as a professor

Today I also ate: eggs, bacon, and veggies for breakfast, greek yogurt, berries, and almonds for snack, a quesadilla with tomato and spinach and a salad for lunch, half a banana with peanut butter and some cheese for a snack. I'm planning to eat feta chicken and vegetable and a salad with sundried tomato and garlic dressing for dinner. Maybe I'll make a smoothie for snack.

Today is also Menu Plan day! Here's my plan for this week:


Daily Monday, Thursday, Friday
high fiber pancake (part pancake mix part flax meal) with strawberries, grapefruit, 2 eggs, bacon, spinach and onions
Greek yogurt and blackberries and peanut butter
Dinner leftovers, carrots and celery and hummus
Apples and celery and cinnamon, cheese

Daily Tuesday, Wednesday
egg scamble with 2 whites, 1 yolk, veggies and cheese, bacon
Greek Yogurt Tzatziki with tomatoes, almonds
Dinner leftovers, salad
hard boiled egg, red onions and peppers and radishes

Dinners:

Monday: Pad Thai Peanut (no noodles)
Tuesday: Spicy turkey meatloaf and creamy spinach (made with yogurt and cheese)
Wednesday: Buffalo chicken salad
Thursday: Mexican casserole with corn, black beans, spinach, and crispy corn tortillas
Friday: Carmelized beef, oven fries (red and sweet), sauteed spinach and grape tomatoes
Saturday: Grilled bruschetta chicken and pasta, broccoli and cauliflower
Sunday: Ground turkey and tomato skillet, cheddar-cauliflower-broccoli soup

I'm eating a salad with all of these (except on Wednesday because that is a salad!)







Saturday, May 02, 2009
Ok, my bum self hasn't blogged in a while. It's amazing, my husband goes away for a week and I seem to have less time on my hands than before. Explain this to me? Well, here's my life in a nutshell: work, eat, exercise, new diet plan, lots of pictures. I am currently trying to take a picture of my belly every day. Most of them are in my bra, so may not be posted often. I did do another one today in my bikini, so now I have one week of change, although I haven't really been in the plan much since then. I'll put the pictures at the end.

I do have a new diet plan, it is Cheat Your Way Thin, I'm on the guys e-mail list and I read his blog, and I like his research and his thought process in general (he's a nutrition science geek from Jersey with a great body, come on!). Anyway, the idea behind the diet is that you use strategic cheating to manipulate hormones to maintain a non-starvation mode to keep fat loss at it's highest levels. I like it because me and Bill tend to use that kind of thing anyway, but this gives it more specific structure and timing. Anyway, I started out with a cheat day on Wednesday, and then moved into a low-carb mode for a while. I may have had a few gluten-free muffins and strawberries last night at a church event, but not many, other than that I am low-carbing well. I also went to the first day of the farmer's market today (yay!) and got some nice greens to eat all week. My diet won't change too much, but you will see more low-carb days early in the week and higher carb near the end. I am also trying to eat a salad with every dinner and bring a salad for lunch most days. With all these fresh greens, I should be eating lots of salads! I just need to mix up the dressings a bit. Today, I had romaine and musclun greens, red pepper, green pepper, scallions, bean sprouts, and baby arugula with a rice-vinegar and soy sauce and ginger dressing and sesame seeds sprinkled on top. It looked really pretty! I should really start taking pictures of my food.

I'm also starting two things, the sparkpeople May bootcamp (starts tomorrow) and the turbulence training transformation contest (starts Monday). Both of these involve workouts so they will likely be taking over my workout schedule. I'll probably be alternating morning workouts between sparkpeople videos and metabolic circuits. Evenings, I'll be alternating turbulence training, walking, and sparkpeople videos. I also would like to still do yoga once in a while. I workout a lot. Whew!

Anyway, here is my one week pic on the right next to last week's pic on the left: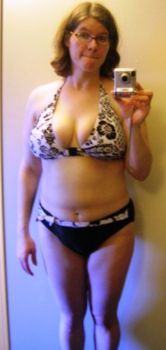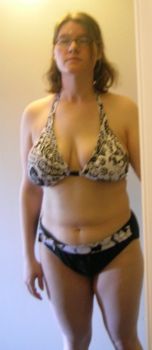 Well, I definitely look better not bloated!






Monday, April 27, 2009
I had a fabulous dinner tonight. I decided to carmelize some onions, which got a little crispy in the oil, and served them over steak (top round, tiny piece) marinated with balsamic vinegar and cabarnet and spiced with salt, pepper, and Mrs. Dash. I also marinated some broccoli and cauliflower in the same, and had a salad on the side. I could actually make this when Bill is around, but the onions would only be for me. I was going to go the whole day with minimal carbs, but as usual, I can't workout without something, so immediately after my workout I grabbed a Fiber One bar. I also bought some grapes and tossed them in the freezer for snacking on. Frozen grapes are good in far tpo warm weather like this. I also had edamame with my lunch. Yummy! I forgot how good and easy those are. They are back on my lunch schedule.

So, I promised a weight for my personal bikini challenge, and here is what Wii Fit told me this morning: 159.6, ouch! I'm sure quite a lot of that will drop off in the next two days, but still, that is the highest weight I've seen since the holidays. I'm also going to do some measurements (in inches) with exact positions for updates.

smallest part of my waist just above belly button: 33.5
hips at hip bone bump: 36.5
widest part of my belly: 38
bra strap location: 33
widest part of my bust in a loose bra: 41.5
center of bicep with arm outstretched: 12
thigh, one span higher than my kneecap: 21.5
neck just above collar bones: 13.5

linear-software.com says my body fat is: 36% by measurements

These are crummy measurements, though I'm still bloated, so the waist should drop significantly in the next few days (also TOM, so, doesn't help).

I may sweat off some of this weight, because it is about 85 degrees in my apartment. How did we skip spring and jump right to summer? And how come my apartment couldn't hold heat this well in the winter? At least with me being the only one here, I have the fan right on me. I'm not sure what we will do when summer really hits!

Ack, I'm so used to eating that I'm still hungry. I may need to start brewing and chilling tea if the heat keeps up, because hot tea doesn't seem right at the moment. I'm clearly going to need to work out the logistics of that, and soon. I must have a tea-worthy container around here somewhere!


First Page
1
2
3
4
5
6
7
8
9
10
11
12
13
14
15
16
17
18
19
20
21
22
23
24
25
26
27
28
29
30
31
32
33
34
35
36
37
38
39
40
41
42
43
44
45
46
47
48
49
50
51
52
53
54
55
56
57
58
59
60
61
62
63
64
65
66
67
68
69
70
71
72 73 74 75 76 77 78 79 80 81 82 83 84 85 86 87 88 89 90 91 92 93 94 95 96 97 98 99 100 Last Page

Get An Email Alert Each Time IVORY1825 Posts