| | |
| --- | --- |
| | ITSHOWYOULIVE's Recent Blog Entries |


Friday, July 13, 2012
Update 1: The Stick It to It Workout: On plan was to do it twice this week and do one round of my regular strength training workout. That went okay. For my real life challenge I have to do Strength Training three times a week (Saturday-Friday) to get full Strength points (3). I do strength on Monday, Wednesday and Friday. I have not done strength today. Here's my other problem...I did not take into account doing our challenge mid-point test tomorrow, which involves some weights and a plank. I do NOT want to be totally weak for my test so I am NOT working strength today, at least not a BIG workout. I'll do it later tonight, when it cools down. I have the option to count my Jillian workout as cardio and strength so I might go with that, I might do a light strength avoiding the things I'll work tomorrow. So, the can workout went REALLY well, I even decided to do the circuit option on top of my regular cardio. I did Jillian first and then after the last circuit instead of following her cool-down went straight into the circuits from the can. I opted for the lite version this week, doing one rep of two sticks from each area. It's been mega hot and my energy levels at an epic low. Adapted to my needs the workouts went great and I even faked my way through some burpees. You have to know that a) my balance is HORRIBLE b) my coordination worse and c) I've got a bit of gut that gets in the way of a burpee. So after nearly killing myself on the first one I created an adaptation to get me through the last 9. Once crouching instead of trying to kick both feet out and back I remained balanced on two hands and one foot while stretching the other foot back and out and pulling it back in. Odd, but it worked well enough. I am still loving my can :) and will continue to work back and forth between it and my regular strength (which is due for an overhaul not that I've been doing it six weeks, just to keep things fresh).

The Under Armour problem....I don't have time to bounce over there and link it, but if you have NO clue what I'm talking about find my blog on My Efforts to Change the World Fall Flat (or maybe it was Make a Difference...you'll find it). After quite a bit of jumping through hoops (tell this division, no tell this one, submit it like you invented something-OMGosh could you make it any harder). This is the response I FINALLY got that made sense:

"Thank you for taking the time to tell us about the need for expanded women's sizing. As you suspected, this is a common suggestion/idea that we hear from consumers like yourself.

We have brough the idea to the attention of the women's producty managers, and hopefully they are going to take action. What we hear frequently from women is that although they do not like it, they are forced to buy men's garments to get the fit they are looking for while they are striving towards the appropriate women's size.

The good news that we can report is that we are currently in development for larger sized bras. Our new ArmourBra, which is available online is purchased by band and cup size, which ensures as good a fit as possible.

If we have an update on expanded sizing, we will reach back out to you. Thanks for your support and loyalty to UA and best of luck"

Not bad, I'm satisfied I did my part. If I ever see larger sizes at UA I will give myself a pat on the back :).

Okay peeps, make it an awesome weekend, reports are that much of the country will be experiencing a slight break in the heat wave soon, hope this applies to you. Hope you make it a productive and wonderful weekend, if you can believe it July is almost half over!! And I just earned 5 extra credit points....100 more crunches (no problem that's as good as done) and I'll make it 10 extra credit. Unfortunately, it doesn't look like my sis is anywhere near taking a misstep so I can regain those 3 points I'm behind (really she just needs to miss two and then I'll "win" the week and get the third). I'm gonna hide her water bottle-lol. See ya later alligator :).





Thursday, July 12, 2012
I am barricaded inside my home hoping that the heat is not as predicted for today and we don't all simply melt away. I'm thinking we will be vegetarians for the rest of summer, at least, hoping to avoid turning on the oven unless absolutely necessary.

I live in Southern California, but not the beachy, warm during the day, then cold at night So Cal. I live in the desert. At least not way into the desert, sort of a mid-desert (lol). We've been hitting 105 or so the last several days and predicted to be right around there for today too. Now, before you go saying "but, it's a dry heat". Whatever. A) Hot is hot and B) it is muggier than all get out. It is raining, but not raining today. Those of you who know humidity know exactly what I mean. If you stand outside it definitely feels like it is drizzling, but you look at the ground and there is no evidence of the rain. Not fun. As long as we don't have thunder and lightening we'll be hitting the pool later (not private, a community pool that is for residents only and not too crowded if you go at the right time). We've gotten in the habit of going swimming around 1:00 for an hour and then coming back and everyone crashes in the coolest spot they can find. The kids, lucky kids, put on underwear and that's it-lol. We've turned into an almost nudist colony-lol. The second we are back in the house the kids ask "are we going anywhere" to determine the level of dress or undress they might indulge in.

Pretty much, I hate summer where I live. It is hot and miserable and yucky and I've always hated the heat anyways. I'd much rather be cold (to a point).

That all being said there is one aspect to summer that I LOVE. The amount of produce that is in season and available is staggering!!

A popular candy carries the tag line "Taste the Rainbow". Catchy and cute, but should have been grabbed by the produce industry long before the candy was invented! In my fridge, right now, are nectarines, green grapes, cherries, yellow grape tomatoes (off the vine from a friend), two huge dark green zucchini (also off the vine from the same friend) and strawberries. YUM. There is a veritable rainbow of food in my fridge! All fresh and all ready to be nibbled on when the heat makes us grumpy and hungry and we can't bear the thought of eating anything hot.

So, sparkies, keep cool, keep hydrated and enjoy your summer. Don't forget the sunscreen, wear a hat, stay inside when it is the hottest part of the day and workout early or late not during the heat of the day unless you are inside with some awesome air conditioning and don't forget to taste the rainbow to your heart's content as long as it is nature's candy and not the other kind!!

Update on my sizing crusade and the can workout coming soon.





Monday, July 09, 2012
Okay, this is one I've been wanting to post for awhile now, but things just wouldn't line up. A camera battery wasn't charge (neither of the two cameras we own), kids needed attention, house needed attention, the 4th kept us busy...anyways, FINALLY, I get to post about my birthday present.

We are still extremely poor so I didn't get much for my birthday. My kids made me presents and that was awesome. Youngest in particular, was very creative. She gave me a ring that came off a charm bracelet and is way to small for anyone to wear, a rock with FR (From R) written on one side and TM (To Mom) on the other, some pictures she drew and a pink pipe cleaner bracelet she made all by herself (she is almost 6). Middle child wrote me an awesome card addressed to Heather Reid-lol (umm, daughter, to you that would be MOM). My mom took us all (my sister and her daughter included) to see Brave. That was FUN!! Then when we were leaving we stopped by sis's car so she could give me her present.

A quick side note: If you have not yet signed up for and are actively using Pinterest, you are missing out on an awesome way to spend an afternoon :). I say this because a short time before my birthday my sister pinned this idea that I thought was kind of cool, to put Popsicle sticks with exercises on them into a cup and create your workout by pulling sticks from the cup. In the original pin there were two cups (green solo cups, I suggested they should be red to increase the party factor in working out) one to hold the sticks and one to put the discarded sticks into. Sounded fun, but when it comes to things like this I get brain freeze and wouldn't have known what to actually write on the sticks-lol. I vaguely suggested on my sister's pin that this would be a great birthday present. Vague in the way a smack up side the head is vague-lol.

This is what I got (sorry in advance for the pics, I waited until dark to take the pics, the lighting in this part of the house is horrible and I did what I could-including holding it up against the ceiling for contrast and to allow the flash to not totally wipe out the details and using the light from the computer screen to light the sticks-lol).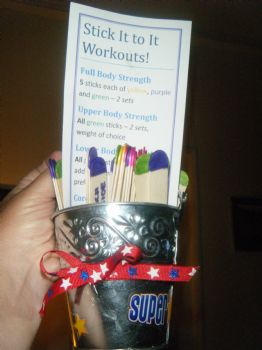 You can see she ditched the two plastic cups idea (she credits her husband with that idea, how cute and awesome he got involved in the project) and went for a cute metal pail picked up at the craft store and dolled up with a ribbon and some stickers (Super Star and "Go" and some little stars scattered around).

Tucked inside is a tall piece of paper, I'm just going to type out the whole thing for you in case you decide you want to copy this awesome idea.

Stick It to It Workouts!

Full Body Strength
5 sticks each of yellow, purple and green-2 sets

Upper Body Strength
All green sticks-2 sets, weight of choice

Lower Body Strength
All purple sticks-2 sets, can add resistance when preferred

Core Strength
All yellow sticks-2 sets

Circuit Training
3-5 sticks of each color, starting with pink-2-5 sets

Short on Time?
2 sticks of each color, starting with pink-1-5 sets

So there you have HOW each workout works and lots of choices and no excuses to not do strength training...on to the sticks...(oh, one second, please ignore my nails, I let my almost 6 y.o. do my nails, they were really cute hours before I took these pics-orange with white polka dots, very summery-lol. What you are seeing in the pics is a 5 y.o. painting U.S. flags on my nails (her own idea btw.))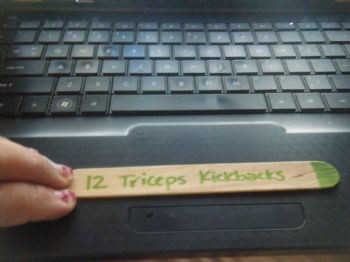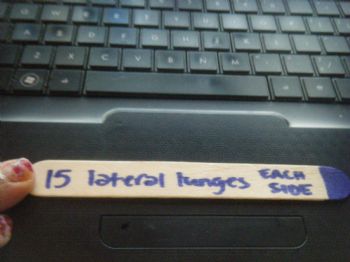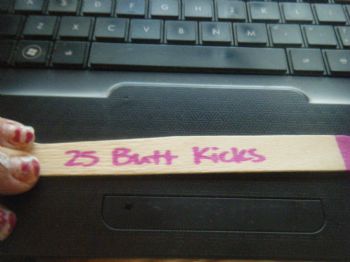 There is a sample of each stick. I did not photograph the yellow, they are a little on the light side and probably would look like a blank stick so I'll save you the eye strain trying to figure it out.

I have to confess the pink sticks kind of scare me a little-lol.

Here is what is in each color:

Pink-Cardio:
25 Butt Kicks (not too bad)
30 seconds Jumprope (if I had to ACTUALLY jumprope for 30 seconds I'd die, but I can manage the rope free imitation)
15 Mountain Climbers (eek)
25 Skaters (meh, do-able)
60 seconds jog (no prob)
25 High Knees (wait a sec, does that say 25?)
10 Burpees (throwing this one away (not really, but so tempted))
20 Jumping Jacks (kill me now-actually thanks to Jillian I can sort of manage 20 if there is less jump than jack)

Green: Upper Body

12 Hammer Curls
10 Push-ups
12 Chest Press
12 Triceps Extensions (each side)
12 Biceps Curls (each side)
12 Front Shoulder Raises
12 Lateral Shoulder Raises
12 Standing Rows
12 Triceps Kickbacks
12 Chest Flys
U Pick Upper

Purple: Lower Body

Wall Sit-Max Time
15 Abductor (each side Standing, lying, w/wo resis.)
15 Adductor (each side Standing, lying, w/wo resis.)
20 Hamstring curls
15 Lunges (each side)
15 Calf Raises
20 Leg Extensions (each side)
20 Squats
15 Lateral Lunges (each side)
20 Sumo Squats (I got this one already and those KILL)
U Pick Lower

Yellow: Core

20 Reverse Crunches
20 Oblique Crunches (each side)
20 Supermans
20 Dumbbell Side Bends (each side)
25 Crunches
Plank-max time
20 Back Extensions

So, there you have it, everything you need to go create your own Stick It to It Workout!! Go get your popsicle sticks and markers and get busy already!!

I hate to admit I've only used it once and now I've mixed them up from what I've done and haven't done...oh well. I had planned to do a second can workout on Friday, but it just didn't happen. The goal is to get in two of these this week and that will use nearly every stick. I have to confess, too, that I cheated, just a little, when I got two similar sticks I put one back and drew again-lol. You make up your own rules :).

This is so fun that I'm thinking I need a few blanks for each area so that when I find a new move that is particularly effective or fun I can add it to the mix. I can attest, this is an AWESOME tool. You can be as fancy or simple as you want and the exercise demos here on Spark contain most of these moves. The down side, the interface between the demos and the new tracker sucks so you can't figure it out while in the tracker. But, if you want to try something different on your sticks there are LOTS of moves you can choose from listed here on Spark (should have thought of that myself earlier, huh!). Anything you don't know how to do you can find through google (it's on ehow or somewhere on the web-lol).

Love my can!!





Saturday, July 07, 2012
Interesting choice spark, but okay, thanks for the recognition which I really don't feel like I deserve. There are SO MANY motivation sparkers and I definitely have my less than motivating moments (eek). But, since the magic wheel came up with my name today and I'm still not ready to post the blog I've been meaning to post all week and it's a great and I think motivating one, but in a totally unexpected way...come back next time I post (fingers crossed for Saturday, but more likely Sunday or even Monday depending on how the weekend goes). So, in honor of being MOD (love that, kind of like the MOD Squad) I'm treating you to a repost of the blog that got me to motivator status in the first place. www.sparkpeople.com/mypage_public_jo
urnal_individual.asp?blog_id=3309892

Since I wrote that I have not done any additional 10Ks, but I have done multiple 5ks and 2 half-marathons, one I finished, one I did not (but it's okay, there were lessons learned so it's all good). I will someday repeat a 10K, I'm forcing myself to do it next June if not sooner, no more letting that distance get into my head. And, everyday I am learning what it means to be strong, even if that is not, currently, slim. Keep your head in the game sparkies and who knows what you could accomplish!!





Tuesday, July 03, 2012
I have a goal to hit a 16 minute mile by September 1st. This is a time I've hit in the past, but not on a regular basis or really all that often (sad, right). This is one of my goals for the real life challenge we are doing this summer. On September 1st we actually have a 5K...the Awesome 80's Run (time to bust out the neon). Sounds like SO much fun and there is a finisher's medal (rare for 5k) shaped like a cassette tape (like, totally awesome duuuuuuude! ) If I hit the time and sustain it for 3 miles I'll 5K PR. Awesome, right?

So, I'm not fast AT ALL and I need to do something to try and get faster. Fartleks are great, but I'm terrible at them. The long, slow run, helps with endurance and just plain old getting out there is the best training. This week I'm trying something new and not recommended for the most part. Running (almost) every day.

I'm giving it ONE week to see how it goes. My goal is 1 mile, that's it, 1 mile, running. Sticking to the 1 mile will be the hard part. Monday, Tuesday, Wednesday and Thursday. Friday is a day off in preparation for a "long run" on Saturday (this week probably only 3 miles), and I'll probably walk part of that (maybe not, see how it goes, Saturday is a ways away).

It actually works out great. I live on a really big block. I can walk a good distance to the corner as warm up. Then down the street and back is 1.03 miles. Perfect! Then a nice slow cool down walk, which tracked at .35 miles, home. Tonight's pace was a 16:58. My initial pace was 17:34 (shin splints slowed me WAY down).

The good news is that a) I had no shin splints today and b) I felt good today despite some muscle soreness left over from Saturday's hike. The majority of the remaining soreness is settled solidly in my calves and once I started running was not noticeable at all.

Now, the REALLY interesting part of today's run was that the dog AND all three kids were along. The kids were the easy part, except having to yell at them for not stopping and looking at a street where a car wanted to turn in (not actually a "street", this is an entrance to a mobile home park and more resembles an extra large driveway, but still street enough that they should have known how to behave). The driver, fortunately, saw the kids from a long way off and was totally prepared to stop and wait for them to cross. I don't think they'll make that mistake again. The dog was super sniffy tonight (a beagle, this is a common ailment, but more than average tonight) and I had to keep yanking his leash (number one reason we switched from collar to harness, not choking the dog when yanking the leash to encourage him to move after "go" or a whistle fail) and occasionally stopping still while he did his "business" (I jogged in place, like an idiot, but didn't want to lose my momentum-lol). The dog (Baxter) is going to have to learn to a) empty all in one shot and b) not be quite so sniffy-lol. The kids LOVED being out on their scooters and had a great time on our little excursion. So, I'm thinking that Monday and Wednesday evening will be our time to get out and have fun. I love the road I can take them on. This street we travel has no houses facing the road AT ALL, not one. There is a big open field on one side and on the side we travel there is an extra wide sidewalk (like 1.5 of a normal side walk) and only that one drive for cars to pull into so it is a great, long expanse of NOTHING to cause problems. I feel very safe taking my kids on this road and letting them go. Especially after reminding them, forcefully, about stopping to look at the drive.

That's what I'm up to this week and we'll see how my 1 week of daily (almost) runs works out. If I decide to keep them they'll stay short and only grow gradually. Not sure daily running is my thing, but I'm looking into new ways of upping my fitness level and there are TONS of people who run daily so....maybe. We'll see :).

Hope everyone has a great week ahead :).





First Page
1
2
3
4
5
6
7
8
9
10
11
12 13 14 15 16 17 18 19 20 21 22 23 24 25 26 27 28 29 30 31 32 33 34 35 36 37 38 39 40 41 42 43 44 45 46 47 48 49 50 51 52 53 54 55 56 57 58 59 60 61 62 63 64 65 66 67 68 69 70 71 72 73 74 75 76 77 78 79 80 81 82 83 84 85 86 87 88 89 90 91 92 93 94 Last Page

Get An Email Alert Each Time ITSHOWYOULIVE Posts