| | |
| --- | --- |
| | ITSHOWYOULIVE's Recent Blog Entries |



Monday, June 07, 2010
This theme of "too fat" kind of came to the forefront of my thinking after my 10K on Saturday and I've been thinking about this over the weekend.

"I'm too fat" is an excuse, a free pass, the card that gets played when something just seems too hard. I'm too fat to... fill in the blank...there are a million things that could go there.

I'm too fat to start exercising.
I'm too fat to go to the gym.
I'm too fat to go to the beach.
I'm too fat to wear that outfit.
I'm too fat to find someone who loves me.
I'm too fat to be a good mom.
I'm too fat to deserve the respect of those around me.
I'm too fat to go hiking.
I'm too fat to go into the sporting goods store.
I'm too fat to run.
I'm too fat to walk.
I'm too fat to enter a race.
I'm too fat to do a 10K.
I'm too fat to lose weight.

What do you think about that last one? I think it is way too true for way too many of us.

Who determined the fatness level of any given activity anyways? Which mysterious entity sat down and said-if you weigh such and such nobody will love you. If you weigh this much you can't go to an amusement park and have fun. If you weigh over this amount you could never be a runner. Who is this all knowing, judgemental person or group who decided what I can and can't do based on my weight? I want to know because I want to give them a big of' punch right on the kisser!!

The truth is that while society has told us certain things, there is no entity or person or group that has determined when you are disqualified for certain things based on fatness!! Yes, there are reasons not to be fat-very real, very medical, very life changing reasons not to be fat. But, in the process of getting back to health from fat why do we fall into the "I'm too fat to..." trap? There are only two people who can tell you that you can't do something-your doctor and yourself!! If your doctor says it then please LISTEN!! If you say it then please reconsider!! Before somebody out there gets really mad at me-you might know something the rest of us don't, you might know a REAL reason that nobody else knows why you can't do something and then, yes, please listen to yourself. If you try something new and it is painful, please listen to yourself, if you have issues with something that will hold you back then listen to yourself and maybe even go discuss that reason with a qualified professional. The point I am trying to make is that far, far too often we make excuses for ourselves and that excuse is..."I'm too fat" and it is really just an excuse when you get down to it!!

Time to throw all the excuses out the window!! Time for all the fat people of the world to unite and say I AM NOT TOO FAT!!!

I am not too fat for love!! My husband picked me when I looked very much like I do today-time for me to wake up and realize HE LOVES ME!!!! ME!! The person inside here, not the body on the outside-the person on the inside and EVERYBODY in the world DESERVES that!!

I am not too fat to be a runner!!! I'm not!! Yep, the fat makes me slow, but it does NOT make me a non-runner!! So many people at the 10K cheered ME on!! ME!! They told me I was doing a great job and you know what I did? Smiled at them and internally scoffed-"hah! Not me, you are doing a great job, not me." WHAT AN IDIOT I WAS BEING!!! I did do a great job!! I did and I realized it as I crossed the finish line!! I FINISHED!! I did what I started out to do and I finished it!! I RAN a 10K!! Take that society-a fat person ran a 10K!! My husband told me last night when we were talking that he couldn't run a 10K right now. I realized yesterday just how proud of me he really is (my husband isn't a "gusher" ). My husband teaches a Sunday School class for new members of our church and investigators (people who are just starting to learn about our church). I used to attend his class, but now during that time I go to a different class and work on our family history (it has been very interesting, but I do miss my husband's class-he is a good teacher). So, anyways, when the Sunday School classes are over it is time for the women's organization's class. Before the class started a woman I know from my husband's class (who is a really sweet, elderly lady, who goes to my husband's class with her husband because they enjoy that class) tells me that my husband had told everyone about my race and how I had run a 10K the day before. He had no reason to bring this up, he just wanted to tell everyone in his class about his wife!! How sweet is he???? The point is....I am a fat, slow runner, but a runner none the less.

I'm not too fat to stand in the front row at aerobics class!! If the people behind me don't like the view they can stand somewhere else, because seriously, who needs the class more-me or them? :)

I am not too fat to lose this weight!!! I think, for more of us than want to admit it, this is a sticking point. What makes us think that once we hit a certain weight there is a point of no return? Or if we've been a certain weight for so long there is no going back? Never too fat to lose weight!! Will there be flabby skin issues? Almost certainly! My currently size Cs will be seriously droopy when they return to the size B's they were meant to be-thank goodness for high quality bras and swim suits with shelf lining!!

None of us is TOO FAT to do what we set our minds to do!! Are you an overweight runner-yay for you!! Do you want to be a runner, but think you are too fat?? Get over it!! If you've been walking steadily for awhile give a running program a try. If you aren't already in a fitness program go to your doctor WITH A PLAN!! Don't just go and say "can I exercise?" Go with what you want to accomplish and tell him/her "this is what I want to do, is there any reason I can't and if so how do you recommend I get here."

You-yes YOU-can do anything you want to-YOU are not too fat to accomplish your goals. You are not to fat to dream and you are not too fat to make it happen.

What are you too fat to do? If your answer isn't "nothing" then I want you to go and participate in some SERIOUS introspection and come back with a plan on how you are going to destroy that misconception, because I KNOW that with a plan and some hard work a misconception can be DESTROYED and a new FACT put in its place!! What new reality will you create today?

I am seriously considering my next reality-a half marathon is in my future, but what before that? Am I too fat to do a mud run? Hmmm, it is all about the right mental attitude-how do I go about creating that reality? I'll let you know....(because I might have one of those issues-what if one of the obsticles is a tube? I don't know if I could crawl through a tube. Over a mountain of mud-yes. I can learn to climb a 5 ft wall, I can learn how to climb a rope bridge, I don't know if I can make myself go through a tube-getting the shakes just thinking about it-uggh! But if a mud run is something I want to check off my list I am going to have to alter that reality somehow...)





Saturday, June 05, 2010
I'm home from my camping trip/race and it was a great trip!!! The camping was nice, we went to the campground where we ALWAYS camp, but had to select different camping sites than our usual ones but still found a good site and had a blast, did the whole s'mores thing and tried to get some sleep.

Up early this morning and got ready for the race. My sister, my mom and I were dropped off at t he race site by hubby and then he went back to camp. Sister and I saw our mom off on her 5K. We were both surprised she was doing it. Her knee has been bothering her and she was limping all over the campsite, but off she went anyways.

An interesting thing happened...while we were waiting for the 5K to start I saw a friend of mine, we've known each other for ohhh probably 15 years now, if not longer. She is one of the people I've always admired. I told my sister later that she is one of those people who I always wished I was more like. My sister pointed out that here I was being more like my friend. She is athletic and has instilled that in her children too. She and her husband had been involved with the local AYSO (youth soccer) until all her kids out grew the league. She has run marathons. We stood there talking for a bit and she said she was running the 5K. I was surprised, I was certain she would be running the 10K, but she said her longest run in recent months was not more than 2 miles so she decided to go for the 5K. We saw her come back from her race too. She ran her 5K in the mountains in right around 20-25 minutes. Awesome!!

So...time to line up for the race and it was a very small group, smallest race I've been in so far. It soon became obvious that I was the LEAST fit of the people lining up for the race, but I was still going to do it even though I was getting more nervous by the minute. Starting horn goes off and I start a nice, gently, basic jog. Nothing special, but still I was RUNNING my first 10K!! Woo Hoo!! I kept running for 2 miles. A house on the race route had posted some signs cheering us on-the one I remember is "You Go Girl, and guys too" handwritten on pink cardboard!! The sign put a huge smile on my face!! The race took us right through our campground so we ran right past my hubby taking pictures and my son and my sister's teen-agers and friend were sitting on a rock and cheering us on-so fun and so inspiring! Just as I passed our campsite I heard my youngest yell "Mommy", but not in an "I need you to come back" way, instead it was a "look at my Mommy go" way and it was awesome!!

Up through mile 2 the race was mostly down hill and I didn't notice too much effect from the atmosphere difference, I hit a zone at mile 1 and just went with it for awhile. Right after the mile 2 marker the hills started. For the first bit they were manageable and I was doing a few intervals to rest from a hill and then run a bit more, but it wasn't long before I was just walking, oh and I'd already been passed by the walkers so I basically just tried to match their pace and not fall too far behind. I did a pretty good job of keeping up with them for quite awhile. Right around mile 3 there was a water stop and they were nice enough to fill my water bottle for me since I'd already gone through most of the bottle. Then the REAL hills started. 2 miles of steady upward and onward, 2 miles of I think I will die now and put myself out of my misery, 2 miles of sheer torture, 2 miles where the lack of oxygen in the atmosphere really showed what it could do to my lungs and my heart rate!! I soon lost track of my walkers, but found out later that was due more to the curves in the road than my falling behind-hmm who knew...Somewhere in here there were two boys sitting in front of their house with a hose with a sprayer like I use on my garden(hmm wonder what that is about) as I get closer one boy goes back towards the house (what is going on), and then the boy who is still near the street says "Do you want us to spray you?" YES!! "Here, spray my back, get my head too." AHHH so refreshing, the boys were laughing and having a blast spraying down runners as they went past their house and they were only doing the ones that wanted it too. Love those boys!!

There was a spot after the mile 4 marker where I was sure I was lost but just as I was about to give up hope I found the water stop just before the mile 5 mile marker. Right at the mile 5 marker we got back to down hill and I took advantage of it. I gave my HRM time to stop beeping at me (it was yelling at me to slow down fairly consistently all through miles 4 and 5) and then started running again with the goal to get to mile 6 marker before stopping again. Thanks to a topography map at the race start we knew that those miles between the low point at mile 2 and the high point at mile 5 resulted in an approximately 600 ft. gain in elevation. Not exactly a small gain-LOL!!

Finally, there was my sister at the end of a road waiting for me, she had come back to go the rest of the distance with me. A short time later there was the mile 6 marker... I cheered when I passed it "Yay mile 6 marker"!! Then we passed a pretty little creek (Strawberry Creek to be exact) and I said hello to the creek. A couple standing by the creek looked my way and I apologized!! I told them "Sorry, lack of oxygen is making me silly". I could feel the effect of the race on me. I was feeling silly and emotional and I was almost there. At mile 6 I walked again due to a hill coming up, walked the hill and then race to the finish line and crossed it under a bridge of hands from the volunteers welcoming me back. Oh...did I forget to mention the guy that ran the route TWICE, passing me during the downhill stretch towards the end....yeah, he ran it TWICE in less time than I ran it once, but hey, I DID IT!!! AND, get this, ready for it, because I wasn't ready for it, I almost passed out when I saw the clock....I BEAT my flatland time by 1 min!! So...

First new thing for today-I FINISHED my first 10K and I did it in a time faster than I've done before and I that was in a higher altitude on MAJOR hills-My final time BTW was 1:44 and something seconds. Yep, took me an hour and 44 minutes, but I DID IT, I DID IT, I DID IT.

Second new thing for today-I came in dead last!! Yep, last person to cross the line, several minutes behind those walkers. I have never been last before, but truthfully, when I saw how small the field was I KNEW it would be what it was. On the other hand, I attempted, and accomplished something no body else in my fitness level dared today. I was the least fit person, I was definately a chicken amongst the eagles, but I didn't give up, I kept going and I crossed the finish line. SO I WILL SHOUT THIS TO ALL SPARKERS-NEVER SAY YOU CAN'T, NEVER SAY YOU ARE TOO FAT AND NEVER DON'T GIVE IT YOUR ALL JUST BECAUSE YOU ARE NOT WHAT YOU WANT TO BE NOW!!!!! IF YOU TRAIN AND WORK AND TRY YOU CAN DO ANYTHING!!!

The third first for today has absolutely NOTHING to do with the race, except, that we saw this as we were walking back to the campsite (which we were doing since hubby's phone seemed to be in a dead spot and we walked until we got him on the phone to come get us). We are walking along and passing some houses when this lady, looking out her window, points at us to look up. So, I looked up, and hanging directly above my head is a squirrel hanging by two paws from a telelphone line. Then I notice this squirrel is not alone, she has a friend hanging with her. He is holding on to her poor little back and gradually squirrel gets more than two paws back on the telephone wire. I got to see two squirrels making baby squirrels while hanging from a telephone wire. I busted up!! It was too, too, too, too FUNNY!!! I really wished I had my camera. The lady opened a window and told us that they had been at it for 10 minutes!! I busted up all over again. Remeber, funny things happen to me when I go running and while the run itself was fairly uneventful, the walk back to camp was not!! We did finally reach husband and he came and got us and took us back to camp.

We packed up, came home and I took a wonderfully cold shower!! Now it is soon time to go to son's baseball game-he is in for a surprise though. It is miserablly hot today-well into the 90's and really not a great day for a baseball game. Fortunately, we are playing the same team we played on Thursday and the coaches have arranged a surprise-the boys will be playing baseball with waterballoons instead of baseballs!! We'll see how this works, but the kids will get wet and it will be a crazy fun baseball game for the kids. Later tonight I get to rest and relax and enjoy my accomplishment more fully. Can't believe I actually did it and can't believe the thing with the squirrels-funny things happen to me when I go running :)!

BTW-love GU chocolate outrage as a great way to start a race and LOVED Clif Bloks during the race-the blocks are easy to eat, stay in their tube like packaging while I run and taste pretty okay, kept me going!





Thursday, June 03, 2010
Busy, tired day today. Up early to go running with my sister. She just got a Garmin, lucky duck, and therefore has an "extra" HRM I got to borrow today. It's an item I haven't invested in yet, but using her old one I can see where this is something I am going to have to get for myself. She's letting me borrow the other one, but I had so much fun using it this morning and I can see where the competitive side of me will come out with this thing. Competitive against myself. "Hmmm which numbers can I beat today?-ALL OF THEM!! Bwahhahaa" Yeah, that's my brain talking to my body...I'm weird-I know...Anyways, had a blast with the HRM this morning.

Came home, showered and got ready to take the kids to school. Daughter's Kindergarten class had their field trip today. My mom watched the littlest one and I got to chaparone the field trip!! Fun stuff!! They just went to a local kids' museum here in town, but everybody had a blast. Soooo, I am getting ready this morning and thinking..."I am chaparoning a Kindergarten field trip today, I need something comfy and practical." I settled on my "go to" all purpose outfit. A denim skirt and a floral print shirt, both of which I've had for FOREVER!! As soon as I have the outfit on I realize that ages ago I had as one of my pictures on my Sparkpage this one picture where I am wearing this exact same outfit!! At the time of the original picture I was at "maximum density" as some sparkers would say.

Here is the original pic....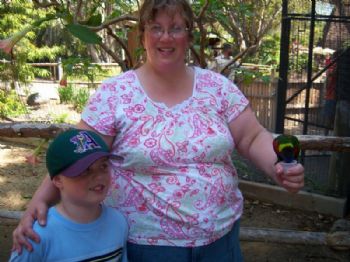 Hmm...Not a huge fan of that pic. I'm still not a huge fan of the next pic either, but mostly because I am in serious need of a trim and I was having a problem finding a place to set the camera while I set the timer and took a pic of myself-lol!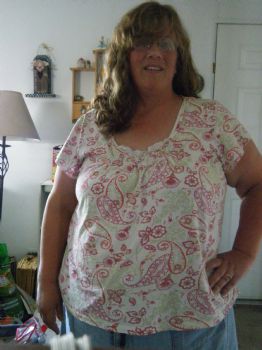 Notice how the shirt now just kind of hangs there. I didn't realize that this shirt is not flattering. It just HANGS there. Which is still preferable to the bunched up around the fat look from before. I am retiring this shirt. It has done it's duty and then some-LOL! Plus, it is so big now that it is having problems staying on my shoulders. The skirt still works and it is super comfy. In the before picture-you can't see it, but the waistband it rolled a couple times so that the skirt was pulled up to where the hips were wider and it fit better, now the waistband doesn't get rolled anymore. The skirt fits without tweaking and on good days is just a tad loose!

Not a HUGE difference, but there is a difference and I like it. Someday the difference will be even more noticable, unfortunately the shirt won't be around to see it...

Now it is time to get ready for my son's baseball game tonight. A busy, tired day...

Tomorrow, I won't be around much-packing to go camping, then Saturday is THE RUN!! First 10K-its gonna be slow, but its gonna be! I'll report later in the day on Saturday...See ya all then!!





Saturday, May 29, 2010
This morning was the 6.2 mile practice run with my sister before next week's 10K race. I get up, gather all my gear (visor, pedometer, ipod, stopwatch, fuel and water bottle (oh my goodness so much stuff)). Drive to my sis's she shows me the route on the Spark Track your route tool and we get the Daisy dog and off we go.

We had just finished our warm up walk and were stretching before starting the serious business of running 6.2 miles. Before I am done stretching something makes me look behind me and lo and behold there is a dog behind us. I figure he isn't vicious or he would have attacked while our backs were turned (not sure exactly what kind of dog, but he definately had a pit bull look to him-pit bulls have a distinctive "smile" and he was wearing that smile). Daisy, my sister's bichon hadn't been noticed yet, but she saw him shortly after I did and told him to get lost, he didn't listen so I went towards him to distract him while my sister picked up Daisy (people with smallish dogs-this is an extremely effective way of protecting your dog from loose dogs, something about picking the dog up makes the other dog lose interest-usually). Once I was within two feet of the dog I found out he was EXTREMELY friendly. Not a mean bone in this dogs body. He was jumping on me and kissing me and acting like I was his best friend. This was very effective in distracting him from Daisy. My sister turned back the way we had come and once she was around the corner the dog forgot all about her and Daisy. He started running with me, unfortunately sometimes in front of me, which was hard to control since he wasn't leashed. He would run ahead and then come back, check some things out and then come back.

I really did not want the dog to follow me on my entire run. He was a GREAT dog and had I had a rope or a leash I probably would have kept him and brought him home until I could post some signs and adds and try to locate his family. He was neutered and well taken care of, he had a collar, but no tags. He loved chasing the ducks, that was fun to watch, he wasn't trying to catch them and gave up as soon as they flew away so it was really entertaining. This dog had loads of personality and was so cute and sweet, I really hoped somebody would be missing him and come find him. I also hoped that since my run takes me through most of the community he would recognize his house and go home. I kept telling him to go home, but he was too happy to stay with me. Eventually my sister caught up and passed me and he ran with her for awhile, but always came back to me. Finally we got to the point I'd been dreading. It was time for us to leave the community's gates and go out into the wide world. Right away we have to cross a VERY busy road, I was so scared he would follow us out and get even more lost or worse get hit by a car. This dog had demonsrated some ADHD qualities and I was afraid he would just run in the street and that would be so sad. My sister and I spent quite a bit of time trying to get him to head the other way and "GO HOME" we yelled that over and over and he would run ahead a bit and then come running back. I'm sure he was wondering why we weren't coming with him. This pup was having a BLAST running with us. We finally got him around a corner and we sprinted back to our turn off. I ran a bit past it, because a lady with a dog was coming our direction and I wanted to warn her about the super friendly lost dog. Well he found us...only then his ADHD got him interested in the lady and her dog. We ran on and looked back after we crossed the street, she was standing at the corner trying to convince the dog to move on . I didn't look back again, I was too scared. He was out on the street and I didn't want to hear or see what might happen. I never did hear any screeching brakes so I assumed he was okay. Much further down the road the lady on the bike caught up to me and guess what...Pooch was with her!!! He was running along side her with her dog (she was on a bike going very slowly). He saw me and that goofy dog almost ran right into the bike to try to get to me. Just then he saw a man walking his dog and off he went. I hope that the man with the dog had a chance to help pooch out. He was a really sweet dog. I hope he was just lost and gets found, some people ditch their dogs in unfamiliar neighborhoods when the decide they don't want them anymore. That would make me REALLY mad because our town has a very excellent animal shelter and several dog rescue agencies. So I am almost half way through my run when the doggie problem finally sort of resolved itself.

So, I keep running and soon I am running on this empty stretch of street with a nice sidewalk (I'm in the street) and nice landscaping running along the sidewalk. It wasn't long before the second funny thing happened. I am running along and there is water here and there, and some storm drains and pretty soon I see this stuff in the street. It seems like some sort of debris at first, my sister said she thought it looked like ash, I thought it was small leaves. Pretty soon though one of the leaves hops. Yep, it hopped. It wasn't a leaf or ash but a baby frog!! An itty bitty baby frog. Probably not bigger than the tip of my pinky finger. After I see the first frog I see more....there are DOZENS of them all over the place, mostly hanging out near the storm drains and puddles in the gutter. I then noticed croaking coming from the landscaping on the other side of the sidewalk. The frogs lasted for a hundred yards or more. There would be short spots where there weren't any and then they were back. They were everywhere!! A swarm of frogs. What is a group of frogs called? Dozens and dozens and dozens of them. It might be a stretch to say hundreds of frogs, but there were definately alot of the little things. They were very cute too.

I finished the rest of the run without any more oddities happening. No more funny dogs and no more frogs. Ran into a massive mud patch, but that was about it. It took me 2 minutes longer today than last week but I still shaved time off from my last run. Ran .2 miles further than last week and if I take off some time for messing with that silly dog I definately went faster :) not alot, but still faster and that counts!! Next week is the race, it is going to be interesting to say the least. Bet I don't have to take care of a lost dog or watch out for baby frogs though!!

Funny things happen to me when I go running :)!





Friday, May 28, 2010
1. 3 miles is a "short" run.

2. When I look at the new clothes that have arrived at the store I look for new running pants and shirts first, and I look to see if they are made of fabric that "wicks".

3. I have now purchased something called GU, which as of last year I had never heard of or dreamed that it would be something you eat.

4. I now know that Hydration packs are not just for bikers or hikers.

5. I congratulated a sparker on her first black toenail, usually something that would receive condolences earns congrats when you are a runner.

6. I now actually consider purchasing socks that cost more than 5 dollars for a 3 pack, in fact I own the most expensive socks in the entire house. I also have a pair of "lucky" socks.

7. I have different shoes for different purposes. My running shoes are not my aerobics shoes and my aerobics shoes are not my walking shoes.

8. I dream about the Garmin Forerunner 405 and get a tad jealous when my sis gets the 305 (I'll admit it!!! She deserves it though...)

9. I traded my video capable ipod for a shuffle because the shuffle is small and light instead of big and clunky.

10. I started planning dream vacations around races, Hartford, CT in October. Las Vegas, NV in December. SLC, UT in April. Walt Disney World, FL (the Princess half) in March and then the Disneyland 1/2 in September so I can earn the Coast to Coast medal. San Diego, CA (oh wait that is less than 2 hours away I can just drive there ;p), the Rock n' Roll half in SD in June. I've always wanted to go to Alaska-is there a race (10K to 1/2) there and when?

And the bonus number 11...whenever I look at the Catalina eco marathon's web page I can TASTE my desire for the buffalo head medal. TASTE IT!!!! I practically DROOL over it. You have to run the full marathon for the medal and if I ever run a marathon that will be the one!!!

Without Spark and Sparkfriends I never would have gotten there!



First Page
1
2
3
4
5
6
7
8
9
10
11
12
13
14
15
16
17
18
19
20
21
22
23
24
25
26
27
28
29
30
31
32
33
34
35
36
37
38
39
40
41
42
43
44
45
46 47 48 49 50 51 52 53 54 55 56 57 58 59 60 61 62 63 64 65 66 67 68 69 70 71 72 73 74 75 76 77 78 79 80 81 82 83 84 85 86 87 88 89 90 91 92 Last Page

Get An Email Alert Each Time ITSHOWYOULIVE Posts