| | |
| --- | --- |
| | ISMEME's Recent Blog Entries |


Friday, June 07, 2013
I've went from the high of finishing my first half marathon, and under the time i had set for myself (finished in 2 hr 22 min) but in a lot of knee pain (a knee injury flairing even with it taped and braced) to being told 2 days later I had to see an orthopedist and likely needed surgery (after they took x-rays) by a Dr when I went into family medicine for pain in my knee that was not getting much better.... to being told a week after that (a week and a half ago from now) by the orthopedist that I indeed did need surgery to correct the mal-alignment in my knee and to shift the weight load to the outside of my knee where I have healthy cartilage. The orthopedist had also unfortunately told me I have osteoarthritis in the inside half of my knee. He ordered an MRI and a hip to ankle bilateral standing x-ray (the x-ray to determine angle of correction for surgery and the MRI to check for soft tissue damage since I was showing signs of a lax LCL).

I went in for the MRI and x-ray this last saturday and then went in to see my orthopedist a few days ago (tues)..... the tests reconfirmed I definitely need surgery, and unfortunately it is worse than he thought. The degree of bone he'd have to put in or take out is about double compared to what is typically done. :( The MRI fortunately showed only small micro tears in my LCL.... but unfortunately showed a complete grade III ACL tear and a moderately severe grade II partial PCL tear.... along with some small micro tears in cartilage (a relatively minor thing all things considering) and of course the cartilage loss and bone spurs developing in the inside half of my knee. So, along with the major bone surgery I have to have a double ligament reconstruction (the ACL and PCL)

The orthopedist also told me after seeing the test results that instead of the maybe 20 years he was hoping to put off a knee replacement for me that it may only be 8-10 years.... but I'll take it. I am considered younger than usual for the surgery they want but not really considered a candidate for total knee replacement yet due to failure rate for someone as young as me (turn 30 in 2 months). I was told that long-distance running is no longer an option for me... and that it will take a lot of work after surgery to increase my range of motion enough to bike.... lol, bring on the challenge :D I would love to distance bike if I am unable to run. It will give me something to work towards.

I've been going through a torrent of emotions the last two and a half weeks.... from triumph, to heartbreak and loss, to the watch this gonna figure it out and kick butt anyways.





Sunday, January 13, 2013
I am still trying to process the fact that I am at goal weight, and no longer need to lose weight. I am down 95 pounds, several jeans sizes (from a tight 18 to a comfy 2), 41.5 inches (and didn't start taking measurements until I had already lost 20 pounds) and am now in a healthy BMI and weight range. I have gained the ability to run again, lift heavier weights, do zumba for over an hour and not feel like I will die.

So what does it look like to lose 95 pounds while being 5'0" tall? The starting pic was taken about the week before I started back on SparkPeople this time (mid-March 2011). The current pic was taken about the time I hit goal weight (within a week to week and a half).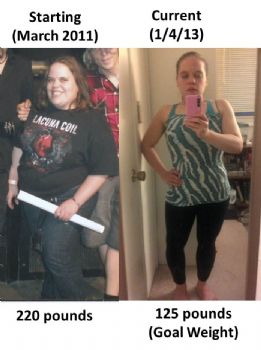 Another set of starting and goal weight pics. This starting pic was taken a few months before I started back on SparkPeople, but was approximately the same weight as when I started. The current (goal weight) pic in this one was taken this New Year's Eve as I was getting ready to go out with a friend (lol, my hair was not done yet).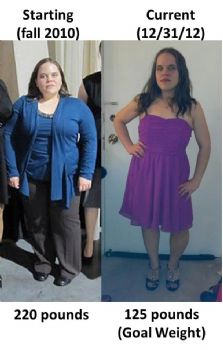 However, besides gaining my physical health back, I have gained so so much more. I can run up a flight of stairs without being out of breath. I've gained a ton more self-confidence. I've stopped accepting being put down and being treated poorly. But most importantly, I've learned how to love myself. I had a friend point out to me how mean I was being to myself. I remember her asking if we would let someone else be that mean to us. Sad thing is, I used to let people put me down. But, her asking that made something "click" and I stopped allowing others to treat me poorly and also stopped putting myself down. This also became the huge turning point in me learning to love myself.

This is a favorite pic of mine, from shortly after I realized how mean I had previously been to myself, and was learning how to love myself. I remember the feeling of realizing that I could fit all of me in one pant leg of jeans that used to be tight on me at my starting weight. I started giggling as I hopped across my apartment to get my phone while trying not to fall face first into my carpet.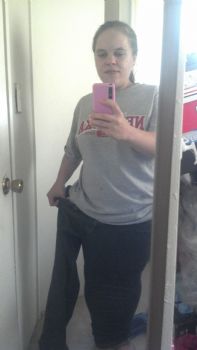 The most common questions I get now are how does it feel to be at goal weight and how did you lose so much weight. How does it feel to be at goal weight? Amazing, overwhelming, mind-blowing… only to name a few of the many things I'm feeling at the moment. I was pretty much numb and in shock when I saw 124.8 on the scale (below my goal weight of 125). I took a picture of the scale, sent it to an amazing friend, and got a phone call from her almost immediately (before I even had a chance to sit down) with her squealing in my ear. :)

I did not have my major reward planned until about 4 ½ months before reaching my goal weight, to have an amazing friend, that I actually met through the SparkPeople Live meetings when they were being held, come visit for New Year's Eve weekend. We also went on a MAJOR shopping spree to start rebuilding an entirely new wardrobe for me, one that actually fits me. :)

New Year's Eve day and night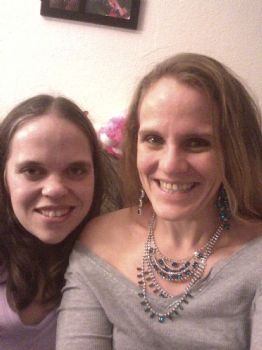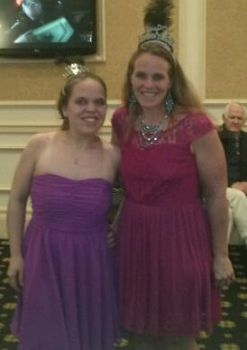 I was also told that I should do something crazy, lol… and I did in the end. I had been thinking about getting my nose pierced since just shortly before I started my journey on SparkPeople in March of '11, so I did Wednesday night (the day after hitting goal weight). It didn't really hurt and I absolutely love it!! I want to eventually get a nose stud with a baby diamond in it once it has healed. The best thing about the piercing is that every time I see myself in a mirror, window, shiny spoon ect... it is a constant reminder to me of just how far I have truly come.

A pic taken the morning after having my nose pierced.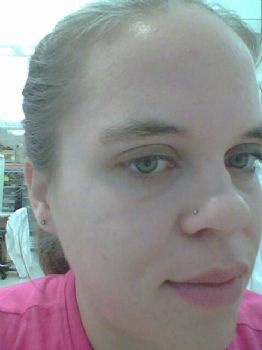 The things I have learned the most from this journey are that it is about the journey (not a quick fix) and learning along the way, to love myself, that I can succeed at what I put my mind to, and the value of commitment to myself. If I was asked when I started this journey if I would like a magic wand to instantly get me to my goal weight I would have hands down instantly take it. Now, looking back, I would not have taken it for the entire world. The journey along the way has gotten me to where I am. As others have told me, losing weight is 90% mental work. One of the priceless things I have learned along the way is that putting myself down gets me nowhere, but that forgiving myself, learning, and loving myself can take me to innumerable places in life. This journey has also taught me that by not giving up, by dusting myself off when I slip up and keep going, I can achieve what I set my mind to… a skill and knowledge that has untold value for life. I made a commitment to myself when I set out in mid-March of 2011 to become healthier. I stuck to that commitment and can now say every struggle and break-through, high and low, set-back and leap forward was worth it. SparkPeople has given me the skills to continue on in maintenance, and also taught me that even though I am at goal weight this journey is not done. This journey is a journey for life, and I am now progressing onto the next stage. I am excited for the challenges this will bring.





Tuesday, January 08, 2013
Yes, this morning I actually passed just below that number of 125 pounds on the scale that seemed so elusive when I started SparkPeople in March of '11. 95 pounds gone! It still hasn't really set in, and maintenance scares me like none other atm as there is so little info out there on it that is positive or helpful besides the small amount that SP has on it. It is overwhelming but I'm viewing it as a new challenge (and those that know me know I love a good challenge). I will be writing the almost obligatory "I made it to goal weight" blog when I round up pics ect :) I also will on having a running blog series on the transition to maintenance. Any info and experiences I learn I would love to share with others to help them out when they approach and transition into maintenance as well. :)






Saturday, November 03, 2012
The last 20 months or so have been crazy!!! I'm down 82 pounds to 138 pounds from my starting weight of 220 pounds. I have lost a LOT of inches too. My body has changed drastically and I can physically do so much more so much easier than before I started with SparkPeople in mid-March of 2011.

This starting photo was taken late the fall before I started with SparkPeople this time at a gala, at which I was presenting a poster of my research on pancreatic cancer to the general public. The current photo on the right side was taken a week ago from today, at a Halloween party with friends. The heels were fun but I'm definitely not used to wearing stilettos. :D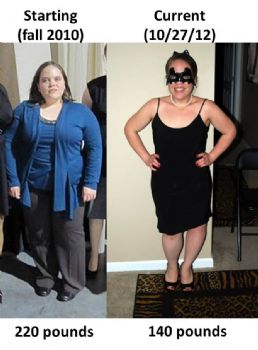 This starting photo below was taken about the week before I started back with SparkPeople this time, mid-March of 2011. It was taken at a meet and greet with one of my favorite bands, Apocalyptica, before their concert in town. The current photo paired with the starting picture was taken yesterday evening, close to 20 months after starting with SparkPeople. It blows my mind the differences I see. :)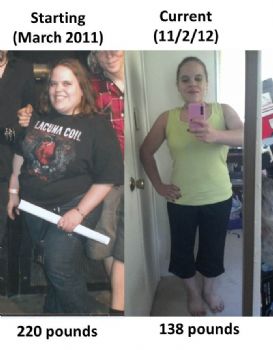 Towards the beginning of October, when I was having a rough day (and yes, I do have those occasionally) I decided to put my jeans from my starting weight back on to give myself a mental boost, and just for fun I thought... what the heck, lets see if I can manage to squeeze myself into just one pant leg of the jeans. :D And to my shock, I fit!!! I started giggling and about fell over trying to get to my phone to take a picture though.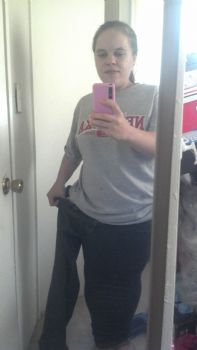 However, my journey has become about SO much more than just pounds and inches to me!! I never could have imagined me saying that at the start of this journey. Of course, I love the pounds and inches lost, but I have learned SO much on this journey. When I started I remembering wishing there was a magic way to just instantly be at my goal weight, but now looking back on how far I have come.... I am thankful for the journey I have had so far and no longer want/wish for that magic way. Without this journey I would never have learned how to make it work regardless of what life throws at me. Life happens and is sometimes messy, but that is no reason to not treat yourself and your body well. I have found that when I eat well and exercise regularly I am much more equipped to handle the curve balls that life throws my way.

I have also learned to love myself, with some help from a group of amazing people. Looking back, like most people, I have said some pretty mean things to myself. What good did saying mean things do for me? NONE!!! The world is harsh enough without me joining in! As I have learned to love myself, I have also stopped allowing others to put me down and no longer accept being treated poorly either. No one deserves to be torn down, put down, or treated only as a convenience by ANYONE!

I continue this journey with 13 pounds to go at the moment, until reaching my goal weight. I know I will reach that weight of 125, regardless of when it happens. However, my focus has shifted from just numbers to focusing on all the other changes I'm noticing within me.





Tuesday, October 02, 2012
Why are we SO hard on ourselves? Why do we sometimes say horribly mean and sometimes mentally and emotionally abusive things to ourselves? Would we tolerate this from someone else? The sad thing is, I used to tolerate others treating me like this and even called some of them close friends. The world is hard enough on us, so why do we think we need to be so hard on ourselves too?

I have realized enough is enough! I will not accept myself being so mean to myself anymore! I didn't reach this point overnight, as many are aware of. A few weeks ago I "only" lost 0.8 pounds, but instead of being frustrated about this I decided to celebrate that loss. 0.8 pounds lost is a positive step towards reaching my goals. Also, I am not just a number on a scale!! There is so much more to this journey. Fitting into smaller and smaller clothing, seeing more and more muscle tone and definition, learning to love working out, learning to love myself….. Yesterday I noticed I have an increase in excess skin on my stomach but I am quite okay with this actually. If I would have noticed it a few months ago I know I would have been upset about it…. But I so will take the excess skin any day than being obese again. I do not want to face the same health problems that the rest of my immediate family is facing. They have high blood pressure problems, and now my dad, mom, and sister (she just got told this past Friday that she is on the verge of full blown type II diabetes) all three have type II diabetes…. Leaving me the only one w/o out it. This only reinforced the fact I am not a number!




1 2 3 4 5 6 Last Page

Get An Email Alert Each Time ISMEME Posts