| | |
| --- | --- |
| | ISATSAM's Recent Blog Entries |


Wednesday, May 01, 2013
Wow, what an exciting ride.. 1 year ago April 21st was the day I re-committed to myself that I am ready.. I will no longer make excuses I will make progress.....

This is my message I posted to a friend... and to anyone who will listen (i.e. read :) )
All it takes is 1 step forward... next thing you know you are miles in the right direction... set up small achievable milestones and work towards them.... this is an exhausting but fun journey to see how beautiful/handsome we can get our bodies... God gave us this vessel and we have neglected it - now we get to put it back to rights.. I have had a great time in the last year.. seeing how hard I can push myself and keep going.. it is wondrous and exciting to see what I thought was not possible at my age.. enjoy your journey.. I am here if you need a push or a shoulder to lean on..

Start simple.. I did 30 minutes a day.. do not stop when you're tired (because you would be done in 5 minutes) .. stop when you reach your goal.. I set myself up in 30 minute increments. I now do 45 before work, 30 minutes at lunch and after work I go home, eat dinner and take my dog on her walk, we walk about 2-4 miles around the neighborhood.. I usually end up carrying her, so more workout, lol (she weighs only 4#s)..

I am so happy - people at work are seeing that I just did not talk, but I walked the walk.... it is starting to motivate other people to walk and ask me questions about what I am doing.. I tell them they have to have that click go off inside you head.. saying enough is enough.. I am sick and tired of being sick and tired.. then start doing something about it.. Commit to yourself 10,20, even 30 minutes a day to start with that isn't much, but what an excellent start.. within 3 weeks you are feeling lighter and happier.. it isn't how fast we go through our own healthy lifestyle journey.. it is how we commit to it and how we are determined to get where we want to be... if you fall back do not berate yourself, tell yourself tomorrow I will do better and actually hold yourself accountable and do it..

I went from January 2013 through part of April of not losing but 1 pound.. I was getting distressed and frustrated but kept at my goals.... I added the walking at night, tried changing what I ate, nothing helped.. I ran harder, I ate less ugh!! I was at my wits end and then like a new fresh rainfall, I started losing weight again... Plateaus are hard and they sure test your dedication to your goals.. I think some of it I was eating too little for all the work I was doing.. I have upped my calories some and continue on my journey.. I have a little under 25 pounds left to go to reach my goal weight.. then life will be about maintaining.. I know through my plateau time that I can maintain.... so that was a blessing...

When I get exhausted - when exercising - I start to break it down in increments, just 10 more steps, 10 more reps, 10 more minutes.. I pep talk myself... telling myself.. you can do it, you are so close.. almost done, almost there... like a motivation coach would be - but I do it to myself.. lol inside my head of course - out loud I think people would think I'm crazy... lol.. whatever works to keep you motivated to keep your 30 minute goal you set... stick with it... positive self talk is awesome!

Don't be too hard on yourself, but also hold yourself accountable for what you put in your mouth and what exercises you need to do to maintain or lose whatever your goal is, You can do it!! Stay positive and focused..

Remember excuses are for those who do not want it bad enough...
You have to have that "click" go off inside yourself, telling you enough is enough... time to take charge and make the difference not another excuse..

Good luck.......





Thursday, March 28, 2013
Journal Entry #4 - Wow! I can hardly believe I made it this far.. Talk about determination and perseverance... I have been happily working my way down since I got serious in April 2012.. - I used to be a size 24 and now I fit into Size 10 and 12 jeans!! My shirts are 14-16 because of my belly but I am working on that area pretty darn hard.... I hit my plateau end of January and have not dropped any weight since.. but the total cool thing is I have been maintaining!! Which is totally awesome for me.. I was starting to get depressed because I haven't lost anymore... I got a bit slack on diet and exercise because of illness and health issues.. I have not been down lower than 165 since 1991. I have tried many times to get below that horrible number for me to no avail.. this time will be different.. I am motivated and I keep that US Navy Seals motto in my brain like a mantra... how bad do i want this and what am I willing to do to get... and the only easy day was yesterday...

Since April is my anniversary date of changing my mindset last year - I will put the get up and go back into me... Excuses are for people who do not want it bad enough.. And I want to get rid of these last 30 pounds! A new year, a new month and a new me..

So I'm revamping my diet and my fitness routine.... I'm going to purchase 1 item of clothing that will be my motivator for me in a size 8 because I know I will do it!! I am thinking a wrap dress.... because it is simple, cute and flexible, lol.. I borrowed my friends for my most recent pic.. I loved playing dress-up that day when I reach 85# down!!!

Just another cool thing.... in the beginning it took me about 45 minutes to walk a mile... I can now jog 5 miles in one setting and it takes about 1 hour and 15 minutes!!! I did it tonight after work... I use fitbit.. and I just changed the basic goals from 10k steps an day to 15k steps and i changed 5 miles a day to 7... those are pretty challenging and I am hoping this will help break that plateau.. Have a good night and thanks for reading... I just wanted to voice out loud to hold myself accountable....





Tuesday, December 04, 2012
Journal Entry!

I want to thank all of you for your words of encouragement and well wishes from my first post... I just wanted you to know how it turned out... I love the support system of the SparkPeople, it helps keep me encouraged and motivated!

Pretty darn crazy, by the time Thanksgiving rolled around I was down 68 pounds. The kids saw me 4th of July (234#s), so when I walked in the house their mouths dropped. If I had a video camera.. lol I told them I was down to 182#s. They could not believe the difference in my looks, one said I lost a small child.. another said that I look like a different person all together.. I have about 47 pounds left to go to my goal... It was so exciting to visit with them, they cannot wait to see me at Christmas... I laughed and said that is a few weeks away I will not change that much but Valentine's Day will be another estimated milestone. I ate a nice meal and indulged but with moderation, so I didn't gain any weight from hanging with the kids..

The kids and I went for a walk, so it was fun to get out with them after the meal... They said, Mom! Your moving around and not sitting down. I said, of course silly, I didn't lose the weight sitting on my duff.. They said they were so proud of me and want me to keep going.. We ended the visit with kisses and well wishes... I left feeling very good about myself...

My son was so excited he went and purchased a fitbit, so he can keep me motivated (I really think it was for him..lol)

The only thing I can suggest for someone out there struggling is take one day at a time and remember your goals.. I work hard at mine, knowing my small accomplishments are worth the reward of being healthier in the end.. I am able to mostly keep up with my kids.. I still have a ways to go and will continue to persevere...

What are YOU willing to do to obtain your goal...

Thanks for listening or reading! Keep Sparkin!!









Tuesday, November 06, 2012
I think I'm blogging because I have a record of my small accomplishments... so if I ramble it is meant for me :)

Wow! What an adventure.. Never thought I would ever be considered a gym rat, lol... I am at the gym at 6 am when they open, mon/wed/fri I actually do strength training and 20 minutes of cardio, tues/thurs mornings I do 33 minutes of cardio and some crunchies.. then I go back to the gym at 12 (m-f) for 33 more minutes of cardio, I love the elliptical machine... I am getting a FitBit this friday and have a friend who has one, she is 23 and I helped her be more motivated, we are going to compete with each other over trying to get all our steps in and water intake for the day. I'm excited and it should be fun!

Completely changing your whole life is an adventure. Reducing stress, changing my eating habits and exercising daily.... I never thought I would make it this far, it is amazing on how strong and motivated we can be when we see results and put our minds to it.... I still have 53 more to go but I know it is doable because I made the first half of my goal now the next half...

My kids are away at college, I will see them over Thanksgiving. They have not seen me since July 4th, which I was at 234 #s. I am now at 189 and have 17 more days till I see them! They will be so surprised... I'm excited for them to see me...

Thanks for listening or reading....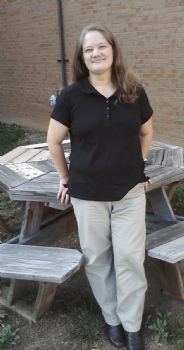 Monday, September 10, 2012
I had to retire my favorite pair of pants this weekend.. After I wore them to church, my best friend said they looked like hell on me and made me look like a slob.. He said I know you are not even close to being a slob but darling you do not wear size 24 anymore.. You are in size 18 and almost to size 16.
I love those pants they are so cute and I love them but I am not looking like a slob to wear them.. he gave me 2 shirts (and a pair of shorts) this weekend and they show my belly rolls not a lot but enough for me to feel uncomfortable.. He kept saying they look good on you and in 2 months they will feel better... so I decided against my better judgment to wear one of the shirts to the gym this morning.. the gym supervisor said wow, you look great in gym clothes that actually fit you. That those size 4x you wear do not look good on you, it is time to move on to clothes that fit. Wow, it is hard to believe I made it 49 pounds down this week… only 65 more to go… I'm really going to miss my favorite pair of pants… maybe I will make a pillow out of them, lol…
The pic attached is me at 40 pounds down. I need to get one of me when I reach 50#s down…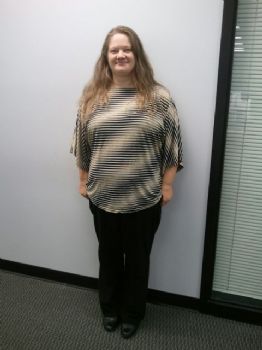 1

Get An Email Alert Each Time ISATSAM Posts