Saturday, January 17, 2009
Well, I was super nervous today for the press confrence for the photo contest, but it turned out to be ok. It was kind of scary to be put in front of the news cameras with them asking me questions, but lucky for me when we watched the news tonight they just showed footage of the pictures and of the interview with the lady in charge. The guy that won first place was super nice, he took a beautiful picture of the skyline of our town at dusk. Ill try to post it...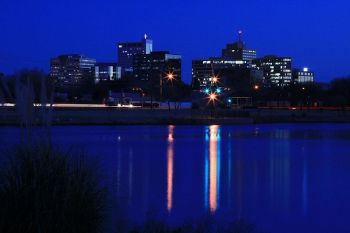 He was really the nicest guy... his wife was very nice too. :) He seemed to be impressed that my little cheap camera took my picture that won second...lol. The guy that won third place didnt make it to the press confrence, but he had a very nice picture too. Let me try to add the link to all the submissions...

www.flickr.com/photos/29884601@N06/s
ets/72157608055424708/

The third place submission is the one right next to the winners on the last full row second from the end. They gave us all a very nice framed copy of our photo and told us that our pictures will be hung in the chamber of commerce with a plaque for each one telling what it was for and who took it. :) Plus they said they will use them in advertising and they are hoping to make them into postcards for our area! I wonder if I can claim that I am a "published photographer" now! LOL!!

Really, I do have to admit... I am so very relieved they didnt show me on tv tonight. Really, just looking at myself in the mirror is bad enough without the adding of the 10 pounds. Im not quite sure I could handle that right now... I kept telling myself that if they did put me on tv that I could use that for inspiration to give myself a kick in the pants to get busy on my healthy lifestyle thang, but like I said... I just dont think I was ready to see it. I have been teetering between euphoria and panic lately as it is, that just might push me towards the panic end further than I can pull myself out of.

One minute I am happy and excited about what this year holds in store with all the changes going on and on the other side of the coin I am terrified I messed up big time by going part time. Part of me says that things are going to go great with the jewelry thing we are starting up and the other part says that I am just wasting my time and money. Part of me says that this photography contest was a nudge in the direction I want to go in and the other part of me says it was a freak accident of a shot and means nothing. Ugh. I just want to climb under my bed and twitch sometimes! Push one way... pull the other way... shove from the side... I just need a plan.... I gotta work on that.

Well... I think Im on my way to bed for tonight. I would like to try to make it to the YMCA tomorrow to play racquetball if I can find someone to go with me... I know I should bite the bullet and just go alone, but that is really no fun. I guess we will see how it goes. Maybe I will just have to put some music on and clean like crazy. If I can talk myself into it...lol.

Nite!