Wednesday, July 03, 2013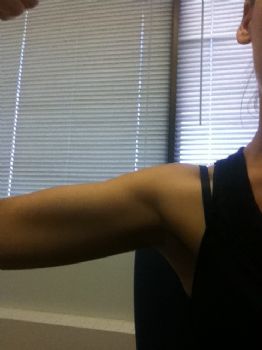 A body part of mine that is toning up quite nicely are my arms! I can't wait to see those sexy cuts just around the shoulders! Certainly on my way there.

I went for a run at lunch today, only 30 minutes but it was a good run. My Color Me Rad run is on Saturday, I'm kind of nervous even though I've ran plenty of 5k's and 10k's before, but this one will be my first race after I took a year off running! So ya, I'm a little anxious about it. I'm not as fast as I once was but I know I'll be able to run without stopping (that's the goal anyway) so I'll aim for a time between 30 - 40 minutes. Totally reasonable!

I'm back home now after a month of house sitting. It's bitter sweet, I don't get to spend the night with my bf anymore but my groceries are paid for. I've really got nothing to complain about. I bought some Happy Planet soup (Moroccan Chickpea) so I might have that for dinner tonight with some tuna or couscous. I'm going to start drinking my protein shakes again and my casein at night. I need to start putting on some serious muscle! I leave for Ontario in a week with my cousin and we're going to try and motivate each other to workout even tho we're on vacation. We can finally gym together and maybe he can spot me and I'll be able to bench heavier weights. (Since I work out alone).

I'm mostly aiming for a flat stomach right now so I can feel confident in just a T-shirt, I always wear such baggy clothes to hide my little rolls and I'm working on the self esteem thing, but progress is not a steady incline. Some days I feel super hot and fit, and others I feel bloated, squishy and gross. My Bf is so wonderful though, he always tells me he's proud of me and that he loves every part of me. It's so refreshing and I hate to play the comparison game but my ex would always make me feel guilty for workout out and trying to improve my running or get slimmer. My ex thought I'd eventually leave him because I'd start getting new male attention or something and it just made me feel guilty about wanting to look hot. (That isn't why we broke up btw, that story is in another blog somewhere I think).

I've also met some new people this summer and most of these new friends are just so sweet and awesome! I'm going to gloat a little and paste what a message I got one morning on facebook. This girl I met at a friends baby shower sent me this and it honestly just made my day and made me feel so good! --->

"I just have to say, you are an awesome chick. I was trying to explain to Shantelle after the baby shower that I never got your name but you were sitting by me and you were super easy to talk to and your funny. Then I saw you at the bbq and it took me about 5 mins to realize who you were. By that time I was to embarrassed to tell you I was glad I had a chance to meet you again lol I didn't want to come off as in love with you but you are super easy to talk to and a really nice chick. You also have a good sense of humor. Any time you want to go to state and Maine (is that the new spruce restaurant??) I am down for sure. Have an awesome day !!"

Like REALLY? This girl knows how to give a compliment! It makes me want to spread the love and I think people don't compliment each other enough anymore. (Except for here on spark haha this site is FULL of inspiring people sharing good vibes!) So I passed on the good karma and hopefully made a few others feel the same way! So I plan to get together with this Alicia girl once she moves to my town. I also met a really nice girl at this bachelorette party I went to a few weekends ago! And It's a big deal because I didn't know ANYONE at this stag, except I had met the bride to be three times. (She's friends with my bf). So I got invited which was so nice and I was nervous about going because I didn't know who I'd get to talk to and this Sam girl and I ended up talking most of the night and she wants to go for coffee tomorrow. =) I love making new friends!!

So I'll end this blog entry with that and thanks to those who listened to my ramblings and such!! Happy Wednesday!!