| | |
| --- | --- |
| | IAMPREACHER's Recent Blog Entries |




Tuesday, December 16, 2008
THE CHRISTMAS TREE CONTROVERSY

We live in a world of chaos and customs. Have you ever wondered how the custom of the Christmas tree got started? Most never reflect on why they celebrate a certain holiday in a certain manner or question why things are done or why they believe what they believe or what they do or why. Most people do what everybody else is doing. Most people are conformed to the world and its ways. Christmas is no different.

Have you ever noticed that most stories revolve around a battle of some sort between good and evil, right or wrong? Lots of movies, esp. the sci-fi type show this the most. But did you ever stop to consider the controversy of the Christmas tree?

There are many, many tales regarding the Christmas tree and its beginning but the Christmas Tree history really has nothing to do with the birth or life of our Savior, Jesus Christ. Its origins really have nothing to do with Christmas at all. It's been reported that the C T originated in Germany by a monk name St. Boniface in the 8th Century AD.

Since ancient times, evergreen trees have been revered as a representation of fertility, sexual potency, and reproduction. Many pagan festivals used trees to honor their gods and spirits. Druids of ancient England and France were considered to be barbarian philosophers, others thought of them as spiritual leaders or advisors. They believed trees were bridges between earth and sky and communicated water between these 2 realms. Bottom line: Druids were pagans b/c they were polytheistic, worshipped created things rather than the Creator. They decorated oak trees with fruit and candles in honor of their gods at harvest time. Some report they practiced magic and divination.

The exact history of the Christmas Tree isn't really clear. There are so many legends, tales, and myths associated with the Christmas Tree that it's hard to distinguish the truth from the fiction. Some of the stories were only made up for sheer entertainment purposes.

One legend of the Christmas Tree tradition dates back to Western Germany in the 16th Century. They were called Paradise trees based on a religious play performed which depicted the story of creation, of Adam and Eve, their sin and their expulsion from the Garden. The only prop used in the play was a fir tree adorned with apples. The play was so popular that people began putting their own paradise tree up in their homes on December 24th.

Evergreens have been a symbol of rebirth from ancient times as well. Usually brought into the home at the time of the winter solstice, it symbolized life in the midst of death in many cultures. However, there is no evidence that shows that Christians first used trees at Christmas as a symbol of rebirth or that the Christmas Tree was a direct symbol of the German Yule tree. Evidence shows that the Christmas Tree was based on the Paradise Play, not Christmas.

In 1990 in a town in Ohio a school board banned all Nativity and other Christmas scenes on any school property b/c they felt it violated the separation of church and state. They were challenged in court by outraged parents. But they lost the case. Even though the citizens contended that Christmas was a worldwide tradition that was not part of, but transcended religion it was deemed secular—a part of virtually all cultures worldwide. The court decision affirmed that Christmas has no Christian roots.

It has been established that Christmas trees do not honor Christmas or have anything to do with Jesus' birth. Christians adopted the observance of heathen or pagan traditions to make them appear to be religious in nature.

The controversy of the Christmas tree involves secular and non-secular usage of the tree of those who oppose usage of the tree based on interpretation of Scripture. Jeremiah 10: 2-4 in the KJV states: "Thus says the Lord: Do not learn the way of the heathen, do not be dismayed at the signs of heaven, for the heathen are dismayed at them. For the customs of the peoples are vain; for one cuts a tree from the forest, the work of the hands of the workman, with the ax. They decorate it with silver and gold; they fasten it with nails and hammers so that it will not topple."

It sounds to me like God doesn't like man's tradition of the decorated tree. Trees were worshipped in ancient times by pagans. Is today much different? Christmas trees have grown in popularity and price, not to mention all the decorations and lights. Is this really honoring the Christ of Christmas?

In my research I also found that Jesus wasn't born on December 25th. He was born in the fall, when shepherds really were out in the fields at night keeping watch over their flocks. Sheep were kept out in open country during the summer months and brought inside sometime between September and October. It is to be noted that winter was the rainy season and shepherds couldn't stay on cold, wet open fields at night.

Actually, the Christmas tree long preceded Christianity! Most aspects of Christmas aren't even mentioned in the Bible b/c they are traditions of man and not from God. God calls it "the way of the heathen" and forbids His people to follow their traditions or ways.

So, where does that leave us today? It leaves us practicing paganism disguised as a Christian holiday. The modern term for merging false pagan customs with the worship of the true God is called syncretism.

In the book of Deuteronomy God says pagan practices are an abomination to Him and He hates those practices. He told the Israelites to destroy the pagan altars and burn their groves with fire—every green tree. Historians tell us the term green refers to evergreen trees.

One only has to read the history to see how clearly idolatry is practiced in our nation, even when done in ignorance or thought of as innocent, it still defies God. God took Israel out of Egypt, from slavery, away from the customs of pagans and every ungodly practice of the world around them and revealed to them how He wanted them to live. People do not want to obey God on their own. It's easier, more "natural" to do things like every one else.

The choice is yours. God gave us the freedom of choice. You've heard the truth. Now it's up to you to determine what you will do with that truth. Materialism has taken Jesus place, especially in America. Jesus isn't really the reason for the season anymore.

CF: Deut 12:29-31; Ex 34: 10-17; 23: 23-33; Deut. 20: 13-18; 16: 21; Judges 6: 25; I Kings 14: 15; Genesis 21:33; I Samuel 22: 6; 31: 13






Friday, December 12, 2008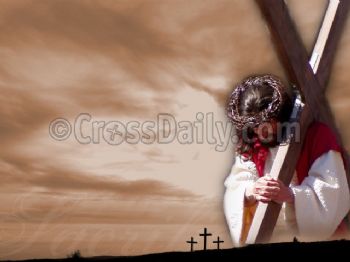 JESUS IS BETTER THAN SANTA.....

Santa lives at the North Pole.
JESUS is everywhere.
Santa rides in a sleigh
JESUS rides on the wind and walks on the water.
Santa comes but once a year
JESUS is an ever present help.
Santa fills your stockings with goodies
JESUS supplies all your needs.
Santa comes down your chimney uninvited
JESUS stands at your door and knocks.. and then enters your heart.
You have to stand in line to see Santa
JESUS is as close as the mention of His name.
Santa lets you sit on his lap
JESUS lets you rest in His arms.
Santa doesn't know your name, all he can say is "Hi little boy or girl, What's your name?"
JESUS knew our name before we did. Not only does He know our name, He knows our address too. He knows our history and future and He even knows how many hairs are on our heads.
Santa has a belly like a bowl full of jelly
JESUS has a heart full of love.
All Santa can offer is HO HO HO
JESUS offers health, help and hope.
Santa says "You better not cry"
JESUS says "Cast all your cares on me for I care for you.
Santa's little helpers make toys
JESUS makes new life, mends wounded hearts, repairs broken homes and builds mansions.
Santa may make you chuckle but
JESUS gives you joy that is your strength.
While Santa puts gifts under your tree
JESUS became our gift and died on the tree.
It's obvious there is really no comparison.
We need to remember WHO Christmas is all about.
We need to put Christ back in Christmas.
Jesus is still the reason for the season.

May the Lord Bless and Watch over you and your loved ones this Christmas 2008
And may He prosper and bless the work of your hands in the New Year





Thursday, December 11, 2008


"The Holy Bible—Foundation of All Knowledge
Only God's Word reveals the right foundation of all knowledge. Only here do we find the answers to life's big questions: Why is the world in such a miserable condition? What is the purpose of human life? Is there life after death? The Bible answers all these questions and many more.
Many followers of Christianity, who seriously seek a deeper understanding into their own religion, would normally expect to turn to the Bible. This would be the logical place to look, if one's religion is based upon the Bible.
This world's Christianity professes to be based on the Bible, but is not! In later lessons, we shall see why. Those who allow the Bible to teach them will benefit from this instruction, to the extent that "the man of God may be perfect, thoroughly furnished unto all good works" (II Tim. 3:17).
As the Creator of mankind, God clearly shows us the absolute necessity of drawing upon His Word for spiritual nourishment: "Man shall not live by bread alone, but by every word that proceeds out of the mouth of God" (Matt. 4:4; also see Luke 4:4). Here, Christ was quoting what He had inspired Moses to record in Deuteronomy 8:3. This is the core of why we should study the Bible—it provides essential food for a right way of life!
But, do the different denominations of Christianity actually allow the Bible to guide them? Consider the largest Christian denomination. For centuries, this church forbade (even punished by death) anyone possessing a copy of the Bible.
The many Christian denominations claiming to follow the teachings of the Bible may be sincere, but are utterly oblivious to the countless contradictions between Scripture and their interpretation of it.
There is an obvious reason that people reject the Bible: "All Scripture is given by inspiration of God, and is profitable for DOCTRINE, for REPROOF, for CORRECTION, for INSTRUCTION in righteousness: That the man of God may be perfect, thoroughly furnished unto all good works" (II Tim. 3:16-17). People resent being reproved and corrected—even from God! They will twist and distort the meaning of corrective scripture, rather than accept it at face value.
This tendency to refuse correction is compounded by the fact that mankind does not fear or even acknowledge God—they are not concerned with what He says. However, they are concerned with the opinions of men.
The condition of humanity today is the same as it was at the time of Christ: "And this is the condemnation, that light is come into the world, and men loved darkness rather than light, because their deeds were evil" (John 3:19)."

I found this on a website and thought it worth sharing.




First Page
1
2
3
4
5
6
7
8
9
10
11
12
13
14
15
16
17
18
19
20
21
22
23
24
25
26
27
28
29
30
31
32
33
34
35
36
37
38
39
40
41 42 43 44 45 46 47 48 49 50 51 52 53 54 55 56 57 58 59 60 61 62 63 64 65 66 67 68 69 70 71 Last Page

Get An Email Alert Each Time IAMPREACHER Posts