Monday, October 15, 2007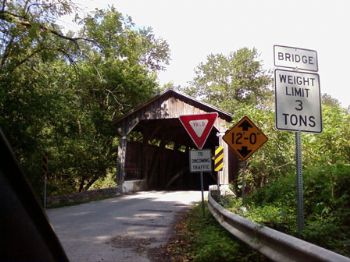 This is an old covered bridge in Chester County, Pennsylvania, where I grew up. You have to make sure no one is coming from the other side before you cross it because it's only wide enough for one care. It also represents an entrance and something that closes a gap so you can cross over a chasm or a body of water. Just like this bridge, God built a bridge for us to cross over to Him; that of His Son, Jesus Christ.

I know this may seem backwards, but in the end, it will be the one at the bottom of the list and so will be in sequence as in the Bible. I am starting a series on the 10 Commandments and you are welcome to comment as long as the comment is not to argue or be disrespectful to God or what I believe. I've been on some blogs where they just tear you to pieces and those who comment that way will be deleted. You don't have to agree with anything I write here, but those who don't agree can comment, too, just don't be hateful. Remember, God is God to all.

Commandment #10
Exodus 20: 17: "You shall not covet your neighbor's house, you shall not covet your neighbor's wife, nor his male servant, nor his female servant, nor his ox, nor his donkey, nor anything that is your neighbor's."

To covet = to desire, crave or have an intense desire for, to set the heart upon, to long for rightly or otherwise, desire, lust after, to wish for.

How many times have you said or heard others say things like "I wish I had a house like theirs" or I wish I had a family like that or all the other things in this life that others have. In a nutshell, this commandment says don't want what isn't yours. Be content with what you have. We've probably all seen the commerical where a family has a house full of stuff. They get rid of it and then you hear them cry, "We need more stuff!" No doubt if the ad ran true to life, you'd see the family looking over the fence at what their neighbor had and right away they would be wanting what the neighbor has. This IS true to life, unfortunately. Plastic makes it all happen for so many. Keeping up with the Jones'' is how they used to define the concept of coveting. It is wanting things that aren't yours to become "mine."

Romans 7: 7 says, "What shall we say then? Is the Law sin? May it never be! On the contrary, I would not have come to know sin except through the Law; for I would not have known about coveting if the Law had not said, "You shall not covet." God knew all along that man would fall. But He supplied us with everything we need for life and godlines. He knew we would want things. Proverbs 27: 20 says "Sheol and Abaddon (hell) are never satisified; Nor are the eyes of man ever satisified."

"With his mouth the godless man destroys his neighbor..." "He dispises his neighbor sins." We break this commandment everytime we hate our neighbor. How, you may ask? If that neighbor has something we feel we need or must have, we resent him secretly in our heart. When we can't have what he has and i f we covet, it can lead to hatred of that other person. Jesus considered our neighbor to be not just the people next door, but all mankind. He used neighbor as someone to compare ourselves to when saying, "You shall love your neighbor as yourself."

These 10 Commandments are exactly what you and I cannot keep. It reveals the nature of sin and its demand for perfection. We couldn't keep the Law then, and we can't keep it now. Jesus fulfilled the Law for us. He took the penalty of it for us, nailing it to the Cross. (Col.2: 14)

So when you see your neighbor with something nicer than what you have, be glad for him or her. And if you feel yourself wishing you had it, too, ask yourself this question: Do I really need that or do I just wish I had it? There is a big difference between needing something and just wanting it because someone else has it. So don't covet.