Saturday, July 14, 2012
Confidence manifests itself in different ways. For me, it's been in color and clothing. I am a conservative dresser by nature, but lately, I've been venturing in to new territoy.

So, I bought something ORANGE. Unmistakably ORANGE, when I made my commitment to lose this 20lb that's been stuck to me for 10 years. When I first bought it, it fit well. Now it's too big.

Since it's now baggy and TOO low cut to wear the right way, I was playing around and put it on backwards. In an age where boys are wearing nut crushing jeans and girls platform shoes that make them look like a circus act, I hardly think this looks odd. And anywa, who CARES what anyone else thinks. I like the way it looks and that's enough for me!

This is a Target 'premium' tee-shirts, which basically just means that it's stretchy. and smooth- nice fabric, actually. The tag is iron-on, so it's not visible.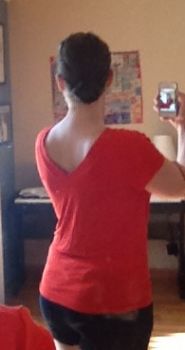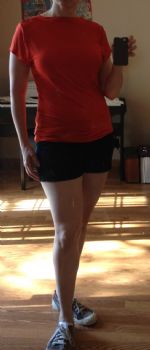 So, confidence is abundant today, which is extremely motivating to say the least. I hope you find something to be motivated about today, too, be it related to successes, starting over, noticing a change, or just plain feeling positive.