Thursday, November 07, 2013
Normally I wake up early to get in a few miles on Thursday's before weighing in but today I decided to take some vacation time. I slept in and got my miles in after I dropped my son off at school. I'm glad I did because it was CHILLY. WI went well with me losing 2.4 lbs this week. I managed to get in 3 runs and 1 walk this week.

I finally made up my mind and set some new goals and also refreshed some of my old goals that I haven't met yet. I want to hold my self accountable on what I'm wanting out of my weight loss journey.

Current Goals:
I will complete a half marathon by March 2, 2014
I will lose 20 lbs by my next birthday 2/13/2014

My current actions to complete my goals:
I will commit to 2-35 min runs and 1-long run per week to help train for the half marathon.
I will commit to 2 days of strength training (my week runs Thursday - Wednesday)
I'm going to focus on the current day to help me stay OP with my weight loss (1 lb a week is what I hope for.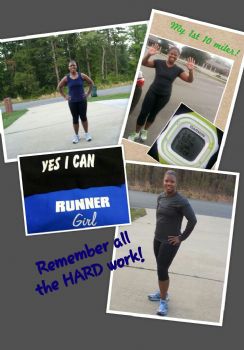 My motivators:
I want to be a role model for my husband, son and friends who are overweight and think it can't be done.
I want to return to my goal weight of 165 lbs - July 19, 2012.
I want to be and stay healthy.

Day by Day, Pound by Pound!