Tuesday, June 10, 2008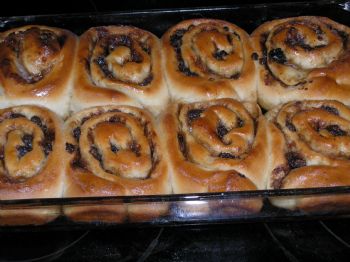 This is for the many people who wanted the recipe. May your temptation not be as mine was...

3 packages active dry yeast
2 1/2 cups warm water
2 teaspoons white granulated sugar
1 (18.25 ounce) package white cake mix
4 1/2 cups all-purpose flour, plus more if needed
1/2 cup butter, softened
1/2 cup brown sugar
2 teaspoons ground cinnamon

In a small bowl, dissolve yeast in warm water and white sugar. Let stand until foamy (about 10 minutes)
In a large bowl, combine the yeast mixture with the cake mix and 3 cups of the flour, stir to combine. Add the additional 1 1/2 cups of flour 1/2 cup at a time mixing well after each addition. When the dough has pulled together, turn it out onto a lightly floured surface and knead until smooth and elastic, about 8 minutes.
Lightly oil a large bowl, place the dough in the bowl and turn to coat with oil. Cover with a damp cloth and let rise in a warm place until doubled in volume, about 1 hour.
Deflate the dough and turn it out onto a lightly floured surface. Roll the dough into a 10 x 16 rectangle, spread the softened butter over the rectangle; spoinkle on brown sugar and cinnamon. Starting from one of the long sides, roll up the rectangle and cut into 1 inch wide rolls.
Preheat oven to 375 degrees F (190 degrees C). Grease a 9X13 inch baking pan. Place rolls snuggly into the pan. Cover the rolls with a damp cloth and let rise until doubled.
Bake at 375 degrees F (190 degrees C) for approximently 20 minutes.

Note: I used a Kitchen Aid Heavy Duty mixer for mixing my dough. I used a little more flour in the mix than suggested while mixing. I rolled my dough about 14 by 24 inches. I placed my rolls into a greased pan loosly and made 3 pans full. (they bake more even in my oven that way) I used more brown sugar than called for. I used 1 cup of chopped raisins and sprinkled them over the brown sugar before rolling. I used glass baking dishes and therefore set my oven to 350 degrees F. Also;in the last baking pan, I added walnuts to the bottom of the pan before adding the rolls and while they were still hot from the oven, I turned the pan over and the nuts and brown sugar that had melted through were then the "top" of that batch.
Enjoy...but freeze remainder right away unless temptation over come you.