| | |
| --- | --- |
| | HOLLYS_NEW_LIFE's Recent Blog Entries |


Thursday, July 14, 2011
I haven't written a blog in a while but I've been reading a lot of them. Most of them seem to have a central theme... I'm stuck, I keep losing and gaining the same 5lbs, I'm working out more, and not losing an ounce... any of these sound familiar? It's usually followed by... I don't want to give up but I don't know what to do, I'm so tired of doing this without results, why is this getting so hard?... Hell yes this is hard! If it were easy, everyone would be thin, right? I "stopped" losing weight in January, and up until May, I kept gaining and losing the same 5lbs (where have I heard that?) And since May, my weight loss has been spotty at best. To be honest, I've become terrified of getting on the scale. This from someone who would weigh every day. I've been binging almost once a week, and I'm sick over it.

I know what to do and how to do it, but sometimes, I'm SO sick of doing it! I get that it's a new lifestyle that I'm learning, but weighing and measuring food, counting calories in vs out, and monitoring carbs, fats and protein can take its toll. Don't tell me that there hasn't been a time when you have just wanted to eat until you can't feel your face.

I've been doing it for over a year, I'm pretty sure I've learned SOMETHING by now! The one thing I've found MOST helpful, is logging in here every day for support, information, and the knowledge that I'm not the only one feeling this way. This hard enough to do, I can't imagine doing it on my own. Even when I'm feeling really crappy about my own journey, I can come here and find some inspiration in a blog or get some encouraging words from a friend.

It makes me sad, though, when I know I have friends that are struggling, and instead of putting a few words out there, asking for support, or just yelling about how hard this is, they completely disappear. I get that it's summer and everyone's busy, but when I drop by a page to see how everyone's doing, lately, it's been "I don't know, I really haven't had time to work on it." "not so good, the Holiday's really threw me off." Or, they just leave all together. We've all had friends who've just left without a word.

You've got to hang in there friends, this can be done. It isn't pretty, and it isn't instantaneous. It takes dedication, and hard work and if you can muster it, a positive attitude! We're here because we need help and support. We know what it takes to achieve our goals, we just have to stick with it. Ask for help and offer it to others, and we'll all make it to the other side.







Saturday, June 18, 2011
to all of my wonderful sparkfriends. You "liked" my 1 year blog and it is now a "popular blog." I'm also a sparkpeople motivator, thanks to you all. I'm honored and excited and REALLY overwhelmed by all of this. I was telling my best friend about how overwhelmed I am about the whole thing simply because I wrote this blog for myself and my 15-20 "close" sparkfriends. I had NO idea this would happen. Because of this blog, I have SO many friend requests, sparkmails, and blog comments, that I can't keep up with it... if I want to get away from my computer. I thank you ALL, from the bottom of my heart. I also want to apologize profusely for not being able to respond to the 400 plus comments on my blog. Please know that I've been reading EVERY single post and they all mean so much to me. I'm really VERY grateful for all of the wonderful things everyone said. I had no idea that by writing this, I would "motivate and inspire" so many people. I couldn't do this alone. Thanks SP, and thanks to my favorite sparkfriends, you know who you are. You guys have been with me through most, if not all of my journey. I love you guys!






Wednesday, June 15, 2011
Wow, I have no idea how to start this blog. This year has been full of ups and downs and a whole lot of sideways. I know this journey has affected me tremendously, so I decided to ask my family what they thought of this last year and my weight loss.

My son Jake, "I like that I can put my arms around you the whole way when I hug you. I don't like it when I can't have potato chips."

My daughter Katy, "I'm glad you're not getting fatter, because you play outside with us more. I just wish we could have chocolate more."

My hubby Mike, "You're so much more active, you're happier, and we get to try different kinds of foods. But, we don't get to have ice cream and candy bars like we used to, and you have to buy clothes a lot more often."

As you can see, it's affected ALL of us, lol!

This journey has affected my life so much, like it has all of yours. I used to sit on the couch... A LOT, and now, I don't think anything about going out to play with the kids, walking down to my mom's (1 mile away), or going for an hour long walk *gasps.* I know, right, So great! I'm not going to lie, I still really enjoy TV, it's just not my life anymore.

I've never been a great dieter. I'd stick with it for a while, lose 30-50 pounds, and quit. When I found SP, I was really glad that they gave me the "secret" to dieting. Eat what you want, when you want, within reason. How easy is that "diet?" So much better than shakes and pre-packaged foods. I'm not a gourmet chef by any means, but I can cook a pretty healthy meal now, and I really enjoy trying new foods. Who knew asparagus was so tasty? I'm not a vegetarian or a "clean eater" but I've learned how to make much better food choices and use portion control (most of the time). I've also learned that a lot of foods, simply aren't worth it. This coming from a girl who used to be able to eat a half a bag of Oreos, a huge package of PNB Cups, and an entire pizza. Seeing that in writing is pretty gross... completely true, but gross.

In addition to the changes physically, I wrote a blog in December about physiological changes. Cholesterol, blood pressure, sugar levels, and triglycerides, all which were great. However, the biggest change that has happened is all mental. I've never had self esteem problems as far as my weight goes. I never thought I looked bad, even at my highest. I used to say I had a body image problem... I thought I looked better than I did. I was, and still am, my biggest enemy. No one is harder on me than I am. No one tells me I can't do something, I tell myself that. My biggest obstacle to overcome, was allowing my body to do something that my mind wouldn't let happen. Do you know, that your lungs won't actually explode if you try to run... do you know, that you're spine won't actually snap while trying to Zumba? These are some of the thing I've had to overcome on my journey. Because I've allowed myself to do these things, I've enjoyed Zumba for the last 2 months, on Saturday mornings. I'm also able to run 1/2 mile without stopping. It's no 5K, but it's a start.

We all know what SP has done for us, how about the good stuff... pics and stats!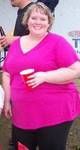 June 2010 307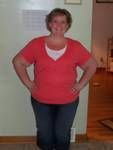 June 2011 218.5

Measurements: Keep in mind the first set wasn't done until July 2010. I would LOVE to know what they were a month prior.

neck: 16 to 13.5
arms: 20 to 16
waist: 53 to 39
hips: 59 to 47
thighs: 34 to 26.5
calves: 19 to 17.5
bra size: 48D to 38B (sniff sniff)

I've lost 88.5 lbs, 66.5 inches total, and TOO many cups sizes, but I'll take it!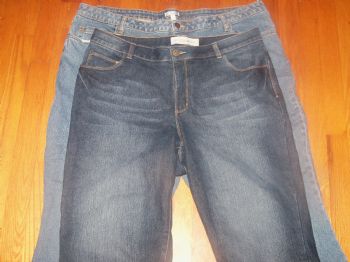 size 28 (bottom) size 18 (top)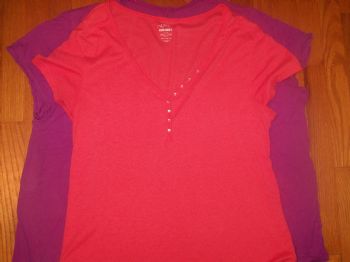 size 4x (bottom) size 1x (top)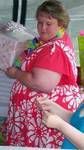 my sister in law's bridal shower last summer looking 9 months pregnant (NOT)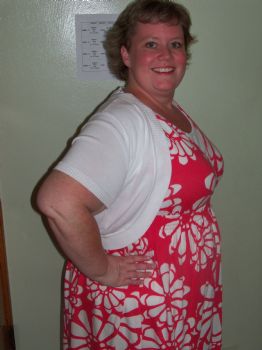 same dress June 2011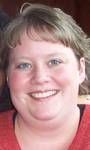 my face looked like it was ready to explode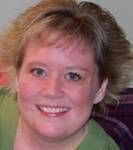 so much thinner

This has been such a great year, and so difficult, and rewarding and hard, I can't even describe it correctly... but you ALL know what I'm talking about. I now I couldn't have done this without SP and the nutrition trackers, exercise logs, and the countless motivational blogs. Most importantly, I couldn't have done it without all of you. You are all so supportive of every every pound lost, fitness minute earned, and all milestones in between. You are there when I binge, and there to kick my a$$ when I'm doubting myself. You are all so great and I hope I've been just as supportive for all of you.

I will leave you with one last image...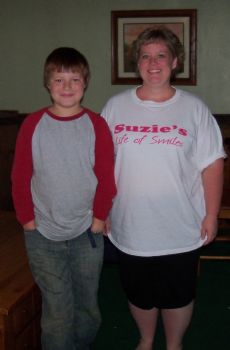 I've lost as much, as my best friend's, 11 year old son weighs!!! How great is that?






Sunday, June 05, 2011
We went to my in laws this weekend for what I was being told was a memorial walk for my MiL that passed away last year. She used to work for Eat-N-Park they were sponsoring this walk and we were all getting T-Shirts, and there were going to be vendors and activities for the kids, etc. I thought, wow, E-N-P really knows how to pull together a function. I was all full of the warm fuzzies thinking this company is doing such a wonderful thing in Sue's memory... well, that was right and wrong all at the same time. We were PART of a memorial walk that Relay For Life was sponsoring in that County. This bothered me because had I known it was part of Relay For Life, I could have gotten donations or something together. I was told it was just a walk and no one even mentioned raising money. I feel bad...

E-N-P provided us with cute T-Shirt's that had their logo on the back and "Suzie's life of smiles" on the front. All of the restaurant staff were wearing them as well.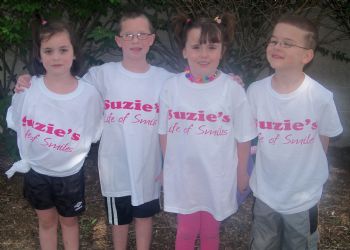 Katy, Jake, and my niece and nephew Madison and Brady

It was a 24 hour even which started Friday night at 6pm and went till Saturday at 6pm. When we got there at 9:30am Saturday, we saw that they did indeed have all kinds of vendors and things for the kids to do. Katy came home with pink extensions in her hair, so cute! They also had luminaries with the names of loved ones that were lost to the disease. I wish we could have seen them all lit up.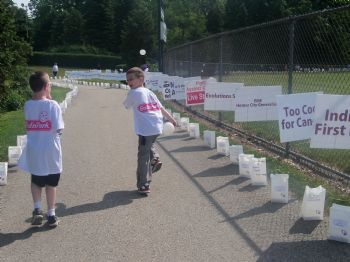 Even though we could have done more, It was a beautiful day. It was 75 degrees and sunny with a great breeze blowing. There were TONS of people, with different companies taking part, each with their own t-shirts memorializing someone. The city is in a college town, and there were lots of kids walking with hand made shirts for their "pappy" and "memaw" which just broke my heart thinking about my own grand parents. It really was a good day.

The track was a 1/4 mile around and they were asking people to walk at least 6 laps. We got around 8 times before the kids had had enough and were hungry. E-N-P was kind enough to buy lunch for the family, and the kids were thrilled.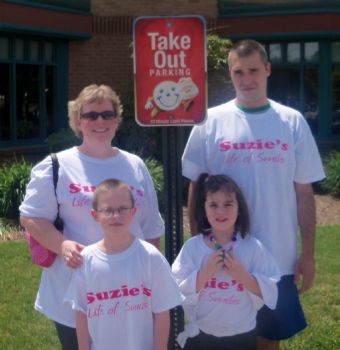 my husband, not looking anywhere near the camera as usual : )

After, we went to my MiL's grave site to say Hi and I think my daughter picked every dandy lion in site to give to her. The rest of the weekend was spent with my hubby's brother and his family, as well as my FiL. As usual it was a whirlwind of a weekend, but it was memorable.





Monday, May 16, 2011
I gained another 2 lbs this week, which makes 3.5 in 2 weeks. Not the end of the world by any means, just completely frustrating. Two weeks ago TOM was in town, so I guess that could be explained. This week, I finished week 2 of the "Spring in to shape bootcamp challenge" which caused me to increase my workouts, so I ask you, HOW DID I GAIN AGAIN????? I'm hoping it's a case of "you're not eating enough" which has happened to me in the past. But is it really that fine of a line? If I expend 600 calories and eat 100 too few calories, I gain weight? Come on... I was telling my bff, MADTHENURSE, that in the past, this would have sent me into a downward spiral, and I would have totally given up. Screw it, I knew I couldn't do it, eat the whole pizza!!! I don't know why this time is different... maybe it's because, I've actually had REAL success. Maybe, it's because I've been able to help other people change their lives and get healthier, and what kind of role model would I be if I gave up? Maybe it's because this is the first time I've actually been ready for change. But, more than likely, it's because I've got such bright SPARKlers helping me by lighting the way when the road gets dark. I've never been able to lose this much weight, and I've got a lot left to go, but I know I'm going to do it this time. My 1 year Sparkaversary is coming up in 1 month. I wanted to "lose 100 lbs in 1 year" and I've realized that isn't going to happen. It makes me a little sad, but I've lost 84 pounds to date, and I have a month to go. Whatever I lose by then will be fine with me, because I know I'll never be back there again. This has been a crazy ride, and I'm on the downward swing. I still don't exactly see the "goal line" yet, but I know it's there. A few pounds bouncing around isn't going to stop me or slow me down, it just makes me more determined. I will finish this and get healthy for myself and my family.








First Page
1
2
3
4
5
6
7
8
9
10
11
12
13
14
15
16
17
18
19
20 21 22 23 24 25 26 Last Page

Get An Email Alert Each Time HOLLYS_NEW_LIFE Posts