| | |
| --- | --- |
| | HOLLYS_NEW_LIFE's Recent Blog Entries |


Wednesday, May 01, 2013
Weigh in was today.... dun dun duuuunnnn..... Haha! No, it's fine. I'm down a pound and a half from the last time I touched my ticker. A little background on that I guess. The last time I weighed and input my info was March 15. SInce then, I've had a very rough time. I've been uber depressed from the never ending winter which lead to enormous amounts of food and serious lack of exercise. I did get on the scale a few times, and I don't know why. I'd get on, cuss at the scale, and kick it back under the bed. At one point, I was at 179, YIKES!!! That's when I decided I wasn't getting on until after my vacation and a couple of recovery weeks.

Well, I've been home since April 21 and I've had about 10 days to "recover." Down a pound a a half from 6 weeks ago, is just fine with me! I would like to be at goal by the time I do the Dirty Girl which is September 7. That means I have to lose one pound a week. On paper, totally doable, so we'll see. Alright friends, onward and upward. I mean downward!





Monday, April 29, 2013
Seriously, if you don't want to see some really good food, I suggest you LOOK AWAY!

I'll give you a little info on the trip because I had a really great time. I am so blessed to have been able to take this trip with my dad too.

We left at 4am Wednesday morning and, including pit stops, it took about 13.5 hrs to get to Bluffton, SC, which I didn't think was bad at all. We got down there and my Aunt (dad's sister) took us to a great Mexican restaurant, Mi Tierra. My dad hates all food that isn't steak and potatoes, sooo... yah! Fortunately they also made pizza so that's what he had, weird right?!? I forgot to take a picture of any of it, but believe me, it was amazing!

Thursday it was 85 degrees and GORGEOUS! So we spent most of the day in Savannah, GA on River Street. So much fun! It's a street on the river with a ton of little shops and restaurants. We got to take the ferry across the river which was really nice and we didn't have to worry about the extremely limited parking. For lunch, we ate at "Huey's", which was home cooked Louisiana cuisine.



We were in the restaurant and the entire one side, was french style doors that opened to the street, it was really nice.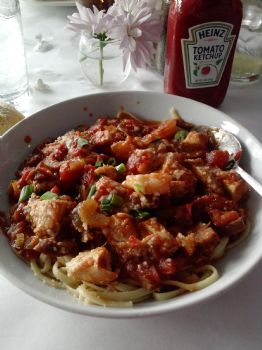 this was the pasta jambalaya that I had, mmmm...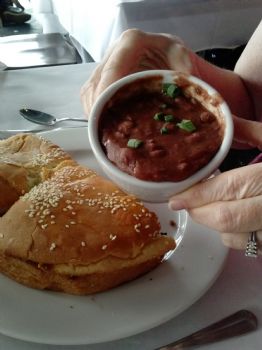 this was my aunt's muffaletta with red beans and rice

My dad had a blacked chicken sandwich which he said was delicious. Then for dessert, we all had a bineight... yah, I don't know how to spell it, but it was the best misspelled dessert I've ever had!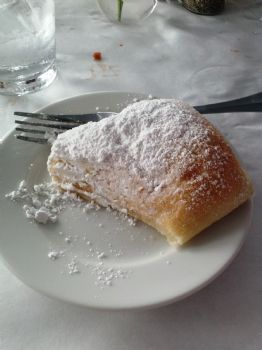 *edit* a wonderful sparkfriend told me how to spell it - BEIGNET!

Friday we went to Beaufort, SC and went on a horse and buggy ride around the city. Our tour guide was fantastic and he gave a lot of great information. After we got back to town we went to "The Mellow Mushroom" for dinner. It was bar food in a really cool atmosphere. They had pizza, wings, etc, but the pizza was delicious! You all know how I feel about pizza. I ordered the house special which had 3 kinds of cheese, 3 kinds of meat, tomatoes, mushrooms of course, black olives, peppers and onions. I only ate half of the pizza, huge victory for me! It was a "personal" sized pizza, but it was still probably 10 inches across.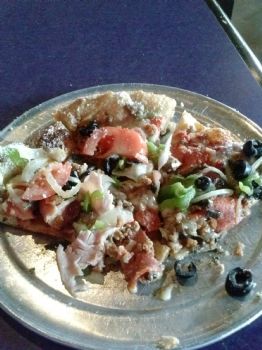 mmmm... pizza....

On Friday nights, my aunt's church opens it's doors to the Jewish community so they can have service. That night, they were also having a Holocaust Memorial service. It was very interesting, I've never been to a Jewish service. A lot of it was in Yiddish, but the pamphlets were written in Hebrew and English. I tried to follow along the best I could. It was a very touching memorial.

Saturday we went to Penn Center School. This was a school that was started by a plantation owners wife who wanted to educate slaves. It was a museum dedicated to the students of this school and the woman who ran it. There were a lot of photos, and really interesting artifacts. Then we went to see the remains of different buildings that had burnt down during the war.

For dinner, we went and had some REAL southern barbecue at "Jim and Nicks." Apparently, in the south, macaroni and cheese is a vegetable. I'm pretty sure my daughter feels the same way, lol!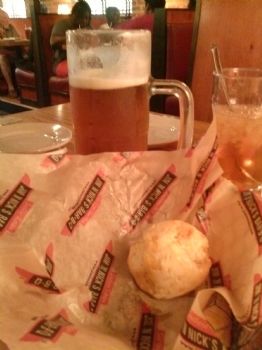 This is a "fat tire" beer. It's every where down there and they're SO yummy! That little muffin type goodie, is sweet, and cheddary and garlicky all at the same time. So good!



this is my pulled pork, fries and YEP, mac and cheese!

Dad had ribs, and what he called, the best baked beans he's had at any restaurant.

To end our 5 day food fest, I mean, vacation, ahem... we ended the meal with chocolate pie. This was not like any chocolate pie I'd ever had. The chocolate was so thick and rich is was like fudge. The topping may look like whip cream, but it was no where near it. It was a wonderful way to end food fest, UGH, I mean vacation ; )




We left Sunday morning, around 5:45am. I had a fantastic time and of course it all ended too quickly. While I was there, I didn't care about the calories, I didn't care about the consequences of eating what I did. I just had a very memorable vacation with my dad. Which just so happened to include some fantastic food, so who am I to say no?!?





Monday, April 29, 2013
I just wanted to share a couple of pics from the first nice weekend we've had!

We went to the peninsula on Saturday and enjoyed a 3 mile walk.




After the walk, we went to Sara's which is basically hot dogs, burgers and ice cream.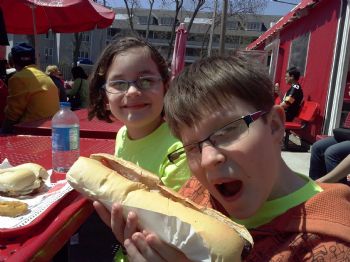 Sooo good!

Then Sunday, even though it was going to rain, we did the March for Babies. The martial arts academy raised $3,000. And I think about 20 kids and instructors did the walk. Jake was so proud of himself for doing all 6.2 miles. They had turn arounds at 1.5 and 2 miles. We finished in 1 hour and 45 minutes. He was super excited because he was the first one from the academy to make it back to the finish line.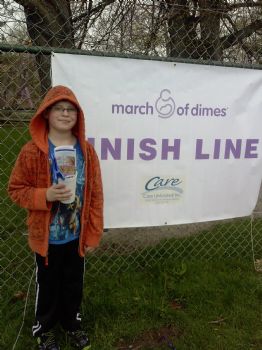 It was a great weekend and I'm looking forward to MANY more this summer.






Friday, April 12, 2013
I am super excited that I was asked to be one of the few people who got to preview and write a review of SparkPeople's new book.

"The Spark Solution: A Complete Two-Week Diet Program to Fast-Track Weight Loss and Total Body Health" -- By Becky Hand, R.D., and Stepfanie Romine. Chef Meg Galvin created the recipes, and Coach Nicole Nichols designed the workouts. Chris "SparkGuy" Downie wrote the introduction.

sparkpeople.com/sparksolution/

I have to say that when I first started going through it, I thought this was just going to be for those new to healthy living, but I have to say that that's not the case.

This book focuses on the first two weeks of your new lifestyle, and how important getting a great start is. They complied data from over 100 Sparkpeople who have lost weight, and most of them have successfully maintained that loss. They found striking similarities with respect to food, exercise and attitude among those that were successful and decided to help us out by telling their secrets, lol! Just kidding!!! They did, however, do a side by side comparison of success stories with those that quit in the first few weeks, and came up with some great solutions to the struggle.

This book details food and exercise for the first two weeks to give you a great start. For two weeks it gives examples of a SAD (standard American diet) and then tells you how to use "sparkswaps" to make it healthier... and they even give the recipes with nutrition content! I was pleased to see it was "real food" too. Eggs and bacon, hamburgers, lasagna, etc. I made one of the "One Dish Dinners" Southwest Chicken and Rice, and it was delicious and super easy. I have a family to cook for, after I get home from work, and these are the kinds of dinners I like to make and they have to be healthy.

It also gives you options for your two week workout plan. It can vary from 3-7 days with a mix of cardio and strength training. There are examples with pictures, and a detailed explanation of how to do them.

Although the books main focus is on setting you up for success in the first two weeks, it doesn't leave you hanging. It goes on to assist you in weeks three and four, along with giving you tons of recipes, tips on how to stay motivated, and how to live a healthy lifestyle for the rest of your life.

One of my favorite parts of this book, is that the ENTIRE book is littered with tips, quotes and stories from successful Sparkpeople... some of the stories I even recognize!!!

No matter what part of the journey you're in, I feel this book could be really helpful.

*disclaimer*
"I received an advanced copy of this book for free from SparkPeople and did not receive any form of payment for my review"





Sunday, April 07, 2013
I have been SO down in the dumps... in a terrible funk... just plain blah... I know the weather has a LOT to do with it. Living in Erie, PA has a lot of ups... we live 6 minutes from the lake, we have an amusement park, and tons of things to do ALL the time. The down side is... we could have nearly 6 months of winter, or at least it feels that way. I can't complain too much, we don't often get sub zero temps, or more than 4-6 feet of snow at one time like other parts of the country. That being said, it can still be REALLY crappy for a REALLY long time.

When I was 300+ pounds, winter used to be my favorite time of year. I was hot all the time, so 16 degrees was the perfect temperature for me. NOW, I'm cold all the time and often wear jeans even when it's near 70. I've been looking forward to warm weather for weeks, and it just hasn't shown up. I've been depressed and that's just given me an excuse to stop working out and start eating... we all know where that gets us... even more depressed, more food, and even less movement... if that's even possible.

I posted the other day that "I'm tired of all of it" and I truly am. I'm tired of feeling like garbage because I'm eating garbage. I'm tired of looking like garbage... well, because I'm eating garbage. I forgot just how BAD things are when I'm not taking care of myself. I feel bad, I look bad and I'm just plain cranky!

Everyone has been so encouraging and supportive, and I really appreciate it. Being a part of this community makes this whole journey a bit easier. It's helped me, once again, WANT to continue the fight. I'm not just doing this for for me and my family anymore. I'm doing this to help anyone who has any doubts about losing weight or getting healthy... it CAN be done.

So when you feel this bad about things... what can you do?!? I don't know about anyone else, but I went shopping, lol! Yep, a little retail therapy does a body good! Oh, AND I filled the house with GOOD food again. Saturday, I decided enough was enough. I NEED to get things rolling again. I have events coming up, and I want to feel good and I want to look good. I'm going to South Carolina in 10 days, I've got multiple 5k's planned, and I've got a Dirty Girl to train for... I HAVE THINGS TO DO!!! I need to stop feeling sorry for myself and just do it!!!

I've been batch cooking all weekend and I have my workouts planned for the rest of the month... 3 miles already today, thank you very much. I'm getting things in order for the kids while I'm out of town, and I'm planning my outfits for my trip... want to see?!?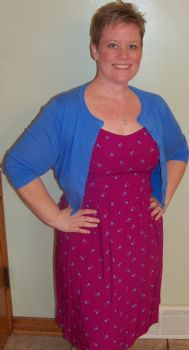 both came from Old Navy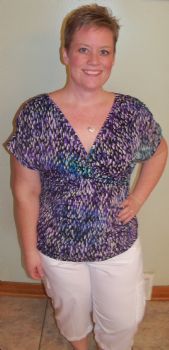 this outfit is from Dots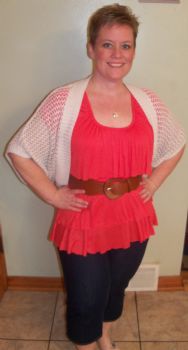 the top is from Dots, the rest is from Wal-Mart

See, shopping really IS good for the mind, body and soul, lol!

The MOST EXCITING event I have planned this year, is the Dirty Girl Mud Run. I'm doing it with a few of my favorite Sparklers on September 7, and I NEED to be ready for it! I refuse to be disappointed in myself, and lately, that's all it's been... complete and utter disappointment in myself. NO MORE!!!

I've got this!



First Page
1
2
3 4 5 6 7 8 9 10 11 12 13 14 15 16 17 18 19 20 21 22 23 24 Last Page

Get An Email Alert Each Time HOLLYS_NEW_LIFE Posts