| | |
| --- | --- |
| | HOLLYS_NEW_LIFE's Recent Blog Entries |



Friday, April 12, 2013
I am super excited that I was asked to be one of the few people who got to preview and write a review of SparkPeople's new book.

"The Spark Solution: A Complete Two-Week Diet Program to Fast-Track Weight Loss and Total Body Health" -- By Becky Hand, R.D., and Stepfanie Romine. Chef Meg Galvin created the recipes, and Coach Nicole Nichols designed the workouts. Chris "SparkGuy" Downie wrote the introduction.

sparkpeople.com/sparksolution/

I have to say that when I first started going through it, I thought this was just going to be for those new to healthy living, but I have to say that that's not the case.

This book focuses on the first two weeks of your new lifestyle, and how important getting a great start is. They complied data from over 100 Sparkpeople who have lost weight, and most of them have successfully maintained that loss. They found striking similarities with respect to food, exercise and attitude among those that were successful and decided to help us out by telling their secrets, lol! Just kidding!!! They did, however, do a side by side comparison of success stories with those that quit in the first few weeks, and came up with some great solutions to the struggle.

This book details food and exercise for the first two weeks to give you a great start. For two weeks it gives examples of a SAD (standard American diet) and then tells you how to use "sparkswaps" to make it healthier... and they even give the recipes with nutrition content! I was pleased to see it was "real food" too. Eggs and bacon, hamburgers, lasagna, etc. I made one of the "One Dish Dinners" Southwest Chicken and Rice, and it was delicious and super easy. I have a family to cook for, after I get home from work, and these are the kinds of dinners I like to make and they have to be healthy.

It also gives you options for your two week workout plan. It can vary from 3-7 days with a mix of cardio and strength training. There are examples with pictures, and a detailed explanation of how to do them.

Although the books main focus is on setting you up for success in the first two weeks, it doesn't leave you hanging. It goes on to assist you in weeks three and four, along with giving you tons of recipes, tips on how to stay motivated, and how to live a healthy lifestyle for the rest of your life.

One of my favorite parts of this book, is that the ENTIRE book is littered with tips, quotes and stories from successful Sparkpeople... some of the stories I even recognize!!!

No matter what part of the journey you're in, I feel this book could be really helpful.

*disclaimer*
"I received an advanced copy of this book for free from SparkPeople and did not receive any form of payment for my review"





Sunday, April 07, 2013
I have been SO down in the dumps... in a terrible funk... just plain blah... I know the weather has a LOT to do with it. Living in Erie, PA has a lot of ups... we live 6 minutes from the lake, we have an amusement park, and tons of things to do ALL the time. The down side is... we could have nearly 6 months of winter, or at least it feels that way. I can't complain too much, we don't often get sub zero temps, or more than 4-6 feet of snow at one time like other parts of the country. That being said, it can still be REALLY crappy for a REALLY long time.

When I was 300+ pounds, winter used to be my favorite time of year. I was hot all the time, so 16 degrees was the perfect temperature for me. NOW, I'm cold all the time and often wear jeans even when it's near 70. I've been looking forward to warm weather for weeks, and it just hasn't shown up. I've been depressed and that's just given me an excuse to stop working out and start eating... we all know where that gets us... even more depressed, more food, and even less movement... if that's even possible.

I posted the other day that "I'm tired of all of it" and I truly am. I'm tired of feeling like garbage because I'm eating garbage. I'm tired of looking like garbage... well, because I'm eating garbage. I forgot just how BAD things are when I'm not taking care of myself. I feel bad, I look bad and I'm just plain cranky!

Everyone has been so encouraging and supportive, and I really appreciate it. Being a part of this community makes this whole journey a bit easier. It's helped me, once again, WANT to continue the fight. I'm not just doing this for for me and my family anymore. I'm doing this to help anyone who has any doubts about losing weight or getting healthy... it CAN be done.

So when you feel this bad about things... what can you do?!? I don't know about anyone else, but I went shopping, lol! Yep, a little retail therapy does a body good! Oh, AND I filled the house with GOOD food again. Saturday, I decided enough was enough. I NEED to get things rolling again. I have events coming up, and I want to feel good and I want to look good. I'm going to South Carolina in 10 days, I've got multiple 5k's planned, and I've got a Dirty Girl to train for... I HAVE THINGS TO DO!!! I need to stop feeling sorry for myself and just do it!!!

I've been batch cooking all weekend and I have my workouts planned for the rest of the month... 3 miles already today, thank you very much. I'm getting things in order for the kids while I'm out of town, and I'm planning my outfits for my trip... want to see?!?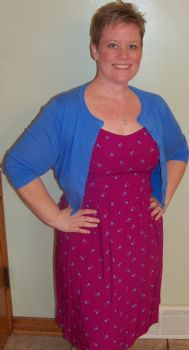 both came from Old Navy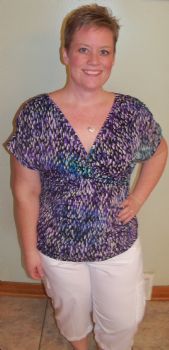 this outfit is from Dots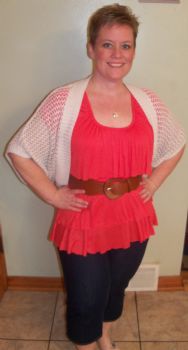 the top is from Dots, the rest is from Wal-Mart

See, shopping really IS good for the mind, body and soul, lol!

The MOST EXCITING event I have planned this year, is the Dirty Girl Mud Run. I'm doing it with a few of my favorite Sparklers on September 7, and I NEED to be ready for it! I refuse to be disappointed in myself, and lately, that's all it's been... complete and utter disappointment in myself. NO MORE!!!

I've got this!





Tuesday, March 26, 2013
I don't know... You all must think I'm the wishiest, washiest person on this site, and I don't blame you. I weigh just what I did one year ago and I'm up 4 pounds from my lowest weight. I can't say that I've been busting my butt... I can't say that my eating has been stellar... the ONLY thing I can say is that I've maintained my 137 pound weight loss for 1 year.

Don't misunderstand me, I'm SUPER happy about it, but I'm frustrated because I can't find the motivation to go any further. The excitement of being "this size" is gone... I've been this size for a year. The thrill of being able to "do things" is over... I can do things I never thought imaginable... and I've been doing them for a year.

I get all excited, get back into things, it lasts a whole week, and then I'm all... eh, what ever... What IS that?!? Where's my drive? What happened to the girl who was SO dedicated that she freaked if she gained 3oz? NOW, I gain 6lbs, and shrug it off. Work out, eat right, it's gone in a few weeks.

Have I given up? It's hard losing the last 25 pounds... Am I happy with where I am? I'm not sure... Do I think my goal is unattainable? Maybe... Do I REALLY need to fit into those size 8 jeans? They don't look nearly as small as they used to...

Maybe I've just gotten lazy. Maybe I really don't want or care to lose the rest of the weight. I've already changed my life and I'm healthier than I've ever been. I know this is a lifestyle, and I think I've been able to actually live my life for the last year and maintain that healthy lifestyle.

Maybe I just need to adjust my thinking. Maybe it isn't about losing weight at this point... maybe it needs to be about getting stronger and faster. Maybe I just need to continue eating right most of the time, continue to ST and keep up on my 5k's. Does it matter if I lose another ounce... I don't know...

If anyone's still reading, I love you guys






Saturday, March 16, 2013
I've had the SP app for my phone for the last 2 years. Today, I got a new phone, and I had to pay $3.99 for the exact same app. It's still an andriod phone... still the same carrier... what's up sparkpeople??? WHY after 2 years do I now have to pay for this app? I'm probably just behind and they've been charging for the app... I don't know, and that's ok...















Sunday, March 03, 2013
My son, Jake, is currently a student at a local Martial Arts Academy and they do a TON of fundraising for our community. They've done toy drives for Toys for Tots, food drives for the homeless shelters, and recently, they did a break-a-thon where the kids raised money based on the number of boards they could break, for the Asbury Woods Nature Center.

At the end of April they are participating in the "March for Babies" which is a 6.2 mile walk for the March of Dimes. Jake was premature, being born at 35 weeks, so this fundraiser is particularly close to my heart. We were VERY blessed that Jake didn't have any health issues at birth, but there are a lot of babies that aren't so fortunate.

This is the link if anyone would care to donate.

www.marchforbabies.org/hmpetras

I wasn't sure if I should do this or not. I want to make sure everyone understands that every penny goes directly to the March of Dimes, and Jake doesn't get anything from the Academy for raising money, it's just a great fundraiser.

Thanks friends, and wish me luck!!! I've never walked 6.2 miles, and Jake has never done more than 1.5, it should be interesting = )



First Page
1
2
3
4
5 6 7 8 9 10 11 12 13 14 15 16 17 18 19 20 21 22 23 24 25 26 Last Page

Get An Email Alert Each Time HOLLYS_NEW_LIFE Posts