| | |
| --- | --- |
| | HOLLYS_NEW_LIFE's Recent Blog Entries |


Thursday, September 13, 2012
"I'm tired. I'm tired of being good all the time, I'm tired of maintaining. I'm tired of feeling like my value in the world is the fact that I lost the weight, and feeling like I'm judged for it. If I keep the weight off, I'm annoying the people who are struggling. And if I put it back on, it just proves that fat people never have enough willpower or determination to not be fat." -- From "Good Enough to Eat" by Stacey Ballis

A friend gave me this book a few months ago, and I only picked it up this week. This has brilliantly summed up my feelings over the last several months. I've been floundering for months and I have a myriad of reasons (excuses) as to why I haven't eaten well or exercised like I should. I've been doing really well with only getting on the scale once a week instead of every day, simply because I don't want to know what it says. Thankfully, I've only been going up and down the same 3 pounds. YES, I said thankfully, because it's only been on a wish and a prayer. A lot of times, I feel like a fraud.

When I started my journey, the ONLY goals I had were to run a 5K and lose half my body weight. I still haven't run one and I've been the same 20 pounds from my goal since April... The Turkey Trot is maybe 10 weeks away, and I'm NOT ready. I haven't run in weeks. I'm never going to get closer to my goal weight if I don't do something about it.

I had a bit of a health scare a few weeks ago. I ended up in the hospital with a weird feeling in my chest. Not "chest pains" but a strange fluttering sensation, like my heart was skipping a beat. I went to the ER and they did all of their tests...EKG, blood work, urine, x-rays, and whatever else they did. All I could think about was how hard I've worked over the last 2 years, and NOW something is wrong with my heart?!? Thankfully, all of it came back negative. They were more concerned about my low resting heart rate. Since I started exercising regularly, it's gone from about 90 to between 40-45. It totally freaked out the ER docs.

They admitted me overnight, and when the hospitalist came in the next morning after reviewing all of my labs, paperwork, etc., she told me my resting heart rate was absolutely normal with my level of exercise, and my diet, etc. Apparently, it drops down to 30 when I sleep. I was, however, dehydrated and my potassium levels were low. Good thing the nurse woke me at 2am to give me two GIANT potassium pills and jam an IV in my arm! All of this was, more that likely, due to the fact I had just come home from camping. There was a lot of hiking, swimming, eating too much crap, and not drinking enough water, but plenty of beer. They said, the salt laden foods, the dehydration (it's a viscous cycle) and add to that the caffeine jolt from my Monday morning pot-o-coffee, probably would have caused "some type of reaction" that I could "feel" but not necessarily be seen medically.

The hospitalist, another physician, and 2 nurses, asked if I was a runner. No, why? "Well, you have a lot of muscle around you heart, which is why it works so efficiently. Your RHR of 45 and only 30 when you sleep... It's something that we typically only see in runners." HOLY CRAP, are you kidding me?!? You're telling me that, literally, I have the heart of a runner? So WHY cant I get my a$$ back on the road?

I still can't wrap my head around that one. I know I've done the right things over the last couple of years to get healthy, but to actually hear, that regardless of what the outside still looks like, your insides are doing great... that makes it all worth it right? So WHY can't get focused?

I've been thinking about this A LOT over the last several weeks. If you read the last blog, you know that I've enjoyed living my life this summer. Then the kids went back to school, and I was supposed to "get back to it." That hasn't happened yet. So I've been using, "I've been so busy with the kids new schedule, activities, homework, blah, blah, blah." WHEN will the excuses end? I'm not looking for a pity party, or a "you can do it!" I know I can do, I've done it, and I think that's still part of the problem, my complacency.

See, I told you this was a bunch of nonsense...

I need to STOP making excuses and START getting serious if I intend to finish this. I know I've said it before, HOLD ME TO IT!!! I know I have some great, sparkly friends, who have been SO supportive of me thru this journey, and THIS is when I REALLY need you. I hate to ask for this, but I REALLY need a kick in the butt. I need to get back to eating right, focus on losing the last 20 and get my "runner's heart" back on the road. I love you guys, and I wouldn't have gotten this far without you... so give me that final push.





Sunday, August 05, 2012
Complacent - satisfied to a fault and unconcerned.... Yep, that's about right!

I read a blog this morning where the author was talking about backsliding and a friend of hers suggested she take a good look as to WHY. I've been trying to figure this out for weeks. I don't see it as backsliding, simply because I've also been going forward. I've been losing and gaining the same weight for months. When this happened about a year ago, it was truly frustrating. I was angry and upset and was constantly trying to figure out how to "fix it." This time, not so much... COMPLACENT.

It's not a plateau, because if I did what I'm supposed to do, and do it 100%, I'm pretty sure I wouldn't be "stuck." The thing is, I'm not doing a whole hell of a lot to get myself unstuck... COMPLACENT

I *think* I should be upset, but I'm really not... COMPLACENT

I saw some relatives that I haven't seen in almost 2 years. They know I've been losing weight, but they had no idea how much. Of course, they were all shocked and amazed. "Surely you don't want to lose more", "Aren't you happy?", "WHY do you think you need to lose more?", "Oh, you want to be super skinny don't you?" And from the nurse "How far are you from a healthy BMI? You want to get there don't you?"

This isn't the first time these things have been asked by other family members, co-workers and acquaintances. They've been said a lot more recently which is why I think I've become... COMPLACENT

YES, I am EXTREMELY happy... with everything! I've never been this small and healthy. My whole life has changed. I'm able to do things I could never do before, my husband beams with pride and I'm pretty sure my kids are super excited about all of these new activities and are proud to say I'm their mom.

NO, I don't want to be "super skinny" and having a healthy BMI isn't even a thought in my head... it never was.

As for WANTING to lose more and THINKING I need to lose more... well, that's where it gets fuzzy. The answer to that is... Yes, I'm pretty sure, I think, probably... not as easy to answer as I think it should be...COMPLACENT

I don't know, maybe I'm just tired of doing this every day. YES, I know this is a lifestyle, but I'd hope at some point, I'd be able to just eat and exercise without calculating and logging and just being exhausted and frustrated with the whole thing. We ALL know it's not as easy as calories in vs calories out.

I think the biggest factor in my complacency, is the fact that this has been the first summer EVER that I've actually LIVED my life. Water parks, hiking, camping, biking, 5k's, climbing over rocks, and lots of other activities. Along with those activities was a lot of unplanned food. I know I could have logged everything or packed food to take with us everywhere, but I'm trying to LIVE MY LIFE. I was kind of careful, but I never turned down an ice cream cone. I should have had only one s'more instead of 2, or had a salad with the burger instead of fries. I have thoroughly enjoyed every moment this summer, and I still have a little left.

Yes, I really do want to lose the rest of this weight and get to my goal. Yes, I should get back on program and stop being so wishy washy about the whole thing. Maybe I need to stop setting weight goals, and just know that I'll get there when I get there. I think that right now, living life has been more important than the number on the scale, shocking right?

I will NOT be letting the weight pile back on, I had that wake up call a few weeks ago. I'm just not as concerned with it flying off either... complacent... maybe.... to a fault.





Monday, July 30, 2012
We went to Panama, NY on Sunday to check out Panama Rocks. It's a one mile long trail thru the rock that was formed by glaciers how ever many years ago. You can visit the website... panamarocks.com to get the whole story. I've never been there before, because I knew, BEFORE, I could never climb on or fit in between the rocks. This was a fantastic day trip and SO much fun for all of us.

The trail is one mile and should take about 20 minutes to leisurely walk thru it. If you go off the trail, which is the whole point in going, you can climb on.. into... over... and under this beautiful landscape. We spent just over 2 hours exploring.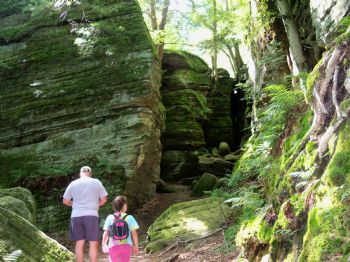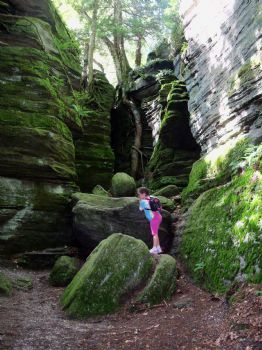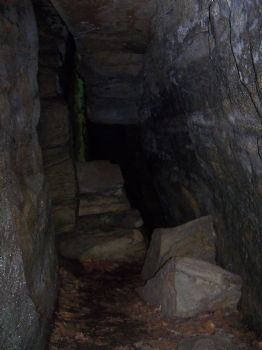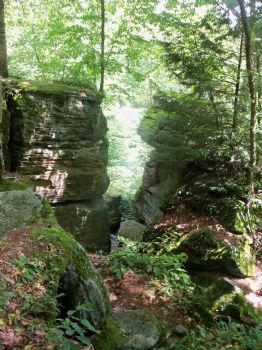 See, I fit!!!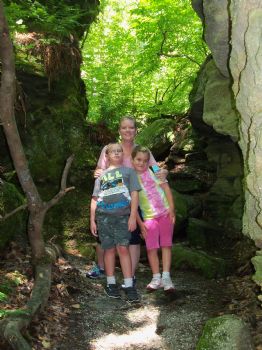 We had a great time and I highly recommend it if you're anywhere near the area.





Thursday, July 26, 2012
For the last few weeks, I've been working out with one of my oldest and dearest friends, Lisa. I had no idea how much more motivating it is to have someone right beside. When we're together, I push myself A LOT more. She's not a fitness nut, she just started getting healthy about 6 weeks ago. She's lost 10 pounds and wants to lose another 10 to be healthy, but her big goal is to get fit. Now, if I can only get her to quit smoking... When I work out with her though, I always want to go faster, use a steeper incline, more reps, kick higher, whatever... I don't need to be better than her, but I just want to show her I can totally kick a$$ = ) THAT'S what's been motivating me lately.

Since I've started this journey, I've wanted to run. To me running = healthy. I've got some AMAZING sparkfriends who've inspired me, encouraged me, and motivated me to want to be a runner... MOONBIRD, JMERLAU, JESSIEHOVER1, SANDIEGOJOHN, TRACYNOTGIVINGUP, and especially ON2VICTORY.

My goal, since I started, was to RUN the Turkey Trot. I've walked it for the last 2 years, and THIS year, I'm going to sign up for the 5k run... along with Lisa. Because we've (read *I*) decided to run this year, we've been "training." Yes it's in quotes because we're not following anyones program or anything. We decideded we would just run as far as we can in 30 minutes hoping to improve our distance every time we do it. So far, so good! We're not fast by ANY means, but we're consistant. Our goal for the TT is to finish in less than 45 mintues... I'd REALLY like to do it in 40 or less. When we walked it last year, we did it in 48, so I think running it in 40 is completely doable.

Finally, I've got 17 weeks until the TT and 18.5 pounds until I've lost HALF my starting weight. I don't see WHY I can't be half my size when I run the Trot this year, can you? I've changed my ticker to reflect my goal. It's not the FINAL goal, and I'll change it once I get there. So... those are the goals. A 40 minute 5k and losing the next 18.5 pounds... all by Thanksgiving Day. It's SO going to happen!!! What are YOU going to do in the next 17 weeks?!?





Tuesday, July 17, 2012
I have been avoiding this, but being inspired by some SP friends, I've decided to come clean.

It all started with our mini weekend vacay at the end of June that did NOT go as planned (see previous blog). Knowing that we were going away, I decided that I was going to enjoy myself food and all. Well, I did. Burgers, ice cream, Japanese food, snacks at the movies, etc. When we were done vacationing, my taste for the "not so healthy" did not go away. It was NOT all food all the time, but it was poor choices MOST of the time and very little exercise.

Then the next weekend was girls weekend. My very best friend and another good friend from college get together about 2-3 times a year, and I'm pretty sure calories don't count when your with your best friend... right?!? When we get together, it really is just about spending time... you know, pedicures, dinner at the Cheesecake Factory (don't judge), watching TV and having a few too many drinks (we spend the night, no worries). Did I mention my BF is on her own weight loss journey, ahem, MADTHENURSE? Again, came home from that, and apparently I was going to continue the party.

This weekend, my BiL was in town with his family. I made mostly healthy meals, but we always go for ice cream. Instead of having a baby frozen yogurt, like I've done EVERY time we've gone this summer, I got a HUGE cup of ice cream with peanut butter cups mixed in. They left Sunday but, once again, I continued with the festivities.

So over the last 3 weeks, I've consumed more food and worked out less than I have in 2 years. All of this on the heels of my 2 year Sparkaversary, umm, WTH?!? Cookies, ice cream, italian subs, pizza, pop, full fat coffee concoctions, cinnamon rolls, LOTS of wine, tacos, crab cakes and, oh yes, CHEESECAKE! All in a 3 week time frame, with a total workout time of about 3 hours... in 3 weeks!

So I got on the scale since last Wednesday, saw the number, scoffed at it, said "that can't be right", and refused to get back on until this afternoon. I weigh myself everyday, I knew I gained weight, I could feel it, but how much was the question. With 3 weeks of food and laziness, I've gained 6.5 pounds. YEP, that's right. I got on the scale 4 times to make sure. I can't LOSE 2 pounds in a good week, yet I managed to GAIN that much for the last 3.

So, as of yeasterday, even without knowing how much I gained, I got off my a$$, literally, and got back to business. I've planned out my week. Good food, exercise at least 30 minutes a day, and WATER. I don't think I've had more that 20 ounces of water on ANY day in the last 3 weeks.

This isn't a pity party, but a HUGE reality check. You have to work your a$$ off to lose the weight, but my God does it come back quickly. I'm hoping a lot of it is just water weight, but I'm not holding my breath. Obviously I'm really upset about it, but honestly, I did this. No one force fed me or duct taped me to the couch. I could have worked out at any time and said "NO" once in a while to the food. This all about choices, and I've made some really poor ones in the last few weeks, and it stops NOW.

LESSON LEARNED



First Page
1
2
3
4
5
6
7
8
9
10 11 12 13 14 15 16 17 18 19 20 21 22 23 24 25 26 Last Page

Get An Email Alert Each Time HOLLYS_NEW_LIFE Posts