| | |
| --- | --- |
| | HNLEVITT's Recent Blog Entries |


Wednesday, December 07, 2011
Hi Ya'll!

I would just like to say thank you very much for all the lovely gifts and comments you all left for my Birthday!!!! I thought the most effective way to thank everyone would be with a blog entry The best gift I got came from the trainer at Fitness Boot Camp here in the Lehigh Valley. I got 28 pushups for my age, haha. Yeah that's right, I had to do 28 extra pushups to help count my years. The funny thing is I really enjoyed it.

It's amazing how the less I weigh the more I can do in boot camp and the more I enjoy all these crazy half thought out exercises. For example, we have these huge sailor ropes and these plastic furniture sliders meant to slide furniture across the carpet. We had one person hold one end of the rope and stand on the sliders while the other person pulls the rope until the two people can touch. We also use these giant rubber bands that look like a belt from under the hood on your car! One person puts the band around their waste while the other holds the band tight and balances on the sliders. Then the person inside the band has to run!! We call these sleigh rides, lol. I love it.

Don't these exercises sound fun? Trust me they are!!!

Thank you again and I hope you all have a wonderful successful year ahead.





Wednesday, April 06, 2011
I was reading Yoovie's blog and saw the link to bodybuilding.com. I realized I do not know what my body type is so I took the test and now I know :) Nice to know I'm mostly on the right track but boy is it hard to exclude sugar/sweets. I think I'll settle for mostly cutting them out but I refuse to get rid of them all together.

http://www.bodybuilding.com/fun/becker.p
hp?Q1=2&Q2=1&Q3=1&Q4=1&Q5=2&Q6=3&Q7=1&
Q8=1&Q9=2&Q10=1&Q11=1&Q12=1

What body type are you? How can you tell? Take our simple test and know! Learn how to train for your body type and what the differences are. With pics!


----------------------------------------
----------------------------------------



By: Paul Becker


What Is Your Body Type?



----------------------------------------
----------------------------------------

Your score is 1.42.

Your body is between an EndoMorph and a Mesomorph. Choose a middle approach between the follow recommendations.

Endomorph: An Endomorph's biggest concern should be the losing of fat and adopting a lifestyle that keeps it off. Strength training should be done to get a better muscle to fat ratio and therefore improve metabolism. Use moderate weights at a fast training pace (very little rest between sets and exercises). You should lower your calorie intake (but not try to starve yourself) and should eat frequent but small meals. Sugars, sweets and junk food should be eliminated from your diet. Engage daily in some activity like brisk walking, biking, etc., and try to increase the amount of time you spend each week.

Mesomorph: Mesomorphs have a naturally fit body but to maintain it or improve it you should exercise and diet correctly for your type. Strength training can be done more often and for longer sessions then would be good for an Ectomorph, but you must still be carefull not to overdo it. You should train with moderate to heavy weighs and at a moderate pace, not resting too long between sets. You will find you gain muscle quite easy (some women and even men might not want to get too bulky, but this won't happen suddenly. When you are happy with your muscle size simply train to maintain it). Stick to a good healthy diet to keep you lean and muscular, and watch for any slow creeping fat gains. Engage in and enjoy aerobic activities, sports, etc. but do not overdo.



Press back to return to the previous page or click here.







Thursday, March 10, 2011
My job can get very boring!! I mean really really boring. I sit at my desk and stare and stare and stare at a computer screen for 8 hours a day. I know, not so unique. But I cannot stand sitting on my butt ALL DAY!!!!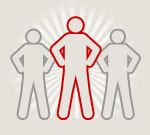 (Pic taken from Virgin Health Miles Website)

About a month ago I joined the Virgin Health Miles through my health insurance and was sent this lovely pedometer that keeps track of my steps, mileage, weight and the time so I can see how sedintary I really am and so I can earn points towards gaining MONEY!!! Yes that's right money. For every 6000 points earned I get $25 towards anything I want. Yup awesome right?? But sitting at a desk all day doing nothing I wasn't getting the requisite 7000 step minimum in even with going to the gym.

P-A-T-H-E-T-I-C

So, I started by marching in place at my desk but people gave me funny looks and now I have a crush on my UPS man (such a cliche) and I don't want him to catch me so I found my closet!! Yes, my supply closet, the one place I cannot stand at work has become my secret workout room *giggle*

I love it! I do mini suicide sprints, I dance, I jump up and down simulating jumping rope, I do squats, pushups what I ever I want. It's amazing and noone suspects me when I'm not at my desk when the light is on in that room.

Now instead of P-A-T-H-E-T-I-C I feel S-U-C-C-E-S-S and E-N-E-R-G-E-T-I-C and F-I-T!!!!

So much better and now I'm racking up the steps. My best so far is 15,459 but I'm getting there and I cannot wait until the day I hit 20,000.





Tuesday, March 01, 2011
Daily Nutrition Feedback
February 28, 2011


SparkPeople's Nutrition Feedback is based on general nutrition recommendations for healthy adults. If your health care provider has instructed you to eat more or less of certain nutrients, always heed his or her advice instead of the tips provided here.
To run this report for other dates return to your myNutrition page.

Back to my Nutrition Tracker
Change my Nutrition Goals
SparkPeople advertisers help keep the site free! Learn more

Past 7 Days - See More Met My Goals
d Protein My Goal – 60-150 Today – 96
You know that protein is an essential nutrient, and you're doing a great job of meeting your body's needs!

d Fat My Goal – 38-66 Today – 38
You are eating the right amount of dietary fat to help your body stay healthy!

d Carbohydrates My Goal – 192-278 Today – 224
Carbohydrates provide your muscles and your mind with energy. You're eating the right amount to fuel both!

d Calories My Goal – 1460-1810 Today – 1565
Eating the right amount of calories can help you manage your weight and get the nutrients you need to stay healthy.

d Sodium, Na My Goal – 500-2300 Today – 2186
Like many nutrients, you want to avoid extremes. Sodium is no exception. Too much and too little can cause problems, but you're getting the right amount to meet your body's needs.

d Cholesterol My Goal – 0-250 Today – 175
Dietary cholesterol is a building block of body cells and hormones, makes up 50 percent of your nervous system, and is necessary for metabolism. In moderate amounts, like you consumed today, it is essential to good health.




Past 7 Days - See More Went Over My Goals
d Fiber, total dietary My Goal – 25-35 Today – 39
While a high-fiber diet has many benefits, too much fiber can cause problems. Eating more than 50-60 grams of fiber a day can interfere with nutrient absorption and cause digestive distress.
Watch out for foods with added fiber. There are many foods on the market with added fiber, especially "health" and "diet" food products. Naturally occurring fiber is one thing, but added fiber can be a bit much.




Past 7 Days - See More Went Under My Goals



Charts For Today
Calories by Food
d Oatmeal Breakfast Base 21.5%
chicken, brussels sprouts, mushroom lunch 14.8%
Turkey Hill Frozen Yogurt Mint Cookies and Cream 10.5%
Fish: Gorton's Grilled Tilapia, Signature Grilled, Classic Blend of Herbs & Spices 10.2%
Thomas Better Start Light Multi-Grain English Muffin 6.4%
Chew-ets Peanut Chews Dark 6.4%
Silk, Light Vanilla Soymilk 5.1%
minute brown rice 4.8%
Dannon Activia Fat Free Light - Strawberry 4.5%
Apples, fresh 4%
Country Crock, Shedd's Spread Country Crock Plus Calcium & Vitamins (Soft), 1 Tbsp 3.2%
Hummus - PC Organics Hummus 3.2%
Onions, raw 2.1%
Hanover Petite Broccoli Florets 1.3%
Beans, Hanover, Steam in Bag, Petite Bean Blend (3/4c or 85g) 0.8%
Strawberries, fresh 0.6%
Balsamic Vinegar 0.5%
Sea Salt (New Ideas Olde Thompson) 0%

Calories by Meal
d Breakfast 26.7%
Lunch 20.4%
Dinner 26.9%
Snack 15.5%
Dessert 10.5%

Carb / Fat / Protein Breakdown
d Fats 21.2%
Carbohydrates 55.2%
Proteins 23.6%







Tuesday, February 22, 2011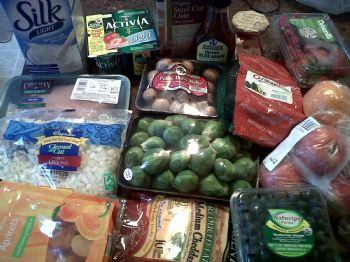 I just had to share my groceries from yesterday's shopping. For once I bought only healthy fresh items and did not buy 1 single frozen lean cuisine.

Yay for low sodium and cleaner eating.



1 2 3 4 5 6 Last Page

Get An Email Alert Each Time HNLEVITT Posts