Monday, July 14, 2008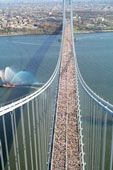 ......until the New York City Marathon!

Yes, that is all that remains until I run my 5th Marathon. I've actually begun my training today with a rest day.
My training schedule is taped to the inside of my kitchen cabinet, my spreadsheet is prepared and my mind is now in "Marathon Mode".

These 16 weeks are broken down to daily runs; speed sessions, marathon pace, long runs, recovery runs and strength training. My food/nutrition is being tweaked to make sure I'm as fit as possible.

All of this is done a day at a time. I've learned from past training schedules that if I look too far ahead, I get nervous, anxious and doubt my abilities. I've got 3 races planned during this time as well, and they will be taken as they come.

I know I can run this distance, I know I can do the training. I've set a time goal that would be a new personal best for me. I will keep that in my sites as I run my marathon pace runs.

So I take each week, each session as it comes and do what is infront of me. To do my best is my goal. Bring it on!