HERE2BTHIN's Recent Blog Entries


Wednesday, August 08, 2012
If you have an Over Weight Teen, have them Apply

We are looking for amazing teenagers who are ready to start living a healthier lifestyle and are willing to put in the hard work and dedication it will take to get there!

If you have at least 60 lbs to lose and are between the ages of 13 and 17, we strongly encourage you to apply!

Email below information to: TeenWeightLossShowCasting@gmail.com
• Full Name
• Birth Date
• Height
• Current Weight
• City and State of Residence
• Phone Number
• A paragraph that tells us about yourself and includes: what activities you are involved in, what you enjoy doing for fun, if your parents are overweight, what your weight holds you back from doing and what your greatest accomplishments have been.
• A recent photo of yourself
• Email ALL this information in ONE email to We strongly encourage you to email the above information by August 15, 2012. We are under no obligation to you based on any information you submit. If we would like to discuss with you further, we will contact you. You must be a lawful U.S. resident, at least 13 years of age, and meet other eligibility requirements in order to participate. You will not be contestants on the series and you will not be competing with the contestants for prizes. If selected to participate, you will be required to sign and complete additional documents. The written consent of your parents/legal guardians is required for you to submit the information requested. Please have your parents sign the materials you submit, stating that they consent to your submission of these materials to be considered for possible participation.




Sunday, March 25, 2012
Well, here it is Sunday again. I've been sick with Strep & Flu for about 2 1/2 Weeks, if not 3 Weeks. Why so long, you ask? Well, we can't afford to pay $300-$600 Dollars a Month for Medical Insurance so, Hubby went out & bought Tea,Lemon Drops, Honey & Over the Counter Flu Pills. (The Syrup stuff taste NASTY @=( Bluck!!!!!!!!!)

All that, only helps some but, to get rid of Strep, I need Medical Antibiotic Pills/Drugs. And since we can't afford for him/me to be seen by a Doctor, I just have to let Mother Nature run it's course. Which with my Immune System, takes FOREVER.

I should be used to this by now. I get Strep 2-3 Times a Year. When I was on Disability, it was okay but, now that I'm Self Employed, it's getting worse. My Pedestrian told my Grand Parents that my Immune System was & always be out of whack because of the Physical/ Medical Limitations I have. And while I was on Disability, I could mange the Seasonings with my Medical Plan but, now that I don't have it anymore, it's getting harder & harder to keep my Clients & letting my Body/ Mother Nature run their course. That's where Chris (Hunny Bunny) comes in & does his Knight in Shinning Armor stuff. But, while I was sick this Time, I got a lot of Complaints from my Clients, on Areas & Stuff he missed. I know, he was Over Worked. With handling his Regular Job, plus handling his/ my Clients. It's too much for just one person. Plus, my Clients love the way I do things to make them happy by doing Extra This or That.

Well anyways, I'm going back to Work tomorrow. I have my Friday Client (Which I talked to her via E Mail & switched Fridays to Mondays. That way, if I get Sick or get Strep again, I'll have 3- 4 Days, instead of 2 Days to recoup.(It's wishful thinking but, it might work, I hope.) Then I have a Client Thursday. I might be able to swing a One Timer in between too.

That's it for my Business Week. Now fer my New Weight Loss Plan.

Since I gradually am working with my Regular Clients & adding New Clients, here & there, I thought this would be a Great opportunity to get this Exercise Routine down. (Again, wishful thinking. Routines & Me are a Joke. With my Job Schedule/ Seasonal Flues forever changing, Routines are out the Door) But, I must prevail. My Weight Loss Journey is important to me. (Even though my Sweet Heart doesn't help, because he likes me chunky. I tell him, to give me part of his DNA, that way I'd lose Weight & he'd make Millions. (He's one of those that can eat EVERYTHING & GAIN NOTHING.) I also think he's just scared to lose me, if I lose the Weight cuz, then I'll have other guys Eyeballs on me then) I'll look better, Feel better & maybe it'll help with my Immune System too. So, I MUST "Get It" together Now!!!!! I Know, I Know, I've been saying this fer how long? Yep, FOREVER!!!!!

But, it's going to take sure Determination & my Strong Will to see this through. I noticed Last Year that when I was tiring fer a Month, that got down to 207. I was Walking 1 ˝ – 3 Miles a Day, Working with my Clients & getting a Tae Bo, Richard Simmons or Biggest Loser Work Out in wherever I could. I lost 23 Lbs & then Winter hit so did my determination. It seems to me that I'm Seasonal Pro-founded. I get more energized as Spring & Summer gets here & start losing my Drive by the end of Fall, into early Winter. Well, one things fer sure, I have plenty of Time, right now.

So, onward to my new Weight Loss Plan. I've learned from the Biggest Loser that 3,500 Calories, equals a Lb. So, I did some Math. & If I start burning 7,000 Calories(That's equal to 2 Lbs a Week) & gradually working up to my Goal of burning 24,500 Calories (That's 7 Lbs a Week), I should reach my set Goal Weight of 150 Lbs by the end of the Year, if not sooner.

As I see it, my Weight Loss Tracker will be my Guide. I started this Journey at 230 Lbs. (My heaviest) I'll work at burning 7,000 Calories a Week until, I hit 208, then up my Game to burning 14,000 Calories a Week, then, when I hit 187 up my Game to burn 21,000 Calories a Week & so on until I reach my Weight Loss Goal of 150 Lbs. I feel if I stick to this Plan, I'll lose the Weight & I won't Plateau too much either.

Now, what I Plan & what Happens is two different things. I Think & Know, only because of Last Year, this is how it will go. I will start with burning 7,000 Calories. This will include Working at my Clients . (I might start off at burning10,500 Calories (That's 3 Lbs a Week) & adding 1-2 Lbs (3,500-7,000 Calories) every Weight Loss Tracker Goals. It'll depend on how well my Right Leg, holds up to the Exercise pressure. My whole Right Side ain't as strong, as my Left & so, it puts a hold on a lot of Exercises. Like for my Left Side, I can use 6 Lb Weights on my Ankle & on my Right Side, I can only use up to 3 Lbs if I push it. Lifting Weights & or using Hand Weights is the same thing. I can lift 20 -30 Lb Weights on my Left Side, while on my Right I can only use up to 5 Lbs. It seriously hurts my Exercises cuz, I can't equalize the Weights to lose it evenly on both Sides. But, I'm doing the BEST I can, with what I've got to work with.

Well, that's it for this Blog. As I get down to my WLT (Weight Loss Tracker) Goals, I'll keep everyone posted on my progress, unless something more exciting happens, like we Move to a better Place, Business is Booming,Etc... Until then, I'll see my Friends on my Daily Friends Feed.

TTFN

Karrie







Tuesday, March 06, 2012
I don't know how I did it but, I'm Blogging it so, yawl can believe it too.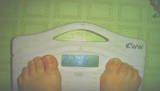 You can't make it out, unless you pump the Screen to 400 % but it READS 222.6. Seeing

is BELIEVEING!!!!!

I need LOTS more Weeks like this.



TTFN

Karrie







Thursday, March 01, 2012
Hey Yawl,

I know, I know. I haven't Blogged in well over 2 Months. Just really nothing Exciting, Happening or New to report.

I coulda Blogged about Tax Time but, that woulda just Stressed me out more. If your not on my Friend's List, then you know now, I HATE Tax Time. I can't stand it. I feel like I'm under a IRS Accountant's Financial Microscope. WHAT WAS THAT FOR, WHY DID YOU DO THIS, HOW MUCH WAS HERE & THERE? GIVE ME A BREAK!!!!! I HATE people who THINK, they can CONTROL your Life. Granny always said I was Free to do as I pleased. Well she forgot to tell me about Uncle Sam & he's GREEDY Henchmen. I go to Work almost everyday & fer WHAT?? Just so, I can pay fer someone to sit there at Government Hill & get paid $250 K a Year & make it LOOK like they're working fer us? I THINK NOT!!!!!!!!!!!!! I think it's about Time, us Americans STAND UP & ask fer a New Government System. The one they have in place now, is driving us further in DEBT & not helping the Elderly, Severally Sick, Low Poverty Strickin, Etc.... Anyways, ENOUGH about Taxes & Politics. Another thing that Granny always said. NEVER,NEVER, NEVER talk about Politics & or Religion unless you had a stronger Backbone than the person your talking about that certain Subject.


Anyways, getting back to the Last 2 Months. Like I said earlier nothing real Exciting & or New to report. I work, Come Home, Do Household Chore, Eat, Sleep. Go back to Work, Come Home, Etc.... Kinda BORING don't ja think. I DO. LOL Not that I have a Boring Life, Far from it. I help enrich my Clients Life by helping them Clean their Homes, Re Organize their Lifestyles, Help them become free from Clutterful Stress. It's a good Life, don't get me wrong. I'm just caught in this Mid Life portion of my Lifetime Journey. (And NO, I'm not talking about my Spark Weight Loss Journey) I mean Lifetime Journey. The one we all start, right after we're born.

I've told a couple of my Spark Friends about this already. I NEED & WANT a CHANGE. Ever since I was 10, I've NEVER lived in one place longer than 3-5 Years. Being shipped from One part of the East Coast to the other Side of the West Coast & Back again, has a lot to do with this Fact. There's the other Fact that my First Husband & I had to move around a lot within the City Limits due to Bad Finances too. Now, it's 2012 & I've lived in this Apt. fer well over 6 Years. Count the another Apt, that's on the same Property & well, I've been in One Location over 9 1/2 Years altogether. I'm at my Wits End. I WANT & NEED to Move. I can't stand being here no more. The Rent is due to go up to $900 in June, They haven't done anything to Upgrade the Stove, Oven or any other Large Household Appliance. They haven't Re Painted, Fixed Holes (Which I know is our fault but, still), Upgrade the Light Fixtures, NO Nothing. Back in 2007 we were paying $ 645 & now they want $900 increase & no Updating the Place? Can someone say GET REAL!!!!!!!!!!!! I WANT OUT!!!!!!!!!!!! My second Husband Chris now, is wanting to stay. He wants to "Settle Down" & enjoy his Retirement in 20 Years from now. 20 YEARS!!!!!!!!!!!! OH DOUBLE TOOTHPICKS NO!!!!!!!!!!!!! So, I'm tiring like Double Toothpicks to MAKE HIM see it my way. We NEED more Space, We DESERVE like a HOUSE or CONDOMINIUM fer the Price we're going to be paying in June. The Male Brain, HUMPH!!!!!!!!!!! He keeps wanting to STAY & no matter, "How Much" I love him, I'm going to pack up & leave. That's how bad I want out of here. My skin is crawling to get out of here. I go to Work & love that I have my Freedom from here. Then after I'm done, I dread coming back to it. It's just that bad. But, until I can afford to GET OUT of here, I'm STUCK.

The only way I can explain myself is through Our Weight Loss Journey. I'm DEFINITELY not confront able in this Fat Suit. I don't know anybody that is Fat or even Fatter than me, that doesn't feel the same way. I'm screaming to GET Out of it & back to my Normal Weight. I have Nightmares that I'm NEVER going to be under 200. I even have Nightmares that I'm reaching 300, then 400 & looking like Eddie Murphy's Professor Klump. OH DOUBLE TOOTHPICKS NOOOOOOOOOOO!!!!!!!!!!!!!!! No Offense to those of you that are 300-500 Lbs. I just don't want to get THAT Big. The same goes to GET OUT of this Apt. I even have Nightmares that I'm Ole n Grey, around 70-80 Years old & still here & paying like $ 1,500 a Month. I'm not Happy here. And if I'm not Happy, I do what? Yepp, I FEED it, to feel better.

I know moving will be GREAT fer me. If we get a House & it has a Basement or Garage, I'm CLAIMING IT as my SPACE. My DOMAIN. Then I can set up my Exercise Equipment & get moving. Until then, I'm stuck with working around Hubby & Alex (Our Roommate) fer any Time with my Exercise Videos & getting the Living Room to myself. Which right now, isn't working out too well. Alex goes to Work, Comes Home, is In/Out of the Bathroom/Kitchen all Night/Day until he goes to Work again & Chris is the same but, likes to sit in the Living Room to watch TV & or play Video Games, while getting up to Eat or Drink. So, that only leaves me a Small Window of 4-6 Hours to myself, 5 Nights a Week. Simple enough & NO EXCUSES RIGHT??????????? WRONG!!!!!!!!!!!!!

Here's the Problem. I have my Life & Business to think about in this equation too. I have Clients all Week long, in the Early Morning to Mid Morning Hours. I get Home around the time the Boys go to Work. Most of the time I'm too tired to do anything & only leaves my Days Off to Exercise & or handle Personal/Business affairs. By the time I get done with the Chores around our Home, Chat with Business Clients,Etc... I'm too tired to do Exercise, let alone do anything else. As I see it, I'm just SCREWED!!!!! My only Idea is to MAKE the Biggest Loser, put me on the Ranch. That way I can devote all my Time, to Exercise. But, to do that, I MUST GAIN another 20 plus Lbs. LOL.

Time Management is what I need but, I'm not finding the Room to get in my Workouts. SIGH!!!!!!!!!!!! Guess I'll have to take my own Advice to a Dear Friend on here. I told her, to do some HARD THINKING & ask questions about what "I" want in Life. If I"I" want to lose this Weight, then "I" will have to FIT a Schedule or Drop some Clients to get to my Goal. (Which the Client part, isn't something I can do. I need Clients to make a Living.) So, I'll have to try the only other alternative I have. When Hubby comes to Bed, Get up 1 Hour earlier than I normally do & get in my Workouts. If not, BITE THE Bullet & MAKE myself do Workouts after I get Home from Work. It'd just be easier to get my Dream House, than putting myself on such a Program to where, all I do is Get Up Workout, Work, Get Home Eat, Workout, Eat again, Sleep, Get up & do it all over again & again. I'm going to see an early Grave by the time I'm 45. YIKES!!!!!!!!!!!!!!! But, I'll be THIN!!!!!!!!!!

Well, that was a Keyboard Full. It almost takes up 2 Full Pages on my regular Journal, I have on this Computer. Plus, it's almost Bedtime. Don't know when I'll Blog again. Writing & Typing never became a Second Nature to me & probably never will. If I've got something to say, I'll write/type it. If not, I won't. I do find that I Love typing little Notes, Here & There in my Friend's Feed, more than I Write/Type in my Personal/ Spark Blog so, if you want to keep in Touch, you'll have to be on my Friend's List. For all of you that are already on there, Chat at you tomorrow.

T.G.I.F Everyone

Karrie







Wednesday, January 18, 2012
This Blog is going to cover 2 Weeks worth so, please be patient.

1 St off, my New Year's Resolution to start 2012 off with a BANG, didn't happen. The 1 St Week was full of energy & everything was fine until, our Computer gave up the ghost. We had to wait a Week (They said it'd be 2 Days) So, we (I) waited patiently & this Monday Morning my husband gets tired of their Waiting Game & calls them. They say it'll be done in a couple of Hours.

So, Chris (Husband) brings it home after Work (Cuz he had a Split Shift & wouldn't be home until 11 Pm or Midnight) & we go through the "Time Sake" to put Files we know are safe back on our Computer. Well, fer the last 2 Days, I've been playing the Freeze/Re Start Game again. I called yesterday & the Tech told me he'd have the Manger call me. He didn't & so I call again tonight & they tell me to bring it in & they'll take a looksey. They also said it might be a Hardware Problem & if so, I'd have to pay them $ 200-$ 500 to get this one fixed or pay $900 to get a New One.

A New One isn't possible until after April, maybe even May. Even to get this one fixed, isn't possible cuz of the same reasoning. Bills, Licenses,Insurance & the IRS comes 1 St.

So now I'm TOTALLY STRESSED OUT & cuz I'm an Emotional Eater, I'm going Ape Shyt to not go running to the nearest Freezer/Fridge & gobbling every Food in the House. I know, I know, that's kinda to the Extreme & not a good enough Excuse but, I depend on the Internet to be closer with Friends & Family. Plus a lot of my Exercise Videos are free on the Net. Given we don't have too many choices so, I'll have to "Work Through whatever problem we have with this Computer until we can afford a New One.

So, even if my 2012 is beginning to look like my pathetic Procrastination Excuse Issue, it isn't. So, I'm going to TOUGH It out & hope that the Freezes & Not being able to access certain Websites isn't during my Exercise Routines.

So, here's my Weekly Plan fer this Week. Thursday go to a Client's Home & Clean, Clean CLEAN, Friday do the same thing, just at a different Client's House. I might go do some Hip Hop Abs, Tae Bo or Biggest Loser Videos if I'm not too tired from Work. (Even if I am, I can try at least 30 Mins) Saturday & Sunday should be like 4 Hours of Exercise each Day. Monday is Client Day, Tuesday should be like the Weekend & I should be able to get in 4 Hours, fer the entire Day.

So, that's my Weekly Plan & Weekly BYTCH. Til Next Week my Weight Loss Friends.

TTFN

Karrie




PS By the way, I'm back up 3 Lbs so I won't document it with a Weigh In Pic, sorry




1 2 3 4 5 6 Last Page

Get An Email Alert Each Time HERE2BTHIN Posts