Sunday, September 11, 2011
When I started on SP I think the biggest lesson I learned was that I needed to live the life I want to have, not live waiting to have that life when I was thin. Once I started living for myself in the moment I became a happier and more confident person. I began living the as the healthy person I wanted to be. Following through on the things I needed to do to be that person made me feel good about myself. Then I had a string of difficult times this past year that derailed me and I let them be excuses. I kept telling myself "when things get better" "when I get past this" and then more and more time would pass.
Today I decided no more excuses. Time to start living the life I want to live again. It actually took this pair of boots to have one of those aha moments that kick you in the butt and change perspective.
My fiance bought them for me as a gift because he was so happy to see me start to care again and they are a symbol of getting back to basics and doing things that make me feel good about me.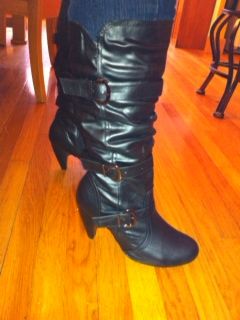 It is pretty hard to take a picture of myself wearing a pair of boots but I think it came out pretty good. A stranger came up to me when I was trying them on and said to me "you have to buy those boots, they look amazing on you." It is rare I think when things fit that well and interestingly enough I had spent the whole morning looking at boots online and saw nothing I was super excited about. I tried on 4 pairs at this store and they were all too big but these fit perfect. It feels strange to be an inbetween size but I am no longer a wide shoe anymore but I have a larger calf so sometimes wide calf boots fit and sometimes they are too big.
I had stopped caring about my appearance anymore and that is a big part of my self esteem. When I get up and take pride in my appearance I feel good all the time and it spills over into all aspects of what I do. I work out more, I make better food choices, my relationship is better, work is better. When I got divorced I ate, drank and shopped constantly. I blew the downpayment on a house in probably a year on nothing. Sure I have a closet full of coach bags but nothing else is left from that time and it was an embarrassing period for me. I realized I was trying to fill my self esteem with stuff and shiny new pretty clothes and bags made me feel good for a few minutes. Since that time I have gone the other way and almost refuse to buy myself anything nice and it isn't a healthy mindset either. I can't fix my past mistakes by denying myself things now. It isn't wrong to buy a new pair of boots. It is when that is all I did that it became a bad thing.
I decided today to get back to taking care of me. To nurture friendships instead of cutting people out of my life everytime they hurt me once. To stop expecting people to read my mind and ask for help when I need it. To start taking pride in my appearance again and buy a few good quality items instead of only buying 15 sweaters out of necessity that look like crap after 3 washes. When I look good, I feel good and I show others l feel good about myself as well.
The doctor told me I can back to working out next week and I am excited about it. I didn't realize being told I couldn't work out would make me so eager to do so! Eating right and living healthy made me be the person I want to be and I am going to continue to live this way. Thank you for all for your support. Healthyashley is back. Woot!