| | |
| --- | --- |
| | HEALTHYASHLEY's Recent Blog Entries |


Sunday, May 08, 2011
This past Saturday afternoon my fiancé and I met up with GODZYFAN and VEGANINSALEM for lunch. We like to get out of the city and they live a few towns away from where I grew up so we headed their direction to check out a local café that they recommended.
Here is a pic of us! Having 3 women take a photo and agree on it was surprisingly easy!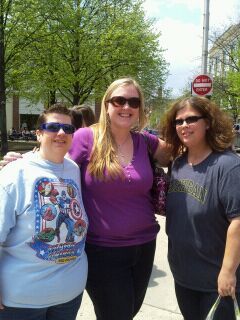 Lunch was delicious and the café was really cute and the kind of place we hope to own someday. Focusing on local foods, healthy, organic and several choices for my vegan friends which was nice. I am starting to understand what they go through and it is definitely something that I plan to incorporate in my own menu. They both are absolutely who they represent themselves to be on spark which is awesome and it felt strange to chat about each others lives and what we all had going on like we had known each other for years when we really had just met!
After lunch we headed out for a stroll and went into a few shops and health food stores that they frequent and I loved the health food store in particular. It excites me to see these kinds of placing becoming more mainstream. Unfortunately A and I had to leave after a few hours but it was a wonderful time and I look forward to see them both as we encourage each other through our first 5k next weekend!






Tuesday, May 03, 2011
A bit of history about me. I met my first husband when I was 16 and we got married when I was 23. We had reached the point of either get married or break up. I had been with him for so long that I truthfully didn't know a life without him and I thought it was the right decision. I truly don't believe anyone goes into marriage thinking it will fail but there were clues from the beginning it would and I ignored them. For example I refused to allow forever to be said during the ceremony because I did not believe in forever. All good things can end, I guess it comes from a child of seeing her parents own abusive marriage. We bought a house, got 3 dogs and 2 cars and life got suffocating. By the end of the second year I was miserable. He never could hold down a job and I worked 60 hours a week at a miserable job to support us. I remember some of the defining moments of when I realized I had to leave.
One of my dreams since I was a kid was to get my Master's. I had supported him through his undergrad as he whined and refused to study. It almost cost me my own degree as I had to take the final semester off to pay bills and you know how that goes. I did end up forcing him to work so I could complete my degree. I started looking up Master's programs that would allow me to work full time and study at night or weekends because we couldn't support ourselves without 2 incomes. The next day he came home and told me he had signed up for a Master's program that was 2 years and he could not work during any of it because it was so intense and his parents had already signed the loan. Yes, it happened in 1 day. Oh and he had gone out and purchased a motorcycle that he road twice, ever. I remember sitting there thinking "this is a person who will never be able to help me live out any of my dreams, it is always about him".
It was never a conscious decision to leave. I had a house, tons of responsibilities and had never been alone. In my heart I knew I didn't love him anymore and in fact resented him. I never wanted him to touch me. That isn't normal in your early 20's. He revolted me. With each passing day I spent more time out of the house until one night a guy said to me "If you are so miserable why don't you get divorced?". (No, I never cheated and never considered it) It was like being hit by a ton of bricks. I had never considered it as an option before but I knew it was what I wanted. When I finally told him he cried and made a sound like I punched him in the stomach. I carried tremendous guilt over that for years.
I knew I would have to give up some things when I left but I didn't realize how bad it would get. I had put the down payment on the house so I kept it but we had a lot of mutual debt. He used our credit cards the whole time he was in school and managed to max out all of them. When we got divorced he agreed to pay me a set sum until they were paid off. He never made one payment and I felt so guilty for leaving I never took him to court. I felt like I deserved to be miserable for hurting him. A year later I was forced to sell my home. It was a mixed blessing. It had ghosts of so much pain and sadness. I couldn't be there and constantly be reminded of the pain and broken dreams. It was in a city I despised and only had agreed to purchase the home there because it was what he wanted.
One day I got online, found an apartment and moved into the city alone. All of our friends cut me out because I was a bad person for leaving him. Forget that a relationship ends because of both people's actions. It was my fault and I deserved to pay. It was one of the most pivotal moments in my life. Alone, friendless, in a big city. I had to get a roommate which you all know is a big barrel of problems in and of itself. I remember many nights huddled alone on my bed with my 2 dogs thinking what had I done to deserve this. However, I never wished I not left or thought of trying to go back to him.
Why am I telling this to all of you? Because I want you to see that yes, life is scary and unfair and difficult. The right decision is not always the easy or happy one to make. 5 years later I am the thinnest, happiest, most successful and healthy I have ever been. I met the love of my life almost 4 years ago. Being alone was hard, not going to lie, but it allowed me to find myself. Now as I look at my future and the big application for the non-profit that will allow me to start my business I am scared. I am scared to fail. I am scared no one will want to give me any funding after the problems as I had in my early 20's. As I read it over I had so many negative thoughts that I can't do this or that I am not ready. Really it is scary to take those risks again. To possibly not be successful and lose everything another time.
Life is scary but if we do not take risks we will never reach our dreams. Apply it how you wish but you can make your dreams happen too. It took almost being ruined for me but I got to find a place that makes me happy. Maybe I will never open a business but at least I am going to try.





Thursday, April 28, 2011
Today I took 2 steps in starting my business. First I sent in the mini-application for getting into a program that helps people start culinary businesses. Second I published my new healthy eating website. Check it out!
simplytastefuleats.blogspot.com/2011
/04/today-is-first-day.html





Wednesday, April 27, 2011
This evening my boss was taking her dogs home and one darted away from her. He was struck and killed while she watched and the person did not even stop. They hit him and kept driving. She game stumpling back in holding him and I drove her to the hospital. These dogs are their children and one of them is gone. I feel numb. Witnessing such tragedy and pain. Her husband took her home and I could see on his face the same numbness. They do not have human children, these dogs are their children. My heart breaks for them. I feel tremendous guilt for feeling such anger towards her over stupid things when I saw her as a real person today. Stupid things are not important or worth dwelling on like personality conflicts.
When I got home my mother called and told me they reduced her hours at work. Told her she makes too much money and said a bunch of horrible things to her. Told her she doesn't matter and her boss lied about her performance. They told her without saying so many words that they want her to quit. She is beyond upset and hurt. I don't know how to help her. This was a very very bad day for some of the central people in my life and it made me see once again that life is too short. It is too short to spend it sad, miserable, angry and fat. Follow your dreams and make yourself happy because you never know how long you have. Please pray for my bosses, they are good people and are religious. I don't care what religion you are or even if you are not these are people in pain and they need it. Thanks.





Tuesday, April 26, 2011
Today was my first willful binge since I started SP. I went out, hunted down, acquired and devoured my prey. I thought about it a lot and I could have stopped it. I didn't and I willfully chose not too. This is a big step. Now sure, some can read this in judgement and if you choose to that is your path but I would appreciate if you take your judgement elsewhere. I find people who judge generally have a lot to hide and can't face their own issues so they project them on others and feel better by belittling and feeling superior. I don't have time for it and I don't respect it. That being said I also am not looking for you to tell me it is ok and tomorrow is another day filled with a bunch of hug emoticons. It is not ok in any way, shape or form.

What I did learn today was that I will always be addicted to food. It isn't going to magically go away because I want it to and my trigger is being unhappy. My big aha moment. This is my pattern. Get happy in a new relationship, job, house etc and lose weight, then when the going gets tough, the job starts to be stressful, the relationship has problems etc I start to gain weight back. I gained the last 40 lbs at a job I hated so much that I literally used to fantasize about falling down and hurting myself so I could take time off. When I left that job I lost 35 lbs with little effort. The pattern stops here and now.
From this minute forward I am no longer allowing the excuses and lies creep back into my life and I am going to keep going down the healthy path.

Yes, that 1 piece of cake will hurt me.
Yes, I do need to pack my lunch even if it is more work.
No, skipping the gym just this once isn't acceptable.
No, calories on the weekends aren't free.
No, I don't enjoy running at this weight, it is painful, and it is ok to admit that and find other forms of cardio until it is less physically stressing on my joints.
Yes, it is ok to come on SP and talk about this instead of hiding because I don't want to make other people listen to my negativity. Negativity is a normal and healthy part of this process.
Yes, I do enjoy eating clean and have better self esteem when I stick to it.

Before SP I would have sat and cried feeling hopeless for days. I would have beaten myself up and told myself I would never be thin. Now, it is different. I know I can do this and I know I have solutions. There is a way out of the misery. I can do this. I have already lost more weight than some people could even imagine. How could anyone, including myself, see that as failure? It isn't possible.



First Page
1
2
3
4
5
6
7
8
9
10
11
12
13
14
15 16 17 18 19 20 21 22 23 24 25 26 27 28 29 30 31 32 33 34 35 36 37 38 39 40 41 42 43 44 45 46 47 48 49 50 Last Page

Get An Email Alert Each Time HEALTHYASHLEY Posts