| | |
| --- | --- |
| | HEALTHYASHLEY's Recent Blog Entries |



Monday, April 18, 2011
This past weekend was super busy for us and I don't know what is going suddenly in our social calendar but we are getting invitations all over the place for dinners, parties, BBQ's etc. I feel like we have something every single weekend from now to Memorial Day. Weekends are my only time to unwind so I do find it a bit unnerving.
Friday we went to dinner with a very old friend of mine and his girlfriend/soon to be fiancée so he tells me. This was the first time A and he met and the first time I met her so it was fun. She is from Vietnam originally and she made us a traditional dinner. OMG was it delicious and healthy. Tons of fresh veggies and herbs. She and I hit it off right away and had so much to chat about it made me so happy that we got along so well. Half way through the meal my weight loss came up. My friend hadn't seen me since I lost the weight. She looked at me and said "I can not even imagine you used to be overweight".




When people say things like that it still surprises me. Maybe because I am so very aware of my flaws. I know the number on the scale so to me not being overweight is still such a foreign concept. I am a good read of BS so I can tell when someone's compliment is disingenuine and she meant it.
Saturday we went to a birthday party for a friend of mine. He turned 41 and I made him princess cupcakes. They were a hit and I was informed they scarfed them down at 3 AM and everyone raved about them.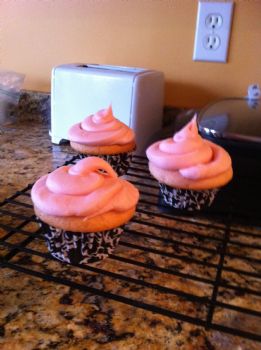 These are pink champagne cupcakes and you actually mix champagne into the batter and the frosting. (PM me for the recipe, I am not posting it on here and listening to lectures about how it is not healthy) I wanted to add some of that sparkle sugar for extra pizzazz but was just too tired to hunt it down. It was still a statement and they all got a huge kick out of it. I am old so we left the party at a respectable 1 AM before I turned into a pumpkin. Best part is I had one bite of a cupcake to try it and that is it!
The funniest part of the evening was that they managed to cram a DJ and about 60 people into this tiny apartment with a fog machine and lights. Hysterical. A and I salsa danced for about 2 hours and I was good and tired but had much better endurance than I used too. People are usually surprised I dance so well, especially to latin music. I always here people telling A how awesome of a dancer I am in Spanish and it makes me feel proud. The most interesting observation I made that night was there was a small group of women that came in together who were morbidly obese. I could see on their faces how self conscious they felt and nervous. It hurt my heart to see it because I could so identify with them. Heck, I was them 6 months ago. When I was so huge I would have been miserable that whole night. I wouldn't have eaten a thing, would have been afraid to try and push through the crowd. Afraid to dance. It reminded me how much I have gotten my life back and how I wouldn't trade this for anything and how much I want to get to my happy size. I am so happy I did this for me and this weekend was a great affirmation of all of that. That I am worth it.

PS It makes me sad that I actually have to add a disclaimer to this blog. NO I am not judging people for being obese. I was making an observation about my own obesity and identifying with someone who was going through something I had been through. Jumping to conclusions and judgements is dangerous for all of us.






Friday, April 15, 2011
It is funny how life has its way of working itself out even if you fight it every step of the way. I was laying on the couch last night, yup, got a few minutes of me time and watched my favorite show Vampire Diaries. I am secretly an angst ridden 16 year old in my heart and Damon is my dream man if I was not already a happily taken woman. So as I was watching all the skinny actresses I realized I have stopped beating myself up. This is a pretty new thing. Last weekend I tried on a lot of clothing and not once did I have the thought "You are so gross" or "Nothing fits because you are so fat" or "I hate my body". This is literally a first. Yes, I have my issues. I have saddlebags now which I never had before oddly enough. I think they are a result of my skin deflating now. My stomach really bothers me the most but I am considering spanx. I didn't want to go there for day to day but I am starting to think if it makes me feel better than I should just try it and see how it works out. BUT I do not have those horrible negative self destructive thoughts anymore. With each outfit I put on I was able to be objective and realize that just because I like a trend or want something to look good on me, it might not, and THAT IS OK! The best part was accepting that it isn't my fault they don't fit. It just happens and shopping is a difficult task for everyone. It is about finding a designer or two or three who cuts clothes for your shape and sticking with them. It takes effort but as I have started to appreciate myself more and more it has become enjoyable. I also learned that I am better to not go shopping on days I am already feeling down about something else because old habits die hard and I don't want to slip back into attacking myself. Even these past 3 weeks I have not been freaking out over what I ate or a fluctuation on the scale. Those numbers are not me as a human being.
I am strong, intelligent, and determined.
I am a good person who goes out of my way to help other people.
I am creative and artistic
Babies and animals are obsessed with me, seriously, I can't go anywhere without someone's dog following me around the house or their cat sitting on my head or their baby staring at me with wide eyed fascination. People comment on it all the time lol.
I am going to help people in the future with my food. People will see healthy food can be affordable and taste good.
I like me and that is something I never have been able to say before. Now, don't feel bad for me. I believe life is a learning process and to truly change you have to make yourself uncomfortable. You have to ask the scary and difficult questions and be honest with yourself. As long as you continue to do that than you will succeed. Stagnation is the destroyer of progress. Keep moving forward even if it is an inch at a time. Give up the excuses and strip yourself down to the core. Don't be afraid. Nobody will judge you harder than you already judge yourself and in the end you are the only one who matters. When you do all these things you will find that it is easy to change. Daunting? Of course. Impossible? Not at all.





Thursday, April 14, 2011
Well, there it is. I have hit my first serious road block. I am just, tired. Tired of working too much, tired of not having enough personal time, tired from literal sleep deprivation, tired of counting and logging and tracking etc. I have pulled back from SP because I don't have anything left to give to anyone else. I don't feel it is right to continually ask for support that I can not reciprocate at this time. Close to 3 weeks this has been going on and I tried to push through and keep with it and in some respects I have and some I have not. I have made some poor food choices but at the same time the voice in my head has continued to say "that eating this or that is so not worth it". For example last night I got home after a 14 hour day and was starving. I debated Burger King for all of 3 seconds and but I just couldn't bring myself to eat it. The thought literally made me gag actually. I am proud of that. I am proud that even at a very low point I refuse to compromise and eat chemically processed garbage.
I have completely stopped running. That should make my 5 K in 3 weeks interesting. I have still been strength training and doing the elliptical. My mind and body are just a mess and I need to get out of this rut. I am not looking for advice, please don't tell me how I have to do this or that and I need to quit my job etc. I know what I need to do, sometimes the brain just needs time to catch up and process this kind of frustration. I haven't gained weight back and I am working on maintenance which makes me happy. I decided last night that what I am seeking is balance. I like to work and that is a good thing. I got my first huge reference book for my business this week and started reading it this morning and I am excited. The chef's at work are already starting to try and discourage me but I am not listening. All my life people have tried to shut me down and I have had enough of it. No more negativity people, sheesh. Yes, they can offer me good insights and I am listening to their experience but I am going to do this. There is a need for the return of good wholesome food. All of us on here are tired of the factory produced garbage they sell at chain stores. There are people like us willing to buy it! I am sure of it.
So here I sit this morning on a cliff. Do I jump or do I be scared and retreat back into the land of obesity. You should all be proud of me because I jumped. I logged my breakfast and made healthy choices and today is a new day. Nobody puts baby in a corner.
EDIT: I am not saying I am quitting. I don't know why people read a single blog from someone and make assumptions. This is about one moment in a lifetime of good health and fitness. All I am asking is before you lecture someone about clean eating or how they live make sure you actually know something about the person and how the live day to day.






Wednesday, April 06, 2011
Today I took the first scary steps and I ordered some books about how to start my business and my first goal is to start my business plan this weekend and begin researching recipes and a menu format. Yes, I am scared but SO excited. Last night I was chatting with my manicurist and she owns the company. She is 27. I asked her about when she and her boyfriend bought it and was it scary for her. Her face said it all. She said it was terrifying but as each day passes it gets better and she is still really happy she did it. I was so happy to hear that and it made me feel more confident.
There is a non-profit in Boston that helps culinary businesses get off the ground. You have to submit your business plan and if you get accepted they help you get all set up and permits etc. They even provide a kitchen to work out of in the beginning. That is going to be one of my starting points.
This past 2 weeks have been hard on me and I have been starving and feeling horrible. It is the first time in a long time I was scared I might fall off course but I have kept fighting it. After my review Friday I had the strongest desire to go buy a pint of ice cream and wallow. As soon as I thought it I pushed it out of my mind and didn't even consider it. I am proud of that. I am proud that I am living the life I want to live and making healthier choices in the face of adversity. There is no shame in maintenance. Just because I haven't lost weight the last week and a half does not mean I am failing. To get through what I have just gotten through and still be standing is amazing and each day I am going to wake up and tell myself I am valuable and I am worth it and to be strong. To keep fighting. You can do it.





Sunday, April 03, 2011
One of my favorite foods is Indian and I have to say I have been eating much less of it because I know that it is prepared with lots of cream and clarified butter. Last night I decided to try my hand at one of my favorite dishes, saag paneer. When I saw a recommended recipe I almost died. It called for a full cup of heavy cream and finishing the dish by covering it in butter. YUCK. I knew I could cut the calories but not sacrifice the flavor and I was successful. Here is the recipe. I thought it tasted better than the restaurant version!

Serves 4
1 Large Onion
6 Cloves Garlic
1 oz Fresh Ginger
1 lb Frozen Spinach, Thawed (I used fresh)
1 c. Plain Yogurt (I used Greek)
4 oz Skim Milk
2 tsp Red Chili Powder
1 Tbsp Red Pepper Flakes (optional, we like spicy food but if you don't leave them out)
3 tsp Garam Masala
1 c skim milk
6 oz Paneer, cut into cubes (you can substitute any white farmer's cheese)
Salt to Taste

Grind onion, garlic and ginger into a fine paste in the food processor or blender

In a medium saucepan combine the paste, spinach, yogurt, 4 oz skim milk, chili powder, red pepper, and garam masala. Simmer on medium heat for 20-30 minutes. Mash with a potato masher. Add the rest of the milk. Simmer until the mixture has a creamy consistency 15-20 minutes. Add the cheese and simmer a few minutes more. Season with salt.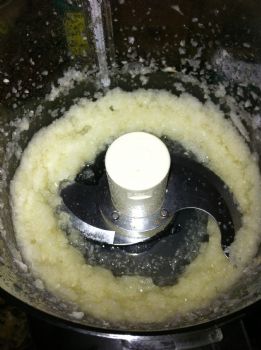 Here is the paste you make with the garlic, onions and ginger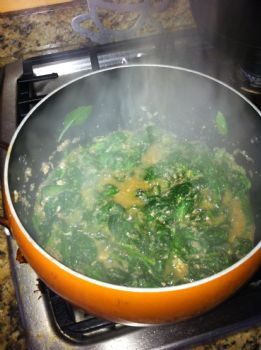 When you start simmering the spinach and ingredients together.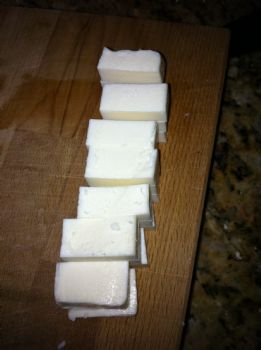 The fresh cheese, I used Colombian fresh cheese so I could use it for other things but it is traditionally made with real paneer. The substitution worked fine for me and I thought it tasted the same because they are so similar.


After it simmers for 20 minutes and then you add the rest of the milk.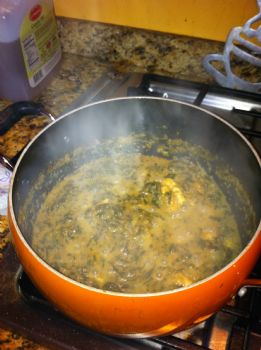 When you add the cheese, so you can see the consistency.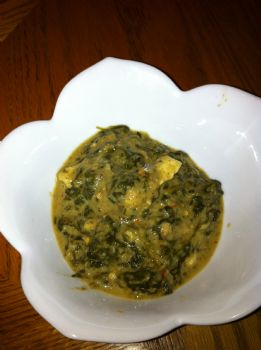 The finished product. I was proud of myself! Now I can eat something that I love and know that it is made in a healthy way! Woot, cooking at home is the best. I hope you like it.



First Page
1
2
3
4
5
6
7
8
9
10
11
12
13
14
15
16 17 18 19 20 21 22 23 24 25 26 27 28 29 30 31 32 33 34 35 36 37 38 39 40 41 42 43 44 45 46 47 48 49 50 Last Page

Get An Email Alert Each Time HEALTHYASHLEY Posts