| | |
| --- | --- |
| | HEALTHYASHLEY's Recent Blog Entries |



Wednesday, April 06, 2011
Today I took the first scary steps and I ordered some books about how to start my business and my first goal is to start my business plan this weekend and begin researching recipes and a menu format. Yes, I am scared but SO excited. Last night I was chatting with my manicurist and she owns the company. She is 27. I asked her about when she and her boyfriend bought it and was it scary for her. Her face said it all. She said it was terrifying but as each day passes it gets better and she is still really happy she did it. I was so happy to hear that and it made me feel more confident.
There is a non-profit in Boston that helps culinary businesses get off the ground. You have to submit your business plan and if you get accepted they help you get all set up and permits etc. They even provide a kitchen to work out of in the beginning. That is going to be one of my starting points.
This past 2 weeks have been hard on me and I have been starving and feeling horrible. It is the first time in a long time I was scared I might fall off course but I have kept fighting it. After my review Friday I had the strongest desire to go buy a pint of ice cream and wallow. As soon as I thought it I pushed it out of my mind and didn't even consider it. I am proud of that. I am proud that I am living the life I want to live and making healthier choices in the face of adversity. There is no shame in maintenance. Just because I haven't lost weight the last week and a half does not mean I am failing. To get through what I have just gotten through and still be standing is amazing and each day I am going to wake up and tell myself I am valuable and I am worth it and to be strong. To keep fighting. You can do it.





Sunday, April 03, 2011
One of my favorite foods is Indian and I have to say I have been eating much less of it because I know that it is prepared with lots of cream and clarified butter. Last night I decided to try my hand at one of my favorite dishes, saag paneer. When I saw a recommended recipe I almost died. It called for a full cup of heavy cream and finishing the dish by covering it in butter. YUCK. I knew I could cut the calories but not sacrifice the flavor and I was successful. Here is the recipe. I thought it tasted better than the restaurant version!

Serves 4
1 Large Onion
6 Cloves Garlic
1 oz Fresh Ginger
1 lb Frozen Spinach, Thawed (I used fresh)
1 c. Plain Yogurt (I used Greek)
4 oz Skim Milk
2 tsp Red Chili Powder
1 Tbsp Red Pepper Flakes (optional, we like spicy food but if you don't leave them out)
3 tsp Garam Masala
1 c skim milk
6 oz Paneer, cut into cubes (you can substitute any white farmer's cheese)
Salt to Taste

Grind onion, garlic and ginger into a fine paste in the food processor or blender

In a medium saucepan combine the paste, spinach, yogurt, 4 oz skim milk, chili powder, red pepper, and garam masala. Simmer on medium heat for 20-30 minutes. Mash with a potato masher. Add the rest of the milk. Simmer until the mixture has a creamy consistency 15-20 minutes. Add the cheese and simmer a few minutes more. Season with salt.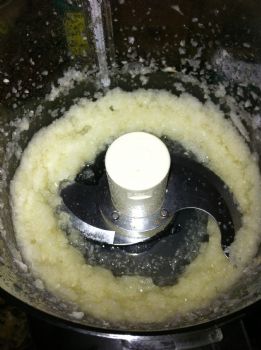 Here is the paste you make with the garlic, onions and ginger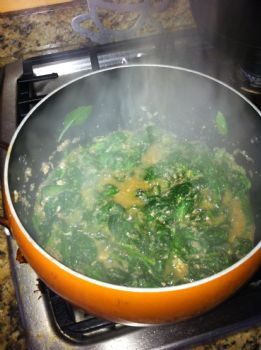 When you start simmering the spinach and ingredients together.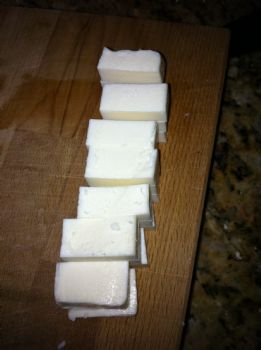 The fresh cheese, I used Colombian fresh cheese so I could use it for other things but it is traditionally made with real paneer. The substitution worked fine for me and I thought it tasted the same because they are so similar.


After it simmers for 20 minutes and then you add the rest of the milk.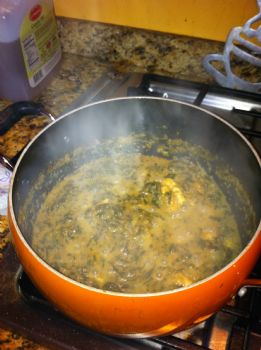 When you add the cheese, so you can see the consistency.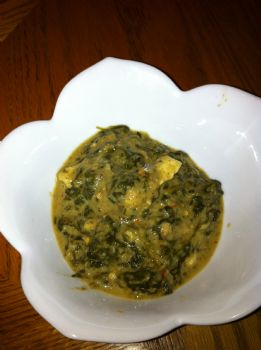 The finished product. I was proud of myself! Now I can eat something that I love and know that it is made in a healthy way! Woot, cooking at home is the best. I hope you like it.






Sunday, April 03, 2011
This weekend was one of the strangest I have had in quite some time. It was spent in constant thought. Friday night my fiancé took me to one of our favorite places in Chinatown and I just kept staring off into space blankly and I felt bad. He said he understood and it was ok and we did a lot of talking about what we want for the future and on what time line. I broke down on the ride home and sobbed uncontrollably and told him he could leave me because I am a mess and it is my fault we have financial problems and if he blamed me it was ok and I love him enough to want him to be happy even if that means it would be without me. He got upset and told me I need to stop thinking that way and that he loves me and is in this for the long haul.
Saturday we went out and ran errands and decided to just spend the day at home as we are trying to spend as little money as possible. I made a delicious dinner of homemade saag paneer that I lightened the recipe, IT WAS SO GOOD, steak for him and lamb for me. It was nice to sit by candle light and just talk. We really enjoy each others company and we have so little time together that I always savor each moment. Earlier in the day we had a big talk about my work situation and he told me he supports whatever I choose and also saw the good and bad of each decision. That didn't help me so much. However the thing he did tell me was that he sees me be afraid to stand up for myself and be tough with people and that is something I need to do. That he knows I am capable and can do anything I set my mind to and I have to stop being afraid and he is 100% correct. Fear kept me fat. Fear keeps me from working on my business plan. Fear keeps me from writing. Fear keeps me at jobs I hate because I am comfortable.
My new personal mission is stop living in fear. I will not be able to live the life I want if I keep on this path. So here it goes. I am going to write a time line for finishing my business plan this week including meeting with individuals who can help me fund said business ie groups who help small business get off the ground or offer funding to women owned startups. I am going to rewrite my resume tonight and start sending it out to new jobs and see what is out there. I am going to go to work tomorrow and tear the place up and prove them wrong. NOBODY tells me I am a failure. NO ONE. Even if I am going to leave in 2 months I am going out on a bang. I am going to do it on my terms if they don't like how I am doing it, they can fire me. I let them control this whole review process and they showed me little to no respect and that is what this is about. Respect. So, they get me on my terms from now on. Enough is enough. I really could care less if they like me. This is about doing what I want to do and what is healthy for me and my family. I am going to work as much as I want. Period. None negotiable and if they don't like it, oh well. They have no right insinuate I owe them more of myself when I get nothing in return. Not going to happen. I am done living on someone else's terms.
I lost 95 lbs, I can do anything. When I open my café, I better see sparklers coming in and showing me the love! Thank you all of you for the support over the last 2 weeks. I love you guys so much. You will never know how much your support meant to me during this, you kept me holding my head up high and that is what true friends do for each other. It is pretty amazing.





Friday, April 01, 2011
It finally happened this morning. It wasn't horrible and it wasn't good. No, I didn't get fired, they never had any intention of firing me. Pretty much they feel that the last 6 months I have been really negative and not making as much of an effort as I was when I started. They feel that pretty much they have done nothing wrong and I don't take enough initiative or have good follow through. That I am the one isolating myself because I talk too much and people don't like me. Apparently they have had numerous complaints about me talking too much. No, they did not have any documentation of said complaints. The positives where that they like me and think that I am very intelligent, capable, and have a very good grasp of the field. They pretty much feel that my insecurity and lack of confidence is the cause of all my work issues. They want me to work more every single day than the 10 hours I already work if I have to and I have to say that isn't sitting well with me. That and I don't dress professionally enough for clients. That made me furious. I make almost nothing and can't live on what I make. With how fast I am losing weight I just can not buy new professional clothing every weekend. Consignment shops in Boston are a joke. That might work if you are smaller but not still a plus size and the stuff is almost as expensive as new clothes at some of those stores.
They asked if I still wanted me job because they don't want me to leave. When the male owner left he asked me if I was coming back on Monday and I laughed and I could tell by the look on his face he was serious. I am not that type of person. I meant it when I said I did want to try to make it work but as the day has worn on I am starting to think this is not the job for me. I am exhausted and can barely get in my workouts as it is. I do not want to live to work. I want a normal job and have a personal life. They expect me to be a workaholic. They actually said those exact words. I already am, how much more can I give without it being detrimental to me and my health? I am at that point now.
I still have to talk to A about the whole thing and see what thinks. Ultimately the decision is mine and he will support me but we discuss all big decisions like this. I am going to think about this all weekend and make an ultimate decision of keep trying or move on. If I move on I am going to leave sales entirely. I just need to do some soul searching regarding what is good for me and what I want.
Dinner last night was interesting. The food was FABULOUS. I had wild boar with housemade fresh pasta and we all shared a bunch of starters like pork rillettes, charcuterie, chicken livers in pastry, lamb tartare (my favorite), and fried artichokes with aioli. I couldn't finish my dinner. We were all food people and very critical and it was a fun evening. 4 Wine pairings, a martini and too much food led to me not feeling well today. That is more than I drink in a month. What was the most interesting was that socially I realized how much goes into being successful in business. This kind of BS corporate hobnobbing. The air kissing and socializing. I surprised myself with how good I am at it and it was the first time I felt like I fit in. That I can swing with the rich and refined. I felt like I looked really really good and men were staring at me like crazy. A shocking amount. It was the first time I felt like I wasn't the fat girl anymore. I was the hot girl and it is exciting and terrifying all at once. When people stare it is disarming even when it is with approval. This is something I will have to learn to adjust to over time. I need to stop feeling like it is vain and shallow to know I am beautiful and to feel good about that. To be proud of all I have done to get here and know that I will continue to look better each and every day.
I think the ambivalence I have been feeling about my diet this week is a form of self sabotage and it has been very sneaky. It came right in and made me stop caring and I didn't even see it coming. The difference is now I am much more in tune with my day to day habits and caught onto it sooner. This whole experience with my job would in the past have been derailing but now I will not let that happen. I will continue to fight even if it means quitting my job to find balance. They want me to be strong and self confident. They have no idea what they have gotten themselves into. It is on.





Wednesday, March 30, 2011
I had forgotten about a business dinner I have tomorrow night with a vendor we use. I personally don't use them but the rest of the company does so it will be awkward none the less for me. They had not told us the restaurant until this afternoon and it is this shishi French place on Beacon Hill. I like that kind of food but rarely will spend the money on it personally so it will be a nice experience but I am feeling insecure about the whole night. Yes, I will go over calories and no this is not the kind of establishment that posts nutritional information lol. I am at peace with that. Life can not be lived in a bubble and sometimes we will go over calories.
What makes me insecure is sometimes I feel like I am playing grown up. Do you ever look around you and feel like "whose life is this?". I have friends who tell me they look at their own kids and feel that way sometimes. Like who are these little people? There are times I sit in a business meeting and want to laugh because this is the life I always wanted and you know what? I kinda hate it. I wanted to wake up and wear a suit and go off to my big important job. I thought that made me somebody. That made me important.
I had a job tomorrow for 450 people and it was all my responsibility. Do you know how scary that is and I am good at this. You can make a mistake and screw up something for 450 people. It is intimidating. Luckily I have a good team and we all play to our own strengths and watch each others backs. The client called today and CANCELLED THE PARTY. Yup, you know how you just said "Are you f-ing kidding me?" That was the reaction every single person at work had. They actually postponed it to next week but when you get the adrenaline going that gets you through an event like this it is hard to come down before you planned for it to happen. I have felt really off all day.
There are times on SP I feel like a fake too. I am who I say I am but when people email me and tell me I inspire them I just don't feel inspirational. I don't feel like I have done anything special and I will admit I am angry with myself for needing to lose this kind of weight. How could I get so huge? I have lost almost 95 lbs and I am still fat???? How does that HAPPEN?! People look at me and I am still considered huge and I am on the verge of losing 100 lbs. I guess when I hit the hundred lost mark I will feel like I have accomplished something because that has been a big goal of mine since day one. I will have 60 more to lose.
Please don't see this as a cry for attention or that I want to have my ego stroked. It isn't about that at all. It is about getting out what I am feeling and it isn't always positive. Acknowledging all feelings, good and bad, it a big part of this. It is how we work through them that matters. I have improved my self esteem tremendously since I started and that is not in any way fake. I do like myself now. I do believe I can do anything now. When I started I was faking it but now, it is a habit and it feels good.
Wish me luck tomorrow night because I have to get all dolled up and use my big girl manners. I actually am rather refined but I get a kick out of not being that way all the time. It bores me. Truthfully Kate Middleton can be queen. Her life seems rather stuffy and pretentious compared to all the things that are possible for my future.



First Page
1
2
3
4
5
6
7
8
9
10
11
12
13
14
15
16
17 18 19 20 21 22 23 24 25 26 27 28 29 30 31 32 33 34 35 36 37 38 39 40 41 42 43 44 45 46 47 48 49 50 Last Page

Get An Email Alert Each Time HEALTHYASHLEY Posts