| | |
| --- | --- |
| | HEALTHYASHLEY's Recent Blog Entries |


Wednesday, March 16, 2011
Onto the happy blog! First I want to say to all of the people who read and commented on my halfway blog. THANK YOU, seriously, THANK YOU. I can't say that enough. You all said the most kind, touching things to me and brought me to tears so many times. I can not express how much your support means to me. How big of a part of my journey it is for me. No matter how bad I feel. No matter who blows me off in my real life. You guys are here for me. I would not have gotten here without you. Sparkpeople is the one factor that is different in all my other weight loss attempts and I truly believe it is the big push to make me successful.
Last night I called my mom to tell her about my blog and we talked about the rest of the weight I want to lose. The plan, how I feel about how much I have lost, etc. I am 1 pound from losing more weight than she did 8 years ago and she is so proud of me. She asked me what my goal number was and it is 2 pounds less than she weighs now and she is 3 inches shorter. She weight trains a lot and weighs 175 pounds. Coincidentally a spark friend brought up the same topic with me. That maybe my goal weight is too low for my frame. I picked 173 because that is the high end of my healthy weight range but I am starting to think that is unrealistic. I had my frame size evaluated and I am large framed based on my bone structure. The closer that I am getting to goal the more I am realizing that this is less about a final number and more about a feeling.
I want to be in good shape and have great muscle tone.
I want to be able to run a 10K.
I want to be able to fit easily into none plus size clothes.
I think I will know it when I get there.
I have decided to raise my minimum weight limit. Yes, it will still be clinically overweight but I have accepted that for me I just don't fit into the medical communities one size fits all guidelines. This journey is so very personal and I can't let someone else decide for me based on a chart what is healthy and what makes me happy.
Don't me wrong. This isn't about staying overweight and making excuses. It is about being healthy for the sake of being healthy and not just fighting myself to reach a specific number. I don't want to lose 160 pounds and feel like I failed because I didn't hit 173. I think that is when people are in danger of quitting and regaining. So, I am changing my ticker tonight and let's see where this goes.







Tuesday, March 15, 2011
This is the first time I actually wrote out a blog before I put it on SP. I usually fly off the cuff, write it and publish it right away but I felt this one deserved more forethought. The middle of last week I reached my halfway point. 86 lbs lost and weighing in at 259 lbs. When I got on the scale I just knew I had reached it and when I looked down my stomach flipped and I saw 258.8. I had done it! Funny thing is that there are milestones that we all dream about when we start, no matter what weight we start at, and halfway is one of the biggies. Probably second only to reaching goal and slightly edging out the going under 200 mark for many of us. Starting out at 345 lbs I remember crying to my fiancé and telling him I just could not imagine ever being thin and halfway seemed impossibly far. However, I never let the idea slip away. The hunger inside me to be healthy kept me going and truly after I lost the first 20 I never doubted that I would get here. Maybe it would be slower than I would like but I would get here. I had imagined that I would sob uncontrollably. It was very surprising that although I was reasonably happy and smiling like a fool I felt a bit numb about it.

Later that night I called my brother who has himself battled the same 60 lbs up and down his whole adult life and I told him how I was feeling. What I love about him is he is as honest and direct as I am and he said "Ash you look truly amazing and I am really proud of you. It is ok to be happy. When you are unable to be happy and celebrate your progress that is when you cross over from a healthy lifestyle to an unhealthy obsession and can develop an eating disorder." His words were very powerful for me and I knew he was right. I had earned this and I deserve to let myself be happy and celebrate. That moment was a big wakeup call for me because I decided to stop truly punishing my body. I have paid enough for letting myself get out of control and I don't have to pay for it anymore. I am not the fat girl I used to be. This is the person I always was and was afraid to let out.

My brother had asked me how I was planning to celebrate. I was going to tell him with cake with snicker but then it got me thinking about rewards. Rewards were something that when I set out to start losing weight I thought they would motivate me. I carefully planned out each reward and its special meaning. You know how many I actually bought? 1 and it was about 3 months after I got past 300 lol. I realized as the weight started to come off that to me all the amazing things I was gaining such as flexibility, endurance, stamina, mental toughness, and happiness where enough of a reward. Material possessions are nice and who doesn't love to shop when you keep getting smaller???!!! But the thing is now I don't need stuff to make me happy. I filled the void in my life with so many things, shopping, food, alcohol and none of it ever truly made me happy. Just tonight I realized I can flex my triceps and you can REALLY see it and victories like that happening daily are what makes me happy.

I have thought a lot about where do I go from here? Well, I keep going down :). Mini goals work best for me and I am currently 1 lb from 90 lost, 6 lbs from my lowest adult weight since I was 18 (this is another huge one for me), 11 lbs from 100 lbs lost, 51 lbs from weighing less than my fiancé and 56 lbs from being in 1-derland! It is funny how when you have already lost close to 90 lbs another 50 doesn't seem so overwhelming. The pictures that I am going to post following really tell so much of my story. As I looked at them I realized I was truly so in denial of how large I had gotten. We could not believe it as we looked back at the past and there is a person in these photos I hardly recognize. The best part is the ones at the end that I took this past weekend at 257 lbs, size 16/XL top and size 20 pants. When I started I was 345 lbs and wore a 3X shirt and a 30/32 pant. I am 5'10", I always wonder that when I see people's progress pics.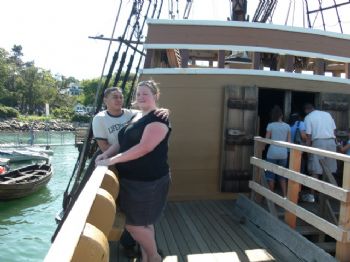 I was in pretty serious denial this was how I really looked.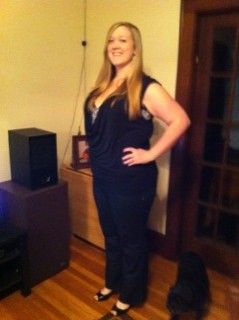 I felt amazing that night and this is truly the first time I didn't rip apart a picture of me right away.


I love how my arm looks in this one. You can see some real muscle tone!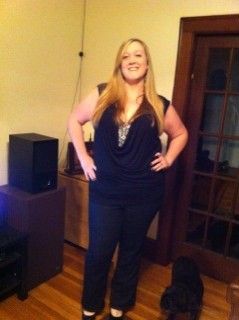 The best part of this is that now I am truly living my life, not just existing. You can do this too. Maybe you are reading this and thinking you can't imagine getting this farther either, well think again. I was there too and it was difficult, just ask me if you are curious. I never gave up and I will not quit until I am at a place that makes me happy. Don't wait until you have another 20 lbs on or another 50. I wish I had dealt with my issues before I let myself get to almost 350 lbs. It is never too late to start. I put this paragraph on my SP page about a week ago and I think it articulates my situation rather eloquently. "Since I joined SP what feels like a lifetime ago I have changed pretty significantly. I have learned patience, perseverance, tolerance and humility. I have learned that I am stronger and more powerful than I ever could have imagined and that I can accomplish anything. I have learned that failure only happens if you allow it to happen. Your life is what you make it and being healthy is a choice you make everyday. I choose me."






Monday, March 14, 2011
This past weekend was a nutrition challenge for me and I will be honest and say I was nervous about it. We went to 2 different restaurants for 2 different birthday celebrations and I was scared. This past week was so good for me nutritionally and I didn't want to undo all my hard work in just 2 meals. That being said I also don't want to be such a food nazi that I can't enjoy a nice meal out with my friends. My game plan was just use the knowledge I have and order something I knew would be one of the healthier options on the menu and eat a normal portion. Luckily the Argentinean steak house we went to had smaller "gourmet :)" servings which made me really happy because it was what a normal portion should be. I limited myself to one glass of wine and we had a fabulous time.
Saturday was sushi night and since sushi is generally healthy I wasn't stressed out. I don't pick anything with fried stuff in it anyway or rolls with tons of mayo and other unhealthy ingredients so other than eating more rice than I normally do it was all fine. I had bought a special shirt for the occasion and I was feeling like I looked really cute. In the past one of my sparkfriends had mentioned to me that she was surprised after losing quite a bit of weight that none of her shoes fit anymore. I discovered I have this issue this weekend and luckily had bought those new snakeskin print pumps so I rocked those and was feeling pretty awesome. I will post pics of me in my big milestone blog tomorrow. The sushi was absolutely delicious and my fiancé was really happy. They seated us in one of the private shoji screened rooms and it was nice to have our own private tiny room for the entire meal. We had an octopus and oyster appetizer, both delicious. The sushi itself was so good. I like nigiri better and he likes the maki rolls better so I ordered a mix of both and he devoured all of it. It was really cute. Then we went to Finale (dessert and coffee bar) and got espresso's and a single cupcake to celebrate. The cupcake was too rich for me, which is a total first! I had a few bites but that was that. These 2 meals out really opened my eyes to how far I have come since I started. Even when I give myself permission to eat what I want I choose the healthier options and I am naturally practicing portion control. Another first!
Yesterday I went shopping alone, I needed work pants and I just wanted to see how clothes are fitting me these days. I went to Lane Bryant because they were having a huge sale. I didn't see a lot of things I liked but I grabbed some pants, a few shirts, bra's that I had no intention of buying but I was curious about my size and a dress that caught my eye. The dress was AMAZING! It fit me perfectly. I looked tall and sexy and curvy which is a first for me. Seriously. However, at close to a hundred dollars I decided I wouldn't wear it enough to make it worth buying. I was a bit sad but I got to enjoy the feeling of how good I look and that was awesome in and of itself. All of the shirts were tents. It was actually funny and I realized I have out shrunk LB tops for good now! The strange problem I have now is I am too small for most plus size stores but too big for most regular stores. This tween place is a strange one and I hope to be out of it soon so I can shop in average size stores entirely.
I found one pair of pants that looked really good. Problem is that it fits perfect and when I asked the girl at the counter if they would stretch she looked at me and goes, "I don't think a lot, I guess." Gee, thanks for the help. I also snagged a hoodie on super duper clearance sale for $7. Score. It was an 18 and is a bit big. This is what brought on the comment from fiancé that I need to stop buying clothes a bit big and buy the one that is a bit tight. When I go to the store I still look for a size 28 and it is hard for me to wrap my brain around being a 14/16 or so in tops and an 18/20 in bottoms. It is also strange for me to be 257 lbs and wearing sizes most people wear in the low 200's. I guess one of the advantages of being really tall is weight distribution. This weekend was great affirmation of how far I have come. Saturday night we were looking over pictures of me from that night and I said "I finally like pictures of me but I don't feel like I am that different in my head." My fiancé pulled up old photos of me from the beginning and it was visually shocking to me. It was the first time I truly looked like a before and after success story and it made me cry.






Wednesday, March 09, 2011
Sometimes events in our lives bring perspective. They do not even have to directly concerning us to have a significant impact. To start one of my dear sparkfriend's was told her husband has terminal cancer when he had gone in originally for a backache. She is just 32 years old. I have followed her story wishing there was anything I could to help her, to ease her pain other than offer her my continual support. Then last night my father called to tell me that a close friend of our family since I was a child lost his eldest son to a heart attack. He was just 33 years old and had a small child. We were only 6 months apart in age. The only answer so far they have is that he must have had a congenital defect as he was not a drug user or overweight. Understandably his family is inconsolable. This made me think quite a bit about my own life.
Death is one of those moments that we all face in life and it can change us forever. These 2 men have made me think about how I have squandered the last 14 years in denial about my health. Heart disease is the number one killer of women in the US. NUMBER 1. I always told myself it wouldn't happen to me. That I was different. How foolish of me. To think I was invincible. Life is too short and precious to spend it a prisoner in your home and in your body. It is too short to scare the people that love you on a day to day basis because they fear for your health. It is selfish. To choose food over myself and the people who love me is selfish. I am going to live my life fully for the rest of my life and I urge all of you to do the same. Do not let an addiction control you and rob you of your life. It is done controlling mine.






Tuesday, March 08, 2011
Last night I read a status update from a woman who had noticed that a good number of people who were spark motivators had regained a good portion of their weight and were starting over. This was something she couldn't understand how they could let it happen. One of the things about myself that I have been working on is trying to see both sides of an argument before I form an opinion. In the past a comment like that would have sent me flying off the handle in a rage about how dare she be so judgmental etc. I thought a lot about it and I do see her side. Why would you want to regain all the weight you had put in so much effort to lose? I understand how and why it happens. The more you lose the easier it is to get complacent. Burnout happens, life throws you a curve ball or something else of that nature and you stop working out as much, you let a few extra calories slip in here and there. Maybe you return to food rewards to make yourself feel better. It is a slippery slope and one very easy to go down.
As I reflected on my own weight loss and how far I have come and how far I have to go I realized that for me going back to the person I was isn't an option. When my grandmother passed away in November that would have been it for me in the past. I would have eaten my way through the whole thing and not stopped until January. Most likely I would have put on a good chunk of weight with all that binging. During that time I had made myself a promise and it is what I call my 5 lb promise. (This doesn't have to apply only at your goal weight but it can be applied throughout your journey). No matter how bad times get for me in the future I will not let myself regain more than 5 lbs. 5 lbs in a manageable number. 5 lbs can be lost in a month with a good amount of work and effort. 5 lbs is not so damaging to my psyche that I want to curl up in a ball and cry. Yes, it is not a fun number but it is not irreparable damage. I think as long as I keep mindful of those 5 lbs than I will be able to keep myself on track and accountable. It may seem daunting to think about having to worry about your weight for your lifetime but it is a lifetime process. The friends that I have who are naturally thin for the most part tell me that they always watch what they eat and practice portion control. The difference is that it seems to be something that they were always able to do versus people like a lot of us who have a harder time with it and need to be more conscious of it. I know I do not want to go back to the person I was. This morning when my alarm went off I jumped out of bed and headed to the bathroom. When my feet hit the floor it made me smile. I was a person who could barely roll over without a good amount of effort and now I literally hurl myself out of bed with vigor. (Like that word, vigor, I am using my big girl words to day lol). With each day of being healthier it is an amazing feeling. Someone said my theme is freedom and she was right. It is freedom. You can be whomever you want to be, but you have to make the effort to get there and it is possible. So join me in my 5 lb promise. We can all reach and maintain our goals.



First Page
1
2
3
4
5
6
7
8
9
10
11
12
13
14
15
16
17
18
19 20 21 22 23 24 25 26 27 28 29 30 31 32 33 34 35 36 37 38 39 40 41 42 43 44 45 46 47 48 49 50 Last Page

Get An Email Alert Each Time HEALTHYASHLEY Posts