Monday, February 21, 2011
So after my large declaration of me day on Saturday the fates decided to throw me a large curveball. Friday night when I left work my fiancÚ headed out to do some errands he needed to do and then we were going to go for shabu shabu in Chinatown at this new place we had heard about. As we were finishing the errands the car started doing this strange shaking, coughing thing so strongly that I almost had it towed instead of trying to get home. I got very upset because this car has had more problems than any vehicle ever has in the history of time. Seriously. We made it home and proceeded to have a huge fight about our finances mostly due to both being really stressed out about the car. We ended up talking it out and the night ended on a semi-decent note.
I had nightmares all night from the stress and the next more I called a mechanic that had many good reviews online about his honesty and pricing. He took me right away and it turned out to be a crack in my electrical coil so the car was misfiring. Because it was raining Friday night it caused the problem to be very noticeable, you know with water being such a good conductor, so it was arcing all over the place hence the coughing etc. It had cracked because the valve cover on my NEW ENGINE was faulty so it was leaking oil all over my coils. All in all 400 dollars and almost 4 hours later the car runs better than it has pretty much since I bought it. I had given up on the idea of me day but decided I still wanted to try to salvage some of it so I headed off to Target first.
Well I discovered something pretty awesome at Target. I HAVE SKINNY FEET NOW. I told my fiancÚ he is in trouble now because I LOVE SHOES and he laughed. I don't think he got that I am serious and will be going a little nuts in the months to come. Considering how little money I have spent on anything for myself over the last, oh 14 years, I feel I can make up for lost time. The first purchases I made funny enough were workout gear!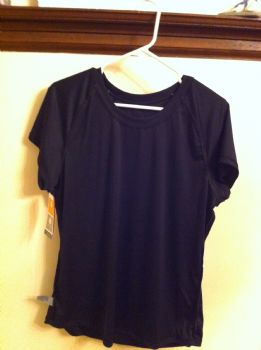 This is one of those moisture wicking shirts. Look how small it looks! The workout gear at Target is so cheap! I will be buying more here in the future, I am positive.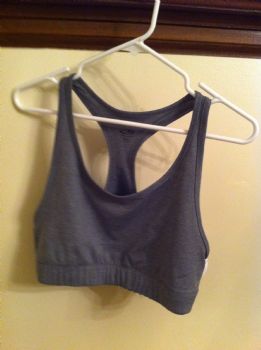 I have been in need of a sports bra. I shrunk out of my other one and i needed more than one anyway. This one is champion and fits so well. Another Target snag.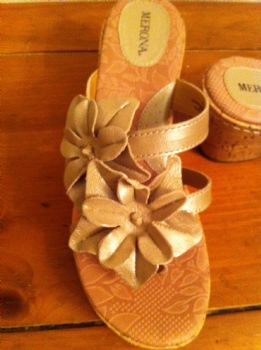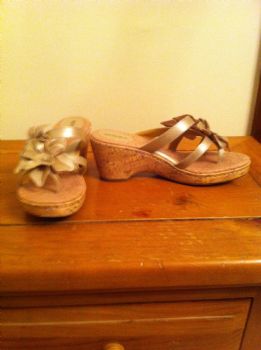 My first shoe purchase with my skinny feet. I put them on and figured they wouldn't fit because they never do and they slid right on! I actually had to buy a size down. I love the flowers and I can wear them to work considering what I do I can have more fashion forward items as opposed to conservative and boring. In the past I would have bought black because I buy everything in black. This time I got this really pretty ivory color with almost a gold shiny quality. I can't wait to wear them! I also picked up some fun springy makeup and other stuff because who can get out of Target without buying stuff you don't need?
This is when the day pretty much went downhill in terms of shopping. At the suggestion of some friends I went to TJ Maxx, Nordstrom's Rack and Kohl's. There is a reason I don't shop at these places and I was reminded as soon as I entered. The stores were packed and hot. This just isn't my style of shopping. There is no thrill in the hunt. I had started to write this blog that was a rant about how awful shopping is for plus size people. It doesn't seem right to me that 40% of the US population is fat but we get 4-10 racks in a store and average size people get 50 plus. The only thing I can think is overweight people just don't shop for pleasure so we aren't as profitable. Also, who designs plus size clothes because I don't know a single one of us that wants to look like an 85 year old golden girls reject but apparently the designers do because that is all they make for us. I left on the verge of tears ready to give up. After all this work I am still borderline plus size and it sucks to have zero options. I decided to try and give myself some perspective and I walked around the average section and looked for things I would buy if they did fit. I realized I may be just looking at the wrong stores because I didn't see anything.
Pier One was a bit of a bust too because they didn't have the pillows I wanted so I got this cool platter that was on clearance and headed home for the day. When I got home I had my first unconscious binge since I started SP. I am not going to tell you what I ate because it was embarrassing and mid-bite I stopped and threw it away. It was a big turning point for me because I realized that stress and anger are my food triggers. It was like I had blacked out. The anger over my car and the shopping set me off. I am proud I was able to see the cause and stop it.
Dinner that night was delicious. We cooked together and I made this delicious crab dish that he loved. Unfortunately he had a rough day at work and fell asleep around 9 but I don't get upset with him over it. He works so hard that it wouldn't be far for me to create drama over something like needing rest.
Sunday I decided to try again so I went to the mall. Everyone and their mother was out. I figured I would go check out Lane Bryant's sales and see what size I am now and go to Macy's and Old Navy. Well they closed the LB! I was pretty mad. Now where am I going to buy anything until I am officially not plus size. GRRRRR. This is why I shop on the internet. Macy's was a nightmare. That store used to be nice. Now it is as bad as TJ Maxx. It was a mess, the dressing room was so filthy I didn't want to change and they had 10 racks of clothes for plus size. All of it was matronly. I left feeling defeated again and headed to Old Navy.
Thank god for Old Navy. Yes, the quality is pretty low but I am not looking for investment pieces. I am looking for reasonably cute and cheap. I realized here I have dropped another size! Yeah! I found some really cute pieces here and was able to salvage the whole miserable experience. As I stood in the dressing room I had an epiphany. I can rail against social standards and be angry that we are discriminated against for being fat OR I can keep doing what I am doing and change FOR ME. Yes, it sucks there are no clothes for PS people but I don't want to be plus size anymore and this body is just a transition. I will earn those average size cute clothes and this weekend gave me the fire to keep at this. Blaming clothing manufacturers for my misery is an excuse. What I am really angry about is my size and I have the power to change that and I am changing it.
Here are my ON clothes.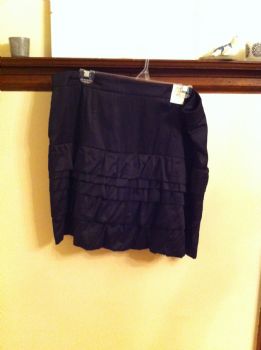 I bought this in a 16. It is one of my short term goals. To fit back into a 16. A size I can buy in almost any standard store. It is much cuter in person.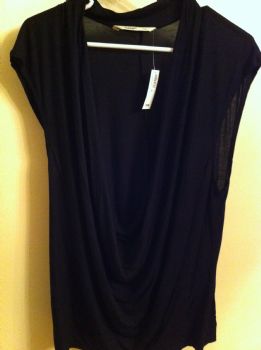 This shirt is SUPER sexy. I love how it fits on me and it will need something underneath but great for going out. As I am finding my style I am realizing I want sexy but not skanky for personal time and girly and feminine for my work life. I haven't ever got to choose my style before and I am still deciding what that is for me and it is a bit overwhelming but also fun to discover.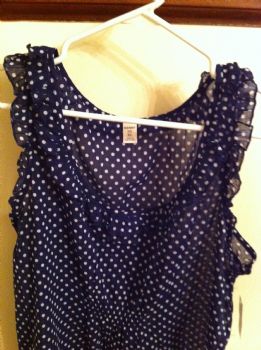 I got this for work. It is classic and flirty and feminine and I was very pleased how it looks on me. Having blue eyes blue shirts look good one me. This was an item I wouldn't have bought before because it would have been to attention grabbing for me. I am tired of being dowdy and in all black. I want to be cute!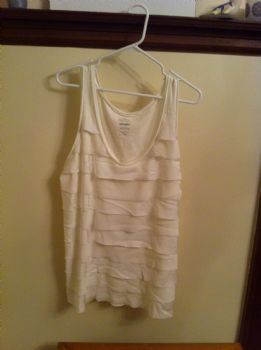 This shirt looks awesome on me too. The pic doesn't do it justice but it will look awesome with a pencil skirt and heels when it gets warmer. The white is a good color against my pale skin, not too stark white.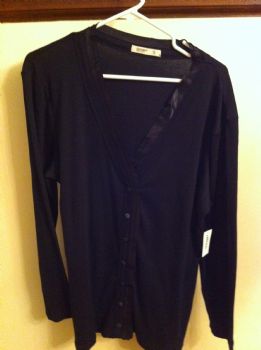 I love cardigans, not sure why, but this one has this satin ribbon that I loved. I did end up getting black because I didn't like any of the other colors. I am wearing it today and love it.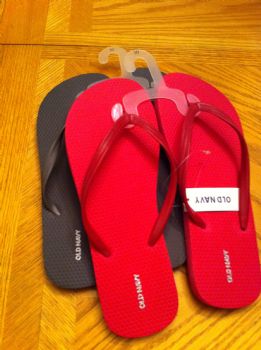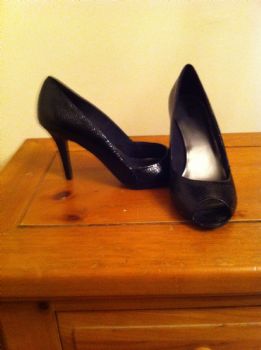 I got some bright flip flops which make me happy as I hate to wear shoes in the summer and here are my uber-sexy snakeskin shoes I bought a few months back. They fit me ever better now. They are hot.
This weekend taught me a lot about myself. First, my healthy life is such a big part of who I am now. The first items I picked out where fitness related and I was excited about them. That says a lot. Second, I stopped my first serious binge and was able to redirect my emotions. Never have been able to do that before. Third, on Sunday instead of seeking out food which is what I always did after a bad shopping trip I went to gym and did ST and ran. Then I had a healthy dinner. I am going to be a healthy weight and size because I want it. The fire inside me is there because I keep giving it oxygen. Every time the world tries to slap me down I keep fighting. Yes, it is hard but it is worth it. I am worth it.