| | |
| --- | --- |
| | HEALTHYASHLEY's Recent Blog Entries |



Thursday, February 17, 2011
They gave me something better. They gave me the tools to save my own life and that is much more valuable. We all the know the give a man a fish he eats for a day but teach a man to fish he eats for a lifetime. That is what this is all about. No quick fixes, no pills and magic potions. Changing my life was not easy. In fact it is one of the hardest things I ever did for myself BUT it is the most worthwhile thing I have ever done as well.
I see lots of people remark how hard all of this is. Duh, nobody said it would be easy. However, living a healthy life is possible. The answers are right here in front of you. Yes, you have to look up articles and read them and decided how it applies to your life. You have to actively implement the information you acquire. No amount of graphs and motivation posters will effect change unless you actually go out and move more and eat healthy foods.
Beyond information the support and community on here is to me the golden ticket that helped me truly stick with this. There have been several hard times for me along this road. When I didn't know if I had the strength to keep going. The scale being stuck, personal tragedy, work stress. So many excuses that I could have easily used to justify candy to myself but it was my friends on here that kept me coming back. The endless support. The never say die. I think it is rare that people in real life truly understand what we are going through but on here there is always someone who "gets it". It makes the world seem a little less empty and lonely.
I don't know where I would be today if it wasn't for SP but I am glad I never have to find out :). Thank you to all of my friends for your amazing support day in and day out. You guys are rockstars.







Wednesday, February 16, 2011
This is one of the single best compliments I have received since joining SP. My whole family is pretty into health and fitness at this point and my mom, who if you haven't read in my past blogs lost a hundred pounds 7 years ago and is a trainer now, is generally the family guru. Last night my brother called her to ask a question about his breakfast and how she felt about it and she stopped and said "Adam, you know what, your sister is really the person to call. She is the nutrition expert." Apparently she feels I have surpassed her knowledge at this point.
Now I am not pretending to have a certification or something like that but I have a significant medical background and I have spent a lot of time researching nutrition and even took Grad courses in nutrition for fun. Even with all that I have never considered myself to have above average food knowledge and I was beaming ear to ear when she was telling me the story. It told her how good it made me feel that she felt that way and she said "Ash, seriously, nobody can rattle off the stats of foods the way you do to me."
For someone who is my role model to pay me that kind of compliment meant more than I can even express. Days like today I wake up and feel a bit bad about myself and my progress because it is slower than I would like and I have to keep reminding myself that I am not "trying" to live healthy anymore. I AM LIVING HEALTHY. There is no perfect and it is ok that my progress is slow because I must be doing something right if the people around me are looking up to me for information. It makes all this hard work worth it if I can help the people I care about live healthy too.





Tuesday, February 15, 2011
I have mentioned before I am pretty all or nothing about exercising. I get OBSESSIVE about my health in all aspects to the point where it isn't fun anymore. Learning to recognize when I get this way and taking steps to find balance has been a big part of changing my life. When coach Nicole wrote her Krispy Kreme blog it was met with some very polar and interesting opinions. While I don't think it is healthy to eat all those donuts I also do not think doing something like that is 1) going to kill you if you do it once in a year and 2) qualifies as a "binge" or makes her some of the horrible things people called her. It made me sad that people reach a point that they can no longer enjoy food for the fun or joy that can be found in it. Yes, for the most part I eat food for the health benefits and the more I get down the obsessive road the more I worry about it. However, that doesn't mean I do not enjoy what I eat. Last night my fiancé told me he just really wanted to get takeout from this place down the street. I could see in his eyes he felt bad because he knows how much I plan our meals etc. It got me thinking about how I was out of balance again. That I could not get takeout once a great while that was unplanned and not beat myself up over it? Honestly it isn't the type of person I wanted to become. Yes, I want to watch what I eat but not completely such the joy out of food in general.
I was able to find a good meal for me and I went about 100 calories over for the day which is something that really freaks me out and gives me terrible anxiety. I almost never go over calories. Life isn't that black and white and neither is your body. There is no 24 hour time clock that automatically shuts off yesterday's 1500 calories and starts for the ones for today. It is about consistency. Fluctuations are normal and to have beaten myself up over it all night was ridiculous. To have made my fiancé feel badly for wanting something as innocent as takeout is a little too much into crazyland for me to be comfortable with. To be one of those people who judge what other people eat the way Coach Nicole was judged is not the person I want to be.
Exercise is also another area I need to learn balance. As I started to see results I got more and more obsessed. Tracking ever minute and wanting to work out daily. Never wanting to take a day off. Doing too much cardio, yes, that is possible lol. I could feel the effects of over training and was getting sore and not being able to work out to my peak level. I need to slow down. The scale progress has been very slow as of late, 1 pound a week with lots of fluctuations. I read on a running website that training can actually halt weight loss because to eat the number of calories to sustain the amount of working out I was doing would slow down the losing. That got me all upset because isn't that why I am working out in the first place? Yes, I want to be healthy and be toned but I also need to lose the fat to achieve that as well. Another example of needing to relax and take a breath and stop obsessing. To find a healthy balance for myself and my life.
I am excited about how my body is changing with strength training and how much better I look and feel. I have so much energy now. To have reached a point where I don't feel like I am faking a healthy life anymore and am actually living one is pretty awesome. Now I need to focus on finding a way to live a balanced and full life with all those elements working together. This really is a never ending process. A friend asked me how I keep doing this day after day and it is easy. My life is better when I am working towards a healthy goal than when i was just sitting around dreaming about it. Yes, it is hard but you can choose the life you want and I would rather be a work in progress than nothing at all.





Monday, February 14, 2011
This weekend was a fun weekend. My fiancé and I really only see each other on Friday night and Saturday because he works the night shift for his full time job as well as about 30 hours at his PT job. Friday night after work I went to whole foods and got a few items for our Valentine's Dinner on Saturday night. Nothing like a really good steak and a bottle of wine at home. Then I went to the gym for some cardio only. We got takeout, the only night of the week we eat out is Friday and I like this grill place near us that I can get just a grilled protein and a few sides so I can minimize the eating out damage. They also make this pork abovada that he loves so it is a win win situation. I didn't tell him everything I bought for the dinner on Saturday because I like to surprise him.
Saturday morning we did our healthy food shopping at the more affordable place and then went to get my shoes! I went to Marathon Sports if you live in Mass and are curious. The sales people are trained to watch you run/walk and then make recommendations based on your needs. Yes, it is pricey. However, I looked up my shoes online after and they were all the same price so to me it was worth it.
Turns out after losing all this weight I don't actually have a wide foot lol. I wear a narrow. I also need a running shoe about 1 size bigger than I wear in normal shoes. Huh, kind of interesting. I knew because I basically have zero arch I need motion control shoes. She put me in asics and as soon as I put them on it was like a cloud on my feet. Yes, it was that dramatic. I was in love instantly. I tried on 3 different pairs and my biggest issue was how narrow my feet are I had a hard time find a pair that didn't slip. I had to go outside and run up and down the sidewalk a bunch of times in the shoes and I didn't get out of breath and sweaty! Yeah for endurance. Huge NS victory right there.
We talked about my weight loss and she said "well as you continue to lose weight your needs will change". 85 pounds ago that comment would have hurt my feelings. Now, I felt nothing because she is right, I am going to lose more and that is ok. Generally you get about 6 months or 400-500 miles out of a pair of shoes and by that time I will be smaller and lighter and she I would need an entirely new style of shoe. Kind of cool to know.
Most of the shoes were butt ugly and I was accepting of the fact that they aren't a fashion statement. My fiancé however was not and since he doesn't run anyway and just needed cross trainers we decided to get them elsewhere. Considering how much all of this came to I am glad that is what he decided lol. I know, evil. Turns out he has flat feet as well and needs an extra wide! Who would of thought. He was made at the sporting goods store because only 2 styles in the whole place came in wide and neither was black. Oh well Mr fashion plate, he had to go with white but after we worked out he admitted he liked them so it was a victory! Here are my shoes!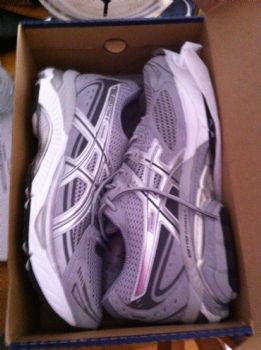 I actually like them looks wise too so I was pretty psyched. I also got these awesome socks my friend recommended. So cushiony and comfy.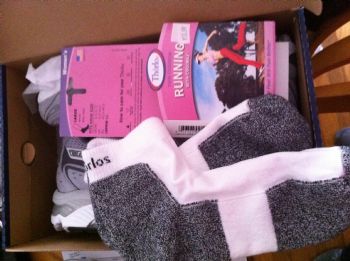 The verdict at the gym was they were worth every single penny! I did have some aches in my arches and balls of my feet but my podiatrist told me as your feet adjust to the correction that is normal and it went away after about 10 minutes. As I get stronger I am sure it will happen less. On my first run I was dragging my left foot a bit but I don't do that in my new shoes. I am VERY VERY glad I got them. My mom almost chocked when I told her what I had spent and I felt badly but after I told her about why I got them she laughed and said "as a kid I always had to spend a fortune on the correct shoes for you, I am not surprised". She still wanted to give them to me as a gift and it made me feel good.
Dinner later that night was FANTASTIC. I haven't been drinking very much lately and the wine was so delicious and the steak, haricot vert and horseradish mashed potatoes was worth every bite. I made a low cal rice pudding and it the first time my fiancé has ever had rice pudding. He freaked out and ate 3 servings. He isn't a big dessert guy so that was a huge compliment. He also put dibs on the rest in the fridge which was fine by me lol.
Strength training these past 3 weeks has really changed my body so I tried to take a few updated pics of myself this morning. I find it hard to do but I wanted to update.
So here I am at 262.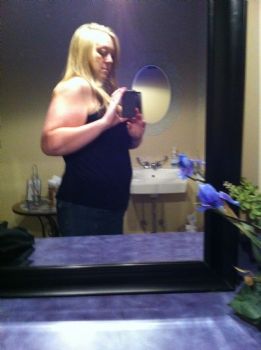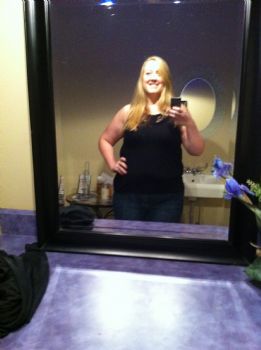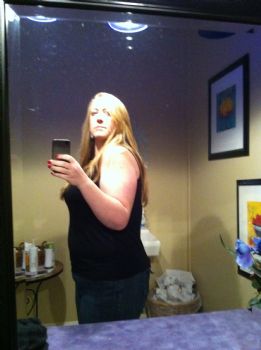 I am trying to be objective and not self critical but it is hard. I am happy with my progress to this point. I dropped about size in the 3 weeks so what more can I ask!






Friday, February 11, 2011
Yesterday was a bit of a whirlwind for me in that I actually signed up for my first 5K and got not just 1 but 3 spark girls signed up with me as well! Way to go girls! If the timing could not have been better SP released their new running page with running programs for all levels. It is like the cosmos told me "Ashley, you will be running. Stop resisting the call of the running". I immediately signed up for the rookie running program and printed it out.
Then panic set in. WTH was I thinking? This is scary and intimidating. I haven't run in YEARS. What did I get myself into? I did not consider quitting at any point because I don't quit. However I got a serious case of nerves.
As I looked over the program I realized this was not going to be difficult for me. I have decent endurance. I am not hugely out of shape and I was going to workout last night anyway so I decided to start the program. As in about an hour from when I downloaded it. Normally, I would have made all kinds of excuses to put it off. I would have laminated the program

, I would have told myself it had to be started on a Monday

, there would have been more excuses but I just am tired of my excuses and don't even want to put in the effort to think of all of them.
So off I went. Ipod freshly charged and butterflies in my stomach. I was going to run, on a treadmill, in front of people. Yup I was intimidated BIG TIME. Honestly, nobody is worried about if my butt is jiggling as I run except me. Well actually maybe the men rather enjoy it

.
Because you rarely actually see me as anything other than words on a computer screen I should tell you I am REALLY good at faking confident. People are usually shocked to learn I am rather shy and used to have very low self esteem because I look like I own the place. It used to be fake but now it is starting to be the real me. Instead of looking for a treadmill at the end to hide on I just strode over to the closest one and hopped on. Started it up and got to it. Yes, it was hard. You wouldn't think walking briskly for 4 minutes and running for 1 would be hard but when your body hasn't done it you hurt in places you didn't even realize. I have totally flat feet and I was immediately reminded why I was not a fan of running when I was younger. My ankles and feet hurt bad but that was it. It made me feel good that my heart rate went into my target zone but never over and I was able to keep a good pace! It felt so good to run. I get it now. Why people like. The feeling of accomplishing this was the best high I have had in a long time. People probably thought I was touched because I kept smiling like a crazy person the whole time. The 20 minutes passed so quickly I couldn't believe it.
My gym stalker was watching when I got off and turned around but other than that everyone else is so self absorbed they weren't even worried about me. I am so used to him now he doesn't bother me. I hoped on the elliptical and banged out another 2.5 miles to finish my cardio and did my ST for my back and upper body.
I was exhausted! When I got home I got the after workout nausea and ate my egg whites and ezkial bread and tried to get hydrated but I am going to start carrying banana's with me to help prevent this in the future. I almost fell asleep on the couch about an hour later. Mentally I felt so good about myself. I called my mom to tell her the good news about my running and the 5k and she laughed (in a good way) and was proud of me. She offered to buy me real running shoes as a gift for doing this! I am SO excited about that. I know I need them to help cut down on the aches and pains. Tomorrow my fiancé and I are going to a specialty store that evaluates you as you run and then recommends different ones for you. SO EXCITED. Then we are making Valentine's Day dinner at home. Benefit of being foodies and married to a chef! Thanks for all the support everybody! It meant so much to me to read all of your stories and wonderful insights. You rock.








First Page
1
2
3
4
5
6
7
8
9
10
11
12
13
14
15
16
17
18
19
20
21
22
23 24 25 26 27 28 29 30 31 32 33 34 35 36 37 38 39 40 41 42 43 44 45 46 47 48 49 50 Last Page

Get An Email Alert Each Time HEALTHYASHLEY Posts