| | |
| --- | --- |
| | HEALTHYASHLEY's Recent Blog Entries |


Tuesday, December 28, 2010
This holiday season had many blessings for me. Although my grandmother was missing from our celebrations she was very specific about her wishes that we not mourn her but celebrate her and go on with our lives. She truly wanted to be with my grandfather and she was ready to go. I had one moment of breakdown in which I sobbed uncontrollably while making her pie recipe but other than that I was able to have nothing but fond memories of her. I realized that I am so lucky to have my fiancÚ who I can not imagine my life without and our 2 families both of which I love so very much. We had a wonderful weekend of celebrating and spending time together. Yes, I really over did it but I am not going to punish myself over it. Today I am back on track and plan to stay there. I threw away all the leftover goodies this morning before snowshoed to work. (Not really lol but it felt like it with all the snow we got) Speaking of snowshoeing I really should give it a try hmmmm. Anyway all the eating and drinking made me reflect a lot on this past 7 months and what I hope to accomplish in 2011. I am not a resolution maker. I feel like they are falsehoods created out of obligation. What I am going to accomplish in 2011 are going to be my reality. No ifs ands or buts about it. MEZZOANGEL wrote a great blog about being happy where she is right now and it made me think a lot about myself. If I stopped today, would I be happy here, and the honest answer is no. I am not ready to stop. I am less focused on a number as a goal but just a feeling. I want to put on pants and not have a muffin top. I want to put on a shirt and not worry about it sticking to my belly. I am not going to lie and say I don't care about being in a bathing suit. I would love to be able to go to the beach and not feel like a freak. I don't think I am going to be a super model by any means but just to feel normal would be great. My ex husband was a fashion photographer and after seeing what a lot of those women look like in real life it helped me to realize NO ONE looks that good. They are all airbrushed and know how to pose for their best angles. I just want to be in a place where I feel comfortable and can get dressed to go out and not end up in tears every time. I am not there yet.
I am going to get to that place this year. My grandmother's greatest wish for me was to be healthy and happy and I am doing it not just for me but for her as well. She was proud of me for getting as far as I did before she passed and this year I am going for goal. So I say to you my amazing SP friends. Come with me. Lets accomplish our goals this year, whatever they may be. We can do it. Thank you for all the support this year. I am excited to see us all accomplish our dreams in 2011. Hugs, Ash





Tuesday, December 21, 2010
It is so crazy this time of year for us that I am a few days late with this blog but here it is anyway. My fiance gave me a pretty rockstar birthday this year. I picked him up from work at 6 AM and we went home to sleep for 2 hours and then piled into the car to head to the mall to do our Christmas shopping and get my birthday present

. Every year I swear I will shop early and end up running around at the last minute. Case in point I still have items to pick up today. Shocker.
We arrived just as they opened and were able to find parking, score, and we headed over to Coach. The line was maybe 300 people!!! I couldn't believe it. We laughed and I said I had no intention of waiting that long and I could get my present after the holidays. We went to a few other stores and looked around but honestly didn't find much. I refuse to buy just for the sake of buying so it was rather disappointing. After an hour or so we circled back by Coach and the line was down to maybe 30 people so he insisted we wait. He stood outside for 45 minutes just to buy me my present in the freezing cold and on around 3 hours sleep total. He is pretty freaking awesome. I am very decisive to we did a quick lap and I had the bag I wanted.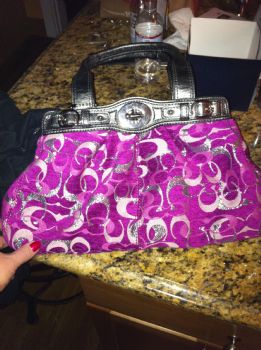 I LOVE IT.
We headed home and napped together all afternoon. I had the intention of running some other errands but I was tired too and we only get 1 day a week off together ever so I ended up falling asleep and not getting up until almost dinner. We got all dressed up and headed out for sushi. I didn't take a pic of us. I was tired and not feeling great and just didn't feel like a photo op. We ordered a bottle of wine, an oyster appetizer (I have a serious oyster obsession) the sea conch special and some sushi. It was all totally amazing and delicious.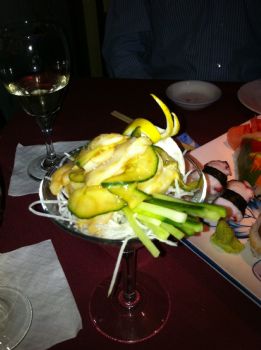 This is the sea conch. I love the presentation. We both like to try something new when we go out and this was not a hit. Glad I tried it but this is the second time I have eaten conch and I didn't like it either time so I think this will be the last.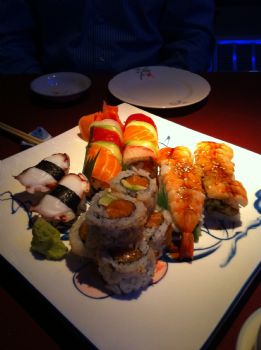 Our nummy sushi. I am seriously obsessed. It was SO GOOD.
After we decided to walk a few blocks to a local dessert specialty restaurant where he had ordered a miniature cake for me and got cappuccinos. PERFECT end to dinner.
Here is my Ultimate Chocolate Mini Cake. Isn't it gorgeous?!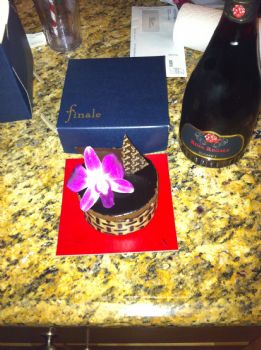 Worth every single calorie. We also enjoyed the bottle of sparkling wine my brother got me. A bit sweet for us but I liked it overall.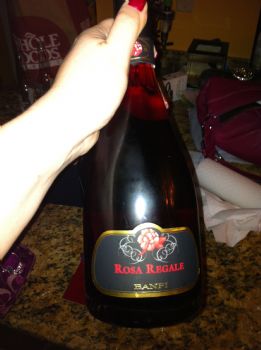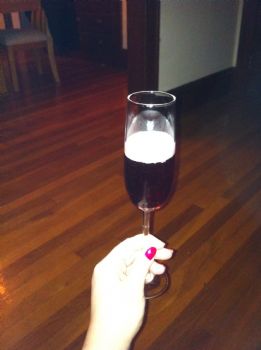 We snuggled up on the couch and watched Christmas movies. It meant a lot to me that despite how tired he was he went out of his way to make me happy. One of the best days I have had in recent memory and I feel really lucky to have people who love me so much in my life.
Thank you to all of my amazing SP friends who sent me such wonderful messages and love. I really don't know what I would do without you. Love, Ash





Friday, December 17, 2010
A few days ago I posted a blog about being upset with my fiancÚ regarding my birthday. For the most part I got wonderful supportive comments with a few condescending ones thrown in. Yes, I am sensitive person. I always have been and for some reason people seem to feel it is ok to openly criticize me for it. If I hear one more time "you are too sensitive" that person is going to get an earful. ALL of us have our issues. Mine stems from being screamed at on a daily basis for the better part of 22 years. If you kick a dog enough times it flinches when you try to pet it. That is me. My fiancÚ was shocked that at times when he would reach over to touch me I would jump. It's reactional and not something I have control over. It takes time and effort to heal deep scars. I deleted the blog not because someone said something to me but because I wanted to think about it on my own without anymore discussion. It also made me think about how I respond to other people's blogs. It is easy to click on an interesting title and make assumptions about someone else based on a few paragraphs but the reality is you know almost nothing about that person or their situation. It can be very easy to project your own personal issues onto someone else because a few words they used create a reaction or remind you of a personal situation. In all honesty I have read blogs and immediately been annoyed by something said or the way they said it but words are like swords. They have a lot of sharp edges and when used with skill they can be quite beautiful and artistic but when they are used sloppily they can do more harm than good. There were a few references to my fiancÚ as "the boyfriend" and how I shouldn't care what "the boyfriend" is doing and just do my own thing. I felt that reducing my life partner to nothing and basically calling him insignificant was hurtful and ignorant. It offended me deeply. Yes, you can again say I am sensitive but this is a person who knows nothing about me making very strong statements about who I am. I am not a women who can't be happy without my significant other at all. However, that doesn't mean I don't have the right to be hurt or upset about missing him all the time. He is my best friend and we both work opposite shifts and work 50 plus hours a week. We have very little time together. In a whole day I see him for 2-3 hours. I am lonely sometimes. Yes I have friends who I see on a regular basis but that doesn't mean I don't have the right to want to spend time with my husband. To me we are already married the paper is just a bonus. To trivialize that is cruel.
I talked with my mother for close to 2 hours that night about my abandonment issues. I am estranged from my fathers side of the family, they are all like him and I chose long ago to not be associated with their toxicity. My mothers side was torn apart by my uncles fighting over my grandparents money. I basically have an aunt, my mom and my brother. My cousins all moved very far away to get away from the fighting so I never see them anymore. To have someone tell you literally tens of thousands of times you are not wanted is psychologically damaging. Yes it is something I work on but I don't know that I will ever be able to move on completely from the damage. It is hard for me to attach to people because I don't trust anyone. When I do finally figure out people won't abandon me I am fiercely loyal and you have a friend for life. I used to hide my desire for approval behind anger. I was quick to be judge and criticize because I was always in defense mode. "You can't hurt me if I do it first" It doesn't win you many friends I can tell you that. It made me become a people pleaser because I desperately needed anyone to tell me I had value. I decided to let go of my anger with my fiancÚ about his telling them he would work on Friday and just tell him he hurt me a lot. Anger will destroy trust and respect and he deserves better than that. I was too hurt to talk about it during the day but before he went to work that night he knew how much he hurt me and he sincerely apologized and I could see on his face he truly felt badly. It told him everything I was feeling and why, no accusations, no you did this and that. Just simply that I felt abandoned and that I support his working weird hours all year and I felt disrespected and dismissed. He told me that he accepted the shift because January is very slow in our industry and he was worried about money and our savings but after he said he would do it he remembered that I had cancelled my own plans and he felt awful about it. We were able to find a resolution that we both felt better and were able to let it go. One of things I love about him is he is willing to put the same effort into this relationship that I am. Communication doesn't come natural for him but he tries and that is all I can ask.
I thought a lot that night about boundaries and setting them with people in both real life and on sparkpeople. In the morning I had to meet a client for whom I am planning a black tie dinner and I will be honest, she intimidated me. She owns this enormous multimillion dollar brownstone in downtown Boston and I felt for some reason I was not going to look good enough to plan her event and when she met me she wouldn't want to work with me. I don't own a great deal of clothing anymore because I keep shrinking out of them and I just am tired of buying them. When I knocked on her door she opened it in her pajamas, teeth and hair unbrushed and it took me aback for a second. I felt so stupid for letting someone intimidate me and letting me feel like less of a human being for stupid reasons. RJ4HEALTH sent me a great email about setting boundaries with people and it really helped me. This wasn't something I didn't know but I wasn't doing it. I wanted to share my journey with so many people because I wanted to try to help and I realized I am giving of myself too freely. I can't help anyone if what I am getting in return is damaging to me. Yes, people have the right to their own feelings and issues and I don't judge them for it. I understand why losing that last bit of weight can be frustrating. The problem is I internalize their words too easily. So what if I am "too sensitive". This is who I am and I have decided that until I am further along in my process I am not going to read blogs of people I don't know anymore. It makes me sad but unless I know them well enough to understand their situation and humor it is doing me more harm than good. I need to take care of me and the people who support me on a daily basis. Spreading myself too thinly isn't healthy and this is about regaining my health.





Tuesday, December 14, 2010
So here he is. The other love of my life.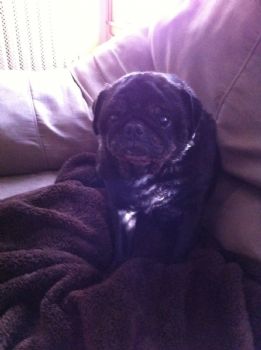 I have had him since college and he is a little old man now. He sleeps on the couch all day like prince of the house. I don't know what I would do without him. Just had to share his supreme cuteness with you all.






Tuesday, December 14, 2010
This weekend was an interesting affirmation of why I have been doing this. Lately I have been feeling "fat" again. What does that translate too exactly? Well I went from an apple shape to an avocado, why do we have to use food references for shape even if they are still healthy foods??? Anyway, I am feeling VERY bottom heavy. I am very happy with the top of me. When the boobs started to disappear I got a bit panicky but they have stopped doing that and I am happy where they are at. The spare tire and hips are what is really chipping away at my self confidence. I really don't care what my numerical weight is anymore when I get down to a healthy size I just want the tire to go away. That is when I will stop. Clothes are starting to actually look good on me and I am learning how to dress my body type. I get excited when I can get into smaller sizes but just because I can get them on doesn't mean they are flattering so I am worrying less about the size on the label.
Saturday night my friends took my out for my birthday a week early. My best friend is going back to Colombia for his sister's wedding, which is on my birthday, so we decided to celebrate before he left. I went shopping that morning for my fiancÚ, he needed a work shirt and is working 100+ hours a week so he didn't have time to buy it himself, so of course I had to try a few things on as well :). I have learned clothes can look so different on the hanger so I tried on this very simple V-neck shirt that was a bit flow. It LOOKED AWESOME. I bought it and this cami with a delicate lace detail around the neck that is so not me but I am trying to step out of my shell.
I wore my new shirt with some jeans that look really good on my new body, cute boots, blew out my hair, and I was feeling pretty hot. That doesn't happen often but it should. I went to the grocery store on the way to meet my friends and let me tell you it was a bit overwhelming. Men where literally falling over themselves to help me. Men in line where smiling at me and asking me if I needed help, the manager came over and asked me if I needed anything, old men where smiling and winking at me when I walked by, women were glaring at me (I have decided I am not longer letting women be the enemy so I smile back, we should all appreciate each other!). Honestly it bordered on creepy. This is the first time I have experienced this and it made me feel awesome but it also made me a bit sad. Do I really have more value because of what I look like? No. The harsh reality is looks do matter a great deal in our society. Life is easier when you look good. All this time I have been saying it shouldn't matter, that I don't care what people think of me but I do care. It is nice to be appreciated. To not be looked at and ridiculed for being heavy. To just feel like a normal woman having a good hair day. I hope as I adjust to my new looks that I am able to reconcile this. I used to tell my ex husband you can tell when a person used to be really overweight because they look at you, not through you. People who have never had a weight problem tend to look through morbidly obese people, like you don't exist. I vow to never become a person who values myself or other people solely based on looks because I know how much that hurts.
This was supposed to be a happy blog, damn my over analytical brain. Nights like this are what is keeping me going. I might not be losing as fast as I would like but I am doing it, period, and I am NEVER going back. With every pound that melts away I am rediscovering me and I like myself now. I never thought I would feel that way. I LIKE MYSELF. What this all boils down to are those words. When we choose to stop punishing ourselves and hating ourselves we will be free. It is all about self love.



First Page
1
2
3
4
5
6
7
8
9
10
11
12
13
14
15
16
17
18
19
20
21
22
23
24
25
26
27
28
29 30 31 32 33 34 35 36 37 38 39 40 41 42 43 44 45 46 47 48 49 50 Last Page

Get An Email Alert Each Time HEALTHYASHLEY Posts