| | |
| --- | --- |
| | HEALTHYASHLEY's Recent Blog Entries |


Wednesday, October 27, 2010
I have been doing my best to put on a happy face but I just can't anymore. My grandmother was diagnosed with colon cancer 2 years ago and she is in the final stages of hospice right now. They told us a few weeks ago that they didn't give her much longer. She can't keep food down and they have her pretty heavily medicated most of the time for the pain. Last week my mother who is very physically fit went in for an annual physical and was told she had severely high blood pressure and was diagnosed with gallstones. After all the tests they determined the blood pressure is due to the stress of what is going on with my grandmother.

On top of all this work has been a nightmare lately. My job is to go out and acquire clients. I get paid only by what the client buys. I can not tell you how many problems have occurred recently that I have no control over that have resulted in the loss of clients. If the kitchen makes a mistake I am the one who loses out, not them, and it has happened so much that I am at my wits end. I feel like I was lied to when I started this job about what this place is really like and the projections of what I would get paid. I was told integrity and honesty were the foundations of the company and I am really feeling like that is not the case at all. The other salesperson is passive aggressive and tries to poach any client of mine that calls the building so I feel like I am constantly on the defensive. This isn't how I want to feel everyday.
I also have no time for SP. I track etc but not to offer the support and friendship I want to be able to give to all the wonderful people who give it to me. I don't really know what to do. I just want to sleep all the time which I am sure is a coping mechanism. At least I am not resorting to food to destress. I just want to sit here and cry right now.
Oh and I fell down my front stairs this morning. If that wasn't like being kicked when I am down. I am ok except I twisted my foot pretty bad. Uggh






Tuesday, October 26, 2010
In the SP world it can be easy to get swept up in the we have to be positive at all costs mentality and while I think a huge part of this is being positive there are also a lot of negative feelings that come with the territory. It is necessary to acknowledge those feelings but what is more important is how you deal with them.

I am not going to pretend this is easy. If changing your life was easy and all sunshine and rainbows than everybody would be thin and it wouldn't be called a diet, it would be called super happy fun time. (Although that is a rather long name lol). I know some people freak out at the word diet but it has many meanings in the dictionary. My favorite was "a regulated selection of foods". When you look at it like it doesn't seem so scary to me because that is what I am doing. To pretend it is isn't hard or to feel ashamed to admit that it is will eventually lead to failure. I read so many blogs that start with "I am sorry for being negative" or "I am sorry I am whining". It is ok to put those feelings out there but then turn them into a way to keep moving. Negativity is not okay when you use it as an excuse. "Oh well, today sucked so now I am going to have 3 cookies. Well now that I am eating crap on a daily basis and justifying it why am I not losing weight? It must be that working out is doing nothing so now I am going to stop working out and keep eating junk because I am mad". I have been there and I have made all those justifications to myself.
Now, in our new lives, we can say "today was rough and yes I stress ate a few snacks in the office break room but I learned a good lesson. I need to pack my lunch and plan ahead". At first it was hard for me to be able to get past mistakes. As soon as I wasn't perfect my fear of failure was so strong I would quit. I used the wrong sources of validation, ie the scale alone, be my guide for success. I ran up the stairs yesterday when I went to meet my new client. Wait, read that again. I RAN UP THE STAIRS IN HEELS. 8 Months ago I had to take the stairs slowly, climbing up each one with both feet because my knees couldn't support my weight as I went up to the next step. I used to make sure none of my neighbors were around so they wouldn't see me. So, the next time you are feeling down and are afraid to express those feelings remember, we have all been there. Look for the awesome things happening in your life as a result of your new good habits and find a way to see a way to turn it around. If I can do it. We all can.






Monday, October 25, 2010
Sounds like it could be a real condition right hehe? Have you ever heard of how people after they experience the lose of a limb say they still feel it there even years after the loss? That is kind of how I feel sometimes. After losing 73 lbs I am quite a bit smaller but I don't feel that way.
Before I used to barely fit in a booth or worry at a restaurant if the seats were too close to another table.

Now when I go to sit down I still do the strange suck in and contort in weird angles to get into the seat and.... there is a foot of space extra. People must look at me like I am a weirdo.

Before I used to have to turn sideways to get past someone or smash myself up against the wall in fear of ridicule

Now I can comfortably walk past someone in the hall and there are no issues but I still try to squish out of the way

Before my dog or my fiancé couldn't lay next to me on the couch because there was only a few inches to the edge. This was one of the things that was the most upsetting to me.

Now when I sneak the dog onto the couch when my fiancé isn't home

there is room for him and me and plenty more space beyond. Last night when he hopped up I smashed myself up against the back of the couch and sucked in and then looked down and was genuinely shocked by how much space there was.

Before when we would sit next to each other I would spill into his seat and still not be comfortable. He sweetly always pretended he just liked to be so close to me.

Now we have plenty of room and then some and my knees don't ache anymore from being stuck in the same position.

Before I automatically grabbed the largest size on the rack.

Now I still have the instinct to grab the largest size but intellectually I know I am much much smaller so I grab the most recent size I have been wearing and the next size smaller.

I still most days don't see myself as different. I went to have coffee with a girl friend of mine and she hadn't seen me since I started SP. She could not believe how different I look. I still have days where it is hard for me to see it because I still feel like the fat is there. Whenever I feel like this I put on my old pair of big pants and laugh at how big they are on me. I even am down another pants size which made me happy because I have been feeling like I am so bottom heavy. I wish fat was lost all over and not in some strange fun house random way because I really wanted little boobs and a big butt (yes, that is sarcasm). I even had to give up my trophy 7 brand jeans that I bought when I first lost the big chunk of weight. I was so emotionally attached to them but I finally had to admit as much as they meant to me they weren't flattering and someone else should get to appreciate them too. I am glad they get to continue to make someone else happy as well. It made me realize I am more than a number on a scale or a size in a pair of jeans. It also made me realize that this fight will not just be about losing the weight but fighting against my perceptions of myself.






Thursday, October 21, 2010
Yes, this is a 2 blog kind of day. The wedding is in January of 2012 in his home city of Medellin, Colombia. I plan events and weddings for a living so you would think I would have it all figured out but I just haven't felt like thinking about it. I realized after a bit of time on here it was because I didn't feel good about me and a wedding would focus so much on my appearance. After watching "Say Yes to the Dress: Big Bliss" this season I was even more determined to be able to buy the dress of my dreams regardless of the size. I refuse to have to stuff myself into a dowdy gown because I couldn't deal with my emotional eating. Don't even get me started on how I felt that show exploited those poor women. It was sad to watch. Anyway, I am VERY picky and rarely see things I like but when I saw this dress on TV I knew it was the one. Too bad for me it is designer and 3800 dollars. My fiancé said if I really wanted it he would buy it for me but I just feel like that is too much money for something I will wear once. I would rather buy something for our house or upgrade our honeymoon etc. I am hoping I can find it cheaper or find something similar when I got shopping next spring. So what do you think?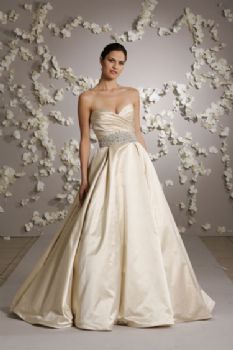 I love everything about it. It is elegant, I love the color, I love the bling, it is sexy but not overtly.






Thursday, October 21, 2010
Thanks everyone for voting my blog yesterday a popular blog! It made me so proud to read all of your amazing supportive comments. I have worked hard to get here and it makes it even better to have so much love and support. Several comments mentioned my fiancé is hot and, yeah he is, and it made me think a lot. In fact, I was mentally writing this blog on the elliptical last night as I did sprints. Makes the time go by faster when you are lost in your own head.
Yes, my fiancé is hot, like really hot. Girls and women alike stare at him, constantly. The first thing my mother said to me when she met him was "wow, Ash, he is gorgeous". It is nice to hear but what I never told anyone was how hard it is to be the woman with a really hot guy. Some women are shameless and I can not even tell you how many times girls would hit on him right in front of me. I mean literally act like I was not even there. Why I fell in love with him was actually that he is as wonderful of a person as he is attractive so his looks are just a bonus to me but he doesn't see himself as "the hot guy" so sometimes he wouldn't even realize they were coming on to him. He is a bad liar too so I would know if he was just saying that to make me feel better. What hurt the most was when I realized these women were doing it because they assumed he couldn't possibly be with me. How could a guy who could have them want a morbidly obese woman? I cried many nights over feelings like this and my jealousy issues almost were the end of us. He has been supportive and understanding of my self esteem issues but how much can one person take before they can't take it anymore? We came close to finding out. Any woman who looked his way would instantly send me on a jealous tirade in my head and lead to me picking fights. I would obsessing look at his facebook and look at his cellphone records. Yes, all of this is humiliating and I can say I never behaved like this before. My ex husband even had a best friend that was female and I was never jealous of her for a second. One day my fiancé told me as gently as possible that he was feeling suffocated and I needed to figure out a way to get past this. That he loves me and only me and he needs me to stop suffocating him with my fear he would leave. It was like a slap in the face. I thought about this constantly and it was the push I needed to start losing weight. I realized that until I made myself happy with me I would never let this go. At my biggest I had stopped dressing nice, doing my hair, I only wore makeup when I saw him and it was eating at my self esteem. I always was a girly girl and to literally look in the mirror and not see myself anymore was crushing. Honestly, in size 30 how cute could I look?
Taking charge of my health has done so much more for me than improve my looks. It improved my soul. The gym is like my therapy. There is no drug in the world better than a runners high. I obsess about it when I used to obsess about tiramisu. I am obsessed with window shopping but I rarely buy now because it won't fit in a month. That just made me smile. I don't even remember the last time before SP that I shopped for fun. Now I go in stores just to try things on. I buy fun makeup just to play with and it feels great to have the confidence to be back to indulging my girly side. The best part, and the point of this post, was I have been able to let go of my jealousy. Feeling better about myself and finding my self worth has allowed me to feel I have value and not that he is going to find someone better just because they are thin. I learned to stop making my issues his issues and to stop seeing other women as the enemy. Yes, there will always be shallow people and people who don't respect your relationship but trusting myself and trusting my partner will get us through anything. I am done letting myself inferior to other people because of my appearance.



First Page
1
2
3
4
5
6
7
8
9
10
11
12
13
14
15
16
17
18
19
20
21
22
23
24
25
26
27
28
29
30
31
32
33 34 35 36 37 38 39 40 41 42 43 44 45 46 47 48 49 50 Last Page

Get An Email Alert Each Time HEALTHYASHLEY Posts