| | |
| --- | --- |
| | HEALTHYASHLEY's Recent Blog Entries |


Monday, September 13, 2010
It all started Saturday night. My fiancÚ finally has weekends off with me so for our first Saturday together we went to the gym first thing in the AM (yeah for both of us, he is living healthy now too and I am so happy) and busted our butts. Then we went to do some electronics shopping for him because we really needed a huge home theatre thingy that I can't even figure out how to use the control

. Then we went to Target and saw Machete, it was hubbies turn to pick the movie. It was awesome and a great social commentary which surprised me. So by that point we were STARVING and he wanted seafood. The restaurant was packed and the sushi place was closed to we went for Korean BBQ which I love! Mmmm Bulgogi and kimchi, nom nom nom. Dinner was fabulous but the tables are fixed into the floor with the grill in the middle. I used to have to squeeze in the booth and it made me feel self conscious. When I sat down I realized I barely am half way to the table now. I just stared at my lap in astonishment. Even he noticed it without me having to point it out. It was so amazing. Then this morning when I got up it felt like fall and I thought, YEAH I can wear boots today. I grabbed some new straight leg jeans a friend gave me and I started to put them on thinking they couldn't possibly fit yet. They fit perfect and were a tad big in the waist

. When I looked in the mirror I realized for the first time I can remember since high school I could see my rib bones. WTF is that!? When I stand up straight and "engage my core" you can very clearly see rib bones sticking out under my bra. I did it about 20 times and just kept staring in amazement. I am going home tonight and running in and ripping off my shirt to show the man. This is one of the most exciting things I have experienced in recent history. Honestly, it surprises me at this weight I am having victories like this. I know I am tall but I feel like I am still way too heavy to be the size I am and seeing the bones etc that I am. Times like this make me think about why did I live so unhappy for so long?? I can't wait to see what the next 10 lbs off brings me?!





Sunday, September 12, 2010
I have mentioned a few times that I have been thinking about a blog series regarding relearning to cook. For the past few weeks I have been thinking about how I want to do it because I didn''t to start something I couldn't finish or did half way etc. Last week I decided to get going on it and then I realized it was a holiday weekend and probably not the best time to start something new. So here it is, the very first relearning to cook blog.
You see, food is my life, literally. I am engaged to a chef, I write menu's for the catering company I work for as I run the corporate catering division, I plan parties and events and I love to cook at home. I am one of those weird people who love grocery shopping because I love to see what is new and available. It is actually relaxing. Don't even get me onto farmer's markets, it is my own idea of paradise, and I am a religious watcher of the food network.
When I started SP I got angry. I felt like I would have to give up my love of food and restaurants. Then one day I was standing at my stove grumbling to myself about being healthy and I thought, why am I not making this another food adventure? I put so much time and effort in food in general, why not just put that same energy into healthier foods? It isn't like this is something all of you don't think about as well. So here are my rules...
At first I was only going to alter recipes and make a comparison but honestly that is way too time consuming to do all the time so I will do that but I am also going to make existing recipes that claim to be healthy and see how they turn out.
I will rate them on a 1 to 5 scale for...
Taste
Visual appeal-who wants to eat something that looks like cat food?
Texture
Time to make-I also don't see myself spending 5 hours to cook something on a week day
Difficulty-both in skill level and in aquiring the ingredients
Portion Size- nothing is more annoying than realizing the portion was not filling at all
I will also post the recipe and photos.
I am always looking for good recipes so pass some along to me if you would like that you might feel deserve to be lightened or that you just think are pretty awesome.
Also please feel free to let me know any parameters you think deserve rating as well that are within reason.
Please remember cooking is not an exact science so feel free alter things anyway you think will work better for you. I chose Eggplant Parmesan because it sounds like it can't be healthy with cheese being in the title, it will provide me with several freezeable portions for work and nights I don't wish to cook, it is vegetarian and even though I am not I am eating at least 1 meal a week that way now (need to work on saving the planet and my health), and it got a killer rating on cooking light. So here we go.

Recipe: Yiels 10 servings, serving size is 1/10 of the pan
Eggplant:
2 large eggs, light beaten
1 Tbsp Water
2 cups whole wheat panko (I could not find these at a normal grocery store so I just used regular)
1/4 cup fresh grated parmesan cheese
2 (1 lb) eggplants, peeled and cut crosswise into half inch-thick slices (I didn't bother to peel it as that is where most of the nutrition in eggplant exists and I like the taste of the peel)
cooking spray
Several people have mentioned not liking or never having tried Eggplant. You could certainly use zucchini or portabello mushrooms for a veggie substitute, or chicken breasts pounded out for a meat option. Just remember this will change your cooking times. I hate eggplant normally but for some reason I like eggplant parm.

Filling:
1/2 cup torn fresh basil
1/4 cup grated parmesan cheese
1/2 tsp crushed red pepper (if you family doesn't like spicy food leave this out, I did not think it added significant spice but if you aren't spicy people it isn't necessary)
1 1/2 tsp minced garlic
1/4 tsp salt
1 (15oz) container part-skim ricotta cheese
1 large egg, lightly beaten
4 oz thawed and drained frozen spinach (this was not in the originial recipe but I just love spinach and I wanted to boost the nutritional value of this recipe)

Remaining Ingredients:
1 (24 oz) jar pasta sauce, I try not to use jarred things as much as possible to avoid sodium and sugar so I made the sauce myself. It was also a cooking light recipe and was DELICIOUS so if you want the recipe let me know and I will post it. If you don't have the time for sauce making Muir Glen makes great healthy sauces
1/4 tsp salt
8 oz thinly sliced mozzarella cheese
3/4 cup finely grated fontina
(I bought a pregrated reduced fat italian cheese blend that worked great to save time and money on the last 2 cheeses, much easier and cheaper in my opinion. It was a 2 cup package and I just used half)

1. Preheat oven to 375 degrees bake.
2. To make eggplant combine 2 eggs and 1 Tbsp water in a shallow dish. Combine panko and 1/4 cup parm cheese in a second shallow bowl.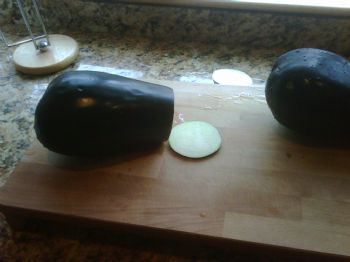 These eggplants where huge, I really only needed 1!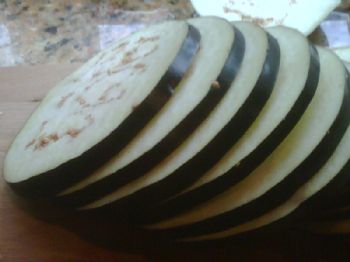 This is how thick I sliced it.
Dip eggplant in egg mix; dredge in panko mixture, press gently to make it stick. Place eggplant 1 inch apart on baking sheets coated in cooking spray.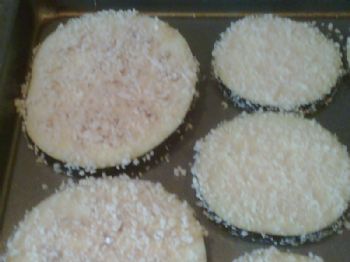 Bake at 375 degree for 30 minutes or until golden brown, turning once and rotating baking sheets after 15 minutes.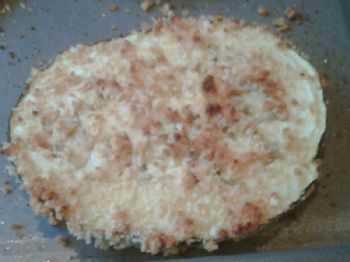 Here is what it looks like all toasty brown.
3. To make filling combine basil through spinach in a medium sized bowl.


This is what it should look like
4. Assemble, spray 13x9 inch baking dish with cooking spray and spoon 1/2 cup of sauce into bottom. Layer half of the eggplant slices over pasta sauce. Spinkle eggplant with salt. Top with about 3/4 cup of sauce; spread with half the ricotta mixture (I just used my hands to kind of smear it around, worked fine lol) and top with half of mozzarella cheese and fontina, repeat.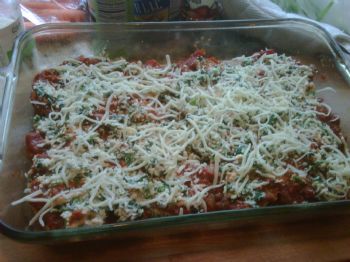 Cover tightly with aluminum foil and bake at 375 degrees for 35 minutes. Remove foil and bake another 10 minutes to brown the cheese.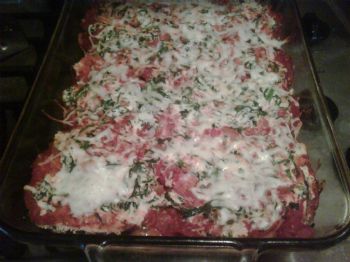 Finished Product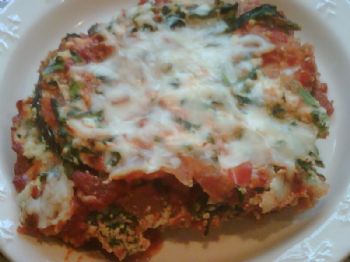 A serving
Nutritional values
Calories 310; fat 15.1; cholesterol 99 mg; calcium 365 mg; carbs 26.8g; sodium 655 mg; protein 19.3 g; fiber 4.8 g; iron 1.6 mg
Because I made the sauce this sodium value would be lower, the addition of the spinach would also increase the iron and fiber content but not significantly alter the calories.
Rating
Taste- 5, this was delicious, hardy and comforting. Even my fiance who never likes Italian food raved about it/
Visual appeal- 4, Looked yummy, like the traditional.
Time to make-3, It was very time consuming. The recipe overall with prep etc took over an hour so I would say this is not for a busy week night.
Difficulty-2 skill, 2 for difficulty in finding ingredients. While I wouldn't say this is basic cooking, I don't think it was at all difficult and a breeze for a good cook. The only thing I couldn't find at a local chain grocery store was the whole wheat panko. If I see some I might pick them up somewhere but just too much of a pain to track down.
Texture-5 just like the traditional.
Portion Size- When I read the recipe I thought the portion sounded kind of small but I was surprised by how filling it was. When I finished my piece I really didn't feel any hunger. Add a nice salad and this is more than a generous meal.
I plan to freeze the rest and take some for lunch.
Overall, for my first blog, I would say this is a keeper recipe!





Friday, September 10, 2010
http://shine.yahoo.com/channel/beauty/at-l
ast-new-york-fashion-week-caters-to-fu
ll-figured-women-with-an-all-plus-size
-show-2388854/

It is about time that we celebrate women's beauty regardless of a number on a label. How exciting!





Tuesday, September 07, 2010
Here is the dress I blogged about last night. I could not seem to get a picture that does it justice. This was the best I could do. I feel so gorgeous in this dress. Every girl in my office today told me I looked stunning and one lady just stared at me and told me I looked absolutely lovely. I thought that was such a great compliment. I didn't even want to take it off tonight when I got home. Here is the link to it online if you want to see a better pic.
www.lanebryant.com/dresses-skirts/dresse
s/ponte-knit-drape-neck-dress/4031c138
73p65491/index.pro?Mcatn=Dresses&Mcatp
n=Dresses+%26+Skirts&Mcatg=category_ro
ot&Mcatp=cat_4031%406000&Mcat=13873%406000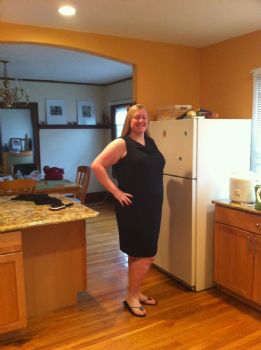 Monday, September 06, 2010
I wrote a blog a month or so ago about the joys of my first shopping trip that I have enjoyed in recent memory. Clothes fit, no tears, it was pretty awesome. My second attempt at shopping, not so much. I went to Kohl's and I have to tell you the inferior quality of the clothing really does impact how everything fits. I felt like an obese freak in everything. The clothes just hung horribly. Just 2 months ago I would have left there in tears, a self defeated mess convinced I was too fat to ever buy normal clothing.
I sell catering which also means I am a party planner. Looks are very important in my line of work. I made a decision this past week that I will just buy nicer clothing but less pieces so that I can still look sharp without going broke. At first I wasn't going down in size very frequently but this past weekend my hunny and I decided to hit the labor day sales. My clothes have gotten so big that some are just literally falling off and belting them makes me look ridiculous. I had to face the fact that I desperately need some new items. Would you want to buy a 40K wedding from someone who looked like a hot mess? I wouldn't. So off to Lane Bryant we went. I have a love hate relationship with the good old LB. See I hate her because I feel like she is a symbol of being too fat to shop in an average store but I like her because the quality is generally good and I can find basic pieces there that are less golden girls than say Macy's. I did some window shopping on the website before hand so I could see what I was looking for. There was this really elegant black dress that is still sexy but work appropriate but still could be used in my personal life that I loved.
I still have that syndrome where I automatically grab a 28 off the rack even though I am not even close to that size. I wish my mind would catch up with my body a little faster. The biggest size they had was an 18/20. I turned to walk away and then I thought "what do I have to lose? It might fit". I grabbed it and other shirt dress I liked as well as a few sweaters and some dress pants. I tackled the dress I wanted first. I took a deep breath and pulled it over my head and guess what? IT FIT! Not only did it fit but it looking FLIPPING AWESOME. I froze and just stared at myself in the mirror. This is again the smallest size I have purchase in my whole adult life. Picture me break dancing in the dressing room.

I am still in shock over it. A size that is in the teens! Woot woot. I went out of the dressing room to show the man who was dutifully sitting in his man chair and his eyes lit up. Even the girl in the next dressing room stared at me in envy and yup I loved it. I wouldn't have cared if anything else fit that day. That dress makes me feel so gorgeous. As luck would have it almost everything fit that day.
The best thing I realized on this trip is that now instead of beating myself up when something doesn't fit I shrug it off and think it just isn't right for my body shape. That has never happened before. The first item that didn't fit would be reason for me to give up entirely and berate myself for days. I feel so free. Free of self doubt, self hate, so many of my neurosis. It makes this all so worth it!
After that we did some shopping for him at Macy's. He got this great new cologne by Chanel called Bleu. If your men like cologne's check it out. It is tres sexy.
Then we headed over to Old Navy where the next most awesome thing ever happened. I wanted to try these really cute casual boots I saw on their website but I am weird about how boots fit on my calf. I don't like the stuffed sausage look. The boots fit great and my calves are definitely smaller. Score. On the way out I saw these adorable sweater and it was so soft. I touched it longingly, I am totally a tactile shopper, and started to walk away. Then I stopped and thought "why am I always willing to doubt myself?" I pulled out the biggest size and held it up to me. I knew it would fit. Already tired of shopping I decided I could return it if I didn't like it. My fiance, bless his heart, was convinced it would be too big. See why I love this man so much? When I got up to pay I won a ten dollar off my order coupon, score, so I had a pretty rocking day. When I got home and tried on the sweater it fit perfect. I BOUGHT MY FIRST SHIRT IN AN AVERAGE STORE. Granted it is a 2XL but screw the nitpicking. I bought it damn it and it looks so cute. Old Navy does not sell plus size in the store, only online, and there is no W after the size so it is average size clothing. Every little victory like this keeps me going. Woohooooooo. This journey is freakin awesome.



First Page
1
2
3
4
5
6
7
8
9
10
11
12
13
14
15
16
17
18
19
20
21
22
23
24
25
26
27
28
29
30
31
32
33
34
35
36
37
38 39 40 41 42 43 44 45 46 47 48 49 50 Last Page

Get An Email Alert Each Time HEALTHYASHLEY Posts