| | |
| --- | --- |
| | HEALTHYASHLEY's Recent Blog Entries |


Wednesday, August 25, 2010
Today I decided to dedicate this blog to my friend. She always dates men who treat her like crap, use her, cheat on her, and in general never meet a single one of her needs and they don't care. When I read her fb status today that said she was sitting by her phone waiting for him to call she inspired me.
After my divorce I went on a string of dates in search of Mr. Right. I was around 325 and completely naive to the world of men. Maybe someone will benefit from what I learned. Internet dating was the way I met most of the following men and I looked at it like a sociological experiment. Now don't get me wrong, I was looking for love and MAN did I get my heart torn out and trounced on. I actually gave up on love and that was hard for me because I am a consummate romantic. I don't believe in a single soul mate but I do believe there are a handful of people on this earth destined for us and I refuse to accept less than that. I would rather be alone than be with a man who didn't desperately love me and need me. So...without further babbling. Here is the list of men I found who seek out chubby women....
1. Chubby Guy with low self esteem- This guy reminded myself of me. Feels he has no value and he can't do any better so he might as well settle for another fatty. At least she will like to eat and he can get laid right? Problem with him is he really is only biding his time until someone better will give him the time of day. As soon as someone does, he disappears.
2. The User- this is the guy who lies about EVERYTHING. Listen close to what men say. They will always give you clues to how they really feel about you. If this guy says anything along the lines of "we don't have to define this right now" in one breath and then is calling you his girlfriend (but only in your apartment where nobody can hear him) the next, he is saying what you want to hear. He wants something from you and it isn't love. Sex, money, a cosigner. Yeah it hurts to hear this but there are people like this. AVOID THEM. NO he will not change and realize he loves you. He loves you until your credit limit is met.
3. The Married Guy- this is the one who hurt me the most. I met a guy at work and there was an instant chemistry that was palpable. You could cut the sexual tension with a knife. After flirting for weeks he finally asked me out and we went on an amazing first date. Weird thing was he always called me at specific times but never answered when I called. I never saw his apartment. He always had explanations. Bad roommate situation and he worked a lot. I was so smitten I believed every word. Three months later one of my coworkers felt bad for me and finally told me that he was married, with A BABY, and that pretty much everyone at work knew but me. I was humiliated and when I confronted him he denied they existed and never spoke to me again. If he has big patches of time he is missing, he is up to something.
4. The Disappearing Act-This guy isn't married so his disappearing act is even weirder. In this day and age of technology the excuses of "I didn't get your message, text, email blah blah" are BS. I also love the excuse, "I am so busy I just didn't have time to call or text". Men are black and white. If they like you, they call you. They do things for you. They buy you little things to make you happy. My fiancÚ knows I love yogurt parfaits and he used to leave them on my desk for me as a surprise. It isn't the money that counts, it is that he is showing you he is thinking of you. If he can't find 3 minutes in the day to say he is thinking of you. He isn't.
5. The Narcissist/Egomaniac- These are the guys who look amazing at the gym. Think Jersey Shore guy bodies with less of the cheese on top. Problem is, that is all they are, a body. No substance, no deep thoughts. They feel people have value only for their external beauty. These guys may be fun to look at but will end up making you feel bad in the end when you can NEVER meet their ridiculous physical standards. That and you will get tired of them stealing your self tanner,.
6. The Player-This is the guy who won't let you see his facebook or his cellphone. He gets texts at 2 AM and isn't surprised and never reads them when you are around. I used to test these guys by telling them my "friend Lisa" was a huge slut. If they immediately perked up or made a threesome joke, I kicked them to the curb.
7. The Jealous/Possessive Type- These guys are worrisome because they have the potential to be very dangerous. They assume if they date a fat girl she will have no self esteem and will never leave or cheat and that she can be controlled. Run from these guys because they have the potential to be BIG trouble.
8. The Chubby Chaser- These guys scare me because they actively seek out your fat. I actually met a few of these guys and it was creepy. It was like they were more into my weight than me as a human being. Unless you are comfortable with this, and if you are that is great and I am not judging, you deserve someone to love you for heart. Not just your weight, skinny or fat.

Now of course there are men that are combinations of the above so they can throw you a few curveballs. What I can tell you is really listen to what they say and really watch what they do. When I finally met the love of my life, and a member of the guy number 9 group, I tested him constantly. He always did what he said. He called me every single day when he said he would. He worked 90 hours a week and only had off one night and he spent it with me. Every single Friday night since the day we met. Not one time did he break that date. His actions spoke very loudly of his character. If he worked that much and still made time for me and still supported me, than a normal guy working 40 hours a week can do that for you. Don't settle for less. You deserve it all.
So last but not least.
9. The Nice, Genuine Guy- Now these men can be hard to find. Someone who is kind, honest, genuine, and loyal. This is a man who will love you for you. Your weight, up or down, will just not be an issue. He will just want you to be happy and healthy and he will be supportive of your efforts to lose weight when you make that choice. He will love you regardless and be there when times get tough and when times get better.
After married guy slaughtered my heart I quit. I said, there is not a single good man out there and I am done. I spent time working on myself, making myself happy. I also learned to recognize that I was attracted to men that were bad for me. When I recognized my pattern (sounds like weight loss too huh lol) it was easy to not waste my time on crappy men. Six months later I met my fiancÚ and I was able to see what a great guy he is because I wasn't busy obsessing over some loser who didn't deserve me.

I hope this helps you, or at least amused you. Please don't assume I think all men are bad. Gentleman, those who read this, I am not picking on your gender. I just haven't date women so I can only speak to one side. Feel free to write your own bad experiences with women. Now, to my SP girls, tell me what guy are you guilty of keeping around too long? How did you meet your number 9?





Tuesday, August 24, 2010
I can hardly believe it. My goal since starting SP was just to fit into the smallest size I have been able to in recent memory. 7 years ago I lost 50 lbs with the help of a weight loss coach and her approach was actually very similar to SP so it really worked for me. I got down to 270 and fit in a size 24. One of my SP friends, PELESJEWEL, was so completely generous enough to mail me 4 pairs of jeans and 2 pairs of capri's about a month back and I have been trying them on periodically hoping they would fit. Sunday night as I was doing laundry I look over at them again longingly and decided it was time to try again.
I pulled on the first pair and they zipped right up!!!!!!! I thought, oh maybe it is just this pair runs big, again and again they fit. All 6 pairs. I did my crazy booty dance right there. I thought I would cry but I was too happy. With this life change I am also finding a new emotional strength that I am really excited about. No longer are the days of being reduced to tears over every single thing, good or bad. It is pretty awesome! I promised myself right then an there I was going to wear the pair I felt fit the best to work this week. Today is that day and I don't remember the last time I felt this self confident. The best part is I actually have a butt now! I used to just have like a straight fat line from my shoulders to my thighs. When I look in the mirror I can't believe it is me.
Here are 2 pics I took at the gym on Saturday after working out. These are the 7 jeans I mentioned in my shopping blog a few weeks back. I love how I look from the side!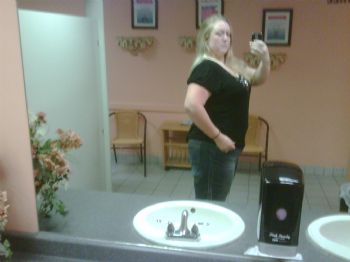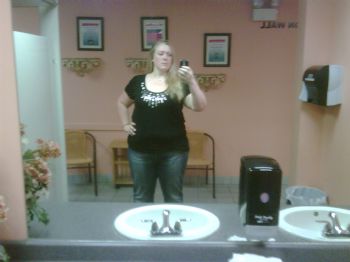 One of the best things lately is I don't need to turn sideways to get through places and people aren't squishing out of the way when I walk by. I feel normal for the first time in a long time and it is pretty great.





Monday, August 23, 2010
In the last week it is really strange but it like I become visible for the first time in years. When I look in the mirror I can really see the changes in my body and even though I am still technically MO by BMI standards I definitely look just in the chubby range. All of the sudden random men are flirting with me A LOT. When I went to get my car fixed the guy was clearly digging me and even gave me a discount "just to be nice" which has never happened. The guy who towed my car was suddenly pulling a casanova. You know the lean back with his arm across the seat "so, Ashley, what do you do for a living? Oh that is so fascinating". I was looking at him like, really, wedding planning is so exciting to you? Somehow I doubt it. A random guy at DD was so noticeably flirting with me that even my fiancÚ was like WTH is going on all of the sudden? Last but not least when I went to get my pug from my dad this weekend an old guy comes walking by and said to me "Hello dear, seeing you right now has made my day" I laughed and said "oh that is sweet, thank you" and he said "no, THANK YOU." It then crossed from sweet old man to creepy old perv. This whole thing has been so weird to me. At first I thought I can't look that different in 7 weeks. After a lot of careful analysis I think it comes down to for the first time in a long time I am projecting confidence and happiness. When I was at my heaviest I projected insecurity and desperation. I was always looking for someone to like me, someone to appreciate me. Now I really could care less what most people think of me. It is nice to have people show me attention but it isn't something I live and breathe for anymore. The attention I get from my fiancÚ is really all the interests me.
I am glad that I am learning to be happy and comfortable in my own skin. No longer to feel nervous in a room that people are staring in a bad way or that the people next to me at a restaurant think I am too big to be near their table. This kind of self confidence is invaluable.
So tell me. What experience have you had lately that made you realize how much your self esteem has improved?





Sunday, August 22, 2010
When I started on SP I was determined to blog every single day. Then as I got more into this I realized that SP is about balance and learning a healthy lifestyle isn't an all or nothing kind of thing. It is learning balance in my life. I was initially afraid to blog at all. I have seen how people on other websites tear each other apart with absolute cruelty and it really turned me off online communities. I find it cowardly and pathetic to attack strangers viciously and hide behind the anonymity of the internet. This brings me to the point of this blog.
A few weeks back I won the first of 4 popular blog awards and I was honestly surprised. Very quickly over the next week or so I won 3 more and the response I received was overwhelming. I wasn't prepared for the influx of friend requests and emails. I never thought people even read my blogs outside a few friends that I talk with daily. Now don't get me wrong, I am happy people identify with my blogs, I am just a bit surprised by the attention. I always wanted to be as good of a friend to other sparkers as they are to me and then suddenly I couldn't respond to everyone and it upset me. I felt like a bad spark friend. If you read my blogs and were disappointed I didn't answer you. I read everything you wrote me and it touched me. Each and every comment was special and appreciated and thank you for writing them to me.

The positive side of this is that I realized I really enjoy writing. I have always wanted a creative outlet and back in College professors singled me out for writing and put some of my research papers in contests etc but I never saw it as more than a hobby or a necessary for finishing my senior thesis. Part of my journey has now become learning to accept praise and attention and instead of being embarrassed or overwhelmed, be proud. I have been mulling over the idea of a more open blog. Frankly, it scares me to death to put myself out there. People can be horrible and nasty and SP is a safe place to blog. What will happen out there in the real world? Will people even read it? Will they tear me to shreds?





Saturday, August 21, 2010
I don't believe someone can be positive 100% of the time. The devil on my shoulder is still there, as much as I try to swat him away, whispering self doubt into my ear. At this point I really can see the weight loss and I have dropped 3 and a half sizes. I finally am feeling thinner and can see changes everyday which can be difficult when you are up over 300 lbs. Sometimes those changes happen so subtly it can be easy to get discouraged. Well now that I can see the weight loss apparently my body has chosen to turn me into a freak show. I am skinny on all my extremities and am losing all the weight on my upper body and breasts so now I look even more pregnant that before. I am super sensitive about looking pregnant because people in the past have asked me and I seem to carry all my weight in my stomach area. Hence the battle of "the muffin". I can't even find clothes that fit because everything is too tight on my waist and ridiculously huge everywhere else. Pants that semi fit make the muffin poonch out over the top. I had a mini-meltdown last night because I feel like it doesn't matter how much work I have done to get here I still look awful.
Am I whining? Yup and I am ok with that. Sometimes I need to feel sorry for myself to get a little perspective.
I am healthier and stronger than I have been in recent memory.
I am losing weight a steady healthy pace.
I can honestly say I am happy now which is something new to me.
My fiancÚ always tells me when I let the devil whisper too loudly. "You are were you need to be right now and you are going in the right direction." He is so right. Before I know it I will be at a healthy weight and this will all be an memory. I am excited to see how this journey turns out.



First Page
1
2
3
4
5
6
7
8
9
10
11
12
13
14
15
16
17
18
19
20
21
22
23
24
25
26
27
28
29
30
31
32
33
34
35
36
37
38
39
40 41 42 43 44 45 46 47 48 49 50 Last Page

Get An Email Alert Each Time HEALTHYASHLEY Posts