| | |
| --- | --- |
| | HEALTHIERHALEY's Recent Blog Entries |


Wednesday, May 30, 2012
Well, I haven't been on Sparkpeople in about 2 weeks. Since my last post, I have successfully stayed off of the zoloft. However the RLS became extreme while on wellbutrin, and my Doctor decided it was probably the wellbutrin causing it and not the Zoloft withdrawl's. So I was switched to a new SSRI, Viibryd. After two weeks of not sleeping and trying Restoril and Nuerontin, I have finally found a treatment that is helping me sleep, and since stopping the wellbutrin the RLS seems to be getting better. Of course I won't really know until I stop the sleep treatment, which I have been reducing the last couple nights and I've been able to still sleep. My depression has been much better yesterday and today. So maybe the Viibryd is working....yay! I sure hope so, I know my husband is ready to have his wife back.

My birthday was on the 25th, and my husband planned a surprised bday dinner with a few of my closest loved ones. He had a cake made with our family photo on it (me, him, and baby), it was awesome. He doesn't really know how to be supportive of what I'm going through, but he tries really hard, and that showed me how much he still loves me and supports me and wants me to be happy! Ththe e 26th was our sons 1st birthday, which we celebrated the 27th, it was sooo cute and fun, and a lil sad for mommy!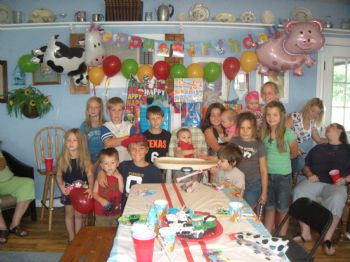 I think I am going to withdraw myself from the challenges I have joined on sparkpeople, and focus on reading The Spark, then restart the challenges at a later time. We are still walking 2 miles everyday. Things are looking up and I'm excited to get back to normal!!




Thursday, May 17, 2012
Finally! I feel better today. Not great, still a tad bit edgy, but much better. I hope it lasts. I'm going to try to not take the Zoloft again. I took it yesterday after my two days off of it, and it made me feel funky, headache, etc. I feel RLS starting to creep in, which sucks, but hopefully with the zoloft gone that will be gone soon too. Had a heart to heart with my husband, let him know I do appreciate him and understand how hard this has been on him as well, and that seemed to ease a lot of tension. He is a wonderful man! We are up to 1.9 miles walking everyday, feels good and makes me feel better. Getting used to drinking more water daily and not craving sodas. Enjoying many new recipes from spark recipes, doesn't feel like I'm restricting myself. Looking forward to weigh in on monday.





Tuesday, May 15, 2012
Well this weekend was a struggle. I had a huge breakdown on Friday. I know it's because of the medicine change and I kept telling myself that during the breakdown but it didn't quite help. My husband didn't quite help matters either but that is another story, although don't get me wrong, most the time he is pretty awesome. I tried blogging Friday night but that wasn't helping at all, I think I was too far gone! Saturday I went and spent the day with my cousin/ best friend. She has an enzyme deficiency that makes her very ill sometimes, so I went and hung out, made her and kids supper and cleaned up her kitchen a little bit. She always makes me feel better, and it made me feel better doing something nice for someone else. Lately I have been feeling VERY under appreciated in my own household, and it's hard for me to rationalize what's real or not because of the medicine change. I weighed myself today and I have lost 5 pounds! That is exciting. I have also gone two days without the zoloft, which is progress. Tomorrow I will have to take one and hopefully be able to go two more days without it, and I hope to be completely off of it by next week. It's hard to write about my stress right now because EVERYTHING stresses me out or annoys me right now. I can't wait to feel back to normal. Went to church on Sunday with husband and kids, then went and ate with whole family at Bubba Jean's. Had a little anxiety at the begining of church and a lot of anxiety at bubba jean's, but it got better. Today I feel a little better, but I still feel very edgy. Tomorrow is a new day and I hope to feel even better.





Friday, May 11, 2012
This morning started out rough. I was super emotional. I wanted to do a family frame with some photo's for my mom for mother's day. I couldn't find the picture of me and my husband with my mom and dad on our wedding day. Then I started thinking did we even take one? I was so overcome with emotion thinking a picture didn't exist of my parents with me and husband on our special day that I just began to cry.
Then I stopped and thought, what the heck is wrong with me today? Then I realized the medicine change was starting to mess with me. Anyone who takes anti-depressants knows when you have to change them it can be pretty tough for a couple weeks. So I sucked it up, reminded myself I have a good life, wonderful husband, parents, and the sweetest little baby boy. I experienced anxiety off and on the rest of the day, but it did get better. Went for a walk with my husband, mom, baby, and mom n law in the evening and that was nice. Found a new recipe my on sparkpeople, tweeked it a little, and it was delicious after our walk! My version is submitted on sparkrecipes as Crock Pot cheesy taco chicken. It was a hit with everyone and is so good it's hard to believe it's healthy and low fat.
Anywho. Tomorrow will be a better day. I am nervous for the weekend because I always seem to mess up during that time. Tomorrow I am going to come up with a plan to survive the weekend!





Thursday, May 10, 2012
Today I began de-cluttering my home, in an attempt to de-clutter my life, thanks to an article I read on SP. It feels great! I let go of things I always felt bad about giving up even though I didn't have any use for them. I've only made it through the kitchen so far. I got rid of double appliances, cleaned out my china cabinet and the top of my refrigerator which had become a catch all. I also cleaned out my utensil drawer and cabinets.

I tried two new recipes today, one was ok, the other was great. I did learn you can add spinach leaves to smoothies and you really can't taste them. Great way to get in an extra serving of veggies.

Went for a walk today. Walked 1.13 miles! Took Jackson in his stroller, my husband and mom came along also. It was tough but felt great afterwards and Jackson loved getting outside.

My mom bought me a couple of shirts. Trying them on and looking in the mirror was pretty upsetting. And when one of them was a size larger than what I wear, I thought I was going to break down. I had been feeling so great and decided in that moment I wasn't going to let something so small get me down. I let out a few tears, then dried it up, and told myself, I may feel fat now, but at least I CAN do something about it and I am. I feel happier, I am about to go for a walk on a beautiful day with my loved ones, and I am going to change. So, maybe the "stress busting challenge" I joined really is helping!




1 2 Last Page

Get An Email Alert Each Time HEALTHIERHALEY Posts