| | |
| --- | --- |
| | HAKAPES's Recent Blog Entries |


Wednesday, March 06, 2013
We have a thread in the Maintenance group about "Where did you come from and where are you now?".



As my response started to grow, and I decided to rather make blog post about it, to celebrate my 2nd anniversary here on SP, and to blog today.
I have inserted a few photos from the past year.

This one is in Singapore, during my Gestalt course, May 2012.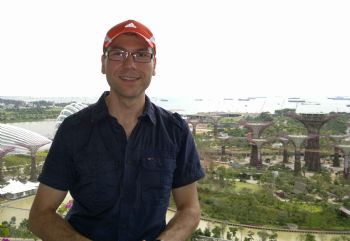 YOUNG, ENERGETIC, AND NEVER THINKING ABOUT WEIGHT LOSS AND SUCH
I was in generally in good shape until the 3rd year at the university passed by. I was not particularly a sports man, but was in general good and healthy looking. In my childhood, I exercised a lot, playing soccer, biking, working in the fruit gardens, basketball with friends and at school team (primary, secondary, and at university), and later on also being a basketball referee. I think the peak was being a referee. Hard to imagine, but I experienced being a basketball referee as a hard endurance activity. It's like 4h of constant running (one match is 2h, and usually we were assigned for two consecutive matches), being faster than the players, and the constant focus. From the moment entering the gate, it's 'live', and when players rest, the referee is still ON, until everybody leaves after the event.




CHANGES WITHOUT ADAPTATION
Then, when I quit being a referee, and when sports classes were not part anymore part of the weekly schedule at the university, suddenly there was no more organized exercise in my day anymore.
Looking back, a big issue for me was that nobody ever taught me how to integrate sports into my life by myself. Before that, some external "force" assured I have enough exercise, but now it was on me, and I didn't know what to do. Today, I know, I learned how to include exercise, but that time, it was lacking.
So, for ten years, I started to gain weight, from around 75kg up to 100kg. Some years, I joined some sports, like Judo, or Salsa, and I was less, other years I didn't, and was near 100kg. I didn't really understand how I could lose weight, it seemed light an impossible task to do.

In company of a Mexican hat. I go a lot by public transport.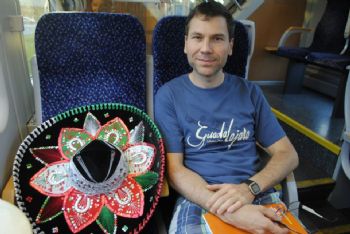 Now, I know I had many false assumptions. Like today I'm aware white bread is very easy to overeat, and is dense in calories, and those times I was eating a lot of bread, without even knowing how much impact it can have on my weight.
Once, someone near me had a medical condition, and restrain from sugar, and limit carbs. I was interested to try how is to eat like that and followed this eating habit and I quickly lost a few kg. A few years came with low sugar and low carbs on my flag.



Looking back, I understand that those times were "sad" times not just because life was hard, but now I'm aware that low sugar can trigger low mood. It was not a perfect solution to lose weight, but, it injected some energy into my quest on getting into shape. For example, I decided that time to follow "Norbi Update", a nutrition program in Hungary (similar to Weight Watchers) that time.




BODY IN FOCUS
Then, in Sep 2010, when I arrived in Austria, I was thinking, what should I focus on this year systematically? I had two things in mind, learning German, or getting into shape. If I learn German first, it helps me integrate, and would help finding sports teams, communities, support for exercise. If I learn "exercise", it will boost my energy for learning languages, and project a healthier me. In the end, I decided to focus on fitness, as previously I already focused on languages almost all my life as a priority, and it looked fun to try something new.




Summer exercise:



An article on the web encouraged me to start with planning instead of jumping into the cold water. It made sense, and I spent two month collecting information, planning, consulting people, reading articles and books. Most people around me were aware of my new focus, and criticized me that I am just "talking" and not "doing", and were laughing at me, saying Oliver is planning so much and does no exercise or eat differently. Yet. On one hand, I had all the previous "jumpstart" attempts from my life "from today I do and I don't do", and the similar failed attempts with diets and exercise programs among friends. On the other hand, my reasoning was that starting 3 months earlier or later doesn't really make a difference for me anyway, and why not try starting slow.




Running competition with team mates in Vienna in 2012 (note the A - B -C) :-) :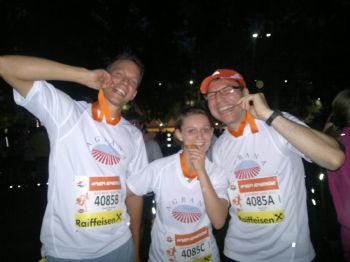 During this period of data collection, I have read a science article that showed that groups that tracked calories lost 2x the weight vs. control groups on the same diet. I decided tracking is key a feature to implement, although I was not particularly motivated to track. I evaluated several options, paper, PDA/phone, internet. I thought because anyway I would surf the net, it's a good thing to channel that time and energy into my healthy living. Therefore I made a survey for myself on what website to choose for tracking food. I evaluated many. SP was mostly medium on almost every score, but it was at least medium on almost every score. While most other sites had one or two excellent features, but were lacking others. So I decided to use SP for tracking food. And since then, I'm on SP, and am happy with my choice, and use many other features beside the food tracker.




I didn't follow any special diet, or exercise program, I just started to track how much I eat, then later on calculate calories, later on fit into a calorie budget, then start exercise, and then adding other things to my now long list of healthy habits. However, most of these things happen now unconsciously, see my blog here:
www.sparkpeople.com/mypage_pu
blic_journal_individual.asp?blog_id=52
70018

So, slowly I re-educated myself to live healthy.

A NEW ATTITUDE ON HOW TO LIVE
Then I discovered that living healthy is really fun, and now I do it as a hobby. In parallel, friends and colleagues started to ask more and more often advice, on what and how to do things "The Oliver Way". I also discovered that a great way to keep myself motivated is to motivate others.

New shoes, which was a planned purchase based on distance run in the shoes. Although, later on I switched Inno-8 F195 Lite shoes, for the POSE-method.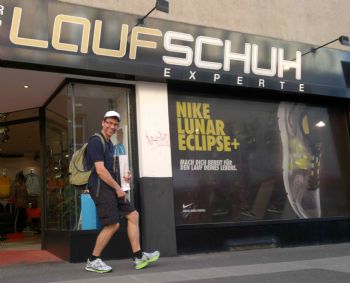 I learned organizational development (OD) and coaching with Gestalt in the past years. Originally, this approach is aimed at business consultancy and therapy, and that was my plan. However, it made sense, to use this approach to support people who turn to me to improve on their healthy lifestyle, and it is very successful. It's still a hobby, but now I'm spending a large amount of my time to support others. Gradually, from free it became a business, and it's close that my hobby becomes my full time job in the end.

Due to the weight loss, I had to dump ALL my previous clothes. Even my suits. Finally, I saved up enough to buy a new suit. I think I am like 15 models already past me on this picture...


There are many things what I love about this process. The learning about myself, from each other, that I can use many of my other skills and experience in the process. My past years of working as an R&D engineer in food development, working in different level of organizations and countries, speaking languages, project management, interest in innovation and new technologies, photography and writing, and just to connect with people from around the World. Even, living in this small town, Gleisdorf, looks as a great asset - it triggered me to regular running, walking, and cycling. I never planned for this, it came along the way, but it looks like all pieces fall into a place, to complete a bigger picture of a puzzle. The picture is not clear yet, and is still forming, but it is exciting.

Of course, not everything is easy. I was so encouraged to follow a triathlon exercise plan after my success in biking and running, but the closest all year open swimming pool is 2hs away. I went to swim regularly for a couple of months last year as an experiment, but in the end I decided to stop and keep swimming for the next step. For that, probably I have to move to a town with a 50m swimming pool, and rent an apartment that is walking or biking distance away from the pool.

POSE Triathlon training in Vienna with Dr. Romanov himself in 2012.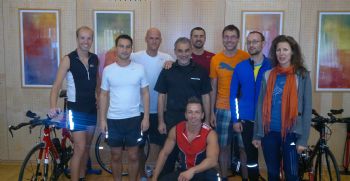 AND WHAT KEEPS ME BUSY TODAY?
The past two years, my focus was nutrition, then exercise. I got these to a "working level" already, and now I work on my recovery. This needs some courage to tackle, as benefits are harder to measure. A kg lost is a kg lost, but an energetic day is not seen from the distance. I started with sleeping regularly 8h (and deal with the resulting shorter days :-) ), plan rest times into my exercise regime, improve my sleep patterns, and just this Dec/Jan, I implemented daily meditation as a habit. Now, I am experimenting to fit a morning meditation into my daily schedule, and work with my dreams. When I finish this round on recovery in a couple of months, probably I will focus again on exercise, or nutrition, whichever has more energy around.

As for weight, I see it is a tricky question. The group is "Weight Maintenance", but for me, it's more "New Lifestyle Maintenance". When I started to loose weight, it was "something to reach". These days, it's more a parameter of my body, among many others. And if it's weight, I'm keeping more track of my fat% on the long term, and use the morning weigh-in to check my hydration level. I use an Omron BF511, as it measures body fat via both arms and legs, vs. only the legs, and I can clearly follow how my body changes from month to month. Spending money for a visit to a sports specialized physician sounded before as an "athelte's luxury". Now, it's on my plan every 6 months, and lactate levels, heart rate changes are the parameters that I look at to see how my body is doing.

In Gibraltar (some UK, in Spain), we walked all day and logged near 2000 kcal by being a tourist.



Here, on SP I am engaged in the 5% challenges community, and the At Goal & Maintaining + Transition to Maintenance community.
In the 5% challenge, this week we focus on blogging to collect points, so do I, and hence this blog today. The question for today: "What can you improve upon?" Think about how to automatize healthy actions more. I see if it is automatized, either by a gadget or a habit, it happens. If needs some thinking about, it can slip. For example, my meditation could have a fixed place in my morning routine. Then I wouldn't have to think about when to do it, or to do it, it would just happen.


So, I'm running-cycling-walking among these trees these days. Fresh air, beautiful surroundings, lots of varied paths to keep me entertained, all in 1000m walk from my door. I love here!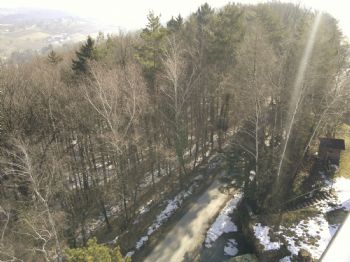 For some pictures about me trough my weight loss journey, see my blog from last year's 1y SP anniversary, here:
www.sparkpeople.com/mypage_pu
blic_journal_individual.asp?blog_id=46
93826





Tuesday, March 05, 2013

Running is a habit I developed 2 years ago. I never was a runner before, and still, my body is better at other types of exercises. However, it's a practical exercise, only needs my shoes, no big money investment needed, can be done all day long in all weather conditions, wo commute.
I stopped for a moment to climb up to this tower to enjoy the view. Had some hard time to catch my breath during talking. Elevation: from 390m to 556m, 10K, 60 min, 800 kcal. Plus running up the tower in the middle!





Monday, March 04, 2013
Sometimes, when I talk about my habits to people, on what I have developed over time, and how is my day looking like today, I often get a comment on my strong willpower.
And about my discipline.
And how much attention I give during the day to live healthy.

And as I listen to these compliments, resistance builds up in me more and more... and I just don't know what to do with a compliment on my willpower. Or on my discipline. As I don't do any of these on an average healthy day!

In the contrary.

I do these activities completely in brainwashed, unconscious, auto-pilot, non-thinking way.

Do you think I could focus to do a list of 20+ healthy things on a day?!
I could lift a spaceship like a Jedi knight with all that willpower...

And that's the whole point of it:
It's a habit, because it doesn't need willpower, or discipline, or focus.
HABITS HAPPEN AUTOMATICALLY.

Of course, it needs energy, time, commitment to develop actions to happen habitually, without thinking. However, it's not that much, and habit development itself is already an automated process for me.

When I develop a new habit, I only focus on ONE single thing.
Usually it less then many people do around me, as they love to multitask and focus on many things to change at a time. This process didn't prove to be successful for me - when I focused on several things at a time, I had to focus on those things ALL the time.

Now, I just focus on ONE thing at a time. Then it becomes a habit.
Then I don't focus on it anymore. And I focus on the next ONE.


My practical advice:
Try this experiment.
If you have 5 new actions you wish to do (... I know it takes courage to wish only 1 thing, so I assume you have five), and you have one month; instead of focusing on all 5 things during the whole month, just focus on 1 thing, for 1 week. Then the next week, the next one. Yes, it's 4 weeks in a month, so you probably need to drop one of the 5. :-) If you decide to try it, let me know, I'm curious about your feedback!


Monday = New week, new possibilities!

This week my focus is BLOGGING, everyday!
And that's the only focus I have! :-)

I'm inspired a lot about your comments on my blog, thank you a lot!
And happy habit development for everybody!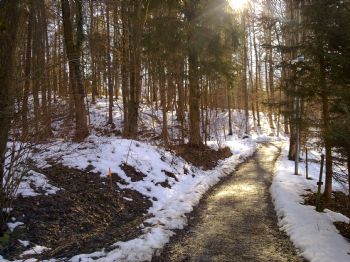 Let's get moving!

What do you focus on this week?






Sunday, March 03, 2013
As we blog about habits this week, and I have read already many blogs about habit development, I thought to share some experience I gathered in the past two years.


1. A SMALL ACTION goes a long way
Think about a small action to form a new habit. Instead of 1h exercise, just stick to a 10 minutes. Instead of eating healthy meals, stick to eat an apple every day. Once the small action is established in your daily routine, you can scale it up.

>Last year I decided to brush teeth immediately after breakfast, to clean away the food taste from my mouth, and reduce hunger. It sounds like a very silly, and small step towards a healthy lifestyle. However, it had great benefits - it closes the meal, prevents further hunger, encourages me to stay away from food for longer (instead I drink). And, it's great for my teeth!


2. TRACKING is key
I experienced that if I track daily whether I did my new action or not, it increases my success rate to double. It can be different ways of tracking, in a paper diary, on an A4 sheet on the wall, in a smartphone app, or here in SP.

>I have friends, who's natural tendency is to play with Excel sheets in their free time. I don't have this built-in data eating desire, but I realized that tracking improves my success rate, so I do it. Usually I stick a paper on the wall, so I can see it every day.


3. Use a DEFINED PERIOD to form the habit
I see that I need approx. 1 month to arrive to a level when I have almost zero resistance to do my new action, so I usually do 30 day periods. During this period, I do the action no matter what. After this period, if I don't like it in the end, I abandon it, but during this period, I contract myself to do it anyway.

>When I started with running, I decided to get out to run every day for 10 minutes, no matter what. Now, I don't run every day, I think it's healthier for me to run every other day, or to make 5 day strikes and then 2 days off. However, to get into the habit of running, for 30 days, I ran every day. I remember I was on a business trip in Germany during that 30 days. Our meetings finished very late, and by the time I had time for myself, it was already 1 am. I was the only single person in the dark streets, and I only ran 10 minutes exactly, not a second more, but I did it.


Today we went to Lassnitzhöhe, and made a 2h walk in the neighbourhood. The sun was strong, it was fresh, and the air was amazingly clear!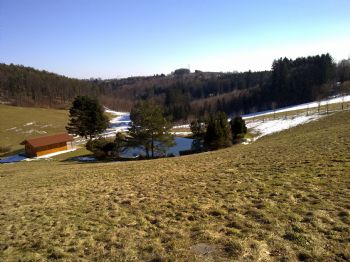 Do you have some tips for habit development from your experience?
Please share it here, I would be happy to hear about it!






Saturday, March 02, 2013
This week we write about habits every day in the Winter to Spring 5% challenge.
So here it is about Saturday! Some of my habits that I formed in the past to years, and I follow now, and how I did today.

EXERCISE
Daily exercise - 30 min running, speedrope, warm-up
Track exercise - the run in Endomondo
Learn POSE method of running - did POSE exercise before the run
Exercise together - we did together with my fiancée

NUTRITION
Shopping healthy - in the shop it was "the thing to do". If I look back how I was 2 years ago, it is amazing - we returned home with a big pile of salads, vegetables, portion controlled, and low cal food.
Eat salad/veggies every day - I made a big salad for us with Ruccola, bell peppers, corn, apples, lean ham, cheese
Healthy snacks - granola bars, banana, dark chocolate
Track calories - I tracked first part of the day in SP, the rest maybe tomorrow.
Keep calories in budget - I can only see tomorrow, I think it will be only "just-in"
Weigh myself in the morning - done
Wash teeth after breakfast - skipped :-(

RECOVERY
Daily meditation - just comes now
Eat 8 cups of water a day - done, but includes 2 cups of Roiboos tea, and 2 cups of Twinnings tea, not pure water
Sleep 8 hours - done
Drink tea, coke, coffee only in the morning - done

OTHERS
Blogging - I didn't blog weekly or daily lately. This week is the time to come back!
Weekly weigh-in for 5% challenge - done
Check-in to 5% challenge forum - done
Comment on blogs - still to do

Funny thing is, for most, I really have to think about them. Which means, they are truly habits!

The most recent habit is daily meditation, which I formed in December/January this year. It's still in the phase when it needs some attention. Today, it is again the last thing I do. I prefer to do it first thing in the morning, then it's for sure in, and I don't have this struggle against my tiredness, late evening, or just "how long this day was". However, doing it in the evening makes a wonderful closure for the day, and makes my sleep better.

This is a pic from today! Here in Austria, it's spring, but the snow holds on strong from last week. A little snow just makes it more exciting, doesn't it?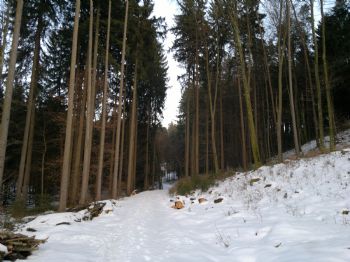 How was your Saturday habits wise?



First Page
1
2
3
4
5
6
7
8
9
10
11 12 13 14 15 16 17 18 19 20 21 22 23 24 25 26 27 28 29 30 31 32 33 34 35 36 37 38 39 40 41 42 43 44 45 46 47 48 Last Page

Get An Email Alert Each Time HAKAPES Posts