| | |
| --- | --- |
| | HAKAPES's Recent Blog Entries |


Monday, February 04, 2013

Just an energetic hello from my daily run!
Enjoy the snow under the pine trees!
See my post below on meditation for "relaxed" input!






Sunday, February 03, 2013
I started an experiment in December, to have a daily meditation session. Usually in the evening, sometimes both in the morning and in the evening.

I see this is an often overlooked part of healthy living: recovery. After overhauling my nutrition and exercise habits, it was a straightforward decision to start experimenting with recovery, by which I mean sleeping, resting, meditation, having massage, relaxation and similar activities.

After successfully passing the 30-days, I liked it a lot, and decided to continue for 90 days, and see.

Funny, before, it looked so much effort - another 15 min to squeeze into my day.
Now, I notice it is less and less effort to do it, and it's slowly becoming part of my usual daily activity. I'm starting to doubt I could do without.

In my previous post, I shared some "inbetween" learning. Now here are some post 30-day trial learning:

1. It was good that I set a shorter time (15 min) vs the optimal time for meditation (I would have gone for 30 min as optimal). This lowered my resistance to "I do it anyway" level, and helped me on those days when I was tired, or busy.

2. I re-live these feelings in many of my 30-day trials.
- The first couple of days are easy and full of excitement.
-Then it becomes difficult, and seems to be a lot of effort to keep on going.
- Then after 10-15 days, it starts to get into more comfortable.
- After around 30 days, I arrive to a "neutral zone". If I want, I can keep on doing it, or abandon it, if the outcome is not so interesting.

3. I see more and more the positive things even in otherwise "not so nice" events. I feel grounded.

4. Now, an occasional miss of meditation for a day has little effect on my overall motivation to do it. In fact, I'm looking forward to it much more then not.

5. My girlfriend became interested, and started to join me after some time.
Now, we often do it together.
It's in a way both "me" time and "us" time.
I never planned for this before, and this a real surprise benefit.

Here's a shot of our our Sunday hike: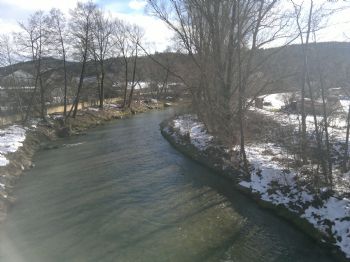 I received so good tips on my previous post, thank you a lot!
I would be happy again for any tips, ideas, experiences on meditation (even if it's a repetition - then probably it's even more interesting).
- How you do it?
- How often, and for how long?
- What benefits did you notice?






Wednesday, January 02, 2013
For long, I wanted to make daily meditation part of my life.
Finally, I started a 30 day trial on 18th Dec. It looked like an easy enough - difficult enough challenge to keep my focus on healthy life during the holidays.

I calibrated it for 15 minutes, which is less then my ideal goal, but my focus now is to establish the habit of doing meditation. When I am regularly doing it, and find the time for it in my daily schedule, I can scale it up to be longer.

So far, I am on track every day, and very happy for the results.

Some benefits that I already see:
1. If I do it in the MORNING, my day has an energized and in focused atmosphere. Somehow I work more on the things that matter. Strangely, my hunger is less, and I have more wish to go out for exercise.

2. When I do it in the EVENING, it is a great way to close down the day, and wind down all the happiness and stress from that day. My sleep is much better afterwards.

3. Having a healthy lifestyle goal in FOCUS makes other challenges that show up much easier to deal with. Somehow, if I pay attention to this one, automatically I have more "energy" to do the other things right, too.

It feels great just to do meditation every day.
If it works well this way for the whole 30 days, I will experiment with doing it both in the morning and in the evening, making a frame for my day.

I wanted to this for years, and was wondering why it happens now, and not before. Some funny facts I found:
1. There is a nice warm carpet now in the room, which invites for sitting, kneeling, laying down on it.
2. I found my watch which can make only one "bip" when the countdown timer finishes. So I have a gently transit out.
3. Winter and especially "dark" December fosters looking inside.
4. As in maintenance mode, my nutrition in general is on track, and my exercise is on track. So I can start to improve the third big area, rest/recreation.
5. I went to a 4 day silent retreat in Dec 2012, which boosted my motivation to start this trial. I expected it would boost it, so it was a good decision having done it!

This is a look-out tower nearby. It was near freezing conditions, and the heavy fog blocked all visibility. It was a really funny to walk in this "white air mud". Everything was so silent and calm.



Are you doing meditation?
How you do it? (Time, place, format?)
Or are you doing any other type of recreation/stop in the morning or the evening?
Any tips are welcome!

Happy new year!

==
Update:
A friend of mine recommended this podcast on meditation.
Looks good!
www.themeditationpodcast.com/





Wednesday, December 05, 2012
One feature of maintenance mode is regular drinking.

I didn't consider it to be so important, but it has a tremendous effect on how much I eat, and my hunger in general. So here are my experiences from the past 2 years on drinking. A longer read, but hopefully with many tips for you for inspiration.



I remember when I started to drink regularly about 8 cups (2L) of water a day, it was so strange.
First, it felt it to be a lot, I was feeling like forcing water inside me. I could not imagine how someone can drink 8 cups of water in a comfortable way.
Then, the other issue was how to remember drinking? And in fact, this was an even bigger challenge. There were days when around 5pm it took me by surprise - OMG I didn't drink at all during the whole day!

I started by counting, first on the exercise tracker, and keep track in my mind. It worked, but was way too much effort. There are so many things to remember during the day, and I cannot focus on just to remember drinking on every single day of my life.

So I spend some time to change my environment in a way that drinking happens automatically. After a few weeks of experimenting and tweaking, I have a setup I am happy with. In fact, I don't even think about it. It just happens, and I often drink more the 8 cups, depending how much exercise I do.



MY LEARNING

I observed a lot of improvement after starting to drink regularly. Paradoxically, I considered it a simple thing, I didn't even consider it contributing to weight loss, but had such a big impact on me.

1. Hunger is partly related to the pressure in the stomach. If there are more things in, there is less hunger. The best way to fill it up is with water - no calories.

2. After reading an article on this topic, I started to experiment by judging if I'm really hungry or thirsty. It explained that thirstiness usually goes away after 1.5-2 hours, and is replaced by hunger. It turned out that most of the time I was lacking water, when I felt hunger.

3. Somehow my metabolism get into a new path, maybe faster, maybe more intensive, I can't really tell this, but by drinking regularly, the whole digesting-calorie burning system felt more in place.

4. My weight stabilized from day-to-day. As I started to drink similarly every day, the ups and downs in my weight from one day to another disappeared, as I had a constant high hydration level. I was also playing a bit with this, and the maximum I reached was 2.5 kg (5.5 lbs) from one day to another, just by drinking and not drinking.

5. My weight in general went a bit up, due to the water present in my body, as my hydration level was back.

6. Coke, coffee, beer, soda, fruit juices, and many other drinks somehow just started to disappear from my diet, and I started to enjoy drinking water. I drink now wine, and bear, and fruit juices in a way much lower quantity (not that I was a drinker before), and value the taste more. Before, I needed to drink a lot, to feel better.

7. Lot of un-explainable headache disappeared. This I only noticed later on, and the main difference I could identify was drinking regularly.

8. My skin looked better...



Equipment - they are all filled, of course! :-)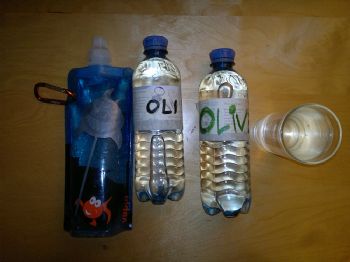 HOW I DID IT

Let me share you some experiences that worked for me to make drinking regularly part of my life:

1. Instead of counting 8 cups during the day, I developed habits for drinking. These are "anchor rituals" that happen anyway during my day, and I linked drinking to them.
a) when I get up, and automatically measure my weight, right after it I drink 2 glasses of water
b) at the start of the big meals, breakfast, lunch, dinner, I drink a glass of water. If the morning 2 glasses are close to breakfast then I don't drink an extra glass. I know, I also read those articles that say digestion is way much better when food is not diluted with liquids, but I accept to have a less then optimal digestion in exchange of better hydration.
c) before doing exercise, and getting out of the door, I drink 1 glass of water
d) after exercise, I drink a glass of water

2. I made water "easily accessible" around me. I almost bump into water to drink.
a) there is a glass always in my kitchen close to the tap (we have drinkable water), ready to take it for a drink. I always keep it there.
b) I have 2-3 0.5L water bottles filled in the morning hanging around that I can grab, and have it at hand
c) in the office, I place a glass and a water bottle on my desk. If I go on meetings, I just bring it with me

3. I made a contract with myself to detect false hunger. When I feel like snacking, first I drink a glass of water. Then I still have my snack, but I drink first a glass of water. This results in much lower snacking.

4. After snacking, I drink a glass of water, to clean my mouth and prevent the "sweet" taste making lingering on my receptors to crave for more sweet.

5. When I go out with friends and order drinks, I made a similar contract like with snacks. I order some water with every single drink I order. So I always order a bottle of water PLUS a beer, a some water AND a glass of wine, a glass of water AND a Tequila.

6. When having breakfast, I go for tea, instead of milk, chocolate drink, fruit juice and similar. Or if I do, I still go for tea, and milk.

7. When leaving home or the office, I carry a foldable water bottle in my bag. I used to have just a plastic bottle, but for fanciness and motivation, I bought this Vapour 0.5L bottle, that I can roll up when empty. Looks really cool. So when I leave home, I always fill up my water bottles and have water on me. So the water bottle is a fixed companion of any bag I carry with me.

8. At the airport, after passing the security gate, I fill up my water bottles. So when on the plane, I have water on me.

9. On the plane, when drinks are served, I always ask for 2 glasses of water. When they come again, I ask again for 2 glasses of water. If I want to drink something else, too, I still ask for the 2 glasses of water. I usually tell them that I am very thirsty, and hope it's not a problem, and it never was, so don't feel guilty for asking more water on the airplane.

10. For fruit juices, I made the deal - I love fruits, but instead of liquid form, I take them in a chewable form. And I drink water.

11, When on conferences, workshops, business meetings, etc. I ask for permission to take a bottle of water with me. So when I need, I can drink. It was never a problem, nor in Mexico, nor in Singapore, nor in Russia. Apparently people drink water all over the World.

12. I have some cash with me for the case I want, I can buy a bottle of water. I made the deal not to judge if it is over expensive, I just buy it, and drink it. I save money elsewhere (for example spending less on snacks).

13. When going by train or by car, I take more water with me then I think I would need. There's always someone around who also want to drink, and sometimes I cannot refill, or just there is no opportunity to get water. If it's too heavy, I can always pour it out.
I have a shelf full of different sized and shaped water bottles. So when I go on a trip, I have a choice for size, material, and so on. I have more then I would need, but I rather have more, then not having one when needed.

14. Even with this systems, there are days once in a while, when I'm reaching for the 3rd snack and I discover that I am on this conference and they have no water for the coffee breaks. So I am always taking in new ideas, tips, experimenting with them to improve continuously.


As you can see, if I add up all these occasions, it is much more then 8 glasses of water a day. And that's the whole point of it. I don't have to think about counting it, and paying attention to drink enough. It's just around me, and my life is now organized in a way that drinking happens without thinking. So my mind is free to focus on more valuable things than counting glasses of water.

From my run today - winter colours in Austria.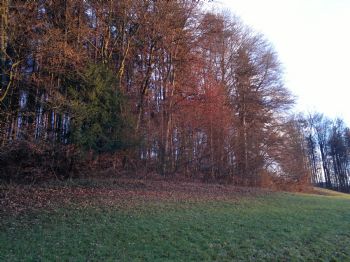 Do you drink enough?
How do you organize it for yourself? I'm always happy for tips.






Tuesday, November 20, 2012
One of my daily work activity in the past years have been project management. It's about creating a plan about something to reach, and then follow that plan until it is reached. Often the plan needs update, and the goal changes, but at the core, I see it as this planning-doing the plan.

However, it seemed difficult to use some of those "work skills" in my personal life. Because it's personal, so it's free, finally I don't have to focus, finally I want to do something that is not "work".

I have many friends, who implement a lot of planning and structure in their work life. Dealing with budgets, sticking to deadlines, figuring out ways on how to overcome obstacles. But to use these same skills in personal life - I don't know many friends who do.

For myself, it took some time until I discovered that I can use the same approach for myself in my healthy lifestyle that I use at work. To benefit from all the knowledge I acquired at work for my personal life. Set a goal, create a plan, and just go with the plan until I reach the goal to be healthy. In fact, the change started to happen when I first spent time, about a month planning how I will be healthy, instead of starting it right away. It was rather accidental, not intentional. Instead of reinventing the wheel, I used something I already have, but in a new way, reinventing the path.

Last week I was in Leuven, Belgium. One of my healthy habits is 10 min exercise, no matter what. My colleague was not able to run, so we made a loooong walk together to move some calories.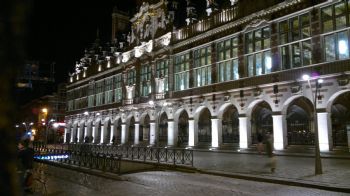 Now, in maintenance mode, I intentionally channel many of my R&D project manager "work skills" to be healthy, like:
- look up research articles on healthy living
- understand food labels in depth
- write constructive feedback/complaint to food manufacturers (either to give praise or request change)
- coach others for being healthy to keep my energy around healthy living and motivation
- use tracking and data analysis to understand what's happening
- explore new healthy technology/gadgets/ideas to give motivation (as an R&D engineer, I explore a lot of new technology and ideas)
- use Gestalt OD approach for my own process
- and so on

These are all things that are easy to use for me, because they are already in my skill-set. A discovery for me is that it doesn't feel "work" at all, it's fun.

I was wondering, what do you use from your "work skills" in your personal healthy lifestyle?

==
Small update 21 Nov 23:02 Paris Time
Thank you for all the comments! You make me really happy! :-) :-)
I will be travelling this weekend for an MMFC event in Germany, I can come back to you to reply only on Monday and onwards.



First Page
1
2
3
4
5
6
7
8
9
10
11
12 13 14 15 16 17 18 19 20 21 22 23 24 25 26 27 28 29 30 31 32 33 34 35 36 37 38 39 40 41 42 43 44 45 46 47 48 Last Page

Get An Email Alert Each Time HAKAPES Posts