| | |
| --- | --- |
| | HAKAPES's Recent Blog Entries |



Tuesday, November 20, 2012
One of my daily work activity in the past years have been project management. It's about creating a plan about something to reach, and then follow that plan until it is reached. Often the plan needs update, and the goal changes, but at the core, I see it as this planning-doing the plan.

However, it seemed difficult to use some of those "work skills" in my personal life. Because it's personal, so it's free, finally I don't have to focus, finally I want to do something that is not "work".

I have many friends, who implement a lot of planning and structure in their work life. Dealing with budgets, sticking to deadlines, figuring out ways on how to overcome obstacles. But to use these same skills in personal life - I don't know many friends who do.

For myself, it took some time until I discovered that I can use the same approach for myself in my healthy lifestyle that I use at work. To benefit from all the knowledge I acquired at work for my personal life. Set a goal, create a plan, and just go with the plan until I reach the goal to be healthy. In fact, the change started to happen when I first spent time, about a month planning how I will be healthy, instead of starting it right away. It was rather accidental, not intentional. Instead of reinventing the wheel, I used something I already have, but in a new way, reinventing the path.

Last week I was in Leuven, Belgium. One of my healthy habits is 10 min exercise, no matter what. My colleague was not able to run, so we made a loooong walk together to move some calories.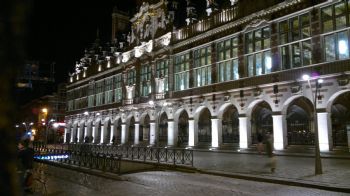 Now, in maintenance mode, I intentionally channel many of my R&D project manager "work skills" to be healthy, like:
- look up research articles on healthy living
- understand food labels in depth
- write constructive feedback/complaint to food manufacturers (either to give praise or request change)
- coach others for being healthy to keep my energy around healthy living and motivation
- use tracking and data analysis to understand what's happening
- explore new healthy technology/gadgets/ideas to give motivation (as an R&D engineer, I explore a lot of new technology and ideas)
- use Gestalt OD approach for my own process
- and so on

These are all things that are easy to use for me, because they are already in my skill-set. A discovery for me is that it doesn't feel "work" at all, it's fun.

I was wondering, what do you use from your "work skills" in your personal healthy lifestyle?

==
Small update 21 Nov 23:02 Paris Time
Thank you for all the comments! You make me really happy! :-) :-)
I will be travelling this weekend for an MMFC event in Germany, I can come back to you to reply only on Monday and onwards.





Saturday, November 03, 2012
There's an interesting phenomenon that I observed during my healthy lifestyle journey. I name it perceived difficulty. Maybe you also noticed it.

I am here in this conference on Gestalt Organisational Development, and one concept we use in our work is dealing with resistance in organisations. I also work with resistance in my own transformation on becoming healthy. And one feature that I noticed that gets developed during living a healthy lifestyle is the ability to distinguish between difficulty that is really big, and difficulty that is in fact OK.

What is this? Let me explain.

It's raining. Do I want to go out to run? I picture myself being out there, running in the wind and cold, and sounds like a task for a Navy Seal.
I am in the conference room. We have coffee break in a few minutes. I imagine all the cakes and sweets waiting for me. There might be fruits, but how will I be able to resist, and make a healthy choice? Sounds like a willpower-blackbelt task.
Shall I take the stairs, or the elevator? I imagine being tired and sweaty on the stairs, arriving with heavy breathing, and no way I would do that.
And I could go on with this for long.

However, I noticed, that after practice, although it feels so difficult before, actually, when I'm in the course of action, it's not that difficult. Of course, it needs some effort, but somehow it's much less then I imagined before. There is resistance in the system about the difficulty, but way much less then I thought there will be. So, I focus on taking the first step, and see what happens.

Did you ever run in the rain? I did, and although from inside, it looked as it would be a terrible experience. However It was not that cold, it was not that wet, and although it needed some effort, in fact it was fun.

Did you go for fruits at the buffet table? It turned out, that the grapes, apples, and all the other fruits are very tasty at this conference (for sure they come from some Southern country), and when I tasted the cakes in the very last minute of the coffee break, they were nice, but rather felt just the usual sweet stuff.

How was it taking the stairs? Actually, I enjoyed the exercise, and I met some colleagues on the way up, and said a a smiley hello.

Two days ago, in the underground of Stockholm, I met this set up: stairs, and escalator. As you can see, most people take the escalator. I had luggage on me, two bags, and a handbag. I was not in a rush, but I had to be on time. After some hesitation, I took the stairs. I imagined it will be tough with the luggage, and "that's not the easy way".

I knew from my previous experience that this difficulty that I feel big actually is not correct. The stairs are not high, I am fit, my luggage is not that heavy, and there are other people also taking the stairs, so it should be OK. So, I just focused on the first step, which was about choice. Let's start, and see what happens.
But when I was on the stairs, it turned out it's not that difficult at all, and in the end I was up sooner vs. the people on the escalator.

To my personal experience, getting over resistance, through acknowledging a difficulty to be low, although perceived high, needs training, or coaching.

Either I learn trough training myself that what I sense as the amount of difficulty is not correct, and it is lower, and it is OK to go for it, and when it is not OK to, because it is really a big difficulty. Or, I have someone with me, whom I trust, and guides on the way to distinguish between what is in reality little effort, and what is big effort.
I'm learning the POSE method of running, and for this, I follow the advice of my coach, how much is a good distance to run. Last time we had interval training, and I was running 4 K/min. I never run that fast ever in my life. And in fact, it was not difficult at all. However, I thought it would be that difficult, and therefore I never experimented with it. Following his advice on how, and when to do it, I got into it. And now I know, it is something I can do, and even if it seems to be a difficult task, I know this is just my perceived difficulty to it, in fact I can do it. This way, I overcome my own resistance thanks to the experiential learning I had before with his help.

So the other experience I have that trough training, the resistance that was big before, becomes tolerable, or even disappears.
When I started to develop the habit to run, I had to organize techniques to trick myself into running. I did ZERO exercise those times in my life. I started with 10 min per day, and it was quite an effort to make it happen. After 1.5 years of running, I enjoy going out to run, and look forward to it. Gradually trough training myself, I can lower the resistance. However, from the outside, when just starting, this could look like as a hero willpower act. Running for an hour looked like a great hero achievement when I just started. Today, it's fun, and I don't consider it as 'big'.

Now, I use this technique consciously, both for myself, and supporting others. I identify where is my resistance in doing something healthy. Then I check that difficulty, and alter the system, either myself or the environment, to make that difficulty as low that it happens by itself, or that I have experience about the real difficulty vs. my perceived difficulty. This is a good strategy to overcome my resistance.

So, which way do you take? Stairs or escalator?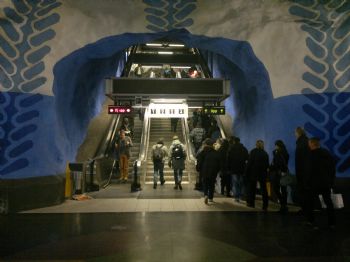 ==
Update (03 Nov 2012): I changed from "perceived resistance" to "resistance, and real vs. perceived difficulty".





Thursday, November 01, 2012
So here I am in Stoccholm, Sweden, for an organization development conference. Tonight I slept at a friend, with whom I studied coaching/OD together in the last 1.5 years. In the program, we used to run together in the mornings, before the classes, so I asked her how about a run in the morning, as we used to do.

I was hesitating a lot to get up or to sleep. Last night I had only 5 h sleep, and now only 6h. Usually, I prioritize sleep first. But then, I woke up anyway, so it was not much effort anyway to get up.

And we had such a fascinating run together! She showed me downtown Stockholm, around the lake, the famous hall where the Nobel prize winners get their special celebration dinner, the city hall. This place just looks gorgeous.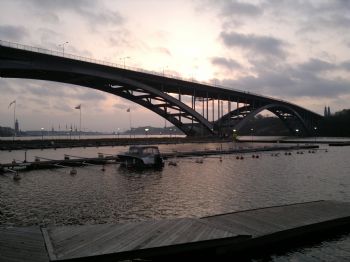 During the run, we talked about POSE running, what it takes to learn it, challenges, advantages.

For breakfast, she had a powerful surprise for me.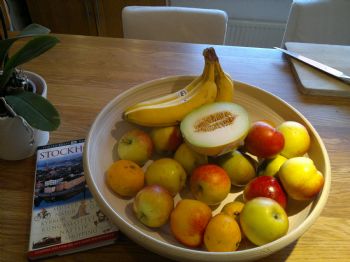 On the program, I kept proactively asking the faculty to organize fruits and vegetables for the coffee breaks. Each time we had the next week of courses coming, a few weeks before I wrote them to please don't forget the fruits for the coffee breaks. As a result, we had fruits all the time, and we enjoyed it so much.
And funnily, people attending other programs in the same hotel/building were envy to us, how that we have fruits and they don't.

So, she remembered how much I like to have fruits, even when I'm travelling, and she bought this whole basket of fruits to have it for the breakfast when I'm here.

I'm touched!

And I am just amazed, how this circle works. I work on changing myself, step-by-step. Others get inspired around me, slowly. And then, it comes back to me, they inspire me back.

My take away?
It does matter with whom I choose to get surrounded by. Since I run, I have friends who also happen to run, and put effort into living healthy.

Now both of us feel great and energized, and happy for this perfect start of the day.

Whom do you inspire around you?





Thursday, September 27, 2012
Yesterday, I had a business meeting in Vienna and I used the opportunity to stay for the weekly POSE-running workshop. Every Wednesday night there is a possibility to train with coach Andy.

I did the POSE training in June, and then the triathlon training with dr. Romanov himself in September (which I want to cover in a blog, too). I am practicing since then almost every day, but somehow, my technique didn't click, and I needed the trained eye.

Stretching, warm up run, drills, and then interval training. Strangely, I loved the drills, especially the SpeedRope ones, they give variety to my running exercise.

Intervals were 4 times:
1_lap of 400m at near top speed, pause until heart rate drops below 120 bpm (2 min)

When I need more than 3-4 min to settle back below 120 bpm, then I know my aerobic capacity for that day is over. :-)

I did all laps with focus on executing the technique well, pull, pull, pull.
I had a good rythm, had my cadence high enough, and kept my stride length short enough. My heart rate was going up to 185, but it didn't feel extreme, just high.

I had to correct was the pull of my ankles too high. Andy told me I pulled so high as I would run with 3 min/K.

After the 4th lap, I was thinking about how much I enjoy this company, ambiance, the feedback, the run itself. And on top of it, even just with and hour of training, my technique improved a lot.

Then I glanced on endomondo on my phone, and boy I was surprised.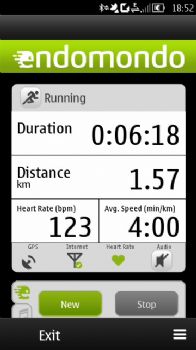 I was running with 4 min/K, and I didn't even feel it to be fast!
Yupppiduppidoooo!

Key learning?
This pose technique works, I just have to keep on training.
As most things in the healthy life, this doesn't bring results from just overnight (as many people wish), but it works.

As for maintenance, an advantage I see on learning this technique that it has already shifted my focus from "just running" to "run well".
So it's not about whether I run or not, it's about getting better. It was intentional for me shift my focus by going for the POSE technique, but I never expected it to work so well.

What is your strategy for keeping up motivation?





Saturday, August 18, 2012
Last time I wrote about the habits that keep me strong, or those that I want to improve on.

However, there's one habit that has an even more powerful effect on me.
Not on just my healthy lifestyle, but on my whole life in general.

I have read in several articles that a new approach is needed when one reaches the Target Weight. It requires setting goals that are different from before, as the challenges are now different.

And the main challenge is motivation.

Instead of setting my focus on target weight, develop daily exercise, update nutrition routine or regularize sleep hours, my objective should be about something that has the healthy lifestyle as a "side effect". If I pursue my goal, the healthy life happens on the way.

I give it a lot of thought first, but surprisingly, it just emerged naturally.

In the past two years, as my friends saw the success of my healthy lifestyle, they come more and more for advice, tips, encouragement. And sometimes they asked me to join in on the way to give support on a consistent way.

This is not new to me, as I study coaching with Gestalt for the past two years, and I am involved in several coaching relationships myself. I enjoy coaching a lot, it gives so much results with little energy, and it is so much fun.

So the goal I set is to get engaged with others to support their healthy lifestyle development.

And this habit of supporting others seems to have the strongest effect on my healthy lifestyle. It gives me consistency, energy, fun. The paradox is that usually my target is to help someone to improve, but I noticed that it comes back, and I get changed during the process.

As I support someone to get in the daily dose of exercise, naturally, my exercise happens consistently in the same time.
When I listen to someone with active listening about the struggles to eat better, or to fit in exercise minutes, I discover that in fact I have those struggles, too.
When we brainstorm about how to organize healthy eating on business trips, the same practices happen on my own trips.
When we have a debate on how much calories are in a meal, and which one has more valuable ingredients, I pay more attention on those.

And when a friend reaches a healthy lifestyle goal, s/he gets motivated.
But what I observe is that in fact I get motivated in the same time.

Somehow, this became my most interesting healthy lifestyle habit.

I motivate others = I get motivated

And after sending a motivating message, I tend to scratch my head and just wonder:

So then, who's motivating who?

This is from Thursday, a powerwalk I made in Graz, next to the river Mur.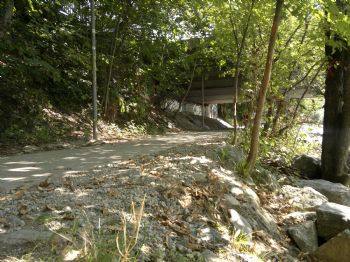 Whom do you help around you with healthy lifestyle development?
What effect has it on you?




First Page
1
2
3
4
5
6
7
8
9
10
11
12
13 14 15 16 17 18 19 20 21 22 23 24 25 26 27 28 29 30 31 32 33 34 35 36 37 38 39 40 41 42 43 44 45 46 47 48 Last Page

Get An Email Alert Each Time HAKAPES Posts