Sunday, October 02, 2011
FRIDAY, 30 Sep 2011
After work, I decided to make a trip to Graz, swim, visit a friend, bring some clothes I shrank out to a second hand shop, run, and just explore the city a bit.

Basically, I went there mainly for the swimming, but I wanted to justify the trip and the train ticket. So, here we go, I never go to Graz, but then I make this 40+40 min train trip to go to swim.

This sparklife makes crazy turns in my life, that is for sure.

So, I had a chocolate eis + cake with my friend; hm, I ate all the calories for dinner in that Café, but that carrot-yoghurt cake was so good. She suddenly asked me if I would be interested to join here for her Yoga class in the city center.

OMG.

Me on Yoga.

I'm really not that type of elastic body people, who can smoke a cigarette with their feet, and wave with their ears in different directions at the same time.

But, since I'm on this spark-track, I thought, OK, some opportunity for an exercise that I haven't done before, let's go for it.

Also, I buddy coached with a friend of mine during the summer, just checking with each other for the daily exercise, and she was doing lots of Yoga. And I was really curious what is this Yoga is, that she did with so much enthusiasm.

Starting from the city center, I ran to the swimming pool in Eggenberg (3K); Auster - the most expensive one, little treat for myself.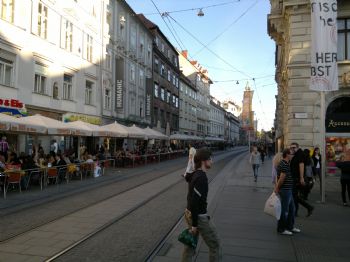 And then, there I was at 6pm, laying in a dark room full of women (there was another man, too, I noticed he layed his matte just next to me), listening to some very nice relaxing music.

Christine started in a calm tone in German the instructions (huh, so many new words to learn), and we did all sorts of moves I have never even imagined before doing. I have discovered I am way underdeveloped in terms of muscles on my abs. One and a half hour went by pretty fast.

Afterwards, somehow I couldn't tell why, but I was tired.
It was a very different tiredness then after intensive running or swimming.
Maybe I'll do it again some other time. It's way too expensive, 80 Euros (110 USD) for a 4 occasions beginner class, but maybe I'll do it as a reward for my next goal.

This is the yoga classroom, without the girls.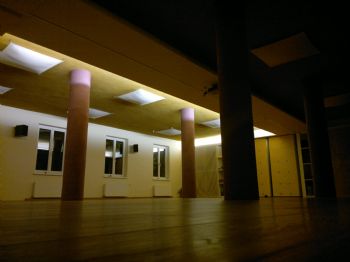 Christine: www.cityyoga.at/team/yogalehrer/chri
stine-swoboda/
Short clip with lots of Austrian people with some Eastern touch: www.cityyoga.at/studio/

Are you doing Yoga?
What do you like about it?