| | |
| --- | --- |
| | HAKAPES's Recent Blog Entries |


Monday, October 03, 2011
SUNDAY, Oct 02, 2011
For some reason, after so many months, I finally took my bike to the car-wash station, gave it a wash, and fitted the mount for my Nokia N8 phone, so I can use Endomondo on it. This was on Saturday.

On Sunday, I really didn't feel like exercise, but as my 10 min rule says, only 10 min of exercise is enough for a day to reach my goal, I finally gathered myself together, and went for a little pedaling.




And I just went further and further, and in the end I made a 2h 20min 42K round trip to Weiz, the town nearby. I didn't really feel any tiredness or problems. I remember I made this trip in Spring - I looked it up and that was my 2nd blog ever written here in SP.

So, during the summer, with all this running and swimming, my endurance increased so much, that this trip didn't even make me tired. Crazy.

Nearing Weiz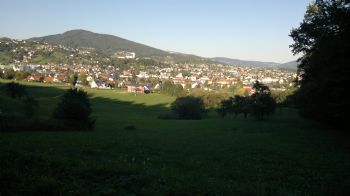 My ride to Weiz in May 2011, this spring.
www.sparkpeople.com/mypage_pu
blic_journal_individual.asp?blog_id=42
18438




Sunday, October 02, 2011
FRIDAY, 30 Sep 2011
After work, I decided to make a trip to Graz, swim, visit a friend, bring some clothes I shrank out to a second hand shop, run, and just explore the city a bit.

Basically, I went there mainly for the swimming, but I wanted to justify the trip and the train ticket. So, here we go, I never go to Graz, but then I make this 40+40 min train trip to go to swim.

This sparklife makes crazy turns in my life, that is for sure.

So, I had a chocolate eis + cake with my friend; hm, I ate all the calories for dinner in that Café, but that carrot-yoghurt cake was so good. She suddenly asked me if I would be interested to join here for her Yoga class in the city center.

OMG.

Me on Yoga.

I'm really not that type of elastic body people, who can smoke a cigarette with their feet, and wave with their ears in different directions at the same time.

But, since I'm on this spark-track, I thought, OK, some opportunity for an exercise that I haven't done before, let's go for it.

Also, I buddy coached with a friend of mine during the summer, just checking with each other for the daily exercise, and she was doing lots of Yoga. And I was really curious what is this Yoga is, that she did with so much enthusiasm.

Starting from the city center, I ran to the swimming pool in Eggenberg (3K); Auster - the most expensive one, little treat for myself.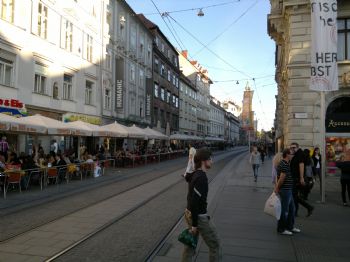 And then, there I was at 6pm, laying in a dark room full of women (there was another man, too, I noticed he layed his matte just next to me), listening to some very nice relaxing music.

Christine started in a calm tone in German the instructions (huh, so many new words to learn), and we did all sorts of moves I have never even imagined before doing. I have discovered I am way underdeveloped in terms of muscles on my abs. One and a half hour went by pretty fast.

Afterwards, somehow I couldn't tell why, but I was tired.
It was a very different tiredness then after intensive running or swimming.
Maybe I'll do it again some other time. It's way too expensive, 80 Euros (110 USD) for a 4 occasions beginner class, but maybe I'll do it as a reward for my next goal.

This is the yoga classroom, without the girls.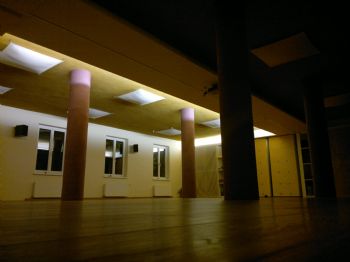 Christine: www.cityyoga.at/team/yogalehrer/chri
stine-swoboda/
Short clip with lots of Austrian people with some Eastern touch: www.cityyoga.at/studio/

Are you doing Yoga?
What do you like about it?





Wednesday, September 28, 2011
So, the closure of the open air swimming pool in Gleisdorf forced me to explore new possibilities to swim. Now, whereever I go, I check before if there is a swimming pool nearby, and I bring my stuff, and jump in for a quick breaststroke series.

In this spirit, because I often end up in Graz, I decided to explore all the indoor swimming pools in Graz. I visited first Spa Zur Sonne, then Eggenberg was on for Monday, and today Union Graz.

This one had only a 33m pool (which is a luxury compared to last weeks small 25m pool during my training course), but finally, it had proper lanes, like in Hungary. Most of the people were sporty, swimming in a good rythm with a good technique. This matters, I noticed that somehow if other swim with a good spirit, I swim better and just enjoy the whole thing better.
What is interesting that the entry fee in Hungary and Austria is the same, 3.8-4.6 Euros in both countries.

As before, I used my running to commute to and from the swimming pool, to compact time. Because my run takes 60 min every day, it does matter a lot.
And, I also feel so free just to run trough the whole city.

Arriving to the train station, I made a quick shopping, packed my shopping basket with fresh grapes, green salad, paprika, oranges and some dark chocolate. I love that I don't have to think anymore what should I buy, I already know what is healthy, and how to shop. Actually, I save also tons of time at shopping, since I do it the healthy lifestyle way.

I burned about 1300 kcal, and as I was at about 2000 kcal before the exercise, I had room for 700kcal. I loved the 1000g of grapes, the big paprika, the two small oranges, and 3/4 of the 100g chocolate on the train back.


Hallenbad Spa Zur Sonne Graz
33m pool, relaxing atmosphere, nice sauna on the top - perfect for a city-center jump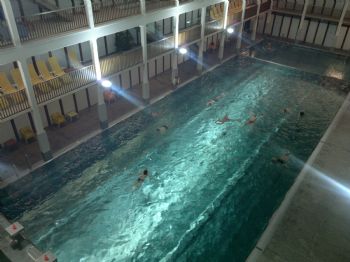 Hallenbad Eggenberg Auster Graz
50m pool, swimming team training on the other lanes - perfect for near railway station experience



Hallenbad Union Graz
33m pool, many sporty amateur swimmers - perfect for near opposite of railway station target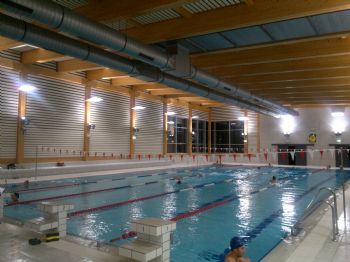 So, next time I'm in Graz, I will easily plan in a swimming detour to the nearby pool, as I now know the where-what-how.

My next target will be Hallenbad in Fehring, so when I travel by train to the other direction (opposite to Graz), I can make a quick stop to swim.





Tuesday, September 27, 2011
So, I have spent last week from Sunday to Saturday in the "Holiday Beach Hotel" in Budapest, Hungary, on a training course. This was the 2nd week of a series of 5 weeks.

The course, and the class were exceptional, I still miss the experience and am on the re-entry road to daily work life. I just enjoy now to look back to this fantastic week, reliving a bit the experiences.


EXERCISE (The 30% bit)
I went to run-swim-run (5K-1K-5K) almost every morning. We had even a group starting up at 6.30am to run, I joined them the first morning, but then I went to run towards the swimming pool, and had to run by 5 min/K to be on time.

This was the first time for me to exercise in the morning, and a classmate encouraged me to do so, so we can run together. The advantage was that I was relaxed during the day about "I had my exercise already", and was energized in the morning from the run. So, I tried something new, it worked, so my options for the best time for exercise (anytime) got wider.

The disadvantage was that I felt it is quite hard on my metabolism to make a 1500 kcal exercise after the night, without any eating before. Afterwards, during the breakfast, I was eating like a husky-dog, heaps of scrambled eggs, melon, müsli.
My favourite bit of "exercise" was 3h dancing in Morrison's Music Pub 2, from 2300 to 0200. Leaves you Zumba girls in the dust! ;-)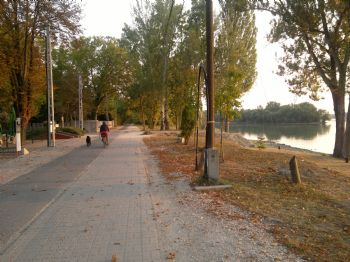 NUTRITION (The 70% bit)
The food quality was mediocre. Lots of fat, lots of carbs, heaps of energy in every meal. I had to make a conscious decision at every single meal to stick to the salad bar, and only get some piece of fish and meat, and leave the pasta/rice/potato mountains to rest. I can't remember a healthy meal offered during the whole week. But, I could get my way around.

Two persons told me they got to like my method of small plates for the buffet table, and switched to small plates. That is a compliment! Also, the habit of "one visit to the buffet table" was effective - I have made up my mind at the beginning, and didn't return to the buffet table anymore. Actually, someone here on sparkpeople told me these tips in response to one of my blogs about travel and healthy eating, so I am happy it reaches others, too.

Also, I started with low calorie items first, soups, salads, raw vegetables, and only then turned to meat and fish. And I chose fish whenever possible.

We also managed to get fruits for the coffeebreaks, instead of the bakery and sweets. In May, it was difficult to push the hotel for this, but now, it became a group effort, and finally we got the fruits.
Level 3 on this game would be raw vegetables for the coffee break (carrot and cucumber sticks for example), but I think that would too advanced for this hotel's chef.

For drinks, I stuck to cola light, tea, and water, with only one energy rich drink per day - which I usually saved for a glass of quality wine in the evening.


HEALTHY HABITS
I can clearly see that it was a good idea to make the checklist before leaving, and spend some time on the first day to set up the environment to my healthy habit liking. Afterwards, during the week, I wouldn't had energy for this.

Weighing food - the small kitchen scale acted like a "Evangelist's Bible" - many people at the meal talked to me about healthy life at some point. I just have to control myself to limit talking about sparkpeople-stuff. ;-)
Altough, I still don't get what is so special for others about the scale - it is so cheap (20 Euros), so easy to do, brings so much advantage - almost zero downside.

Weighing myself every morning with my Omron scale brought that reassurance that I am on a good track. I discovered also that I loose easily 1kg of water during a run-swim-run sandwich, and my weight can drain down by 2.5kg just because of water and toilet.

Some parts of the program were emotionally challangeing, and my cookie-hunger woke up - I didn't push myself too hard in those times, and just took that some pieces of chocolate and cakes to give a short comfort. However, when I was happy, I avoided the comfort food, and went for the healthy options.


MILESTONES
I have also reached my 20 kg loss (44 lbs) mark at the end of the week, which I was happy to share in the group to celebrate. I started in Jan 2011, so in a mere 10 month, 20kg of fat were left behind.

This is the river Danube in Budapest, around 6.30am, at the start of my morning run.




SPARK
The greatest surprise for me was how people are affected by my presence in the group. I noticed that the simple fact that I carry on with this healthy lifestyle, encourages others to follow. It was not even my observation, others told me, "Look Oliver, what's going - we are in the gym, we go to run, we eat fruits in the coffee break!".

Many were amazed how my body changed since May, especially my face transformed. A classmate told that my face is longer, and the muscles are toned, instead of round and loose.

This is the greatest encouragement I can imagine - all this positive feedback from others gave so much motivation to keep on, it's really inspiring.

And, I have to confirm, this Spark thing works in both direction. I get so much support here in the website, and the friends around me, just the simple fact that you and others are interested. And now I start to see that I also motivate others, just with the simple fact of doing my stuff for myself.


GESTALT
My learning from the week
for my healthy lifestyle is that a little preparation can make wonders for travels, and worth the effort. And being surrounded with people who also value healthy eating, like to do exercise, for a full week, encourages me a lot, even afterwards.

My learning about myself
in spark terms, is that I realized how much my body changed, and somehow my view has to change, on how I imagine myself. That inner image, on how I see myself, is still the old, 99kg me. So it can be that my body changes faster than my self-image. Crazy!

What is left unfinished
is what to do when the night's sleep is short (4h, hahha-party man!), and I have no energy to exercise the next day.





Monday, September 19, 2011
So, here I am on my course in Budapest, Hungary, 1 week sleeping and eating in a hotel.
This is my 2nd day, so here's the checklist for the start about to fit the environment to my healthy lifestyle, and to check the habits in the morning+evening. I won't repeat in the blog the habit checklist.

ORGANISE MY ENVIRONMENT
1. Inagurate fruit corner in my room - DONE
2. Keep small Moleskine in pockets to track food - DONE
3. Announce for the group the limited calorie budget, so encourage me healthy eating - Todo.
4. Exercise to organise swim/run - run: DONE, swim: Todo
5. Run together with others - DONE, there are already 2 groups, with 7 interested

HABITS TO KEEP ON DOING
1. Digital kitchen scale - Doing it
2. Fat% scale to measure in the morning - Doing it
3. Bring low calorie food with me (puffed rice, crisp bread) - Doing it
4. Buy fruits and vegetables - Doing it, requested at hotel
5. One calorie rich drink per day only (wine, soda, fruit juice). - Doing it, 1 glass of wine yesterday
6. One calorie rich dessert per day only - Doing it, chocolate during coffee breaks
7. Drink water/cola light/tea at coffee breaks - Doing it
8. Ask for half portion/vegetables for side dish - Doing it
9. Buffet meals - collect all, no revisit to buffet table - Doing it- This is the most difficult, but I keep it!

The kitchen scale is a funny thing - it's like a "Bible" in my hand for a the healthy lifestyle. ANYBODY sitting next to me at the meals start the conversation about healthy life, food choices, exercise, and so on. This helps me, and also helps them.
I tend to to sit close to people as meal-companions, whom look like to follow a similar pattern like me (vegetables, portion control).

I went to run in the morning with a classmate from Spain, we ran 6K together, then I continued to reach 10K for myself.
The swim is planned for the evening.

We ran here on the Danube river side, the sun was just getting up, it was amazing.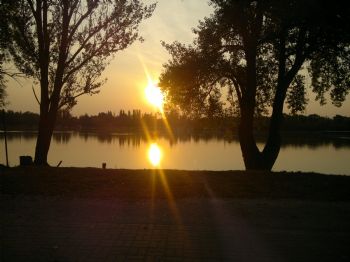 I give myself a sparkgoodie for the good start!



First Page
1
2
3
4
5
6
7
8
9
10
11
12
13
14
15
16
17
18
19
20
21
22
23
24
25
26
27 28 29 30 31 32 33 34 35 36 37 38 39 40 41 42 43 44 45 46 47 Last Page

Get An Email Alert Each Time HAKAPES Posts