| | |
| --- | --- |
| | GREGGWEISBROD's Recent Blog Entries |


Wednesday, July 02, 2014
Stellar weekend. If I didn't feel like being more expressive and detailed, I would totally just end it at that, lol. :D It was just one of those weekends where everything fell perfectly into a happy place and life was easy. It was a (sort of) long weekend here in Canada, with Canada Day falling on a Tuesday, and my wife and I deciding to take the Monday off using a vacation day. It really started on Friday night I guess. I had a great workout and swung by the liquor store on my way home. Equipped with a bottle of wine, and both kids fast asleep in bed, my wife and I just sat out on our deck, drinking and enjoying the warm weather. We'd been tossing a few ideas back and forth over what to do over the weekend. Saturday was fixed up with plans to attend a wedding for some friends of mine, but Sunday through Tuesday were totally up for grabs. For awhile we were leaning toward heading up north for a few days, but then I threw out an idea that got us both super excited... a trip down to Niagara area to bike the trail along the Niagara River!

Since we first started dating, we've been talking about biking this trail one day. Every time we would drive along side it while hitting up wineries, or just taking a scenic route to the Falls, we would stare at the trail and say "one day". Well, the beauty of the Monday we chose to take off, was that our kids' daycare was still opened - as Monday isn't the holiday. We could drop them off and then book it down to Niagara for the day, no problem. With that set in stone, we got on with our weekend.

The wedding was soooo much fun, and an excellent excuse to wear the suit I bought back in March for my brother's wedding. A lot of the people at our table are friends from dodgeball, and so we totally ended up being "that table", lol! :D The table that took full advantage of the open bar. The table that laughed and talked just that much louder than all the others. The fun table. :D The wedding was close to home as well, so we didn't need a DD between my wife and I. It's more fun getting drunk with your wife than having to rock, paper, scissors who gets to drink. :) It was just a great evening. Good people, good food, good dancing, and free booze!

Sunday was just a relaxing day around the house. Filled up the kiddie pool and spent time outside in the beautiful weather with the kiddos. I found a copy of "The Incredibles" and knew Evan would absolutely love it, so I told him we could do a movie night and his eyes lit up. So fun to see your kids get excited over the simple pleasures. We did some pita pizzas on the grill and settled right in. After the kids were asleep, I got a picnic lunch put together for our little bike trip: some awesome roasted and seasoned chickpeas (that I bought), a pasta salad with goat cheese, crisped prosciutto, tomatoes, and a red wine vinegar and olive oil dressing (which I made), and some pesto tuna sandwiches (which I also made). Gatorade and water to drink, a change of clothes packed, and some sunscreen and a hat to fight off the sun - all set! :D

The Niagara River connects Lake Erie to Lake Ontario, and provides the endless flow of water for the epic Niagara Falls. The river spouts out into Lake Ontario right next to the beautiful town of Niagara-On-The-Lake - one of my favorite places on earth. This town has been the backdrop for some of me and my wife's favorite memories together over the twelve years we've been together. We went on dates there... I asked her to marry me there... and we celebrated our sixth anniversary down there. Fort George is right next door to the town, and makes for a perfect starting point for the bike trip along the river. The trail there is well defined and runs all the way to Fort Erie (with a couple of trail interruptions along the way). I wasn't sure how far we'd be able to get, but I knew that we could make it to Queenston no problem, and then maybe just a bit further before having to turn back. I thought it would be awesome if we could bike it all the way to the Falls, but felt that might be an unlikely thing to plan on. I was excited to see how my recent stationary biking efforts would translate into real biking - figuring it would go well, as we wouldn't be hoofing it, but rather enjoying the ride and the views. I let my wife take the lead, as I thought it would be better for her to set the pace... the view of her butt the whole way there and back turned out to be a bonus I hadn't considered, lol. :D It was just such an incredible ride, the whole time was so enjoyable. There are a few sections of the route that are a real challenge, but for the most part it's extremely level, with a good mix of gentle slopes up and down. We made it to Queenston around noon, and stopped for the picnic lunch before getting underway again. I, like the dufus I am, forgot forks for the pasta salad, but thankfully a fancy restaurant at the park-grounds we stopped at let me have two disposable forks! :D

We got back on the trail and I had made some calculations on how far we could bike before having to turn back. We both wanted to see the Falls, both for pride's sake and because you can never see the Falls too many times, but it didn't seem totally possible. The view of the River and other features from Queenston to the Falls were spectacular! Bridges connecting Canada to the States, white water rapids at one point, a super cool looking hydro power plant, and then of course... the Falls! We were soooo close to reaching the Falls at my "turn-back" point, that we both just said "eff it, let's do it!" It would just mean that if we didn't make it back in good time, then we might be late picking up the kids from daycare. No big deal really, and we just HAD to finish that leg and see the Falls! :D It was a really sweet feeling having made it all the way there, having biked about 22km. It took about two hours to do so, but again, it was all just at a leisurely pace. I average a speed of 16km/half-hour on the stationary bike at a good resistance (trying to keep my quads conditioned for running), so you could definitely bike that faster if you wanted to and were in good shape. The way back was more downhill, so I had pretty good hopes that we would still make it back in good time. Well... we KILLED it on the way back, lol. There were a bunch of great downhill sections that allowed us to coast at good speeds for quite a while. Took use about an hour and twenty minutes to get back to our car! :D That also includes two stops we made to take some pictures and just enjoy the view some more. We were pretty proud of ourselves. :) My wife was pretty spent afterward, but I was amazed to find that all the conditioning I gained during my half marathon training hadn't left me! I haven't run long distance in almost two months, yet my body felt ready to go do another 43kms if I wanted! Gives me hope that when my knee stops bothering me, I'll be able to just pick things back up again.

So yeah. A gorgeous ride, I highly recommend that to anyone living nearby or visiting. If you visit, let me know and I'll totally come bike the trail with you!!! :D So that was Monday. Tuesday was just a nice laze around the house kind of day. Kid's played outside, we tidied up the house some, had a nice dinner, and then just enjoyed some win and a movie after the kids went to bed. True fact: a bottle of red wine shared between your spouse once a week is a requirement for a good marriage. Unless you hate each other... in which case... drinking may not be a good idea... :| moving on. :D

That's it. That's all. Sorry it was so long and conversational in tone, but for those that stayed and read it all (or those naughty readers that just skimmed and skipped to the end, lol) here are some pictures to enjoy! :D

A beautiful candid shot that a friend took of my wife and I at the wedding on Saturday...



The park where we stopped to eat lunch...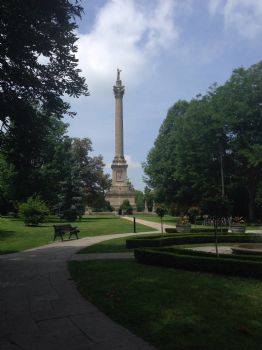 Queenston-Lewiston Bridge I think? Cool bridge, essentially, lol...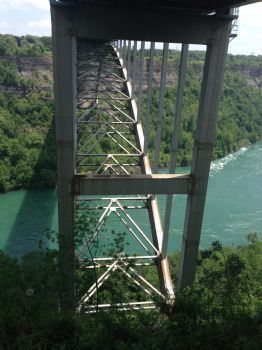 Hydro Powerplant...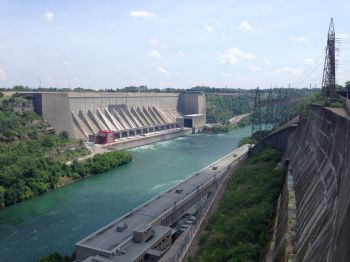 A shot of where the rapids empty into, and a cool cable car that takes you across to get a wicked view of it all...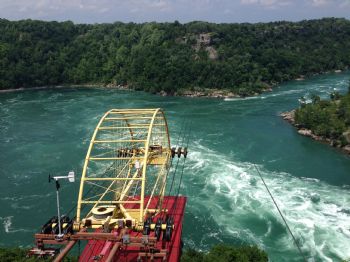 The Falls!!! We made it, woohoo! :D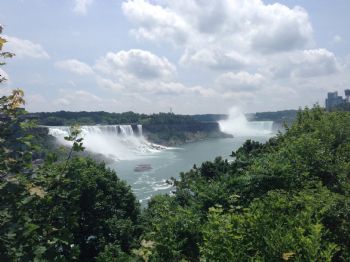 Our route (map image is turned sideways to show the entire route, not relative to true north)...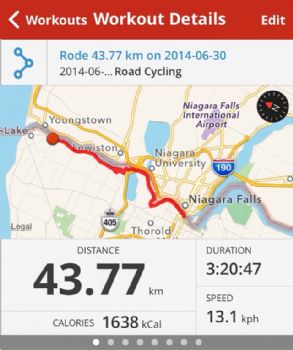 The two intrepid explorers, pre-sweated... did I mention it was INSANELY hot and humid that day? :D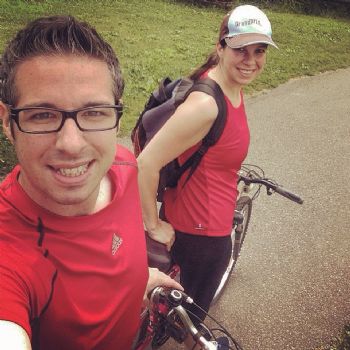 Friday, June 27, 2014
I'm not at all sure where to start this tale, but something very exciting happened to me today. :D When I lost all my weight in my late teens, one of my favorite things to do were pull-ups. It's not that I particularly liked them, it was just one of those stupid show-off things one did to try and impress girls. :D I was really light at the time so it wasn't even that I had bulging biceps, I was just strong enough to lift my skinny self up at will. I was a phenomenal rock climber at the time thanks to that and thanks to my height and long reach. As the years went by, and my weight increased, I found myself unable to do as many pull-ups, until eventually I couldn't do a single one at all. I'd laugh it off, and just say how out of shape I was.

As I lost weight this past year, I would randomly test my luck at a pull-up - knowing full well that it wasn't likely I'd find any success. I finally figured I'd have to wait some time longer, and haven't attempted one since December. As I was finishing up my last arm exercise this evening at the gym, I kept eyeing the pull-up handles attached to the machine I was using. I wanted to try one so badly, but had already done pecs, chest, triceps, and biceps, and was sure I wouldn't stand a chance. Being at the gym, there were eyes everywhere, and I didn't want to look silly struggling to try a pull-up only to fail miserably. Those voices aren't the ones I listen to anymore though... and it wasn't long before I said "what the hell", and assumed the position. :D

Adrenaline started flowing through my veins, and I was nervously excited about whether I would triumph or not. Katy Perry's Dark Horse (guilty pleasure music) was blaring through my earphones, and I was ready to reach up and grab hold. Firmly gripped. Knowing that I'm stronger than I've ever been in my life currently. I began to pull. :D My body lifted off the floor and my legs immediately bent and crossed below the knees without any thought, and I pulled myself up with surprising ease. One more seemed like a must. A third felt only natural. The fourth brought resistance, but I finished it and dropped to my feet. Four pull-ups! :D It's not a big deal to some for sure, but man oh man, it was the world to me!!! I'm excited to start including them in my routine! Great way to start the weekend! :D






Wednesday, June 25, 2014
I was watching this recent clip from John Oliver's show - youtu.be/WA0wKeokWUU - and it brought to surface a lot of feelings I've had on the issue of "the latest diet fad" or "the miracle fat burning pill". If you take the time to watch the clip I shared here, you're probably both laughing, because John Oliver is freakin' hilarious, and you're probably also a little furious at how easy it is for our society to be saturated by wonder drugs and these self-purported easy ways to get what we want.

I lost 85 pounds in one year, and the question that I get more than any from SO many people now - both in my life, and some here on spark people - is "how did you do it". A fair question. A wonderful question, really. I love talking about how I lost weight, because it always brings me back to the moment I changed the course that my life was headed, and brings me back to the epically hardcore, unwaveringly will-powered guy who tore through to his goal weight in seven months - losing 80 pounds in the process. I explain how I came to a low place in my self-esteem and how it was affecting my daily life, and how I'd had enough. I explain how I immediately began eating better and smaller portions, and working out diligently three times a week - half hour cardio, half hour strength training. I explain how it led me to coming back to spark people and tracking my calories honestly every single day, saying no to the random snacks that I knew would only slow my incredible momentum. And then I explain how increasing my exercise intensity along the way to match my body's growth in that respect was crucial, and that with being at goal now, and keeping all these amazing habits in tow, I'm able to relax in regard to that extra glass of wine... or as of late, a daily vanilla dip donut, lol.

I love it. I love being able to share all of that. But guess what... guess the reaction that I have almost every... single... time. Can you guess? The friends, the relatives, and even the strangers, they all respond with, "oh... I was hoping it might be something easier. Like maybe a pill or just cutting out one thing or another." Annnnnnnnnd cue awkward laugh from me. I smile, I nod, and I just end up saying "yeah, too bad it couldn't be that easy." What's amazing is that I understand where they're coming from. When I was struggling with my weight, I couldn't change because I felt it would be too difficult, and so why bother. I think it's very natural for us to always want the easy way out. I think it's somehow innate almost. At least it was with me, and seems to be with many to whom I keep telling my story.

When it's not people looking for the easy way out, it's people looking for the latest fad. I've had people ask if I did the atkins diet, or say "you MUST be doing paleo", and of course people ask if I've been doing all the shake diets. The weird thing is though, that when I explain how I just eat what I want so long as it fits my recommended calorie range, and comes close to the ratio of carbs/fats/protein that I want, the sparkle in their eyes diminishes immediately! I'm always so shocked to see their interest completely wane when in fact I'm saying "eat whatever you want, just not so much of it". Yet it happens. At the end of the day, if it's not the easy way out people are looking for, it's the sexy new diet on the block that they want.

The secret to losing weight and keeping it off isn't a mystery to me anymore. It's just a plain-jane thing really. You eat smaller portions of healthier foods, you say no to high calorie foods and drinks that are bad for you until you get to your goal weight range (I stayed away from pasta, pizza, desserts, and wine for seven whole months, but have allowed them back in as weekly indulgences here and there), and you exercise regularly a couple times each week. The more you can find ways to be active outside of the gym, the better! I make a habit now of walking places close to me instead of driving, and if I've been sitting too long watching TV or playing Candy Crush on my phone, lol, I force myself to stand up and find something to do. With two kids, it doesn't usually take too long to find some way to be active. :D It's a mental shift, a new normal to develop, and it's not easy. Not by far. If it were easy, then weight would never be an issue for anyone. But... it's a wonderful thing. And... the incredible boost to your self-esteem and self-worth at feeling good about how you look, and feeling like you've accomplished something important, makes it worth EVERY single sacrifice in terms of the foods we crave, and the lazy-ish lifestyles we tend to gravitate toward.

There's no shame in wanting it easy. There's even no shame in being afraid of how hard it might be to change. The real shame is that we let ourselves think that we could never do what's necessary to change. I thought that way for years, and let myself get worse and worse... driving out of my way during the day to buy two or three whipped-cream filled donuts from a Country Style Donuts location (OMG sooooo yum)... buying and consuming whole birthday cakes all by myself, in one night! The list goes on. We lie and tell ourselves we'll never change, so why bother and just enjoy what we're putting in our mouths... the truth is we CAN change, and we don't have to live in that misery of our own creation.

Not sure what kind of comments this post will inspire, but it's just something that was in my mind and on my heart, and that incredible John Oliver clip completely sparked me into sharing it all. Happy Hump-day Spark People, hope you all have an incredible rest of your weeks!!!

Quick pic from Father's Day recently, cause everyone loves pics! :D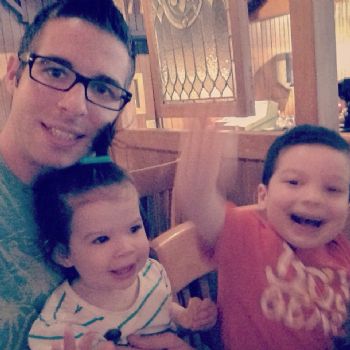 Monday, June 23, 2014
I'm not saying I'm invincible, or that I'm foolhardy enough to believe that there's no point in which I can't push my body any further than it might be capable of going... but it's been irking me since my doctor mentioned that maybe my body had reached it's limits. No one gets to decide or suggest what my limits are except for me. Period. I've earned that right. There's a sort of raging energy now that's building inside of me as I wait on my knee... when it's healed and ready to be pushed again, that energy is gonna ignite in a big way I think.

After biking 9 miles tonight over 32 minutes, I ran for about 5 minutes to test two things: one being my knee (which felt fine during and after, though running at a much slower pace then I'm capable of mind you), and the other being to see what it feels like to transition immediately from bike to run (as I'll have to do that in a triathlon, as well as swim to bike). All I can say is that triathletes are my new heroes! My legs felt like stumps! It was an oddly incredible feeling. Despite the fatigue, that raging energy inside of me wanted me to go faster, harder, and for longer than the few minutes I allowed myself - being smart and all, I went slow and for just a few minutes of course. Once this obstacle of having a knee issue crumbles out of my way, it'll be so amazing to just let myself go. I can't wait... I don't want to wait... but patience is a virtue of the wise, and so I'll just let this fire burn hotter until it's out of control, and then we'll see about those "limits".





Thursday, June 19, 2014
No, not Doctor Who, sadly. That'd be pretty sweet though... :D No, the other doctor. My family doctor. I finally had my long-put-off doctor's appointment yesterday afternoon, and while normally I find my doctor to be incredible, there are times where I feel like he simply gets an idea in his head of what's wrong and isn't willing to budge regardless of my symptoms. So... here's the breakdown...

The Good: my x-rays came back showing absolutely nothing wrong with both of my knees structurally. This includes the bones, their positioning, and my cartilage - all showing perfectly fine knee composition. He doesn't believe there is anything seriously wrong that can't heal on it's own (which I already surmised, so not really a doctor worthy comment). He gave me some prescription anti-inflammation meds to try to makes sure my knees aren't resisting a full healing due to some small inflammation that may still be lingering around.

The Bad: he did not offer any concrete knowledge as to what is actually wrong with my knee, nor did he schedule any more tests to determine the full scope of the issue. He says I hit a wall as to how far I can push my body, and that's all. Which is absolute horse-sh*t. I was running perfectly fine for months, and then since doing something to my knee, it hasn't fully healed and now I can't run more than four or five km without it hurting. Plus, it still hurts when I walk up and down stairs. He also didn't offer any timetable for when I could start to run again.

I didn't go in really expecting any of these answers, but figured that because they couldn't be given, he would have at least suggested more testing. But nothing. He just kept towing his opinion and shuffled me out of the office. It was frustrating to say the least. I'm generally a very calm person when it comes to dealing with stress, so the fact that this riled me up says volumes really. Still... deep breaths. I have some drugs now. I'll take them until they're done, as prescribed, and then try to keep myself from running - to make sure my knee is completely healed. I just have to keep breathing... keep calm... and remember that regardless of whether I could run or not, this is the summer of biking, lol. It isn't easy to keep a bright disposition about this, since running is such a passion of mine now, but deep breaths and a constant personal reminder that I'll be running again all in good time will see me through.



1 2 3 4 5 6 7 8 9 10 11 12 13 Last Page

Get An Email Alert Each Time GREGGWEISBROD Posts