| | |
| --- | --- |
| | GREGGWEISBROD's Recent Blog Entries |


Wednesday, December 18, 2013
I'm four pounds away from my goal, but in honest I've been living and feeling like I'm at my goal for the past month. For five months, the path that I traveled in this journey of mine was pretty straight. I found my rhythm right away, and refused to give up on my momentum - this fierce determination carried me like wind filling a sail. All I had to do was keep on moving in the straight direction set before me, and everything just fell into place. Feeling like I'm at goal has changed everything though. Everything. My emotions, my focus, my routines, my normal. Instantly my mind no longer viewed a lost pound as an almighty victory. The sense of joy at seeing the scale decrease hasn't disappeared, but it's changed. Softened. I'd like to hit 185 just for the sake of finishing what I set out to do (I'm at 189 right now, so it'll happen), but it's not important to me anymore. My diet has shifted from calorie restriction, to calorie reincorporation. No longer am I looking for ways to erase a calorie here and there, rather I'm looking for healthy calories to inject into my daily life. This is a result of my half marathon training - I burned 1800 calories last night on my 14k long run alone. If I didn't eat more, I'd be doing my body a great injustice at this point. It's weird though, because it's a complete mental shift from every thought that has coursed through my mind in the majority of this experience.

Motivation... seeing your body change every single day, and every single week - losing weight and feeling better about yourself - is a powerful source of motivation. It fueled every action that I set before myself in those first five months. Now that I'm happy and am not concerned about my waist line needing to be smaller (though I'm aiming to get out of these baggier 36 waist pants and into the 34 range), the thought of losing weight doesn't fuel my desires anymore. Throughout my journey, the power to resist foods and push my body came from the desire that was fueled by the prospect of losing weight... so what now? What stops me from going on a binge-fest each day? What places my heart in my hands and commands me to throw my body into the air with every stride on my runs? What inspires me to go out and get that which I so desperately want? ... I've come too far... that's what. I've come too far.

Last night, as I was driving from work out to the North Shore Boulevard where I do my long runs, I was contemplating all of this. I was in the mindset that I would just try to run a shorter distance - seeing as I would be running through the snow, and just over 24 hours prior to this I was barfing my brains out with a stomach flu. I was thinking about motivation though, and as my mind cleared away from the stresses of life in general, I realized that I had eaten quite a bit since I had been able to keep food down, and I slept and rested the day away on Monday. I took stock of my body... my legs, my knees, my hips. All good, all strong. I asked myself what was stopping me from doing the 14k I had scheduled for this week? I've mentioned a few times the influence that music has over my thought process, and that's when Daft Punk's "Get Lucky" streamed from my phone and through the speakers in my car. The beat alone was enough to get the beast inside of me stirring... but then the lyrics of the bridge spoke through the haze and focused my every fiber: "We've come too far to give up who we are, so let's raise the bar and our cups to the stars..." Forget that the rest of the song is about going out to find love and some extra McLovin' on the side, lol. :D Strength and determination flowed through my body as I drove toward my route, and it became clear to me that I didn't need to fear those 14km in the snow... they needed to fear me. I was coming for them, and I wasn't going to leave without them... and I didn't. Through snow, and slush, through tight muscles and tired legs, I pushed and took what I came for. I've come too far to settle for anything less. I've come too far to stop and rest on all that I've accomplished so far. I've come too far to stop dreaming and to stop making what I've always thought impossible for myself become possible. I've come too far to give up who I am now... so I'll keep raising the bar and keep placing one foot in front of the other. There simply isn't any other choice for me now.

On a lighter note... if you've ever wondered what it's like to run in the snow, just imagine running in loose sand - only it's wet and cold too, lol. Also, be ready to ice your groin muscles afterward, because damn they'll be all kinds of sore! :D The day after my long runs I always walk around like Frankenstein, lol, I even make similar moaning noises! Happy humpday, my dear sparkfriends, even though I'm not super communicative on your walls at the moment, you're all on my mind and in my hearts.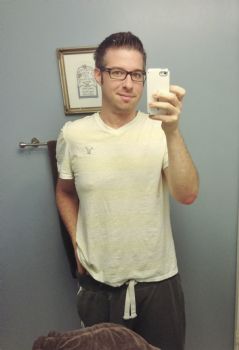 189 pounds. I kind of feel like I could wear a paper bag these days and still look pretty good, lol! A far cry from how I felt about myself six short months ago.





Thursday, December 12, 2013
My heart longs to jump into my spark friends list and start spreading some love "en masse" - those of you that have been along with me for awhile must know by now that I'm totally addicted to lifting y'all up. Life is so busy though these last two weeks. I've been wanting to blog as well, but time simply escapes me. I've been mulling over my thoughts on maintenance, but I must be lacking a muse or something because the thoughts just won't gel together. Anyways, hopefully I'll get back on top of work soon, or find the energy to spark in the evenings, but just know that I'm still thinking of all you guys, and you're with me in everything I do on my journey. See you on your comment walls in the not so distant future. ;-)





Wednesday, December 04, 2013
What an incredible place to run. I've been doing my long distance runs for four weeks now, and I'm always taken captive by the beauty I see during the main portion of it. The neighborhood, for starters, is filled with houses that are more like mini-mansions. Visually stunning, they've only been made that much more extravagant with the addition of Christmas lights. The neighborhood is a very old one too, and is mixed in between age-old trees and natural beauty. For a good part of it, I run alongside a part of Lake Ontario that dips into a sort of bay that is bordered by my city, Burlington, and our neighboring city of Hamilton. As I run along the streets, I catch glimpses through the trees and houses at night of Hamilton across the lake, all lit up with beautiful white lights cascading along the shore. It's hard not to feel spiritually moved as I push up and down the hills of my little route, breathing it all in. Having done 10k the first week, then 11 and 12k the following two weeks, my training schedule (as co-ordinated with my running mentor/trainer/Scottish brother-from-another-mother) allowed for a 'rest' week - which is kind of a misnomer, since I still ran 9k, lol. :-D Still, I decided to stop along my route and take some moments to breath it all in, and to take some pictures to share with you guys. So without further ado, I give you my Kingdom of Lights - a place that feels like it was made for me, at this moment in life, where it's just me and my pounding heart. All thoughts and emotions sweat out from my body, and it's just moments of pure peace. Much love Sparkers, hope you manage to find some peace of your own this week.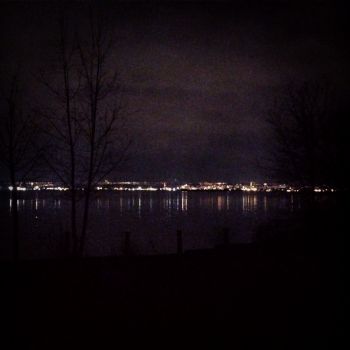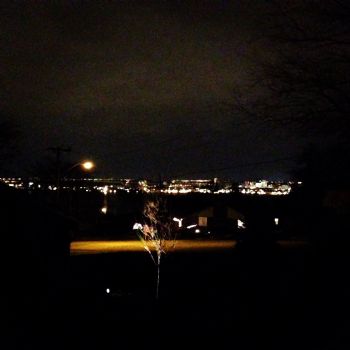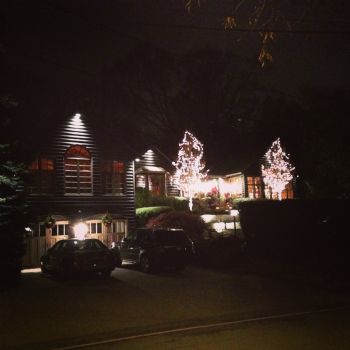 Friday, November 29, 2013
They say time is the great healer, but what does it mean to heal? Time is but a collection of minutes that separate us from one moment to another - eventually they add up and the moment is so far gone that you have to squint very hard to see it still. When you no longer see a painful moment, does that mean you've healed? Or does it simply mean you've forgotten it? That somewhere hidden, in parts of your soul that lay behind closed doors, there's a wound that's simply been forgotten? Over the past month, I've slowly come to a point where the only connection I have to the version of me that started this journey, is through what I posted here in June. I've so few pictures of me throughout the year I spent at rock bottom in terms of my self worth and self esteem, but the few that I have still provide a momentary connection with the deep sadness I felt... the complete lack of confidence in myself and lack of courage to do anything to change it. This morning, as I drove into work, I realized that time has taken me so far from that version of me, that even when I squint I can barely see myself from that time. I'm changed. I'm different. The same... but different. Every day my mind continues to evolve, and my heart grows stronger, more fearless. In so many ways, this is everything that I've wanted for myself when I chose to awake from my long sleep, and trusted my legs to be strong enough to take me home. So what's the problem, you might be wondering. Sounds like a happy ending, yes? It is. Of course it is, without a doubt. But...

Music often provides catalyst moments for me when it comes to the deepest parts of my psyche. It's like there's a conversation happening there in another language, and I can only pick out parts of it at certain times. Then a song comes along and becomes a translator, giving moments of deep clarity. It happened six months ago in the moment I chose to start this journey, and has happened many times across the years of my life. Tonight is brought to you on behalf of "Let Her Go" by Passenger. As I lay here listening, pondering these things, I was struck by the lyrics:

Well you only need the light when it's burning low
Only miss the sun when it starts to snow
Only know you love her when you let her go

Only know you've been high when you're feeling low
Only hate the road when you're missin' home
Only know you love her when you let her go

You see, for me, I've gained the most significant amount of strength during my journey by my ability to contrast the deep sadness I felt almost six months ago, with the incredible courage, determination, and self worth that flooded into my bones every week that passed. The high was so great because the pain of how low I had felt was still very much a part of me. Now that this low has drowned itself in the sea of time, all that's left is the high, and there's danger in that. I've never been more proud of myself in all my life as I am now in every passing moment, but the core of who I really am is so far from pride. I'm anchored in a deep humility that serves as a compass in my life, and it's been telling me something lately. It's been telling me that if I get so used to the light from this fire in me, that I forget the misery I felt in my darkness, then I risk leaving my fire unattended, unappreciated. My dark passenger hasn't gone anywhere, and his only play in this deal is to sit still, stay quiet, and wait. Wait for the fire to flicker into embers, and then begin his work once more at blinding me to the poor decisions I made for so many years: to nourish the roots of apathy and laziness that had run so deeply in my soul once before. When you forget why the fire is burning, it's easy to let it burn low... if you don't remember why you needed it to burn at all, then you might just let it go out.

For 13 years of my childhood, until I was 17, I experienced the darkness. When the fire raged in my souled after losing all my weight then, I became a very similar version of the person I've become once more in recent months. For years I danced around the fire that contrasted the darkness which had tormented me for almost my entire life. Then one day I stopped dancing. The fire was nice and warm, and I was thankful for it, but it became a prop that simply added ambiance to the other things that drew my attention. Having forgotten to fear the darkness, I let that fire dissolve into nothing more than a pale smoke. Darkness wrapped it's deceitful arms around me and drew me quietly into it's trance. Forgetting the darkness is not an option this time. I have to remind myself of my story, I have to hold on to it with all my strength. It's not to hold onto the sadness as something to dwell in, no, just to remember it... to remember what it's like to live outside the warmth of living my life like it matters. History will be doomed to repeat itself otherwise. With every breath I take, with every footfall during my long runs, I need to remind myself that forgetting carries a price tag that I'm not willing to pay any longer. As I train for this half marathon, I will keep reminding myself that it's significance is not in saying that I've done it, rather in saying that there is no going back for me - there is only going forward. There are many years of my story that I've yet to write, and they lay before me blank and waiting to be penned... waiting for new memories and greater moments of life and love. So I'll hold on with all my strength, I'll hold on to the memories of my time in the darkness, and with that I'll remember how important it is to appreciate every day that I'm able to warm myself by this fire which rages deep inside of me.





Monday, November 25, 2013
This is going to be a complete mish-mash of topics, just as a heads up... you've been warned. :-D My tendency to ramble is likely to be in full effect, lol.

I began writing the tale of my 11k run last week shortly after the run was over, but haven't been able to get it done yet. I've been looking for the time to finish it, but whenever I had a free minute for Spark People last week, I chose to visit and catch up on as many of your pages as I could. It's difficult to find the time to do all of that all the time - write my own things, but also make sure I visit every single friend every week or so - not that anyone is sitting idly by waiting for me to comment on their pages, lol, but it's something that's equally important to me as my own blog. You guys are important to me. Encouraging you, and sharing in your individual journeys is important to me. I've said to a couple of people so far in private messages, that Spark People is a really interesting fit for me, because I love people, and I love to lift others up. This community offers such a refreshing opportunity to do some of these things that I love so much.

It's been a very busy week in my life though, which also limited my free time for Sparking. Everything continues to truck along nicely in the weight loss and management department though. Now that I'm running the long distance routes once a week, and still doing dodgeball and a shorter (4mile) run on Friday's, the weight really just takes care of itself. I had a 2.5lb loss this last week, which is the highest I've had since the days of my massive drops back in the first three months of my journey. Since September, it's been anywhere from zero to two pounds per week, usually just one pound per week. So that was a fist pumping moment for sure, lol. It's strange though how things have changed for me mentally in regard to my weight loss now that I'm so close to goal. I've no doubt in my mind that I'll hit goal in the next month, so I don't think about it as an epic struggle - rather, I think about it as a matter of reality. It's gonna happen, so the question is, "what next?" I've been formulating some thoughts on maintenance that I plan to post about this week if I have time, so I'll save those for then, but I'm quickly realizing that maintenance is an ocean, deep and vast, where it's truly your decision over which direction you want to sail. It's not something as simple as saying, "well, I'll just eat some more" or "I'll just exercise a bit less". It's also very unique depending on who you are, and what you want to do with the rest of your life - and how you want to view yourself. It's bizarre to say the least though, because the closer I am to goal now, the more I view it as a matter of fact and less of a "OH SNAP I'M ALMOST FINISHED WHAT I WANTED TO DO SO BADLY FIVE AND HALF MONTHS AGO!" frame of mind. That said... when I went to run my 10k a couple weeks ago, I didn't think it would hit me that hard when I finished it... and then I sobbed with a joy that sprung out of nowhere... soooooo... lol... :-D Who knows, I'll probably end up as a pool of emotional human flesh on the floor of my bedroom (lovely mental image, no?). I dunno, lol, time will tell. :-D Regardless of that though, it's strange how every pound lost in the early days brought me such an incredible amount of emotional healing and appreciation for my appearance, but now it's like I feel healed completely in that regard. I'm not as concerned about the weight loss anymore, and I'm completely confidant in my appearance now. It's more about not gaining weight back now, and more about my half marathon goal. These are the things that consume my times of introspection, mostly.

Speaking of my half marathon goal, I visited my doctor last Wednesday to talk about my knees, lower back, and ankles. They'd been sore for a couple of weeks, since I slammed them with a week of excessive physical activity and never took time to recover. I scheduled a physical for December, and just a check-up for last Wednesday. I haven't had a physical in... well... lol, since I lost weight when I was a teenager. I've spoken with my dad about this a bit, and he thinks it interesting how we're so quick to have physicals when we feel like we'll pass with flying colors, but not when we're unhealthy and probably need to have one the most. I definitely have fallen into that category, but plan to have one every two years from now on. Anyways, the doctor looked at my knees and ankles and back, and said everything felt strong, and that the ligaments in my knees felt impeccable. So he's sure it's just inflammation from the pressures I'm exerting on my body. He gave me a tube of anti-inflammation cream to rub onto my joints and knees before my runs and after if needed, said it should alleviate the problem if it comes back. I didn't play dodgeball last week to give my knees a proper rest after my 11k run, and by Friday they felt great. I put them through a 4 mile run at my max sustainable speed that Friday, and broke a couple of my own personal bests for running 3.1 miles and 4 miles - though I was needing some release after a heck of a stressful day at work, so that might have fueled that a little, lol. Anyways, my knees felt great during and after, and have felt good all weekend long - hopefully the knees issue is behind me. It's hard though to skip workouts now, or to go easy. It's strange how you become proud of what you're capable of doing, and when you don't achieve that height of ability you feel like you're short-changing yourself. Some times though, you just need to slow down so that you can go faster when it really counts I guess.

Here's a bit of my 11k post for anyone that's still reading and not bored to sleep, lol (written on Tuesday last week):

For the entire one hour fourteen minutes and twenty-three seconds of my run, plus the fifteen minute drive home across town, I had to pee. lol... rule number one for running... relieve thyself BEFORE you leave to do your run! The funniest part, acutally, is that I had done so not long before leaving my office, and yet, I apparently had the bladder of a two year old that day. It was an irritating way to start my run. I suppose I could have found some secluded location to drop my spandex trousers and taken care of that point of business... actually... lol... now that I'm thinking about it, why the heck didn't I do that?! :-D Oh well... beauty of hindsight. Instead, I just told myself to "suck it up, cupcake" and on my way I went.

It was a much different experience this time around, compared to last week's emotionally driven run. The conditions were worse, as I ran the majority of the way into a headwind that reached gusts of 20mph, and was coooold, lol! I picked up a balaclava after my run (face mask) to keep me warmer in the months ahead. I'll have to layer up a bit for when the temperatures drop more - I'll give a breakdown on my ensemble once it's completed. So there was the need to pee, the freezing cold as well, but then also the realization that I'd forgotten my earphones at home! Blast! Drats! Other choice words! I was disappointed as I sat there in my car, about to embark on my run. Music is a big motivator to me, and just helps to take my mind out of my body at certain points of my run. That said, my 11 kilometers of asphalt was waiting for me, and I wasn't about to waste time in traffic driving back and forth from home. I cleared my head, and just told myself how completely bad-a$$ I would feel after finishing my run without music and through the cold... oddly enough, when you're clearly as insane as I must be, that's all the incentive you need! lol!

Having finished my 10k training run last week with lots left in the tank, I was confident I could attack this 11k training run at a higher consistent heartrate. The only fear in my mind was from the pain I'd had in my knees for that past while. They felt good though during the day, so I pushed the fears away, and let the rhythm of movement and the sounds of the world around me drown out all thoughts and concerns. The head wind was a brutal challenge, and I climbed one hill that just seemed to go on forever. The hill came at about the halfway mark, and it was starting to put some strain on my knees. I get all philosophical at moments like that though. Seeing the hill as just one of life's obstacles that I had to get over - no choice in the matter - I found my rhythm and just kept moving my legs. I knew the top would come and things would get easier... and the top did come, and they did get easier... until the next hill, lol. :-D I understand now why so many runners train here, it's pretty challenging.

After turning my final corner, I just had a straight and level run for the final 4km. Instead of running into a headwind though, I finally had the wind at my back. Gosh. I forgot what that feels like. Doing all of my running on the treadmill has been great up until now, but you miss out on a lot of the joys that can be found in running when you're not outside. With these strong winds at my back, it felt, at times, like all I had to do was lift my legs, and the wind would carry me all the way home. It made that last stretch fly by and I was able to sustain a fairly good pace to finish strong. I checked my running app on my iPhone near the end, thinking I was just about to hit my 10k point, and lo and behold, I was practically at the end of my 11k distance! I couldn't believe it! I had used my previous run time as a reference for this run, and according to my timer, I was basically at the time that it took me to run my 10k the previous week... so when I finished my 11k only 30 seconds off from that time, I couldn't believe it! I did a proper cool down this time, and stretched my legs out before finding a nearby McDonalds to finally relieve myself, lol. I felt so gangster walking in wearing my running clothes... ... sorry did I say gangster? I meant ridiculous, lol. :-D

So that's it for now, not a super emotional post, just a little catch-up for those of you who think reading is good and find me mildly interesting, lol. :-D I think I might try to do another video blog tonight if I have time. Hope you're all doing alright, and just remember that you're stronger than you think, and if you want something badly enough, and are willing to walk towards it, eventually you'll get it. So don't stop walking... or in my case... running.

Parting gift... ME IN A MEDIUM FREAKIN' SWEATER!!! MEDIUM! :-D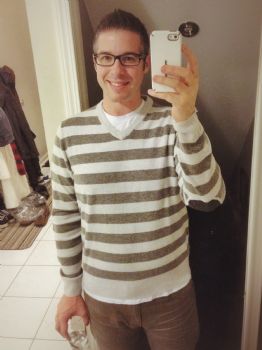 1 2 3 4 5 6 7 8 Last Page

Get An Email Alert Each Time GREGGWEISBROD Posts