| | |
| --- | --- |
| | GREENEYEDDANGER's Recent Blog Entries |


Saturday, June 09, 2012
it's been a while since I've been around... mostly due in part to really bad internet. but also, since starting the meds, I notice I don't worry as much about food making me fat anymore. so my doctor thinks the "eating disorder" was just a symptom of my depression. every once in a while though, I screw up something, and think to punish myself by starving, but I shake myself back to my senses. I do have to admit though that gaining 4 pounds in a month and a half really bothers me...

work has been going well. I like all the girls, and have gotten relatively confident in my abilities. I'm still far too shy, and my joints start killing me way too early in the day. I only wish I were allowed to sit sometimes. the actual work is exhausting, but standing there all day just hoping for customers saps me of any real energy.

I've been sick the last few days with a cold... thankfully I have many days off, but I lost 2.5 hours pay yesterday, coming home early. while it was busy, I was able to keep my mind off my misery, but when it wasn't, my throat killed me. I've started physical therapy for my joint pains and am going to a neurologist next week to see if there's a genetic issue affecting me.

I've still been working on things with the "ex" but... it's difficult. he doesn't want a commitment right now. yeah, that makes me roll my eyes too. if I didn't love him... I wouldn't put up with it, but the fact of the matter is, I do, and he's what I want and will make me happy.




Wednesday, April 25, 2012
seems like that's all there is anymore.

I hate that the doctor didn't measure me... I'm dreadfully curious how tall I actually am. and they rounded my weight down (in shoes and a jack, at that), so I know my BMI is lower than it should be.

I kept getting blahed at for not answering the question the right way. she doesn't think I have the genetic disease that my mother worries I have. I started crying when she asked if I was sexually active, because I legitimately don't know the answer to that right now. you'd think yes or no questions would be easier than that.

I had to go get blood drawn, so they can rule out an auto-immune disease, since it's really not normal for someone my age to have such bad hip and knee problems. but I now have 2 kinds of anti-depressants, a sleep aid, and painkillers.

work is good though. yesterday I did my first people all by myself, and I actually made tips. and it's much more enjoyable when there's something to do other than stand around all day. and tips are so encouraging. I didn't do so well closing up on my own, but I get shifts all to myself next week, and thankfully, they're mornings.





Saturday, April 21, 2012
I've spent a lot of time with ~him this week. I know I shouldn't... I know it'll only hurt worse in the end, but being around him makes me so incredibly happy right now that I don't care if I'm sad down the road. we had a date last night... went to the movies, and rented a movie and watched it at his place as well.

I told my therapist about my eating issues (at ~his insistence)... she thinks I need a nutritionist, but I don't really want to foist that on my parents as well... it seems like overkill and pointless, and I'd rather not have my parents know I've abused my body in so many ways.

making myself more potatoes... why are they SO good? oh well, I've been a fatty the last two days anyway...





Wednesday, April 18, 2012
I'm always hungry, but I get bored of just grabbing prepared stuff out of the cabinet and eating it. I enjoy trying new things that don't take too long... it doesn't always workout out well, but these ones did....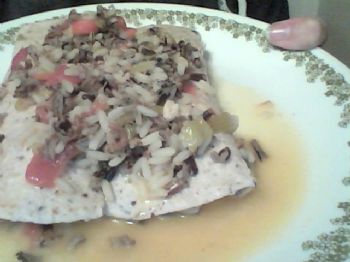 1 can Progresso Chicken & Wild Rice Soup (240)
2 Mission Artisan Blue Corn & Flax Seed Tortillas (200)
I just heated the soup, filled and rolled the tortillas, and put the rest on top, leaving out some of the broth... adding a little, which the tortilla soaked up as I ate... instant burritos that aren't loaded down with cheese and whatnot!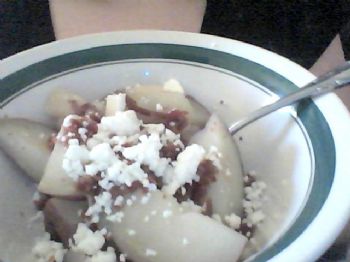 2 red potatos (200ish)
1/4 packet instant onion soup mix (5)
1 TBS bacon ranch dressing (100)
1 TBS real bacon bits (50)
1 TBS feta cheese (75)
I just cut up the potatoes and boiled them with the soup mix, then topped them with some of my favorite goodies. anything I can boil potatoes in that isn't butter is amazing.





Sunday, April 15, 2012
I let myself stay in bed past noon today. I was invited to a wedding several months ago, but when it comes down to it, she's his friend, not mine. it's the only wedding I've ever been invited to in my life, and I had been so looking forward to it, dancing with him and whatnot. but today he'll go alone. I couldn't sleep last night for thinking about it.

I confess, I talked a lot in my therapy, but I don't really see the point of it... I don't understand how it's supposed to help me at all. and I'm actually supposed to start lying to myself regularly, because apparently a nice lie is better than a mean truth.

standing all day at work is kicking my butt, but I think it'll be better once I actually figure out what I am doing, and work on customers. now it just feels like I'm doing nothing, wasting time, etc.


1 2 3 4 5 6 Last Page

Get An Email Alert Each Time GREENEYEDDANGER Posts