| | |
| --- | --- |
| | GREATMARTIN's Recent Blog Entries |


Wednesday, May 02, 2012
I still haven't gotten the hang of posting videos on YouTube such as how to add comments for each one. In any case I walked around today taking videos lasting anywhere from 8 seconds to 1 minute and 23 seconds .

Though our 'rainy season'--also known as hurricane season-- doesn't usually start until the end of May we just had a wet weekend--wet enough that the second day of the Air Show was cancelled. We do need the rain as we still have draught conditions but it looks like we are back to the good old liquid gold, known as sun, tomorrow.

If you haven't taken a look at my videos take a gander at these just by going to

http://www.youtube.com/user/GreatMartin1
?feature=mhee

and nobody will stop you from subscribing to my site--hey, do your good deed and make this future feature film maker feel good--encourage the old man!!!--leave some comments there and then come back here and tell everyone how great they are!

****************************************
**************************

"Live in the moment,

discover

and delight in simple things.

(From Maria's cards)




Tuesday, May 01, 2012
Peter's life has been, and is, completely different than mine and he read "Double Life" with a different mindset coming to a different conclusion regarding Alan and Norman. He sent me the following e-mail and, with his permission, I am posting it. Compare how two gay men see a book so differently--not right or wrong, just differently.



While at first I thought Alan and Norman were just another couple of wankers, I've now changed my mind. As I read on I realise their attitude towards their relationship and each other is almost identical to ours. OK, so it took us twenty years longer to move to separate rooms, but apart from that, we've been the same. Monogamous not by arrangement, but because that's what we wanted without saying so. Allan was propositioned in London, goes home with a younger guy, suddenly doesn't want to, and discovers he's unable to feel anything, no arousal… he says it's as if he and Norman have inoculated each other so that they only feel arousal, passion and lust for each other. And that's the way it has been for me ever since the first time I had sex with H. It was so perfect, literally the best ever, psychologically as well as physically, that I've been unable to raise it with anyone else since, although I love looking at beautiful young men and I've found myself many times in the situation where the other guy wanted it and we were naked. Also, like the terrible police entrapment episode, and the awful experience in Kansas for Alan that neither could bring themselves to speak to each other about, there have been a few unpleasant experiences I've had that do me little credit, that I don't want to share with H. And I imagine it is the same with him.
Even after forty-six years we're still only happy in each other's company, talk and talk constantly, have never had nothing to say. Our experiences as a gay couple have been identical to theirs too. Never going together to staff functions, social engagements, never admitting we were together, pretending in company that we didn't know the other played bridge or if they took milk in tea… all those sorts of things to deflect people from knowing we were a couple, because whereas most people can accept single gays, they find couples very threatening and violence is too common to be ignored.
Alan and Norman got over it in the end, mainly because they were in the entertainment industry where there were plenty of gays and little risk of homophobic violence. Here we are still totally closeted, in a small village. but neither of us like most people, and we've long since decided we don't want to mix socially in case of unpleasantness, whereas they lived in a social whirl with literally hundreds of acquaintances and 'friends' and splashed their money around with decorators, cooks, cleaners parties, and all that stuff.
It's been most interesting to read about the film and TV industry, how talent, artistic and other qualities are deemed unimportant because a film or series is only produced if it will make money. It explains why, in my opinion, most USA TV and films [at least the ones that come to Australia] are banal, vacuous and boring. So much of value has to be sacrificed in order to make it accessible to the masses—even the indie films seem shallow compared to many European and Middle eastern films. And the 'Star' system is perhaps the worst aspect of it all. It seems such a shame that an industry so powerful, with the potential to change the entire world for the better, has done the opposite, created a fantasy world of violence, shallow emotions, slick silly comedy and sentimentality.
Neither H. nor I are pushy types. If people don't want what we offer, then we go away, whereas the desire for fame and recognition that both Alan and Norman exhibit is immense and accounts for their 'success'. I don't think much of Norman's paintings, I agree with the reviewer who said they were weak versions of David Hockney.
What the book makes eminently clear, though, is that success is ephemeral. People don't remember your past successes, they only judge you by what you are at the moment they are with you, and so even the most famous fade into obscurity.
Such an odd tale about Rock Hudson. Strange fellow. I'd also be interested to read about the life of one of the 'number' boys in the expensive bars, where they're all for sale. How do they get in that position, what are their histories? Do they like it? What sort of men buy them. I did it for a while, but in an exclusive establishment with carefully vetted clients so there was no risk. These boys take their life in their hands every time they go off with some stranger. I could never do that.

I found the book thoroughly enjoyable, astonishingly honest! interesting and well written.





Monday, April 30, 2012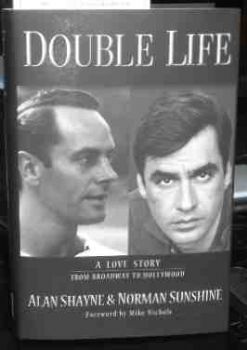 "Double Life", subtitled 'A Love Story From Broadway to Hollywood', is written by Alan Shayne and Norman Sunshine who will be celebrating their 54th anniversary this July 2012. They take turns telling their story from the time they met in 1958.

Many years ago I read a study about gay couples and one of the conclusions was that when there was a 5 year or more difference in ages the more likely the couple will succeed in their relationship. Joe was 20 years older than Albyn and they were together for 55 years before Joe died. There was 15 years difference between Robert and James and they were together for 50 years. Whether the conclusion is correct or not I don't know but I do know that most relationships lasting over 50 years that I know of have been between gay men. The only long term heterosexual relationship I know of is my brother and sister-in-law who have been together close to 60 years.

Alan was an actor in New York that, while I was reading as he talked about his credits, I realized I had seen him in 2 plays but I have no memory of him. At that time Norman was making a living as a free lance illustrator. Alan is older than Norman and even though I googled them both I could not find out how much younger Norman is nor, considering they are 'famous', there is very little about them on the Internet aside from this book.

After he gave up acting and became a casting agent Alan then was the President of Warner Brothers Television for 10 years and after produced a few TV movies. Norman got involved with advertising and coined the phrases and campaigns for "What Becomes A Legend Most?" and "Danskins Are Not Just For Dancing." He would go on to become a painter and sculptor whose work is in museums and private collections.

I was 26 when they met and I found many things about their life, such as not coming out as a couple in Hollywood until the 90s, sort of strange since I was already out all over the place. As far as I can tell they slept in separate beds in separate rooms even at what I would call momentous times as the first time they slept in a country house they had bought together or the time Alan went to London where Norman was and went back to his hotel room to sleep. Is that where I made my mistake--sleeping with my lovers?!?!

Even though he tries to play it different I found Alan to be a little over bearing, more of a name dropper than Norman and the main money maker for most of their time together though later in life Norman seem to come into his own as an artist. Alan also writes about twice as many chapters.

During most of their relationship they seem to have lived well with homes in Beverly Hills, Malibu Beach, Bucks County, Washington, Connecticut, apartments in New York, separate studios for Norman for him to work in, to name a few places. They got married in 2004 in Massachusetts and seem to be living happily ever after.

It was interesting traveling along with both men as they got deeper into their relationship and Norman, more than Alan, doesn't hesitate to talk about some of the problems they had along the way. Reading a letter Alan wrote to the New York Times, that was never published, and the last two to three chapters of the book when they talk about their love for each other is very moving. They talk about sex, fidelity, promiscuity and how they handled/felt about the subjects.

There is a quote, that I can't find, by a guy who basically feels like I do that a long term relationship means compromise, fidelity and selflessness, all the things not in my make up.

I am glad gay men are getting away from coming out and/or AIDS stories, though both are still needed, and getting into successful long term relationship books as young people today have to know they not only exist but have existed for many decades. Now it is time to hear from the women!






Sunday, April 29, 2012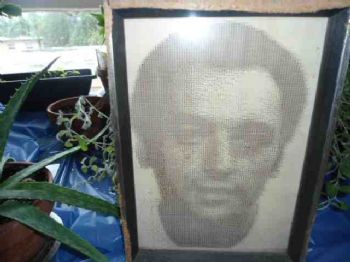 In 1975 I drove up to Chicago from Memphis on my way to Duluth. While I was there I decided to go to the Chicago Museum and after taking a ride through a coal mine replica I stopped to have my portrait sketched by a computer!!!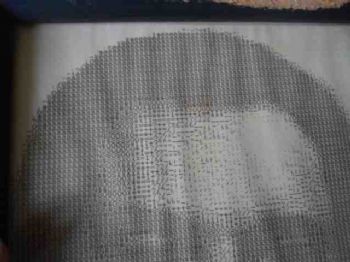 The result is above but if you look closely at the bottom 2 pictures you will see the whole 'portrait' is made from font characters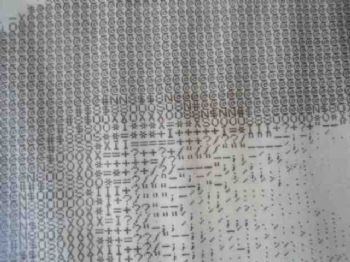 It is now 37 years later and I still look at it in amazement. I didn't know how it was made then and I still have no idea how it was done!

****************************************
**************************

"Can you imagine

what you would do

if you could do

all that you can."

Sun Tzu

(Maria's cards)





Saturday, April 28, 2012


I took 10 video clips running from 12 seconds to 42 seconds--unfortunately it was a very cloudy day not to mention the planes went to fast and wouldn't slow down for me so I didn't get too many actual shots--okay, okay so I got one clip of a couple of the planes (see

airshow april28 2012 1

I did get some interesting things here and there while video taping and I also learned a few things like I don't know how to rename clips or add what's in them once I have downloaded them!!

airshow manatee

This one if you look at the bottom of the screen at the 11 second mark you will see very briefly a manatee swimming by--I should have trained my camera on her but I was too busy trying to get some plane shots.

Also on the clip, plus a couple of others, someone has in vented a new 'ride' that he is trying to sell--you put a jet pack on your back which is attached to the boat and it propels you into the air and you just go along above the water.

airshow precious

Precious, is what she is called but that isn't her name, has been here since she was a couple of months old--her owner died last year and one of the neighbors took her over--I think she is about 8-9 years old now--I did give the 'lady' her privacy--she was about to poop!

airshow point 5

Always seeing something new on the water--kayaks are not new but I never saw 'fancy' ones like with umbrellas!

airshow bbq 2

Before and during the air show the resident's committee offered an all you can eat bbq for $5--since I had just finished breakfast I didn't partake--everyone raved about the food--now Romney make have an elevator for his cars but he has nothing on senior citizens--in case you didn't know it the latest 'in' thing is motorized wheelchairs and it seems like everyone here is getting one--if you haven't seen them there are a couple in this clip--people use them to go shopping!!!

For these clips and the rest of them just go to:

http://www.youtube.com/user/GreatMartin1
?feature=mhee

Not that my ego needs it but how about subscribing to my YouTube page if you haven't yet and you will be notified when I post a video clip or two--and, by the way, gladly will take any constructive criticism


First Page
1
2
3
4
5
6
7
8
9
10
11
12
13
14
15
16
17
18
19
20
21
22
23
24
25
26
27
28
29
30
31
32
33
34
35
36
37
38
39
40
41
42
43
44
45
46
47
48
49
50
51
52
53
54
55
56
57
58
59
60
61
62
63
64
65
66
67
68
69
70
71
72
73
74
75
76
77
78
79
80
81
82
83
84
85
86
87
88
89
90
91
92
93
94
95
96
97
98
99
100
101
102
103
104
105
106
107
108
109
110
111
112
113
114
115
116
117
118
119
120
121
122
123
124
125
126
127
128
129
130
131
132
133
134
135
136
137
138 139 140 141 142 143 144 145 146 147 148 149 150 151 152 153 154 155 156 157 158 159 160 161 162 163 164 165 166 167 168 169 170 171 172 173 174 175 176 Last Page

Get An Email Alert Each Time GREATMARTIN Posts